Mac Nvidia 4600 Ti w/Zalman VF700 Cooler
Posted: Jan 25, 2008
---

Hi, Mike, I saw the pages with the graphics card cooling mods, and even though it is a little late, wanted to show you the installation of a Zalman VF700 Aluminum/Copper graphics card cooler on a 128mb Apple nVidia GeForce 4 Ti 4600 AGP Video Card.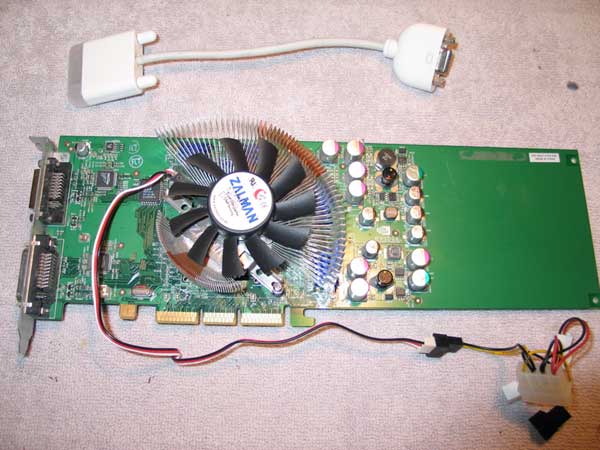 The nVidia card was always running hot, the back of the card was actually too hot to touch, and I had rigged additional fans in the Powermac to cool the card. I was running two monitors off of the card without any trouble. But I was always worried about heat buildup in my machine. When the stock cooler began making screeching noises, I went out to the local Fry's and looked around at the graphics card coolers and picked this one, based on prior reviews on your web page.
I simply followed the directions on your web page and on the directions in the box. I also practiced assembling everything several times before, so every part was ready.. Was very careful to apply artic silver in a very thin layer before carefully setting the heatsink on the graphics chip. Notice the support across the back of the card that is elevated up... Nearly blocks the third memory chip slot in my trusty 2001 Quicksilver G4.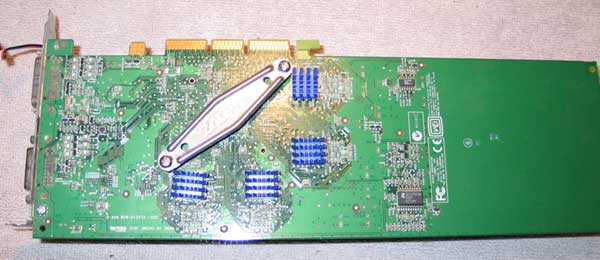 And of course, the heatsink and fan blocks the adjacent PCI slot in the computer... But no matter. I was very happy with the outcome.
With this installed the card always stays cool and comfortable, and helps the inside of the card with cooling. It is very quiet. It does block the next-door PCI slot, though. I used a power adapter plug to run this directly to my computer power supply... there is a plug on the card but I thought I would save the current.. Did not feel like splicing the wire to a new plug. This cooler will keep the card running a long time. You have to be careful to route the think power cord so it does not tangle with the open fan or any other components inside the mac!
2001 Powermac G4 Quicksilver, with a 1.467 Ghz G4 processor upgrade from Other World Computing, 3 internal hard drives running Tiger 10.4.11, a Tiger backup and an OS 9.2.2 volume for mad experiments. All of the hard drives have fans under them to cool the electronics. Any questions?
-Mike P.
---
If you've upgraded your Graphics card/Cooling and would like to share the info/photos, etc. - write me.
Other Graphics Card/Cooler Related Articles:
See the Video topics page, Graphics card and Coolers section for other card model related articles.