This page lists results of tests with CineBench 2003, Aquarium 2.0x, and some initial comments on Lightwave 3D v7.5d.
CineBench 2003 Tests:
I used Maxon's Cinebench 2003 benchmark (G5 version) (available here) with the desktop set to 1600x1200, millions colors (Cinebench's test window seems fixed at about 1024x768 however.) I've included both the shading/mode scores as well as the Frames-per-Second info on the two 3D scene fly-by tests.
First a graph of the overall Graphics scores - OpenGL hardware Lighting test scores are the ones that should show the best card differences but there's little in this comparison; the software scores are primarily CPU affected and therefore were literally identical for same-system tests.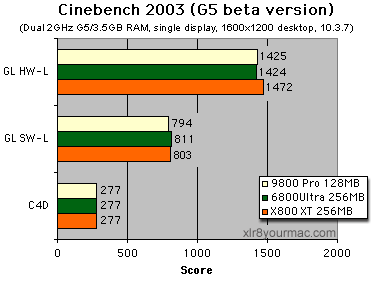 As you can see, the CB2003 results above don't show much of a difference in the 3 cards. I wish they'd update it to where it would be a more useful benchmark for modern graphics cards.
As usual, I also recorded the (Hardware OpenGL) framerates for the Scene1 and Scene2 fly-bys. (this info is not stored in the standard Cinebench report.)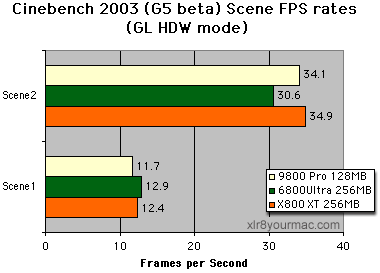 Again there's not much delta in the performance but then I'd never use this kind of benchmark (or any pure benchmark) as a buying guide. (And PC Cinebench scores are usually much higher than Mac Cinebench scores, often even with lesser hardware.)

Marine Aquarium v2 FPS:
Last summer I bought a copy of Marine Aquarium 2.0 (v2.06) in an Office Depot and set the prefs to show FPS rates. Granted it's impossible to have the exact same fish movement, etc. so it's not a perfect benchmark per se, but since there's so few for the Mac I've included the the most consistent range of FPS rates seen during a 60 second run at full screen mode at 1900x1200.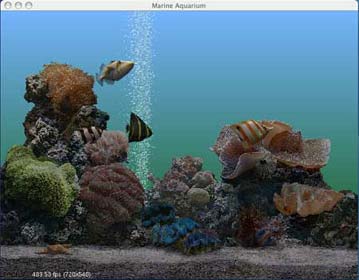 Running this App (not the screensaver) at 1920x1200/75Hz full screen shows the X800 XT delivering a bit higher observed framerate than the 6800 Ultra and almost 2x higher than the OEM 9800 Pro.
FPS (1920x1200)
X800 XT: 491-497
Geforce 6800 Ultra: 450-476
OEM 9800 Pro 128MB: 261-265
The 6800 Ultra and 9800 Pro rates were slightly lower than I originally saw in 10.3.5 during the 6800 Ultra review, but then again this isn't a perfectly repeatable test.

I own Lightwave3D 7.5d, but with modern cards tests like the Hummer Scene used in tests of very old cards don't really show any differences in playback times (performance is primarily CPU bound). There were some issues (and workarounds) with the 6800 Ultra in LW mentioned in the 6800 Ultra review and Mac 6800 Feedback page but so far I've not seen any problems with the X800 XT in cursory use with it.