---

Early in January I posted a review of the ATI Radeon X800 XT Mac Edition compared to a Mac 6800 Ultra DDL and OEM 9800 Pro (tested in a dual 2GHz G5 2003 model) and asked for other X800 owner feedback once they were shipping. (As of Feb 3rd, sponsor OWC said they have X800s in stock.) This page has comments from other Mac X800 card owners as well as links to ROM and ATI Displays updates.


X800 Related Updates: (most recent first)

X800 Tiger Pro Apps Hotfix: (from 6/15/2005 news page)
Felix sent a link to download the Mac X800/Tiger Hotfix mentioned in the last couple of day's news here at http://www2.ati.com/drivers/ati_x800xt_hotfix_june05.dmg. I went to support.ati.com (cookies required) to get a link to the readme file/release notes which mirror the info posted here on Monday:
(reqmts)

Radeon X800 XT Mac
Mac OS X version 10.4 and 10.4.1
Modo, Newtek LightWave, Maya and other multi-paned applications in Tiger

Double-Click the installer icon and follow the on-screen instructions.
The installer contains the following items:
Mac OS X:


ATI ROM Xtender
ATIRadeon9700.kext
ATIRadeon9700DVDDriver.bundle
ATIRadeon9700GA.plugin ATIRadeon9700GLDriver.bundle ATIRadeon9700VADriver.bundle

NOTE: Do not remove your previously installed ATI files. This installer will overwrite any files that need to be updated. If you remove your existing ATI files, your older ATI product may no longer function as expected.
You must restart your computer after installation is complete.

Fixed various 3D bugs in Tiger.
1) Radeon X800 corruption in Modo, Lightwave, and other multi-paned apps in Tiger
2) Corrected Raster position reporting
3) Fixed checkerboard texture problem on X2 : The Threat

This hot-fix is recommended for users of all professional CAD applications, but it is not recommended for DOOM 3, as there are no (Doom3) issues fixed for this application. In certain instances, this release may include a slight but noticeable performance drop for DOOM 3 at high resolutions when running with FSAA enabled."
Note: There's also a fix for blocky z corruption in Sims 2: Rush Hour per Chris Bentley's (ATI Programmer) comments in detail on the changes in yesterday's news.
For X800 owners that had problems in Tiger addressed by the Hotfix, let me know if the update helps. (It should based on beta testers.)

I asked Chris Bentley (ATI Mac programmer) for specific details on the X800 Hotfix/update for Tiger Pro apps users (and some specific games) and why there was an impact on Doom3 performance.
" Hi Mike,
There are four 3D bugs fixed in the hot-fix:

1) multipaned z corruption in Pro apps (Motion, Maya, Modo, Lightwave, etc...) The fix for this had no performance impact

2) occasional checkerboard textures in X2: Threat The fix for this had no performance impact

3) wrong values returned from GetBeamPosition() The fix for this had no performance impact

4) blocky z corruption in Sims 2: Rush Hour The fix for this ended up causing a slow down in DOOM 3. (Mostly at high res.) We had to prioritize running correctly over performance. We'll work on regaining the DOOM 3 perf in an upcoming driver.
People who are just running DOOM 3 and haven't been effected by the other bugs, can stick with their current drivers and keep the slightly higher DOOM 3 perf.
-Chris "
X800 ROM 109 Update: (from 6/13/2005 news page)
" Hi Mike.
A new ROM (v109) for the X800XT is available on the ATI.COM driver download pages. It's under the ROM Updates category which is under the Mac section. I won't bother with a direct link because aleady noted the cookie requirements on the site prevent such links from working properly.

This update fixes some corruption that customers were seeing with FSAA in games like Ottomatic and others (recently reported on your site).
Bruno "
I enabled cookies in my browser and went to the support.ati.com site and saw the post dated today on the ROM update. Here's a link to the v109 updater download and the release notes. (later revised)
" ROM Version 109 (this release) Fixed is a rare occurrence of corruption or hang for a few specific instances with the Added built-in Firmware Fan control.
If any readers find this update helps with problems they had (or doesn't), let me know. (Include system/OS/apps details in reports. Thanks)

ATI Displays 4.5.1 and X800 ROM Updater (w/104 ROM) released (from the 4/28/2005 news page)
The updates I mentioned last night are released as promised at https://support.ati.com. (Follow the the recent topics list links down the page. Cookies required to be enabled in browser.) Since links directly to the specific ATI update pages don't usually work unless going to the root domain to set the cookie first, I'm including direct download links to save you time.
ATI Displays 4.5.1 update (download link). I already mentioned the changes (per a contact) last night but here's a link to the release notes.
Also the revised X800 XT ROM updater with the ability to flash back to the -104 ROM has been posted. Here's the release notes for it which has a "special notes" section:
" Special Notes
Added ability to downgrade to original ROM version 104 The updated April 2005 ROM installer now provides the ability to revert to\ the original ROM for the RADEON X800 XT MAC EDITION, in the unlikely event of kernel panics or boot issues known to occur in a small number of configurations. The ROM Update installer provides this downgrade option at setup (suggested to perform a Safe Boot), and may be used if you experience difficulties."
I didn't see any problems with ROM v107 with my 2003 G5/10.3.9 but many did. I'm going to stick with -107 for now (until a later version is released, which is in the works) but will update ATI Displays later.
For X800 owners that reported problems with the -107 ROM update (and didn't sign up for beta testing), if you flash back to -104 let me know if that solves your problems. Thanks.
(info on prev. ROM updates removed here to save space as page is already long.)
X800 Hotfix for Wake-from-Sleep Artifacts: (older update - should not be needed with later updates above) In regards to the issue some Mac X800 XT owners reported previously here:
" Subject: RADEON X800 Wake from Sleep Corruption fix

Hi Mike.
An updated ATI ROM Xtender has been put up to address the corruption problem some people were having when waking their G5 machines from sleep with an X800. This is a software-only fix, it is not a ROM flasher and is perfectly safe to install and easy to replace if needed.

This release changes ONLY the X800 portion of the ROM Xtender file. It is a waste of time for customers with other products to download - their cards will already be up to date using the ROM Updates released earlier.

The RADEON X800 requires a supported ROM Xtender file to be installed at all times (either this one or the one that shipped with the card).
Without a ROM Xtender, customers will notice the card's fan running loudly at full speed after booting their computers. (noted this in my early January review of the Mac X800 XT-Mike) The card should not be operated in this manner as it will not fully support all displays, display modes and may not run 3D applications optimally.

The updated file (with installer) may be found at this link:
https://support.ati.com/ics/support/default.asp?deptID=894
Thanks, Bruno
(ATI)"
BTW - I now have to enable cookies in Safari to browse ATI's site. The link Bruno provided is to a support/drivers page and the Mac X800 fix download page is linked in the "Most Recent Topics" down the page (item titled "Display artifacts or corruption returning from sleep mode") - a direct link to the page is https://support.ati.com/ics/support/KBAnswer.asp?questionID=10165. (Here's a direct download link for the update, hopefully it won't change.)


Mac X800 Owner Reports/Tips: (most recent first)
(I welcome other Mac X800 owner comments - please include your system/OS/ROM version, Display and details on apps/games, etc. you used in reports. Thanks.)
(added 7/22/2005)
" Hi, regarding reports of X800 fan speed (or possibly G5 system fan speed), I'm in the same boat. Something very much definitely changed after 10.3.7. It's not so much the increased noise that's a problem; rather it's the variable nature of the noise that is quite bothersome to some people, including me. Despite having bought Tiger, I went back to 10.3.7 because of this issue. I reported this to Apple way back at 10.3.8 when it first happened, but nothing has changed. I'm running a dual 2.5 G5. So if Rich is willing to go from 10.3.9 back to 10.3.7, he could put the X800 back in and keep playing WWII Online...Apple doesn't need a new fan control system, they need to go back to the OLD fan control system....
--Eric"
I first tested/reviewed the X800 XT in my (2003 Dual 2GHz) G5 in early Jan 2005 running 10.3.7, and although I saw increased PCI fan duty cycle rates compared to older cards (but less than with the 6800 Ultra), I personally didn't notice any difference in PCI zone fan noise in 10.3.8 or 10.3.9. (And with the X800, like some others I didn't find the fan noisy, but some did. Fan speed/duty cycle is even higher with the 6800 card installed.) However some others have reported increased G5 case fan noise/speed in later 10.3.x updates (even those not running one of these cards). I don't remember running hardware monitor utility to compare every 10.3.x update since 10.3.7, but the last check I did was in 10.3.9 and it showed appx 43% at idle with the X800 installed (w/6800 Ultra installed it was 49.8% IIRC). Assuming it's not the X800 card fan (i.e. controlled by the card ROM in later firmware, or the ROM Xtender w/older firmware), if hardware monitor shows higher than 44% duty cycle I'd try resetting the nvram, toggling energy saver performance settings (old tip for G5 fan speed problems after OS X updates earlier this year) to see if that helped. (But tolerance for noise is a very personal thing - what is acceptable to some isn't to others.)
---
OEM 9650 vs X800 PCI fan Noise Comments:
(added 7/21/2005)
"Hi Mike!
I just read the update (reader report from July 19th below) on the increased fan speed in the PCI area and can't verify this on my system at all. The system is just as quiet as it was when it still had it's original OEM 9650 card installed. The only time one can hear a difference is at cold boot when the card's fan goes to full power. Afterward's you can only hear a difference in heavy 3D gaming. But that's the card's fan - there's no difference to hear from the PCI area's fan at all.

My system:
2 x 2.7GHz G5
30" HD Cinema Display
OS 10.4.2
X800 XT Card ROM 109
ATI Display Software 4.5.1
Best regards, Sebastian "
The duty cycle notes on the fan were from using Hardware Monitor (3rd party utility). I've not had a 9650 to test but there was an increased duty cycle (i.e. speed) of the PCI zone fan, although as I said I don't find it objectionable in my 2003 Dual 2GHz G5. (and with the 6800 Ultra the duty cycle is even higher as I said previously. The 6800 Feedback page has past notes and comments on this from the author of the Hardware Monitor utility when it first came up last fall during my review of the 6800Ultra.)
---
OEM 9650 vs X800 Game Performance Comments:
(added 7/21/2005)
"I have a 2 month old G5 2.7 Ghz dual Mac that had a ATI 9650 256 video card that was replaced 10 days later with a ATI X800 256 video card from OWC. What an upgrade!!! The performance in Halo at 1024x768 Tripled in comparison to the 9650. And that was with min detail settings on the 9650. On the X800, all detail settings maxed out at this rez and still triple frame rate Approx 65 vs 21.5 with the old card. I love it!!

As far as noise, no difference to report. I don't have a problem with the fans spinning up when needed, It does not bother me at all. "you wanted a high performance machine didn't you". However, even at full load, the fans do not make much noise here.

G5 Dual 2.7, 3.0GB Ram
ATI X800 XT 256MB 8X AGP
250GB HD (1), 320GB HD (2)
Mac OS 10.4.2
All ATI Software up to date
Finally a good performing Mac!! Yea!
-Hal "
---
(added 7/19/2005)
"I bought the XT800 to improve the graphics performance of a game that I play from time to time - WWII Online. Screen rates went up to 30-60 fps depending on the amount of action on the screen at the time. The game became very playable, whereas my OEM Radeon 9600 gets rates of only 7-15 fps and is not playable.

But the amount of fan noise turned me off to the card. It's not the fan on board the card, it's the G5's fan system itself that spins at various rates, but is always on and is louder than I could tolerate. (the PCI/AGP slot area case fan runs faster (appx 43% or so duty cycle) with the X800 installed - almost 50% duty cycle with the 6800 Ultra installed. I don't find the fan noise bothersome though personally, but it was noticeable when I first tested the 6800 Ultra card (noted in that review last fall).-Mike)
So I've swapped my OEM 9600 card back into place and I'll stop playing the game, until my next major hardware upgrade or until Apple works out a new fan control system. I'll check back to this board from time to time to see if there are any positive owners reports..
My system:
* 2x1GHz G5
* OS 10.3.9
-Rich"
Since the PCI/AGP slot zone fan is controlled by power/load (not card temperature) just about any faster card is going to increase the speed a bit, although as I said it doesn't really bother me personally. (It's still so much quieter than some other systems here like a MDD tower and a homebrew AMD64 system.)
---
Feedback on 109 Firmware Update:
(added 6/15/2005)
"Hey Mike
All is fine here with my G5 2X2 (2003) Mac running the new ROM update. (X800 XT ROM Revision 113-A35801-109)
Fans can be heard, but it's nothing unusual or annoying. Update went smoothly, but I'm still using 10.3.9.

I do music and 10.4 (Tiger) is still not usable for my music set-up. A few important vendors haven't updated their drivers for 10.4. One of them being Universal Audio, the makers of the UAD-1 card that SO many music pros use.
I'll keep you updated if I have any strange happenings with the X800 ATI video card...
John K. "
---
A reader didn't catch the fact that the ROM update doesn't address the tiger/3D Pro apps issues (as mentioned in Monday's news - there's a Hotfix to be released that addresses that.)
(added 6/15/2005 from 6/14 email)
" Hi, I'm a fan of your site and read it regularly. Very helpful information there. I just wanted to let you know that I installed the June2005 (109 ROM) update for the ATI X800 card. I'm running a dual G5 2.7 ghz with OS 10.4.1. The reason why I installed the ATI June2005 update was so that I could have Lightwave running properly. However, I'm extremely dissappointed that the update did nothing to solve the problems with this card and Lightwave. In both Modeler and Layout of Lightwave, I'm getting the top half of the open gl viewport being pixelated out.

I called ATI support about this and they responded by telling me that "this is not a known issue to ATI." So I pointed them to the Newtek lightwave mac forum and showed them several posts where people have complained of the same issue and they claimed that sometimes these things are caused by "user error".
Vishal S.
www.vishalsingh.com "
ATI's general support staff may not be aware of the problem but it's been mentioned here before and ATI's Mac staff is aware of it and has a Hotfix that should be released today at support.ati.com. (Update - see later news item above for download link for the Hotfix released today).Several readers reported the problem last month and ATI contacted me back then so that some of them could test a patch (hotfix) that they later said helped. (See Chris' comments in Tuesday's news with details on the hotfix/update.)
---
(added 6/14/2005)
"Greetings, Mike. I installed the v109 firmware on my system (Dual 2GHz G5, 30" Cinema Display/23" Cinema Display ADC) in Safe Boot mode. On restart, random speckles appeared on the 30" display (none on the 23"). A lot. So I did a PMU reset (unplugging the power cord), waited a few minutes, then restarted zapping the PRAM and then doing the NVRAM reset in open firmware. (see FAQ's G5 section for how-to.) Now both screens are perfect. Not sure which step(s) did the trick.

First thing I noticed is that it cured the problem with Doom 3 where it wouldn't run in full screen. (30in Display used.) This developed with the 108 firmware update. (Odd - as I didn't see this problem here with my Sony CRT. Firmware 108 ran Doom3 full screen OK (tested at 1024x768 and 1600x1200-Mike) Now it plays fine in full screen, and frame rates seem to have improved, although I've only had a few minutes running time on it.
(he later wrote with more info on the doom3/full screen issue)
I forgot to specify that I'm running Tiger 10.4.1... Anyway, I run Doom 3 at 1600x1200 and full screen on the Apple 30" means having the black bars left and right.
With firmware 108, the Doom 3 screen was just that - 1600x1200, pixel for pixel, on the center of the screen, with black all around it. (i.e. not stretched to the full 30in display screen size.) I tried other resolutions, and the frame took on the corresponding one-to-one size on the monitor screen. Now with firmware 109, all resolutions run at full screen, and it's nice that I can play the game at a lower resolution, resulting in better frame rates, still at full screen.

The artifacts (speckles) on the screen never reappeared. Altogether, firmware rev. 109 is a totally positive update for me.

Apple System Profiler shows ROM revision as 113-A35801-109. I was also surprised to see that the DMG file of the installer was automatically moved to the trash after the restart.
Tony A.
TLC Graphics "
The notes on the Hotfix (a separate update for Tiger Pro apps users) mentioned a performance impact for Doom3 (at hi-res/FSAA) but. (See Tuesday's news post for info on the hotfix to address issues some Pro Apps users reported in the past.)
---
(added 6/14/2005)
" Updated my X800XT to firmware 108 to Firmware 109 Mac OS 10.3.9 Dual 2.0 G5 (2004) 2.5 gigs ram.

I had no problem with firmware 108 and the fans were quiet, now my fans are high pitched and spinning much faster, I am going to try to go back to 108. I don*t think it is just the fan on the ATI, I think both my front processor fans are spinning much faster now I used to be able to see them spinning now they are running too fast for me to se the blades.
Art B.
Canpro Inc.
(Not sure why the update would have affected the system fans but I asked if he tried resetting the NVRAM, Toggling Energy Saver performance settings, etc.. and he replied-Mike)
Mike,
I took your suggesting and reset the Nvram, also reset the pmu.
After restarting the fans seem to be almost normal again, still a little louder thought, but not too bad.
I went back to firmware 108 and the fans go right back to very quite, reinstalled 109 and they are a little louder again, but don't throttle up and down every time I move the mouse since resetting the pmu and NVram

Also I am seeing consistently higher text sores in XBench with Firmware 109 vs 108., about 15% better, not sure if this is just a coincidence as I have not seen this referred to in the firmware docs.
Art "
---
(added 6/13/2005)
"I've had the X800XT for a while now (since OS X 10.3.6 days, now at 10.4.1) in my Rev. A (2003) PowerMac Dual 2 GHz G5.

Since 10.3.8 this card has caused the PCI slot fan speed, and therefore noise, to increase dramatically. In 10.3.7 the 'slot combined' power as reported by Hardware Monitor was ~14,000 and the fan speed was 29.8%.
(With no PCI cards installed, I saw 48.9% (as did others) even at idle with the 6800 Ultra card installed in 10.3.6 (didn't seem to increase during load/gaming) in my 2003 DP 2GHz G5 last fall. Idle was appx as high as 38% IIRC (the 2003 G5 Fan Control update resulted in increased speed of the PCI fan with any card installed as I mentioned back then.) When stressd (like running Marine Aquarium at high-res/full-screen) I saw almost 57% duty cycle with a OEM 9800 Pro card installed, but even at idle I never saw it less than about 38% even with the OEM 9800 card after that fan control firmware update (included with the 6800 Ultra card from Apple). See notes from last fall on the 6800 feedback page. -Mike) The machine was very quiet and very stable. I tortured it with Call of Duty United Offensive at the full resolution of my 20" Apple Cinema Display. Things went bad in 10.3.8 and haven't been fixed. It appears that Apple has seriously screwed up fan control. (I honestly can't say I've noticed any higher PCI zone fan speed (audible) with my X800 XT since 10.3.8 to 10.4.1. Fan noise (including on-card fan speed) increases with load like during 3D gaming, but that's normal.-Mike)

In 10.4.1, the 'slot combined' power reads ~30,000 and the fan oscillates between 44% and 47% continuously as the slot power goes up and down slightly. This is very irritating since the fan pitch is quite different between these speeds.

(I just checked Hardware Monitor running 10.3.9 with my X800 XT - it shows 42.7% PCI fan duty cycle at idle (sometimes increasing to 43.x% at idle). Doesn't sound loud to me. I don't remember if I checked the fan duty cycle when I first installed the X800 XT in older OS's but I haven't noticed any change in audible PCI fan noise since I installed the X800 XT and updated OS X several times. -Mike)

I'm on the verge of either putting the 9600 Pro card back in, or doing a hardware hack to make the PCI slot fan spin at a constant low speed.
Regards, Gord V. "
I honestly can't say I've noticed any higher PCI zone fan noise with my X800 XT since 10.3.8 to 10.4.1. Fan noise (including on-card fan speed) increases with load like during 3D gaming, but that's normal. The 42-43.x % idle PCI fan duty cycle reported by Hardware Monitor doesn't seem loud to me personally. (But I did notice the change from 30% to nearly 50% when I first installed the 6800 Ultra card/G3 fan control firmware update last fall.) I have no other PCI cards installed in the system. (They could make matters worse.)
I'd try tilting the plastic cover out and stopping the card fan for a second to make sure it's the PCI zone fan that's noisy (many have had some issue with the rom updates/rom extender updates in ATI displays updates the last few months reporting noisier fans on the card - not seen that either here running either of the later rom updates/ATI displays/rom xtender updates)
---
(added 6/13/2005)
"I flashed my X800 to 108 and it works great, but I did not install the ATI Display 4.5.1 software. Is this Display software required if you don't do any 3D stuff or games? It seems to run just fine without it. This is running on a 2.3GHz G5.
Scott R. "
I generally install it as it has some extra display features (not just the 3D/GL overrides) but if you're fine as is you can leave well enough alone. (I assume you already installed a previous version or at least the ROM xtender.) See my original X800 review, Software Control pages for info/screenshots of the various features of the ATI Displays utility (which has some updated features since that Jan. 2005 review was posted).
---
Notes on Tiger/Final Cut Pro 5 and Pro 3D Apps Issues: An X800 user running Tiger (10.4.1) wrote with a screenshot of display corruption after installing Final Cut Pro 5. I contacted Chris at ATI and forwarded his mail to him as I knew Chris was working on a patch/hotfix for other Tiger/X800 issues that some other readers had seen with some Pro 3D apps. The reader replied the patch seemed to fix the problem. I'll post a note when ATI releases an update/patch publicly. (Update: They did on 6/15/2005. See the June 2005 Hotfix update above which should fix this.)
Feedback on X800 ROM -108 Update: (see above for links)
(added 5/16/2005)
"I ended up with two ATI Rom Xtenders, v1.1.2 and v1.2.5. This was after running the 108 firmware and ATI 4.5.1 Update.

The 1.2.5 version can be found in
System:Library:Extensions:AppleNDRV:ATI ROM Xtender

The older 1.1.2 version was found in the Extensions folder, which I removed.
It would be interesting to see what versions of the Xtender people have running.
I am running with v108 on the X800 on Tiger on a G5 Card without any problems.
-Scott R. "
---
(added 5/16/2005)
"I want to inform about my experience with my G5 Dual 2 Ghz, 5 GB RAM, 320 GB HD, 30" Apple Cinema, X800. I have tested now all ROM versions but switched back to 1.04 because of a lot problems.

1.07 was not working anyway (kernel panic, pixel artifacts everywhere...). After testing 1.07 I was switching back to 1.04 which is running very good (sometimes I will see some pixel artifacts in some menus or OpenGL apps).
After switching to 1.08 everything seems fine first, but ran in problems with Adobe After Effects a bit later. I checked every OpenGL settings but the behavior doen't goes away. After about 5 minutes work, the screen artifacts are so much and the screen is running wild, that I have to stop working and do a restart by on/off switch at the G5 because I can't see any menu...
Switching back to 1.04 resolved everything...
Regards, Thomas "
---
(added 5/16/2005)
"I recently upgraded my dual 2gig G5 with X800xt and 22" cinema display to Tiger, installed the 4.5.1 display and more recently the new 108 firmware.
It seemed to work better with the (new) firmware except one instance so far of the screen being completely scrambled on waking from sleep. I had to reboot to recover.
-David P. "
---
(added 5/16/2005)
"Just an update on the X800 situation. If you are still seeing artifacts after updating to 108 you may have a bad display. I exchanged my 30" display for one that works perfectly with the X800 and has no dead pixels. There are many posts on this problem on Apple's Discussion board. Most likely it was a bad batch of displays with overheating issues.
-Brandon "
Interesting - Can't say as I've heard of an LCD display overheating problem before.
---
(added 5/13/2005)
"I just installed my new X800 in my G5 today, and just felt like living dangerously, so I went ahead and updated the ROM to -108.

The update was a breeze, and everything seems to be working just fine now. In fact, the fan control sounds like it's working much better now than it had with -104 (but I could be wrong).

My G5 is a 2 x 2GHz model (from back when that was the top of the line) with 2.5 GB memory, running 10.3.6. My monitor is an HD 23" Cinema Display, the last of the ADC models. Up to today I was using a (retail) Radeon 9800 Mac Edition card; now I'm finally free from that damn DVI-ADC adapter!

I haven't done much to test the new card, other than put the G5 to sleep a few times (for varying lengths of time) to make sure it would wake okay).

I also started up Neverwinter Nights (which is the only 3D game I have installed just now) and loaded a game saved at a point where lots of stuff is happening all at once. Performance was noticeably improved. I was especially pleased to see framerates do not drop when I run the game at higher resolution and FSAA settings that would have overburdened the 9800.

I did safe boot to install the -108 ROM update, having updated my system with the ATI 10.3.6 SW Update and ATI Displays 4.5.1 prior to installation of the X800 hardware.
Hope this helps! And thanks, as always, for a great site.
Chris "
---
(added 5/13/2005)
"I have just installed a X800 in my dual 2.5 G5 (running Tiger/10.4) and flashed it with the v108 ROM update. So far the card works perfectly with my DVI flat monitor ACER and ATI control panel 4.5.1. I was able to increase frequencies for GPU and RAM up to 540 Mhz using ATIccelerator II v1.0.5a without artefacts. I have tested the card with WoW at full details resolution and it's simply wonderfull. For fps, I have just launched Marine Aquarium but it sticks at 500 fps because the counter cannot go further !!! (my 9800XT G5 SE was ~330 fps)
At this time I am very happy with this card.
Best regards
Dr Jean-Luc E. "
---
(added 5/13/2005)
"I tried to apply it but my G5 running Tiger will not do a safe boot. Very strange. I figured out a way to do a safe boot while booting from a firewire drive with ox 10.3.7. I will let you know. But why Tiger wouldn't do a safe boot??? that is strange.... Lenny
More to follow
(he later wrote)
2 things.... The drive had to be repaired with DiskWarrior 3.03 before it would boot to safe boot and then I loaded the new firmware and it is working well. "
I booted to Tiger safe mode OK (w/shift key held down, boots to a red text "safe mode" login screen).
---
(added 5/13/2005)
"I installed the v108 ROM update on my x800 in a Dual 2.5 G5 (Mac OS X v10.3.9) with (DVI) Aluminum 23" Apple Cinema Display. I had previously tried the v107 update, experienced kernel panics on startup, and eventually reverted to v104. The v108 update went smoothly. So far, so good. I have had no startup problems.
(name withheld by request) "
---
(added 5/13/2005)
"I installed v108, and the KP problem is gone, so I can use it fine, but the problem with the fan opening up full speed after a few minutes continues. (he sent a mail earlier about this, I asked if he was sure it as the card fan and not the system fans (removing the metal G5 case cover, tilting the clear plastic cover out (don't remove it) and temporarily stopping the card fan with my finger is how I test to prove it's the card fan) I don't see this problem here. Some G5 owners had system fan problems (running at high speed) after a previous apple update as noted in the news page here - often changing the Energy Saver performance setting helped that, if the usual voodoo (reset nvram, clear caches, etc.) didn't. ATI's readme for the update above also has a note on card fan control.-Mike)

I did a clean install of 10.4. (and yes, i've done PRAM, et all)
Ive used hardware monitor, and it confirms that it is not any of the system fans. It is the ATI fan. (although fan control is in the X800 107 and later ROMs, I asked if he installed ATI displays 4.5.1 which also has the latest ROM Xtender IIRC.-Mike)

Due to the fact that it continues, even tho it is running the internalize fan control, makes me wonder if this is a problem with my card. I guess if you could forward this message to the ATI guy, that would be great.
Thanks. Eric M.
(asked if he'd tried the usual voodoo like clearing the system caches, etc.-Mike)
Yup, i tried cleaning the caches, and stopped the fan w/my finger (it is the offending fan). Zapped the PRAM, and I have the Xtender installed (with ATI Display 4.5.1). "
---
(added 5/13/2005)
"I too had major boot problems with a brand new X800 card after updating it to firmware v107. After applying v108 of the firmware, which just came out yesterday, it boots perfectly using 10.4 on a 2.5GHz MP G5.

My only question is are there specific x800 drivers for this card? My active extensions show an ATI 9700 driver being used. I have thought of downloading the ATI 9800 drivers and see if that gets picked up.
Scott R. "
As far as I know (not checked in Tiger though) it's still using the (unified) 9700 Driver which covers a wide range of R3xx series graphics chips.
---
(added 5/13/2005)
"ROM 108 is out and it works, no more corrupted video when waking up from sleep. (I asked and he said the previous "hotfix" for this didn't help him, although it did some others that had the problem as mentioned in older reports below from earlier this year.-Mike)
I was still having some problems with the 'hotfix' I couldn't boot up with the 107 ROM. The 108 ROM is working OK, but there is some noise on the display. Light blue dots will randomly appear and it usually starts in the shadows of icons or gradients. It is very noticeable on a Black & White desktop picture.
(I asked what display he was using since in the past it was an issue with some DVI/LCD displays)
Apple Cinema Display - 30"
108 ROM fixed the wake from sleep issues, but some noise is still noticeable. I'll take some photos if you want.
After several restarts, the problem seems to have gotten worse. Looks like I'll be flashing back to 104. Attached is a zip file with photos. (2MB zip file attached - images too large to post here, but maybe I can scale some down/crop them later.-Mike) Each Blue/Green/Light Blue dot is one pixel in size.
-Brandon "
See Brandon's later report (5/16/2005) above where he said he swapped out the display for a new one which doesn't have the problem.
---

Tiger report from Pro 3D Apps user w/X800 (from the 5/4/2005 news page)
" I'm a 3D artist and recently upgraded to Tiger. So far it's been rough because with my X800 (in a 2Ghz G5 with ATI displays 4.5.1), the OpenGL viewports in Lightwave Modeler, Silo and Maya have pixelated artifacts running through them that make the program unusable. (I asked what X800 ROM version he's using -104 or -107 and for the versions of the 3D apps he's using just for the record.-Mike)
After some fiddling, I was able to get Maya straightened out by using the settings shown below (he included a screenshot of ATI's Displays 3D/GL overrides panel with a profile for Maya.app with the Performance slider set to max Quality.-Mike) , though unfortunately Maya was the only program that responded. I still cannot work in Lightwave Modeler.
Fortunately, Luxology's Modo had no problems at all from the start so I can use that instead of Lightwave.
-Michael F.
(he later wrote with details on versions)
The ROM version on my X800 is -104 and the display is the Apple Aluminum 23" LCD. I ran the card with the ATI software that came with the card, then applied the ROM fix (previous ATI ROM Xtender Hotfix for display artifacts-Mike) because I had the green pixels on my display. After upgrading to Tiger this past weekend, the shimmery green dots were back, so I applied the new ATI displays software.
The software in question is Maya Unlimited 6.5, Lightwave Modeler 8.2.1 and Silo 1.30c. (Update- on 5/12/2005 newtek released a LightWave 8.3 updater.-Mike) World of Warcraft 1.4.1 had a similiar artifacting problem, though only in windowed mode, not fullscreen.
Hope this helps out, it's a real showstopper for my work! "
(I hate to keep harping on details like versions, but I'm spending hours every day replying to mails asking for more info/missing info like versions of drivers, software, etc.. In case there are updates (now or later), it's good to include version info in reports. thanks)

---
ATI X800 ROM -104 (old rom/backflash) Feedback: (reports on the revised ROM updater w/104 rom backflash option mentioned on 4/27. I'm still using -107 in my X800 even in Tiger - ok so far in this 2003 Dual 2GHz G5.)
(added 5/2/2005)
"Mike,
Figured I'd let you know. I have a dual 2Ghz G5 (bought a few months ago) along with an X800 XT. Rebooted with the DVD, and KP. Tried two more times to confirm. Boot back into 10.3.9, moved back to 104 ROM, and rebooted with Tiger. Everything went swimmingly. Just ensure you get the latest ATI Displays with the ROM Extender, or the darned found is too noisy.
Patrick S.
extremesims.com "
See above for links to ATI Displays 4.5.1. (The 104 ROM does not have card fan control - so the ROM Xtender is required to provide that, otherwise as mentioned in my review, the card fan runs wide open.)
---
(added 5/2/2005)
"it (-104 ROM) solved my problems but my fans are flying away...
-Lenny
(I mentioned the ROM Xtender must be installed (use ATI Displays 4.5.1 updated for Tiger) for fan control with the older ROM. He later wrote)
Thanks for the response. Thought I would let you know that although I am booting up without problem into Tiger, I get occasional video related freezes that I never got--- the whole monitor (I have the card attached to a 30 inch HD display) goes into multicolor linear pattern and the whole computer is frozen. It looks like a pattern on a 70's fabrick! This is quite a bummer.... I should add that I am running the 4.51 ATI displays software. I hope there is a new ROM update soon "
---
(added 5/2/2005)
"I had alllll kinds of trouble when I blithely installed an X800 card in my dual 2.5 GHz G5 and installed latest ROMs/drivers/etc.
Kernel panics galore.
Laboriously finally managed to boot in 10.3.9 and revert the ROM to 104 not 107. Installed 10.4 next day (yesterday, obviously), and so far so good in Tiger...until I plugged my 23" Apple LCD. I get green dots dancing, looks like static, on certain colors.
Mike C. "
I asked if he installed ATI displays 4.5.1 just for the record. (Just wondering if he has the latest rom xtender - that was a fix for display artifacts in the past w/some LCD/DVI displays.)
---
(added 4/29/2005)
"Flashing back to the original X800XT ROM image (v104) has solved my dual 2.5GHz G5's boot problems. ATI Displays software v.4.5.1 seems to work fine.
-Cadaver "
---
(added 4/29/2005)
"Hey...just wanted to let you know that the new updater solved my kernel panic problems. I was able to boot up 5 times in a row with no problems. Hope the next new revision works for us all. Thanks!
Jesse "
---
(added 4/29/2005)
"the old ROM, -104, solved the kernal panic issue on my G5 2.5ghz mac. It would take about 6-10 reboots to get past the kenral panic with 107, so something is really wrong with it. (many 2.5GHz owners reported problems, but I've not seen any w/-107 so far on a 2003 DP 2GHz G5-Mike) I spoke live with the sr ATI tech about this 4 times this week. They know they have an issue as I sent them my crash logs and they know what the problem is, they are working to fix it in the next 3-4 days from today.
-Mike K. "
---
(added 4/29/2005)
"I too updated ROM and had terrible probs. I think this is the sequence of events that fixed it for me: I replaced the X800 with original card. Loaded 10.4 without problems. Put X800 back in and problem was even worse, it would just power itself off when trying to start in safe mode. Original card back in downloaded and ran latest rom update (with option to revert to 104). Rebooted to external drive with 10.3.9 system on ran the updated rom update again. Put X800 back in and managed to boot into safe mode at about the 3rd attempt and reverted back to 104.
At this stage a grown man cried!
It is now working fine with Tiger. When I finally booted into safe mode I had everything connected, firewire, usb hubs all connected to 23" Cinema HD monitor. I'm sorry if the sequence of events sound a little vague but my head was swimming by the time I finished ******* about!

Dual 2 GHz PowerPC G5, 2.5 GB DDR SDRAM
23" Cinema HD, Machine about a month old.
-Terry G. "
---
(added 4/29/2005)
"I installed the updated rom. (-107 ROM or -104 ROM?-Mike) I rebooted, got a kernel panic.
Rebooted again and everthing was fine. Dual 2.5ghz G5, 3gb, Tiger, x800, 30" Cinema HD
-Jorell H.
(subject line/mail link was for 104 ROM feedback but I wrote to ask which ROM version he flashed-Mike)
No actually I just updated for the first time to 107 I think 113- A35801-107. "
---
(added 4/29/2005)
"problem w/ KP at boot solved by flashing my X800 back to the 104 ROM version...
when i put the X800 into my new dual 2.7GHz Powermac yesterday i was greeted w/immediate KP's (and audible clicks from the machines internal speaker!)... all is seemingly well now, but its a good thing i still had my old rev. A single 1.6GHz tower, as i needed to boot it up w/ the X800 to reflash the card to usable condition... (boot in "safe" mode if necessary-Mike)
i don't know what others who only have one Powermac will have to do in order for their X800 to be re-flashed... YMMV as always..!
-James H. "
---
(added 4/29/2005)
"Major ordeal (pram clear- several times and safe mode) but bringing it back to 104 brought it back to normal (ATI 4.5 or 4.51 Display and bios 104). Had the card ready to RMA back to Newegg. Looks good so far.

G5 2.0 dp rev b, 4 gb ram, 160 gb and 400 2nd drive, samsung 243t monitor, legato 500, 10.3.9 ....awaiting Tiger.
-Jim S. "
---
(added 4/29/2005)
"I installed the 107 ROM updater (I had never updated the ROM, since I got the card in the first batch of shipments). I booted 10.4 into safe boot, and installed the updater. Now I cant boot any Tiger, including the installer DVD. I could boot into the 10.3.5 installer CD I have.

I have a Dual 2.5GHz, with a 20" and 23" Apple Displays (aluminum).
To fix the problem I had to boot into 10.3.x from my iPod, and apply the 104 down-grader
-Eric M. "
---
(added 4/29/2005)
"Flash back (to -104) helped restore my computer to working order. I will wait for beta testing to finish before i try the update again
-James W. "
---
Call for X800 Beta Testers (those w/ROM update problems) (from the 4/26/2005 news page - beta test full now) From Bruno of ATI, in regards to the problems some X800 owners have had with the last ROM update:
" would you mind requesting that a few people with this X800 kernel panic problem (or blue screen problem) join our closed beta?
They can contact me at radeon @ mypocket.com. This is an urgent matter and if they want to participate should contact me right away and be prepared to quickly answer a questionnaire and sign an NDA which will need to be returned to me with electronic signature (scan by email is fine) or fax.
Thanks, Bruno
(ATI) "

Feedback on X800 XT ROM Update/ATI Displays 4.5:
I flashed my X800 XT card fine here (2003 dual 2GHz G5/10.3.9) and installed ATI Displays 4.5 (at the same time, i.e. first reboot had both new ROM and ATI Displays/new ROM Xtender installed) but several readers reported some problems with the update. (Some prev. reports also updated.)
(BTW - for those with problems if resetting nvram/zapping the pram does not help (still a problem after several restart attempts), I wonder if clearing the caches using AppleJack (OS X troubleshooting/repeair tool) would help. But no reports on Applejack from 10.3.9 users yet.)
Please include your Display type/model in reports. Thanks.
(added 4/25/2005)
"I also have a dual 2.5GHz G5 Powermac with a Radeon X800 XT (OS 10.3.8). After installing the ATI ROM update and the ATI display 4.5 my system began crashing on startup. After several attempts to restart I was able to get the system started in safe mode. Hoping it was a simple software problem I reinstalled the ATI software from the original CD that came in the box with the X800 card. This made the problem worse I was only able to start the system in single user mode or verbose mode which was useless.
So after countless restarts and absolutely frustrated I held down the F key and the system finally started (strange). It runs fine until I restart then it crashes at the grey screen. Holding down the F key works about 75% of the time i know this is strange but it works and its the only way I could start my system.

I contacted ATI through there web site but I have not received a reply. The ROM is obviously a problem and ATI should post an installer to restore the old firmware.
-Efrain M. "
I wish I knew why I've not seen a problem on a 2003 DP 2GHz G5 w/X800 (updated). Some other readers also noted they were OK - but there's been very many reports on problems (esp. from later models like the dual 2.5GHz - if that matters).
---
(added 4/25/2005)
"Dear Mike, Most of what Matthew described (prev. report below) also happened to me, including the boot-up CD panic.

I looked into my ATI Displays today and realized I had 4.4 installed instead of 4.5. Must of forgot to update when I reinstalled from the X800 CD on the first day of kernel panics. Bad move. Kernel panics came back and zapping PRAM only helped to boot successfully for that one time. Every subsequent restart or startup I had to zap the PRAM to boot though sometimes freezing when the desktop came up.

Reading that someone suspects the new ATI ROM Xtender might be the culprit I moved the 1.2.4f3 out and reinstalled from the X800 CD then install the ATI January Update for 10.3.6. Didn't work. I am getting more kernel panics than before. Plugging the keyboard directly into the Mac does help alleviate it somewhat. I have a 30" DVI Cinema Display so I don't think ADC is the culprit. I really suspect the ROM Update.

Once booted-up the system is pretty stable. I just hope someone at ATI figure out soon what the problem is for us with Dual 2.5 Macs or let us downgrade the ROM back to the previous version.
Thanks, Chung-Hsin "
---
(added 4/25/2005)
"Hi Mike,
I'm having the same problem that others are reporting.
Dual 2GHz G5 1.5GB RAM, MacOS X 10.3.7, 22" ADC Cinema Display. Gray curtain, kernel panic, mouse frozen. Sometimes it will continue through to the login screen. If I get to the login screen and the mouse works, I'll be good to go. But if the mouse isn't working and I log in, my system will freeze before the menu bar shows.

I reset nv-ram and it booted fine the first few times, but now it's back to the kernel panics. When installing the updates, I first installed the ROM update, rebooted, (no problems), then installed the ATI display update, rebooted, (no problem). The next day when I started up, I got the panic.

I've used the card for a month and I've haven't had any problems until the ROM and Display update. And I've only had 1 other kernel panic in the last 8 months up until now, so my box is pretty stable.
John "
My 2003 2GHz G5 (running 10.3.9) knock on wood has been OK so far... but I can't remember getting so many problem reports on an update as this one. I hope ATI can determine what the cause really is and release a fix for it.
---
(added 4/25/2005)
"Hi Mike!
I used to have the 'green dots when wake from sleep' effect with the first release of the ATI drivers. Recently it was fixed. (he reported the previous ATI Hotfix for that issue worked in an older post below-Mike)

Two days ago I applied the ROM update to the ATI X800 XT on my dual G5 2.5 / 23 inch dvi apple cinema aluminum display. My computer does a kernel panic on about 4 out of 10 booting processes (just before the kernel panic i hear two 'clicks' from the front of my G5 (clicks= sound like clicking a mouse)). On 2 out of 10 bootup processes it remains stuck on the blue login screen. On 3 out of 10 bootups it gets me logged in but with no IP on the ETHERNET device (=no internet). And on ONE out of ten times it gets logged in correctly and everything runs flawlessly!!!!!!!

Right now I am using my computer on that ONE correct boot out of TEN. And I ONLY let it sleep and NEVER restart or shutdown!
until some fix is posted by ATI!
p.s. (I thought that removing some connections (firewire-usb etc.) could solve the problem but it seems it is just a matter of luck! Some times the computer works. But the most times it does not boot up!!!!
WEIRD!!!
please forward this report to the people you know at ATI.
Dimitris T.
Greece "
Forwarded to Bruno at ATI. (He'll likely want more details like an ASP report, OS version used, etc.)
---
(added 4/25/2005)
"I'm having problems like several other readers. I have a DP 2.5GHz G5, 1.5GB Ram (512 MB stock, 1 GB Crucial), running 10.3.9. I have an aluminum 20" cinema display attached to it. I just got the X800 and installed it on Wednesday. I had read about the problems users were having waking from sleep so I used the April 2005 ROM update.

I started getting that gray curtain screen everyone mentions telling you to restart your mac. It stalls there occasionally, but frequently makes it to the login screen. It's interesting because when it usually does make it there, my Logitech mouse will not respond. I do have a wacom graphire tablet attached that works fine regardless of the mouse. The tablet is attached to my display's usb hub; the mouse is attached to the keyboard's hub.

After that, I installed ATI Displays 4.5 to see if it would do anything, but it seemed to have no effect on the erratic behavior. I've tried resetting the PRRAM and NVRAM, but the problem persists. After several shutdowns and reboots the computer eventually makes it to login and seems to work fine. As long as I don't shut down, everything seems to be okay. As soon as I do, everything comes back and I have to go through several reboots to get it back running.
Regards, Frankie "
---
(added 4/25/2005)
"Hi, just thought I'd give some feedback on the X800. I've got a dual 2.5 running 10.3.7. I installed ATI Displays 4.5 a few days ago, and yesterday night I installed the new firmware. No problems before, and no problems now, except the loud whirring during booting (before the ROM extender loads) is gone. Which isn't a problem of course. :)

The only issue I had with this card was going from 10.3.7 to 10.3.8. This caused the X800 fan to run at variable speeds all the time, even when supposedly idle. It wasn't *loud*, it was just seemingly randomly variable, which over time drove me nuts. It was definitely the X800 too, because putting the OEM 9600 back in and changing nothing else fixed the problem, and then putting the X800 in again made the problem come back. So I went back to 10.3.7, and that also fixed the problem. I've got the combo update for 10.3.9 sitting here, but I'm nervous about installing it. But Doom3 won't run on 10.3.7, so when it shows up in my mailbox, I guess I'll give 10.3.9 a try and hope it doesn't screw with the X800 fan like 10.3.8 did.
--Eric "
I must be lucky but I ran an X800 XT in 10.3.6, .7, .8 and .9 without any problems so far (using a CRT so I didn't see the wake from sleep artifacts w/DVI displays some did, which was fixed in the ATI Hotfix update some time back).
---
(added 4/25/2005)
"Hi Mike, I updated the x800xt firmware as recommended by ATI. I have one minor problem, and that appears to be that upon restart, I get the grey screen for quite some time (~30-45 seconds) before the OS loads. I never had this problem before I installed the x800xt and new firmware.
I have a dual 2.5 GHz G5, 1.5GB RAM, OS 10.3.9. Other than that, I have had no problems with the card- no kernel panics, no bad behavior.
Michael A. "
Good to get a 2.5GHz report on no functional problems/KP's, etc. (I was beginning to wonder if every dual 2.5GHz/X800 owner had problems with the updates.)
---
(added 4/25/2005)
"Last night I ran the new ATI X800XT ROM Update on my Powermac Dual 2.0 G5 where I had recently installed one of these ATI cards.
https://support.ati.com/ics/support/KBAnswer.asp?questionID=19102

The update ran perfectly and then told me to restart, which I did. However during the boot up, the grey screen came tumbling down with the usual "You need to restart your computer..." message. I was about to do just that, but then it suddenly went to the blue loading screen and started loading the final OS components.

It loaded just fine and although I was worried about the message which had come and gone during the boot up, it all seemed fine. I ran a repair permissions, as a matter of course even though this was a firmware update and then shut down for the night.

This morning things are very bad. First boot the system gave the grey screen again, but then continued to boot, but when in the OS, the top bar never came up and the mouse would not move. After a reboot, the same again, but this time the bar came up, but the mouse could still not move. The mouse button worked, as did the keyboard, but no movement. Upon a third boot, the grey screen came down with two levels of grey (imagine two stage curtains, one slightly lower than the other) and this time the system did not get past this point. One more try gave me the same result, so I have turned it off and now need to find a way to either back rev the firmware or possibly remove the ATI ROM Xtender in the system extensions folder.

Update:
Later that day I went back and took the X800 XT out and put the original ATI 9600, which had shipped with the G5, back in. The same thing happened with this card - crash at boot up just like the X800 XT. So it must be a software issue I thought.

Starting in safe mode I see I have v4.4.4 of the ATI Displays tool, I tried moving the ATI Xtender out of its folder and restarting. This time it went to a blue screen after the crash message, but thats as far as it got.

So basically I have no other info to help others, but hope the guy from ATI reads this and other posts here and they get a fix out asap, I now have a £3500 shinny paper wait.
Thanks, Mark "
---
(added 4/25/2005)
"Hello again!
I was very happy when the nvram trick fixed my problem. It didn't last very long though. It is the same again - the computer freezes during start- up. I have tried resettin the nvram again, the p-ram, I have made a new user account (and recovered my old settings with Apples Back-up application). Nothing helps. It's possible to start the computer 1 time out of ten....
It's starting to be a big problem for me and my company, since I don't get much job done...
Is there any chance to fix this or do I need a new X800 card??
Bengt "
I don't know what to suggest at this point... (still not had a problem personally on my 2003 DP 2GHz G5 with these updates.)
---
(added 4/25/2005)
"Hey Mike,
This is addendum to a previous post by me. My DP2.5 G5 has just slowly been going downhill gradually since the ATI ROM update... I reset the cuda (resetting the nvram/pram I assume - or PMU button reset on logic board-Mike) many times but no dice. I finally did as one of your previous posters did and reinstalled the ATI software that came with the X800 XT Radeon card.
I first did the combo 10.3.9 update then did the ATI CD install. Restarted and got that dark hold down button to restart screen. I powered it off altogether and waited 20 sec. powered it up and zapped pram... Same!
I then just shut it down, and waited half a minute and just powered it on... Since then it has not crashed on me yet!.. Really weird!... Before this any type of sleep mode would put it into the LIGHT blue screen of death. Running with the new rom in the card. BUT 4.4.4 drivers and all is well.
Regards
Mario (aka The MacMekanik.) "
---
(added 4/25/2005)
"I just recently installed the new ATI recommended ROM update for my 4-day-old X800 XT. As with all of your other reader reports, I get kernal panics at every restart and startup, with it actually logging in successfully about 1 out of 4 times. I tried all of the fixes listed here, but none worked, so I decided to just re-install my 9800 XT until ATI came up with a fix. Well, funny enough, my 9800 XT didn't work anymore either. I was totally confused and pretty pissed off at that point. Thank god, someone advised me on how to reset the nvram and that got it working again. (As mentioned here again last week - how to do that is in the FAQ's Apple G5 section.-Mike) I'm afraid to put the X800 back into my G5.
It also seems as if the startup session takes longer than normal, with it hanging on the black screen for about 15 seconds before going to the gray apple logo screen. I also notice audible "double clicks", maybe from the internal speaker, during startup...always right before it chimes, and then always right after the spinning wheel stops moving on the gray apple logo screen. I never heard that before, so I don't know what is causing it. I hope all of our reports push ATI to come up with a fix very soon! Thanks everyone!
My system consists of a dual 2.5GHz G5/6.5GB OWC ram/1-73GB Raptor Drive,1-250GB Maxtor Drive/20" Apple Cinema Display w/ADC connector
Jesse "
---
(added 4/25/2005)
"Hi Mike, More info on the ATI X800. I spoke with ATI tech support this morning. Advised them of the problems I was having with the board not allowing the system to boot after the bios update. The guy from tech support advised me to reload my operation system. I told him that the old board 9600xt works fine and boots up with no problem. He told me no one else was having problem. When I refereed him to your web page he got very defensive. My X800 is going back, looks like it's time for Nvidia.

(he later wrote)
I can't get the computer to boot from the DVD with the X800 board installed. Keep getting the Kernel Panic. When I install the ATI 9600xt system boots fine. My copy of Tiger should arrive next week.
Since I can't boot the system or gain access to the DVD with the X800 I'm going to format the drives and start fresh with Tiger and the 9600xt board. Any suggestions on how I should proceed with the installation of the X800 board under Tiger? . Will I have to reload the X800xt ROM Update? (If the card is already flashed/updated, no.) I'm sure I need to install the ATI version 4.5 Display panel. This is my last hope for the X800 Board, if I can't get it to work under Tiger it's going back for a refund.
Thanks for your time, Bob M. "
---
(added 4/22/2005)
"I have the X800 in a dual 2 GHz PowerMac G5 running MacOS X 10.3.9 with the ATI Displays 4.5 update and the April 2005 X800 ROM updater. I had no issue before or after the updates although I did not a slight change in the X800 fan behavior after the ROM update - it is a slightly more noticeable when running 3D intensive programs.
mark "
---
(added 4/22/2005)
"I updated my dual g5 and had no problems. It went smooth as silk.
Will "
Just for the record I asked Will for more details (speed/G5 model, display and OS version used). He wrote back to say it was a Dual 2GHz but didn't note the OS. (assuming 10.3.9)
---
(added 4/22/2005 - updated 4/25/2005)
"I have a reproducible kernel panic with the new ATI X800 XT ROM.
The system will panic on reboot, if:
- The monitor is connected by the (ADC) Apple Desktop Connector
- A keyboard/mouse is plugged into the built in USB Hub in the monitor.

If I move my keyboard/mouse to the USB port on the back of the G5 there is no KP on booting. When I moved it back to the monitor, KP.
William
(He later wrote)
Update...

1) The problem is not ADC related, as I panicked this morning on a non ADC display.

2) As per suggested I deleted the system caches (everything under /System/Library/Caches/, manually via command line), so far I've made 4 back to back reboots without a panic. Perviously, I estimate I was panicking 60-75% of the time.
William "
I wonder if all the others with problems had an ADC display, although some without problems said they were using one. Some noted resetting nvram/pram helped, but that's clearly not been not a fix for everyone.
---
(added 4/22/2005)
"I flashed my X800 XT card without any problems and installed the ATI Display 4.5. On reboot I get two blank blue screens. This board does not seem to work well with the MAC. Before I upgraded and have video I would see lots of green dots flickering in the background on the monitor set to a resolution of 1600x1200. ATI Support said they have not heard of that problem. I find that hard to believe.
PowerMac G5 2.5Hz, 2.5GB Ram, Dual display OSX 10.3.9
-Robert M. "
Is one of the displays a DVI (or ADC) model? (green dots comment reminds me of the artifacts some x800 owners saw with Digital LCD displays - ati's prev. hotfix (rom xtender update) solved that for most that reported it. But the 4.5 displays should install a newer ROM xtender with that fix still intact I'd think.
Did you try resetting the nvram/zapping the pram? (not a fix for everyone with the problem but it did help a few.)
---
(added 4/22/2005 - updated 4/25/2005)
"Hi Mike, I've got a dual 2.5GHz G5 Powermac with a Radeon X800 XT installed. A few days ago I applied the X800 ROM update and installed ATI displays 4.5 so I thought I'd pass on my experiences. Since installation, I get regular kernel panics (the black dialog with the multi-language message telling you to restart) after the boot rom screen. Despite that, it will usually keep booting even after showing the panic screen. It will then usually freeze sometime before getting to the desktop. On the few occasions it does get to the desktop it seems fine and perfectly stable but it will only reach this point roughly every 4th or 5th boot. It hasn't bothered me too much as I plan to do a fresh OS install in a few days when my copy of Tiger arrives. Of course it will be a different story if it still doesn't work properly with Tiger. ;-)
Regards, Matt B
(he later wrote)
sorry, I forgot to mention that. Yes, I did try zapping the pram. It was one of the first things I suspected might help but it didn't appear to make any difference. I also ran the repair permissions process which found one or two small things to fix but none were related to the ATI software and it too made little difference. I also tried starting MacOS X in safe boot mode reflashing the ROM and reinstalling the ATI displays software (ATI's readme recommended doing this for Tiger installs so I thought maybe it would help in 10.3.9 too) but again, it made no difference. As to the screen, it's a Sony G220 17" CRT connected with a DVI to VGA converter. I'll have a look at Applejack for future use at least, it seems like a useful tool. Thanks for the advice!
I gave Cocktail a go and got it to delete the caches but it didn't seem to have any effect. As I said though, I am not too bothered about it right now. I'll see how it goes when I install Tiger in a few days. I'm planning to do a clean install of Tiger and then install ATI displays 4.5 straight after so that should eliminate most other factors. I'll email you again then and tell you how it goes.
Thanks again, Matt "
---
(added 4/22/2005)
"I installed the update and have had no problems whatsoever. I have a dual 1.8 G5, am running 10.3.9 with 4 gig of RAM.

Machine Model: Power Mac G5
CPU Type: PowerPC 970 (2.2)
Number Of CPUs: 2
CPU Speed: 1.8 GHz
L2 Cache (per CPU): 512 KB
Memory: 4 GB
Bus Speed: 900 MHz
Boot ROM Version: 5.1.4f0

ATY,R420:
Type: display
Bus: AGP
Slot: SLOT-1
VRAM (Total): 256 MB
Vendor: ATI (0x1002)
Device ID: 0x4a48
Revision ID: 0x0000
ROM Revision: 113-A35801-107

Display:
Display Type: LCD
VRAM (In Use): 256 MB
Resolution: 1680 x 1050
Depth: 32-bit Color
Main Display: Yes
Mirror: Off
Online: Yes

(Just for the record, I asked if this was a 20in Apple Cinema display. he later wrote)
Yes, I have a 20 inch Apple Cinema Display. At various times I have used it on both ports on the card, plugging into the DVI port with the Apple ADC/DVI convertor. Never had a problem with either port. "
---
(added 4/22/2005 - see above for his 4/25/2005 report/update)
"Hey Mike, Yes you are right! I have a DP2.5 G5 and after updating the ROM on my X800 XT, rebooted and got a Kernel Panic at first then subsequent reboots would give that "You need to hold down the power button and restart your computer."
All I did to fix this was reset my PRAM and everything went back to normal after that.
ATI 4.5 drivers were installed before I did the ROM update.
Specs: 4GB ram 2x300gb Maxtors in OSX raid stripe 0. X800XT was aftermarket from ATI. Also I do notice a greater degree of Kernel Panics after doing the ROM update when installing anything to the system, even NON video related. Trying to boot from the original boot DVD would send it into a Kernel Panic until you reset the PRAM again. Changing to another start up disk also results in Kernel Panic requiring PRAM reset, Then yes it does let you change startup disk or boot from DVD drive but always requiring a PRAM reset first. Weird issue. Hope this helps.
Best Regards,
Mario (The MacMekanik) "
---
(added 4/22/2005)
"Dual 2.5 G5, OS X 10.4 and 10.3.9, Apple 23" ADC, 4GB RAM
Same problem with the X800 ROM update... usually won't boot without a kernel panic.
Tried all suggestions (and combinations) found on your site so far with not much success...
Finally I did get it to boot into 10.4 as well as 10.3.9 after several nvram resets and was able to try a couple of games. Games like Call of Duty, Nanosaur 2, Quake III that had been set to run at 1920x1200 did not work at all (messed up the screen bad). Setting game resolutions back to 1600x1200 seemed to work, however... System will still not reboot properly so I'm going back to using the stock 9600 card for now.
-Rich "
---
(added 4/22/2005)
"Hi Mike, I am using 10.3.9 and 10.4.0 on a Dual 1.8ghz Rev A, 23in Cinema HD (DVI/AL) and haven't seen any problems as yet.
Thanks, Simon "
---
A dual 2.5GHz owner that reported a problem earlier sent an update:
(added 4/22/2005)
"an update on the X800. (10.3.9, 2.5GHz G5, 3.5GB Crucial RAM, 74GB Raptor, 160GB Stock, 23" ADC Display)
I reset the NVRAM and all is OK again. Booted first time. Lets hope this continues. Keep up the good work!
Thanks, Dave "
---
(added 4/22/2005)
" power mac g5 - dual 1.8ghz, 1.5gb, 250gb & 160gb, x800 xt, pioneer dvr-108, 10.3.9

i first did the rom update and rebooted then updated the ati displays, i previously had the ati displays from the x800 cd installed, rebooted again and i have had no problems whatsoever. i have shut down my machine and restarted a few times since i read kernal panic complaints to make sure i just didnt get lucky and still have had no problems. i have also noticed everyone with this problem seemed to have a dual 2.5.
-Larry K. "
Most problem reports were from dual 2.5's (although not all to date) but not sure if that's just coincidence (i.e. more high end owners would have bought the x800 card).
---
(added 4/22/2005)
"Summer 2004 Dual 2G G5. X800XT
I normally wait to install stuff like this to see what the feedback is on your site, but I was doing a clean install to my main drive and thought I would take care of everything at once. Stupid me.

The card worked great until I applied the ATI recommended "April 2005 ATI RADEON X800 XT MAC EDITION ROM Update". After applying the update and installing ATI Displays (new v4.5 I assume-Mike), i get the dropping grey curtain at startup along with the "restart your mac now" message. (Kernel Panic) Every once in a while it goes to a blue screen with the cursor on it. The cursor is of course frozen.
Thinking it was software and having planned a fresh OS install on my main drive anyway, I started from scratch with the drive. System crashed when Panther install CD wanted to restart for install. Started up the second time. Installed OS, updated to 10.3.9 with the combo updater. System crashed on restart. Pulled that drive and started from second drive that had ATI Displays 4.4.2 installed. Crash initially (grey screen and restart message), then went thru startup to the desktop like normal. Computer seemed to work.

Installed first drive in a FW enclosure, connected and repaired permissions, reset NVRAM and PRAM, still no love. Same problems persist. Every 4 or 5 restarts and it goes thru the start up sequence to where I can use the computer. Always starts with the dropping grey screen with the restart your mac message. Tried my start up drive with ATI Displays 4.4.2, removed all 3rd party ram, all pci cards, reset NVRAM and PRAM again, and still the same problems persist. Called ATI today to report issues and asked for an installer to restore the original firmware since this one doesn't appear to have that option. Customer Service agent didn't believe that the ATI site recommended that I update the ROM. This idiot was convinced I was flashing the card with illegal firmware. Finally had to ask for supervisor but got a tech instead. The tech (Gabriel) was very helpful. She said that she would get in touch with the department who controls the firmware to try and get ! me the o riginal ROM firmware so I could restore my card. Later went onto the My Support at ATI to find that they want me to return the card for repair. I called them back asking why they won't post an installer to restore the old firmware. The tech I got this time was clueless and rude. Kept talking over me when I was trying to explain that I didn't see an option on this ROM updater that would restore the previous firmware. He said all the previous updaters had this option. If it's there, please enlighten me. So, my only current option is to send in my card and be without a computer for up to 2 weeks. All because, ATI recommended I install this crappy ROM update. And I have to pay shipping. Right now I am hating ATI.
I hope my story keeps someone from applying these updates right out of the gate. Thanks for the place to vent Mike...
Cheers, Scott
(he later wrote)
I used an old crt and my Dell 24" wide screen LCD. I tried the VGA (crt) and DVI. I went to Fry's and bought a 9800 Pro last night. Popped it in and everything works perfectly. It's the ROM on the X800 card. I pretty much knew that though when I tried 3 diferent drives with out installing anything on them and saw the exact same problems. Please send my email to Bruno. They want me to send my card in but their RMA request form keeps rejecting my part number and serial number. I guess I get to spend another half hour on hold with them again. That'll be the 3rd time in 2 days. I wonder if the tried their card with the rev B G5's...? Yours in rev A right? 2003? Just curious..."
Yes, as I mentioned in past posts I've been ok (so far at least) with my 2003 Dual 2GHz G5 with the X800 (updated).
---
(added 4/22/2005)
"I'm having the same problem others have reported after flashing my X800 ROM. My system experiences a kernal panic on startup 4 out of 5 times. My system configuration is:

PowerMac G5 dual 2.5GHz
OS X 10.3.9, 2 GB RAM
160 & 300 GB SATA drives
Radeon X800 graphics card
AlchemyTV DVR card
Apple 23" Cinema HD display (aluminum/DVI)
I've verified the updated ROM version on the X800 card using System Profiler. (-107) I've taken the following steps to solve the issue, with no success:

1. Reflashed X800 ROM
2. Removed AlchemyTV card (at ATI's request)
3. Reset PRAM
4. Reset NVRAM
5. Booting in Safe Mode
6. Reinstalled OS X on 2nd drive and booted from that drive
7. Reinstalled ATI Displays 4.5
8. Deleted ATI Displays 4.5 and reinstalled previous version

I really believe the issue lies in the ROM. I've asked ATI to issue a ROM Update that allows flashing ROM back to the previous version. Their ROM updates for their other cards include an option to restore the previous version, but the X800 update doesn't have this feature. I suspect it would solve everyone's problem. Hopefully such an update will be issued soon. ATI has told me they may end up sending me another X800 card to replace the one I'm currently using.

I guess this will teach me to jump into installing an update before I wait for feedback.
Jim R. "
I wish I knew why some of us run OK with these updates and others not... (although dual 2.5 owners had the most problem reports).
---
(added 4/22/2005)
"I want to report that the ROM update and ATI Displays 4.5 were installed just fine on my Rev. A Dual 1.8, 2GB RAM, using the Tiger GM. However, I have another report/question about the X800.

After any intensive 3D, UT2K4, Doom 3, etc., the fan on the X800 doesnt slow down. It will remain just as loud for hours, even days. (Days??!?-Mike) The display (older 20" Cinema) can even be asleep and the card keeps on whining. What seems funny is that the fan will immediatly behave itself and slow down when I either put the computer to sleep and wake it up, or change the resolution of the display in any way.
This has happened not only under 10.4, but also 10.3.7, .8, and .9. I had a second monitor attached but removed it to see if fewer pixels had any effect on the card's fan noise. It didn't.
I can't tell if this is an issue with OS X, the ATI drivers, my specific hardware, or what. Have you or any of your readers had this issue? And if so, any tips?
(I asked if he tried some of the usual tips. I don't have the fan speed problem he mentioned-Mike)
Sometimes the problem is physical.
I reset the NVRAM and zapped the PRAM. Seemed to help a little, but 20 minutes after a Doom 3 timedemo, the fan was still running. And again, switching monitor resolutions solved the issue before I could switch it back. So I decided as a last ditch to blast the little sucker with air. Holy cow. The X800 is the most recent thing I've installed, but it was by far the dustiest thing in there. Static buildup? Demons? Who knows. The X800 loves dust. I think it needs to be cleaned more often than the rest of the G5. Now I can have AlchemyTV full screen on the main monitor, and the Doom 3 timedemo windowed on the second, and I can't make the card as loud as it was hours after the displays had gone to sleep.
Thanks for all your help, thought I'd pass it along.
-Dylan "
Must be used in a dusty environment (and odd if dust was the cause that the fan speed problem only appeared after the updates).
---
(added 4/21/2005)
"Mike, I have also experienced problems with the ROM update. I have tried next to everything, including reinstalling OS X, resetting NVRAM, and everything I could think of. Do you know anything that could fix this, and have you heard anything from ATI? I am about to RMA my X800 because of this issue, and I am really not happy that ATI could release something with bugs this severe.
I am running a Dual PowerMac G5 2.5 GHz with 1 GB RAM, 2x250 GB HDD, and the only other thing is the X800 XT. - Ian "
I asked if he installed ATI displays 4.5 also but he said he didn't remember.
---
(added 4/21/2005)
"Installed the X800XT ROM update on my G5 Duel 2.5 (1GB Apple RAM, OS 10.3.8). After restarting, I got a window telling me to restart. After restarting, my computer crashed with a kernel panic. On the third try my Mac started up. I have not installed the ATI Display 4.5. So far, I have had no more problems.
Stan "
I wish I knew why so many had startup problems after the update - I had none. (Installed both rom and 4.5 displays at the same time - so first reboot was with both installed) The 4.5 displays installer also updates the ROM xtender to add display scaling support, a new option in 4.5 displays. But if you're ok I'm almost leery of messing with it even though I had no problems booting to 2 HD's in my G5 w/updated X800.
---
A reader that sent a previous problem report yesterday sent a follow-up.
(added 4/21/2005)
"Dear Mike,
Apologies for not copying my original message but I am sending this e-mail from another Mac as my troubles are continuing with my G5 2.5 following the updates. I returned home and woke the G5 which had been sleeping overnight after I got it started last night in Mac OS 10.3.9 on my main hard disk. I had an e-mail from Bruno at ATI advising that the ROM Xtender is still needed for features of the X800XT card. (like display scaling feature in ATI Displays 4.5) I also had an e-mail from a friend who has a dual 2GHz G5 also with the X800XT. He ran the updates sucessfully and e-mailed the ROM revision and NDRV numbers listed in ATI displays. I opened ATI displays on my Mac and it showed the same ROM but the NDRV ended in 44 not 45. Persumably because the ROM Xtender wasn't installed? I ran the ATI displays installer again to re-install the ROM XTender and restarted.

On startup I got the Kernel Panic message again after a few seconds of the grey Apple logo, however the screen then went blue and the startup continued all the way to my login window. The mouse would not respond at this point for whatever reason so I pressed Tab and entered my password. This logged me in and the dock and my desktop picture loaded but no menu bar appeared at the top of the screen and I still had no mouse. I tried using the keyboard without success and after a few seconds the fans started to speed up. I had no option but to hold down the power button.

I held down alt and again started from my second hard disk running 10.3.4. This booted fine. Thinking the cause may be a corrupted plist or cache file I emptied the library/cache and ~/library/cache folders and removed plist files with changes dated in the last couple of days from both these locations. Restarting from 10.3.9 on my main hard disk again the computer booted. I had to re-enter my network settings however. This means the computer can boot with the ATI software installed. Now it was time test a restart.

I got another Kernel Panic! I started up from my installer CD as I was ready to perform an archive and install. I decided first to try repairing permissions from the CD. This found an issue with systemconfiguration.plist. I repaired permissions and restarted from 10.3.9 on my main disk again, The computer booted OK. I rebooted again and got another panic.

I decided it was archive and install time now. I booted from CD again and got a panic from CD!

There really is no consistancy here and it is really starting to look like the card may be the problem as the panics are random from three different boot disks. My next option is re-fitting the factory 9600XT and testing that. If that is reliable then I guess I have to send the X800XT for a warranty repair/exchange. I play alot of games so would really miss it but more than that what happens if the ROM on that is not updated and it because essential to do the update in the future?

Like one of the other readers I have Kingston RAM installed but this has run OK from day one. This Mac has been reliable for months both with this RAM, the 9600XT then the X800XT.

Sorry this is so long but it is difficult to explain the inconsistancies our guess what the problem is.
Thanks again for your site which really helps,
Regards, Matthew "
I installed both updates on my DP 2GHz (2003) G5 w/10.3.9 at the same time and restarted fine. I later booted to a 10.3.8 (backup drive) OK and then updated to 10.3.9 and updated to ATI Displays 4.5 (was running the 4.4.2 version that first supported the X800). Restarted fine. (But I'm beginning to feel lonely in that regard - if anyone else has not seen any problems with these updates send a report.)
---
Another report where zapping the pram (or resetting nvram) helped but it's not been a universal fix for everyone.
(added 4/21/2005)
"Mike,
I too experienced the kernel panics on boot - this was on a dual G5/2.5GHz. The ROM flash went off without a hitch but whenever I'd boot the machine it would panic during the gray "Apple" screen (pretty early in the boot process). The fix was to do a PRAM zap (CMD- Option-P-R); now it boots up clean. Scared the heck out of me though - went through about an hour of troubleshooting and cursing :)
Cheers, Pete "
---
This reader noted a problem on first boot, but ok afterwards (maybe kextcache related?)
(added 4/21/2005)
"don't know if this is useful, but after reading your page and applying the ROM Flash and updating display utility for the X800, I constantly get a blue screen lock up on first boot requiring a hard reset. Boots OK after that.
Beware!
Dave
(I asked for more info-Mike)
System is 10.3.9
2.5GHz G5, 3.5GB Crucial RAM, 74GB Raptor, 160GB Stock 23" ADC Display
ROM install updated fine and it requested a restart.
Upon restart it gets to the blue screen and stops. The fans slowly spin up to full.
Hard reset and all is fine. I have done this twice. I will reset NVRAM when I am finished doing a project and will let you know if it helps.
Fingers crossed.
Dave
(he later wrote)
an update on the X800. I reset the NVRAM and all is OK again. Booted first time. Lets hope this continues.... "
---
Tiger Notes: Several readers reported problems with Tiger 10.4 (most didn't note if the build version was the GM one) but this reader later mentioned a fix for that. (ATI had told me that the ROM update and 4.5 Displays update were tiger tested.)
(added 4/21/2005)
"...the new X800 ROM update causes a problem with OS X 10.4. It flashed my three-day old X800 card just fine under 10.3.9 and it runs fine under 10.3.9. BUT, when I try to load 10.4 (Build 425), my d2.5 Power Mac G5 crashes right after the gray/apple screen during boot up. Sometimes even after the kernal panic screen, it continues on past the kernal panic screen to a partial but non-working desktop. The card ran fine under 10.4 (425) with the previous X800 ROM version that came in the card.
(he later wrote with the case/fix)
I've been fiddling with things some more and the problem is not the ROM firmware in the card. I discovered that I had not installed ATI Displays 4.5 on my 10.3.9 volume but had the older 4.4 installed and that is why I didn't get the boot kernel panic under 10.3.9. ATI Displays 4.4 uses ATI ROM Xtender 1.1.3 but ATID 4.5 installs ATI ROM Extender 1.2.4f3. So I switched out 1.2.4f3 for 1.1.3 and--boom!--no more kernel panics on boot into 10.4 (425) either.

There is also an intallation location difference between 10.3.9 and 10.4. In 10.3.9 the ROM Xtender is in /Library->Extensions->AppleNDRV but in 10.4 it is in /System->Library->Extensions->AppleNDRV. Go figure.
So, ATI ROM Xtender 1.2.4f3 is the problem. "
Here's a mail from Bruno (ATI) yesterday in reply to a reader's problem post yesterday (below) and includes comments on Tiger testing.
(added 4/21/2005)
"Sounds like the problem may be solved then. Just try booting again in the current OS with ROM Xtender re-installed.
The description below (from Matthew's 4/20/2005 report below - Matt also sent an update posted above.-Mike) is a little erratic (like doing something on the 10.3.9 partition and then booting a 10.3.4 partition expecting different results).

The actual ROM on the card has only basic support to get the display up (and now also has fan control). The card will be missing a lot of functionality and may or may not work for all purposes without ROM Xtender. Either the original or new ROM Xtender (with ATI Displays 4.5) should work. To use the new Display Scaling feature in ATI Displays as well as to solve a possible corruption problem (reported and fixed a long while back) you must use the newer one.

Tiger has been in testing here at the office for over a year. It's tested daily with the X800. This version of ATI Displays and the flasher have also been tested with Tiger.
Bruno "
The report above this one mentioned a problem in Tiger (build 425) with his updated X800 and ATI ROM Xtender v1.2.4f3 installed by ATI Displays 4.5, he said using ROM Xtender 1.1.3 from ATI displays 4.4 solved his boot/KP problem in Tiger (go figure...). But the Display scaling support isn't in the older Xtender.
---
(added 4/20/2005)
"Dear Mike,
I just installed the X800XT ROM update tonight following the ATI Displays 4.5 on my G5 Dual 2.5 (original 512Mb + Kingston 1GB RAM, OS 10.3.9) and I got nothing but kernel panics after restarting. I even had a hard time trying to boot into Safe Mode. Once in Safe Mode after several attempts I reread the X800 ROM Read Me file and installed it once more in Safe Mode and did a Repair Permissions just in case. Crashed on reboot. Tried booting up from G5 Install Disc. More kernel panics. When it finally booted up to the desktop the system basically hung there and the G5 fans roared like a wind-tunnel. (the new firmware was supposed to have card fan control builtin, as prev. firmware required the ROM Xtender file to load to control the card fan speed - i.e. it ran wide open until the ROM Xtender loaded-Mike)

Frustrated I took out the Kingston RAM. No go. Next I swapped out the X800 with the OEM 9600XT. It boots. Tried several times. No panics. So I reinstalled ATI Displays 4.5 again, repaired permissions and rebooted. Seems good. Next I swapped the X800 card back. With crossed fingers it boots! Shut down the G5 to reinstall the Kingston RAM. Kernel panic on startup!! Restart, it boots okay... I haven't tried to reboot again being afraid I might get more kernel panics. I let you know tomorrow how things turn out. Too tired now to keep experimenting... : )

Just curious if your other readers have come across the same problem with this ROM update. I have always never really had any problems with ATI updates in the past.
Thanks and I really appreciate your site.
Chung-Hsin
(Does the problem happen again with the 9600 card installed with the Kingston RAM? (if so I'd suspect the ram - although odd it wasn't a problem before).-Mike)
The 9600 card does not have any conflict with the Kingston RAM.
My G5 seems to have stabilized after I zapped the PRAM this morning. It at least is booting without any kernel panics. The boot-up sequence though is not the same as before. It will start with the gray Apple and the spinning wheel. It'll freeze then switch to a blue screen then switch resolution to 1280x800 at the progress screen for a few seconds, go black before the progress bar even gets halfway through then switch to the desktop at full 30" screen resolution 2560x1600.

The ROM version is 113-A35801-107. (ROM was updated)

Most of my programs (Safari, Photoshop, etc) and games (Halo) seem to work fine, no glitches, crashes or kernel panics. I am keeping my fingers crossed hoping that maybe one of your readers might have an explanation and possible solution for this, short of reinstalling my entire system again.
I never had that Sleep Wake-up glitch that many had reported on your website with the X800 XT. (I didn't either using a CRT - the hotfix update fixed that issue for users of DVI/LCD displays typically.-Mike)
Thanks, Chung-Hsin"
A 2nd reader reporting a problem with the update:
(added 4/20/2005 - see his later 4/25/2005 report also)
"I've never had as much problems as after upgrading the Mac Radeon X800XT ROM Update and ATI Displays 4.5... (I'm running both OK with my G5/3.5GB RAM/10.3.9(US) here-Mike)
I'm running a brand new 2x2GHz PM, with 2.5 Gb memory, with swedish 10.3.9.

First of all the computer froze during the ROM update.... Luckily I found an old ATI RAGE 128 PCI card witch I connected to an old 17ę AppleVision. Manage to start the computer and do the ROM update.
Now when I start the computer a window appears after a few seconds telling me I need to restart, then the screen goes all blue. Same thing happens the first (hard) restart. After a few restarts the computer really starts!

I have tried repairing permissions, I have run TechTool, and I have tried installing a new system. Nothing works. Well, the computer works, but it feels like a pece - buggy, and with a life of it's own... With a week to go until Tiger arrives I guess I'll try to bare with it like this and just pray that it disappears with Tiger....
-Bengt
(I asked if he could verify the card flashed ok. (rom actually updated - he later did, as his rom# (-107) matches mine.) If it did and all else failed to fix it, I'd try resetting the NVRAM (how-to is in the G5 section of the FAQ here)-Mike)
Resetting the NVRAM fixed it!! (Thanks alot - I had never heard about resetting the NVRAM!!)
"
That hasn't been a fix for everyone although 2 later mails noted zapping the PRAM helped. (Update - see Bengt's 4/25/2005 report above, where he noted problems returning.)
(comments to the original report)
And a 3rd reader reporting problems with the update
(see above for his 4/21/2005 updated report)
(added 4/20/2005)
"I just installed the ATI Displays 4.5 and X800XT ROM updater on my G5 2.5GHZ Dual running Mac OS X 10.3.9. The ROM updater flashed the screen black for a couple of seconds then told me I needed to restart manually. I did so and got a kernel Panic on the grey Apple logo screen with the spinning cursor. I restarted but the problem persisted.

To try and resolve the issue I booted from my system CD and installed Mac OS X 10.3.4 onto my second hard disk. Once this had completed I restarted from the new 10.3.4 install and got the same panic. (ATI notes the X800/drivers require 10.3.6 or later IIRC. The Nvidia 6800 also KP's if booted from older OS versions w/o its driver, noted in my review and the 6800 feedback page last year.-Mike) Getting very concerned now as I have only had one system crash with this Mac (Running Star trek Elite Force 1 with smp=1 set)

I connected the G5 to an iBook and started the computer in Target disk mode. I remove the ATI ROM Extender from 10.3.9, system/library/extension/AppleNDRV. The computer strangely now started up from the 10.3.4 install on my second hard disk but still crashed with 10.3.9 which makes no sense to me.
Whilst running 10.3.4 I deleted the Extensions.kextcache and Extensions.mkext files from the 10.3.9 install. I started in verbose mode and the computer started in 10.3.9 again. I tested sleep and Quake 3 and they are OK but I have run out of time and really want to do a few reboots in non-verbose mode to see if the problem is fixed.

I don't know if I should reinstall the ROM Xtender from my CD or the ATI display 4.5 installer again or if I can do without it now (the X800XT fan is running normally). My other worry is what happens with Mac OS 10.4 when it arrives shortly. The last thing I want is kernel Panics after installing it, assuming I can get that far.
Regards, Matthew "
---
Feedback on ATI X800 Hotfix:
(added 3/28/2005) "Hi Mike!
I wrote to you as soon as I got my X800 card for my dual PmacG5/2.5 with 23 inch alu cinema display to report to you that I had wake from sleep issues.

I would like to report that the recent update from ATI (see below) has solved the wake from sleep issues!
Thanks for the bug reporting that you did to ATI yourself and this problem has been solved very soon!
Dimitris T.
Greece"
---
" Display artifacts or corruption returning from sleep mode The information in this article applies to the following configuration(s):

RADEON X800 XT MAC EDITION
DVI Displays such as the Apple 23" and 30" Cinema HD Displays
Mac OS X 10.3.6 or higher

Upon returning from sleep mode, artifacts or corruption may be present in the display. Rebooting the system corrects these symptoms.
Users experiencing this issue are advised to download and install the RADEON X800 XT MAC EDITION ROM Xtender HotFix.
Notes:
Before you install this hotfix, please read the release notes. The update should be (re)applied after other driver and OS updates. Future versions of ATI Driver updates and ATI Displays will include the fix."
---
X800/Wake from Sleep Video corruption tip (See above for ATI hotfix for this.) From a reader mail Friday - I've never seen this problem with my X800/Sony CRT but several readers with LCDs have. See below for a note from Bruno of ATI on a beta test signup for a proposed fix for this.)
" Mike, This morning my dual 2.5 G5/x800 combo experienced a wake from sleep corruption problem on my 15" gateway CRT. You heard that right, CRT. It is hooked in to the DVI side with Apple's VGA adapter. I could see the mouse, and move it around, but I couldnt allign it with anything to click and couldnt tell if menus were moving at all. wavy squiggly scan lines all over. And the mouse has a square pixel ghost following it.
With much experimenting and sleep/wake cycles, I was able to solve it this way: put computer to sleep using power button on front of G5. Then unplug monitor. Then wake G5 without monitor connected at all. Then connect monitor. (nothing happens, and no monitor is recognized...yet. Then put computer to sleep again. Upon your next wake, if you are like me, you'll see a normal screen again.

Might be a big relief to people with unsaved documents they don't want to lose by doing a forced reboot
I sent a less detailed email to bruce (Bruno? (ATI)-Mike) too.
Dave C. "
---
ATI Request for beta testers for X800 Wake from Sleep Video Corruption Fix (3/11/2005)
" Hey Mike.
In follow-up to the wake from sleep problem... I need some people to test a fix for this before we make any releases. As many of your forum readers know, we've had a beta group going for almost a year now. I'm looking for a few people who have this corruption problem to join the group.

Those interested should contact me at RADEON@mypocket.com with a brief mention of their system configuration.
I'm primarily interested in people who are willing to continue participation in the beta program after this specific issue has been resolved. I will forward a questionnaire, NDA and instructions to those I select to join.
Thanks,
Bruno
(ATI) "
---
(added 3/11/2005)
"I'm getting the same green flickering screen problem as well. However I am using the Dell 2001FP 20" LCD, so it's not just a Apple Display problem.

I got around it by having my computer go to sleep rather than the monitor (set for never), or maybe it was the other way around. I'll have to check when I get home.
Trevor H.
Senior Graphic Artist
Activision Value "
---
(added 3/11/2005)
"Dear Mike,
I wanted to let you know that I also have the "flickering pixels on wake from sleep" problem on my Dual 2.0 GHz G5 system using the x800 card and the Apple Cinema Display 30". I didn't have the problem when the same system was connected to a 22" Apple Cinema Display. I'd write to Bruno at ATI, but I don't have his e-mail address. If you could send it along, I'd much appreciate it.
Thanks!
Jeffrey
"
I forwarded mails to Bruno and he said they are aware of the issue and are working on a fix, but that not all owners are seeing the problem which makes it harder to troubleshoot the cause. It does seem more likely to affect LCD/DVI (digital vs analog) users. (Update - see the ATI Hotfix for this issue noted above.)
---
(added 3/11/2005)
"I too am having the wake from sleep issue with my Radeon X800 XT. I have a dual 1.8 ghz Powermac G5 and the 23" Apple HD Display. I'm running Mac-OS 10.3.8 with 1.25 GB of Ram. I have called ATI regarding this issue and they have no idea what I'm talking about. I don't know what to do. This is such a great card and I don't want to take it back simply because I can't put my computer to sleep with it.

Basically what happens is when I wake the computer, all sorts of green flashing pixels appear on the screen and the only way to get rid of it is to reboot the machine.

I spoke with the Senior ATI technician today and she said she didn't know what was going on since this problem hasn't been reported before. She said she will call me back tomorrow when she talks with someone higher than herself. If other people call ATI about the same problem, maybe they will get their act together. I'm really upset over this situation as well as ATI's lack of doing anything to help.

If anyone has any suggestions, I would greatly appreciate it.... Any help would greatly be appreciated regarding this issue.
Thanks, David "
ATI is investigating this problem and hopefully will have a fix/update to solve it soon.
---
(added 3/7/2005)
"Hi - From what I can tell the X800 "corruption on wake from sleep" issue is specific to the Apple 23 inch HD LCD; at one point I was running a dual monitor setup to check this, and the 23" showed snow on waking while an older 20" Cinema Display did not. The 23 was on DVI, the 20 on the ADC port; I had no way to swap them, unfortunately. The rest of my hardware: dual 2Ghz G5, 4.5GB RAM, no Airport or Bluetooth, running 10.3.8.
Tim L. ("Tallan")"
I never saw the problem here (I'm using a Sony FW900 CRT). But even the ADC port Cinema Display uses DVI for the video (ADC port just has 28VDC Display Power + DVI video in one connector) so I don't understand why the problem would be isolated to the AL DVI displays. Not everyone that mentioned the problem listed their display type used however.
---
(added 3/4/2005)
"First, I'd like to thank you as your benchmarks helped me decide to buy the Radeon X800 for my Mac 2GHz (Rev A) G5. The display attached to the card is the Apple Aluminum 23" and overall I'm thrilled with the performance in general. I used to have a 6800GT, and am happy to report that the X800 has none of the Lightwave 3D OpenGL issues that the 6800 had. Maya and Modo also perform well with the ATI.

One seeming flaw with the card is that if the machine goes to sleep, when it wakes up there are green flickering pixels all over the screen that will not go away until the machine is rebooted. I've heard that this is happening to a few other G5 owners... I'm considering returning the card although as my machine rarely goes fully to sleep, I'm going to wait to see if a driver patch fixes the issue.
Regards, Mike F. "
I don't see that problem here but some have noted corrupted video after wake from sleep - I don't know why. I suggested he write Bruno at Ati about this (and ask if he'd like a copy of your apple system profiler report also)
---
Overclocked X800:
(added 3/4/2005)
"Hey, just wanted to tell you that I noticed that when using ATiccelleratorII, that it can effect the minimizing of windows to the dock. There gets to be a slight jitter to the smoothness of it. Basically, its not smooth after using it. I was able to over clock safely to 500CPU speed no problem with no other bad effects from doing so. Games all ran just fine. And no other OS problems. Just that annoying jitter in the minimizing, and only in minimizing. Maximizing is fine. Go figure. :)
no bad anything in any game. Just that stutter in the minimizing of the windows, and only on the way down not up. I don't hear the fans run any harder either. Sounds the same to me as before the over clock. I guess I should try to up the memory as well. I just wanted to know if you or anyone else sees that happen on the X800 Cards. Also, how far Do you think I could push it? (impossible to say) The PC side is 500 right? I would only take a guess that maybe 20MHz beyond the 500 would be the max. Do I need to run the CPU and Memory in any specific way? As in if the CPU is 500 the Memory has to be 525, kind of thing. Thanks for the response and any help.
-Paul V.
Dual 1.8GHz, X800 XT, 4GB Ram
OS X.3.8, 20" Cinema Display ADC
(he later wrote)
Just to let you know, I was able to clock it up to 520/520. Everything was working just fine all day. No stuttering when minimizing or any artifacts at all in the games I play. I will try it again once I get a hold of Doom III to see if it helps any. From the looks of the benchmarks, I will need all the extra MHz I can squeeze out of it. "
Not sure how much faster you could run the memory (you may run into more problems with that sooner than OC'ing the GPU). It's really impossible for anyone to say what will be reliable with any particular sample/system. Maybe write the author of ATIcellerator to see what X800 reports he's gotten. And in the end, it may not be worth it. (I've also added this to the previous page here with other Reader Reports on ATIcellerator II Overclocking Utility. (Remember YMMV...)
---
X800 vs Nvidia FX5200 in World of Warcraft:
(added 2/17/2005)
"Just giving a quick review of my new X800 in a Dual 1.8 G5 (2 Gig Ram)
Had the stock GeForce 5200 in the machine when it first arrived and have been playing World of Warcraft like that for almost 2 months now. Game performance was ok. Nothing spectacular, but good.

Settings before:
1024 x 768
Everything set to low except for Terrain Texture. Vertex Shaders were also enabled, but full screen glow effects were not. I was getting anywhere from 12 - 20 frames per second depending on what and where I was playing.

After X800:
Now running at 1600 x 1200
Everything on high except for terrain distance (this one cripples all cards it seems)
Still not using full screen glow effects, since the effect doesn't do much for the look and drops the FPS down almost 8 - 10. Now getting anywhere from 20 - 45 FPS. Tried using the ATI control panel to override the settings for the game. I currently have FSAA set to Multi on 4x and Anisotropic Filtering on and the textures look wonderful. The only glitch I've noticed by doing these overrides is that in Ironforge, I get some screen artefacts every 5 - 10 seconds for one millisecond.

The difference in not only FPS, but also quality has greatly improved this gaming experience, now everything is more fluid and crisp as well. Textures look great, and smooth.

From my experience, the biggest obstacle on performance for this game is the terrain distance. If you are having problems with FPS, chance are that it's set to high. I have mine set 1/3 of the way right now. Any higher and I loose FPS at a drastic rate.

A good buy, but quite expensive. That being said, if you spend a fair amount of time playing games on your mac, it would make sense to treat yourself to a nicer visual experience and see things the way they are meant to be played.
If you need more info, please email me.
Thanks, Iles :)"
I also added this to the previous page of Mac WoW feedback. (Reader FYI - for tests of the X800 vs OEM 9800 Pro and 6800 Ultra in a Dual 2GHz G5 with other games (Call of Duty, UT2004, etc.) see my ATI Radeon X800 XT Mac Edition Review.)
---
X800 Fan Speed/10.3.8 Update:
The ATI ROM Xtender controls the card fan speed. I've not had a problem in 10.3.8 with fan speed (G5 case or X800 fan) on a 2003 Dual 2GHz G5 w/X800 XT I updated to 10.3.8 using the combo updater - but some reported they did. I wrote Bruno at ATI to ask if they had seen anything like that after the 10.3.8 update. Here's a copy of his original mail and several later replies:
" We haven't. (seen a fan speed problem-Mike)
Unless their ROM Xtender file was damaged or removed (the file itself, the caches copy in the kernelcache or the runtime version in memory), there's nothing else in the OS that controls the fan for that card.

I will ask someone to do various install tests - going from a working 10.3.7 to 10.3.8 with the card already installed, installing the card's drivers after the fact, etc.

Tell your readers that if they're unsure as to whether any system update has damaged or removed any retail driver files, they should re-run the installer that came with the card. It will only install ATI Displays, the Rom Xtender and anything else that is NOT covered in the standard OEM set. It will not overwrite their 3D drivers or other files that are keyed to the OS/frameworks version.
Bruno
(he later wrote in reply to a reader (Ryan) saying his X800 CD wasn't the correct one and he needed the ROM Xtender installer-Mike)
You can tell anyone who's looking for X800 installation drivers that they've been available on our website since the product was released:
http://www.ati.com/support/drivers/mac/macosx-jan-2005-update.html
(I replied to Bruno that some may be leery of using that in 10.3.8 since the page notes it's for 10.3.6 Only. However their later installers are usually 'smart' and won't install drivers (just the ROM Xtender and ATI Displays 4.4.4) under later OS versions that have later drivers.-Mike
Bruno replied:)
It generally is useless (or overkill) for other OSes because you can download a smaller archive for ATI Displays. However, at this moment a new Displays-only installer hasn't been posted, so that full one can be used instead.

Anyway, these people will already have the file on their CD - and it designed to be run in any OS after the minimum mentioned on the box and docs. I'll be changing the documentation to make sure it doesn't scare people away from running it on multiple OS versions.

I will write to Ryan to find out what's up with his CD and card. BTW, I verified the ROM Xtender was working in 10.3.8 yesterday and the fan slows right down. Cannot hear the X800 above the G5 fans. Sometime this week I will use an external device to actually measure the RPM in 10.3.7 and 10.3.8 and will forward you the results. There is absolutely no API exposed to control the fan speed. No software other that the NDRV built into the ROM Xtender can adjust the speed. There are 8 different speeds which the fan can cycle through depending on chip temperature. If the case became hotter inside (due to G5 fan performance), it's conceivable the X800 fan would speed up. But this would not be a fault of the card nor its software. "
Some readers said they'd tried that and it didn't seem to help, but for those with the problem it's worth a try. There's a few reader mails on this here on the 10.3.8 feedback page - I asked they verify the X800 fan (not a G5 case fan) was the source since one X800 report there sounded exactly like a G5 owner's complaint on the system fan speed increase in 10.3.8 (i.e. he said just moving a mouse caused an increase in fan speed/noise).
Here's another post Bruno sent that also claims it's the system fans not the X800 fan that most are hearing:
" I own a July '04 dual 2.0, and have seen the (system) fan problem first hand.

It's the U3 heatsink fan (at least the fan noise correlates with the temperature of that component as indicated by the shareware app Temperature Monitor). The fan is normally very quiet, but certain CPU bound operations will spike the temperature on the memory controller chip and cause the fan to go nuts (Seti@home is a great example in my case. It's so annoying that I had to stop running it). (Note that Apple's change doc on 10.3.8 mentioned a fix for fan behavior w/seti@home-Mike) It can be caused by seemingly non-intensive operations: highlighting text, dragging windows, and certain games also seem to trigger it (e.g. Civ3 and RRT3).

The 10.3.8 update appears to have changed the fan logic somewhat (apparently they changed some of the controller gains or time constants), which make the issue different, but certainly doesn't fix it. Now the fan just builds to the fast speed a little more slowly, perhaps at a slightly lower max value, and then remains annoyingly loud for an even longer period of time than it did before.

IMHO, the fan noise is either due to a bad calibration on this temp sensor, or some other issue with that version of the U3 chip (it's only been revised about 4 times since they shipped the first G5's).

And FWIW, the original dual 2.0 that sits on my desk at work has NEVER done this.

The fan noise is an Apple bug, and has nothing to do with our graphics cards. "
I haven't seen any G5 fan speed problems with 10.3.8 with my 2003 Dual 2GHz model and some Dual 2.5GHz owners reported fixes in 10.3.8 for fan speed problems they'd seen previously - but not sure why some had the problem (I've had reports on that from 2003 and 2004 G5 owners).
I haven't seen any G5 fan speed problems with 10.3.8 with my 2003 Dual 2GHz model and some Dual 2.5GHz owners reported fixes in 10.3.8 for fan speed problems they'd seen previously - but not sure why some had the problem (I've had reports on that from 2003 and 2004 G5 owners).
How to Test if it's the X800 Fan: To recap comments I've made in the past, if you think the X800 fan is the source, here's some things to check:
During a cold boot/powerup - the X800 fan runs full speed until the ROM Xtender loads (which controls the fan speed). If you hear the X800 fan lower in speed as the OS loads - then the ROM Xtender is installed. (Some thought the 10.3.8 update may have corrupted it or removed it - I do not see that problem here)


When I test for video card fan noise I remove the G5 side cover (metal) and tip out the plastic cover (don't remove it or the system fans will spin up to full 'fail safe' mode) and then carefully press on the center of the card's fan to stop it for a second to see if the card fan and not the system fans are the source.
I mention the card fan test since some of the X800 comments I've had after the 10.3.8 update blamed the X800 fan but sounded exactly like complaints on G5 system fan speed increases from other readers after that update. (The past tip here of setting the Energy Saver performance option to "Highest" vs "Automatic" helped some that reported that problem, but not all.)

---
X800 Video Corruption after Wake from Sleep: (a few X800 owners reported this in 10.3.7 (I and others did not see the problem then or now - although I posted a note from reader that did before 10.3.8 was released that noted reinstalling the 10.3.7 combo update fixed it for him. See below for that 2/7/2005 dated post)
(added 2/17/2005 from 2/15 mail)
"Just wanted to let you know that I also have the video corruption issue with my X800 in OSX 10.3.8 after going to sleep. It doesn't matter how long I go to sleep for either. Even if it's just for a second, once I bring it back up the green dots start showing up in a few seconds and keeps getting progressively worse.
It happened in 10.3.7 as well, but only during 3D games. Now it happens all the time. As for my fan speed, it's no louder with the 10.3.8 update.
Here's a running discussion about it on Apple's Discussion forum
Mark A."
Some X800 owners also reported they though the card's fan was running faster on the 10.3.8 update feedback page. (I don't see that here with my DP G5/X800/10.3.8 system.)
---
(added 2/16/2005)
"Just another report of video corruption issues after wake from sleep with a brand new Mac X800...

Purchased the card brand new from Tekserve on Monday... Woke computer from sleep this morning and the video was all garbled. A reboot seemed to fix it temporarily. Here are my specs:

Dual 2ghz G5, Panther 10.3.8
Installed the ATI drivers that came on the CD with the card (the installer should only install the ROM Xtender and ATI Displays 4.4.4 if run from 10.3.7 and later-Mike) 2GB from apple store

I'll let you know if I find a fix... I am going to try to download the 10.3.6 driver from ATI's website this evening. (that won't install or shouldn't - they note it's for 10.3.6 only. Later OS updates have later drivers than that install.-Mike)
Keep up the great site!- Andre"
I don't see this problem personally (so far at least, checked after the 10.3.8 update also). Not sure what to suggest but I might try reinstalling a 10.3.8 combo update.
---
(added 2/14/2005)
"Hi Mike!
About the X800 video corruption problem.
I had 10.3.8 on my dual G5 2.5 installed and then I decided to go for an X800. I Installed it, ran the 'X800 installer' on the CD and restarted. Then (because I remembered the problem) ran a 10.3.8 combo update (again) And let the computer to sleep.
Today I have video corruptioon problems (many green and pink pixels flickering on the whole screen)
so, the combo update to 10.3.8 did not solve the problem in my case. Sincerely, Dimitris "
I have an X800 in my G5 - never saw the problem and still don't see it after the 10.3.8 update. Not sure why some did. (If anyone else sees this under 10.3.8 let me know.)
---
Tip/Suggestion for those w/wake from sleep video corruption
I've never seen this personally (tested many times for it), although a few have. Some who did mentioned they installed the ati drivers noted for 10.3.6 only - I used only 10.3.7's included drivers (and the ATI ROM xtender / ATI Displays 4.4.4 on the CD) so I wondered if the 10.3.6 driver install was a factor (can't say as I never installed them). I discussed this with a reader that previously reported the problem and he replied:
(added 2/7/2005)
"OK Mike,
After our conversation, I have reinstalled the 10.3.7 combo update, overwriting the ATI files that I installed from CD. Guess what? As you surmised, no more desktop corruption on wake from sleep. Guess we can put that issue to bed now!
Thanks for the suggestion, and the fix!
Sincerely, Morgan "
This may be just another case were an OS X combo update install/reinstall fixes an odd problem but hopefully this tip will help anyone else that saw the wake from sleep video issue.
---
(added 2/4/2005)
"Hi Mike:
New X800 just arrived yesterday. I just returned home and have found dektop corruption on wake from sleep. A reboot fixed the problem, and subsequent sleep/wake cycles seem to only occasionally cause this problem. Overall the card is a much needed improvement for my DP 1.8 Ghz unit with 2Gig of memory. Both Motion and WoW performance have improved vastly then with the comparatively anemic FX5200 that was stock with the system. Expose is also much smoother and more responsive with numerous windows across multiple displays now as well. Fan speeds are only occasionally noticeable with the ATI Rom Xtender in place, and then only when the other system fans are working harder too. Color me impressed.
Morgan F. "
See Morgan's later post above for a tip for this.
---
(added 2/3/2005)
"When you order from ati in the promo code box put 1010 and you save 10% its great. God bless ati for offering 10% for no reason.
Andrew M. "
---
(added 2/3/2005)
"Hi Mike,
Mac X800 XT, Rev B. Dual 1.8 GHz PowerMac 10.3.7, 512MB
I'll try to add to details you haven't already received. Received mine from ATI Canada on Feb 1 - one week after ordering. The instruction booklet was for the 9800 card, but the included CD was for the X800 specifically. Installation was easy, and the computer booted fine - prior to me installing the software. Fan speed was max until the ROM Xtender was loaded - as was your experience. Fan now runs very infrequently, and typically only for a few seconds -- it is still quieter than my superdrive spinning. The software install was brief and uneventful.

First test was UT2004/3339. Using the current 20" Apple display, set the resolution to 1680 x 1050 with max settings. Smaller, deathmatch maps play smoothly with no hiccups, rock solid above 50 fps (sorry - didn't run benchmarks). Onslaught and assault maps had fps' in the 20s however. I hit Crucial.com and bought additional 512MB, and now the larger maps are in the 40s, again at max detail. My guess is that you'll need a Gig of RAM to keep this video card busy. I noticed afterward the my ATI displays applications profiles had been modified to use 2x FSAA and 2xAF for UT - I had turned them off on my 9600XT. Gameplay was crystal clear.

Versavision (screen rotation) is easy and it works well, but I don't have a stand for my 20" that I could rotate it with so I wasn't testing it for long.

The ATI SmartShader 2.0 demos/screensavers do not work with this card; a pity, as the 'bacteria' ss is really interesting. I think this card could treat Quake3 like a screensaver - it feels that fast.

iPhoto 5 seemed to be starved for RAM at 512MB - I have about 2000 x 4 megapixel shots. Stability was a bit of a problem when creating a book too, but adding RAM seems to have helped quite a bit.

I've yet to try DVD playback, but ATI claims near miracles on smaller video files. A couple 320x240 avi's I played last night showed little improvement over the 9600XT, IMHO.

Very pleased with my purchase! Let me know if you'd like me to run any tests.
Regards, Aaron "
---
The following is from a reader post(s) (combined here):
(added 2/3/2005)
"Although, having actually played a bit of Halo now with the X800... even though the average FPS is not considerably higher, it "feels" way smoother than before. I know, it's subjective, but a lot of the noticeable lag is gone now.

Whooaa... okay, now I see where this card shows its muscle. I just played the Icetomb map in UT2K4, which has multiple shaders on practically every surface. This map would always show some slowdown on the 9800XT. Now, nothing. Constantly high FPS with max detail, and with 6 bots, too. Nice! I gather this is a card that may be somewhat underused right now, and will show it's age well in the future?

I ran timedemo 1 in Tenebrae Quake at 1280x1024, and got 56.1 FPS. I seem to recall that this is pretty good. I think I got less than half that with the 9800XT.

I'm discovering just how much you can turn up the overrides on this card without noticeable framerate hit. Less demanding games like Quake 3 and Worms 3D can have every single 3D override turned up to max (16X anisotropic, 6X multi FSAA, vsync, etc.) and never dip below the 60 FPS allowed by my LCD (vsync at 60Hz). More "modern" games like CoD, Halo and UT2K4 can endure 2X FSAA and 2X AF without any penalty.

You know, I never believed FSAA was worth anything once screen resolutions hit above 1280x1024, but it's more like after you play with it on for a while, it really looks noticeable when you play with it turned off. Like when it's off, you feel like you're playing a computer game, but when it's on, you feel like you're in the middle of a cartoon or a graphic novel. Cool!
I apologize if everybody already knew all this, but it's a new experience for me, and I must say I'm enjoying it!
Lord Vader "
---
(added 2/3/2005 fom 1/29 mail)
"I just installed a new ati x800 xt in my dual 2g g5, OSX 10.3.7, 1GB ram. It was the first vid card swap I have ever done and it went flawlessly. I removed the OEM ATI 9600 and swapped it in. I downloaded/installed the updater from ati.com/restart/repaired permissions(although it didn't show anything abnormal)/restart and started playing games. (The box should include a CD with the ATI Displays 4.4.4 and ROM Xtender software. I've not checked ati.com lately for any later updates.-Mike)

All I can say is WOW...freakin SWEEEEET!. I run games at 1280x1900 res. (1900x1200?) and it made a huge difference. I now realize how much I needed to replace the OEM card. So far I have tried Americas Army 2.2.1, MOH Spearhead demo, UT2004 demo, and Warbirds 2004. I now can turn all details to whatever I feel like it and it runs flawlessly although I still have a habit of keeping the settings average to maintain as much framerate as possible. The approx framerates are (and I am pulling this from memory so I do mean approx):
Amerca's Army - OEM 9600/30avg, X800/70avg
MOH spearhead demo OEM 9600/60avg, X800/80avg
UT2004 demo OEM 9600/20avg, X800/45avg (settings much higher as well)
Warbirds 2004 OEM 9600/30avg, X800/60avg

The overall experience is just night and day...downright stunning actually. The picture is much better even with the same settings and it just runs smooth as silk. There is no stutter in the middle of an intense battle like there was before with the OEM 9600 card. I am kicking more butt already :-)
Graeme B."
---
(added 1/31/2005, from 1/27 mail)
"Just got my X800 XT today. Installed it, the fan noise on mine was deafening til I loaded the ROM Xtender. (I mentioned this in my review of the X800 - the ROM xtender enables card fan speed control. Defaults to high speed until it's loaded-Mike)
So far, very good. Smooth video, and much better frame rates playing games that had a slight flicker before.
(I am using a Power Mac G5 dual 1.8, the previous video card was the OEM 9800XT) My display is a Dell 20.1 Wide Screen same LCD as the Apple. A lot cheaper. I will report more as soon as I run a full gambut of games.
Richard C. "
---
David R. sent results of tests in his G5 vs his previous OEM 9800XT card. His display was limited to 1280x1024 max resolution so the results are pretty close.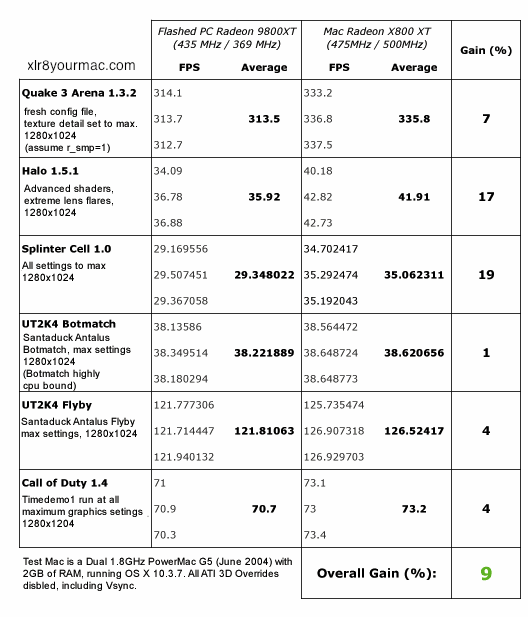 For these game tests at higher resolution, tests with FSAA/AF enabled, etc. see the game tests page of the full X800 review. (I did not have a 9800XT to test though, just a 6800 Ultra and OEM 9800 Pro.) David later wrote:
"Running a dual 1.8 G5 (June, 2004) with 2GB RAM, 10.3.7. Card installed great. Fit and finish was much better than the flashed PC 9800XT (retaining screw lined up much cleaner). First impression is that the card (HSF particularly) is lighter than the 9800XT. The 9800XT "sagged" in the AGP slot, and almost touched the aluminum divider separating the CPUs from the PCI bay. The X800 fits much better. Card was really, really loud before loading the ROM xtender from the supplied CD. (it adds card fan control as mentioned in the review)


Games "feel" much smoother than FPS tests indicate, and after several days now that the euphoria has worn off, I can confirm it is not a placebo effect. Lowest FPS dips are much better now, and most games that suffered from choppiness before (Halo, Icetomb map in UT2K4, etc.) are now much smoother. The real fun is being able to turn up the effects now (overrides) in more than just really old games. Turning on 2X FSAA and anisotropic filtering basically has no effect on framerate at 1280x1024. For instance in Quake 3 Arena, I can turn AF up to 16X and FSAA (multi) up to 6X, and still get over 200FPS at 1280x1024.

Overall, great card. Rock solid, very quiet. The fan control is extremely precise. You can hear it kick up a bit as soon as heavy 3D rendering commences, but you can also hear it turn back down as soon as action ceases. There is very little lag time. Sometimes with 9800XT, it would take several minutes to kick back down to the lower RPM.

Very happy, but still suffering from post traumatic sticker shock. Shelled out a lot for this card. If you can wait a couple months for the price to come down to a better point, it might be worth it. But then, if that were you, you probably wouldn't be reading this on XYM. :-)
-David R. "
---
(added 1/31/2005 from 1/22 email)
"I have a first generation 1.8 Ghz G5 with 3.5 GB RAM, two 160 GB Seagate drives formatted as a raid0 array connected to a Seri-Tek 1S2 serial ata card in slot 4. I have also installed a Pioneer DVR-108 retail box version purchased from Best Buy and it has been flashed to the latest firmware version (1.18). I have two VGA monitors. One is a Gateway FPD1730 17" LCD and the other is a Sylvania CW901 19" CRT. Neither monitor sports a DVI plug. I also have EyeTV USB, Acomodata 40 GB Firewire 400 and JBL Creature Speakers. I am running Panther 10.3.7 with QT Pro, QT mpeg component, I-Life 04, Microsoft Office, Adobe Creative Suite, VPC7 with XPHome installed.

I ordered my X800 XT directly from ATI on January 17 and I received it yesterday afternoon. I opened the box an found a paper manual with instructions for installing the 9800 Pro along with 2 DVI to VGA adapters and a CD containing ATI Displays software version 4.4.4 (0002). Installation was simple enough, I hope people don't get confused when they can't find a Y-adapter and no plug on the board for additional power. The system reports that the ROM revision on my card is 113-A35801-104.

The first thing I noticed was the color on the LCD monitor was right. I had some problems with the nVidia card getting that display calibrated. It always exhibited a fairly distinct lavender cast on finder window frames and backgrounds. No longer a problem with the X800. Overall the 2D displays seem crisper, but that may just be me wanting to justify my purchase (ouch!). I love the Quicktime acceleration. I downloaded some movie trailers from Apple's Quicktime site and scaled them up to the resolution of the LCD monitor,1280x1024(This was not an available resolution before I installed the ATI card, the max was 1280x720). Medium and high bandwidth trailers scaled well and were quite viewable. The low bandwidth trailers did not fair as well, but were surprisingly clean despite the low resolution of the source material. I set the OpenGL overrides in the ATI Displays software to best quality for Halo and ran the time demo. I cut the following out of the time demo file:

Date / Time: 1/22/05 6:56:18 (0ms)
1800MHz, 3584MB
Big mac\Applications\Games\Halo\Halo Frames=4700
Total Time=105.43s
Average frame rate=44.58fps
Below 5fps= 6% (time) 0% (frames) (6.354s spent in 10 frames)
Below 10fps= 6% (time) 0% (frames)
Below 15fps= 6% (time) 0% (frames)
Below 20fps= 7% (time) 0% (frames)
Below 25fps= 9% (time) 1% (frames)
Below 30fps= 17% (time) 6% (frames)
Below 40fps= 39% (time) 23% (frames)
Below 50fps= 58% (time) 42% (frames)
Below 60fps= 78% (time) 67% (frames)
###Sound Options###
Hardware Acceleration= No
Sound Quality= High
Environmental Sound= No
Sound Variety= High
###Video Options###
Resolution= 640 x 480
Refresh rate= 0 Hz
Framerate throttle= No Vsync
Specular= Yes
Shadows= Yes
Decals= Yes
Particles= Off (shows this even when enabled in game)
Texture Quality= High


When playing Halo with every setting maxxed out, it is still extremely playable, though there are a few spots where there is some stuttering, no matter what the screen resolution is set to, usually in intense battles. It may be a limitation imposed by my single processor G5. If I turn down the setting to match the max values reflected via the Halo control panel, the problems completely disappear, at least up to 1280x1024. I have not had time to play with my other software installs which may benefit from the horsepower this card has (too busy sniping aliens in Halo!!!) but when I do, I will send them in.
Jim D "
For Halo tests at higher resolutions (and with FSAA enabled/without) see the game tests page of the X800 review here.
---
I welcome other Mac X800 owner comments - please include your system/OS version and details on apps/games, etc. you used in reports. Thanks.