First Impressions of HP AIO Photosmart C7180 (w/Wireless/Bluetooth/Ethernet/USB)
(Used w/OS X Leopard via Wireless and Ethernet)
Posted: Dec. 28th, 2007
Updated: Jan 28th, 2008 (HP driver patch)
Updated: Jun. 4th, 2008 (HP 9.7.1 Driver update)
Updated: Jul. 15th 2008 (Apple HP 1.1 Driver Update)
---
Apple releases HP Printer Driver 1.1 update for Leopard (7/15/2008)
"About HP Printer Driver 1.1 (405.1MB)
The HP Printer Driver Update includes the latest drivers for printers you have used on your system.
This update is available via Software Update and will only be visible if the printer is connected to your computer or a print queue has been created for an earlier version.
Requirements: OS X 10.5.3 or later"
This appeared in software update here on my AL iMac (OS X 10.5.4) that uses the HP AIO C7180. I initially wasn't sure about installing it (as I'd been using the HP site driver/software OK in Leopard) but decided to download/install v1.1 from Apple. I then did a test print using PShop CS3, which worked fine. (Not a complete test of all the AIO 7180's functions though.)
HP 9.7.1 Driver Update: (Feb. 2008) Although I had printed and scanned using v9.7 (and patch for permissions repair issues I mentioned earlier below) using OS X 10.5.2 and 10.5.3, the HP Photosmart C7180 drivers page has a Feb 2008 dated v9.7.1 download for Mac OS X v10.3.9, v10.4 and v10.5. They say v9.7.1 fixes an issue with OS X 10.5.2 with the previous version. (FYI - using the "Check for Updates" feature my v9.7 w/Patch reports my software is up-to-date... either the HP software check isn't accurate or v9.7.1 is just v9.7 w/patch included.)
(original article from Dec. 2007 follows)
---

Although I'd about sworn-off HP AIOs for Macs/OS X years ago (after a bad experience with an HP 750 AIO in OS X 10.2.x) last Saturday while in a local Office Depot to buy ink carts for the 750 (which I only used for faxing and a copier for years now) I hesitated at spending another $50+ on it for the color + black ink carts. (Both have to be working to use it - otherwise the 'alignment' fails and you're stuck at that menu - useless.) While trying to decide if I really wanted to put more money into the old 750, I saw a table with several demo/returned faxes and AIOs. One was a store display model (unused apparently) Photosmart C7180 AIO with Ethernet, 802.11g wireless and bluetooth (and of course USB 2.0) plus a 3.6in QVGA LCD screen and cardreader slots. The original list price was $399.xx, they'd marked it down to $209 and the manager had just lowered the price on the display model to $99.99. (Any higher or if it didn't have the wireless/features and I'd have passed.)

At 25% of list price, the display sample C7180 seemed like a steal, although I was still a bit leery as I hadn't done any research on this model. But a friend with me said he'd take it if I didn't want it. And considering it was only $50 more than just the ink carts for the old 750 (which I'd dropped during a move and cracked the paper tray, making it even more of a pain to use) - I grabbed the C7180 at $99.99 plus tax (5% here). Although there was no box, it had all the cables/docs/discs, etc. (and even box bar code/proof of purchase cutout) and it looked as new. The C7180 appears well-built (appx 26 lbs.) compared to my old HP 750 AIO, which seems like a cheap/hollow plastic toy in comparison.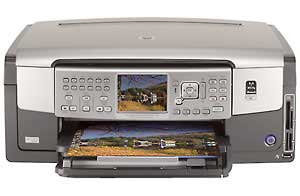 Full Specs:
For a full list of features and specs (printing/scanning/copy/fax) - see the Specs tab on the HP Photosmart C7180 product page. HP lists an up to 3000 pages monthly duty cycle rating.
Initial Setup/Driver Install:
After getting it home for setup with my AL iMac (running OS X 10.5.1), I didn't bother with the included software CDs as I remembered a reader had said HP posted (some) Leopard updates last month. I searched HP's site and the HP Photosmart C7180 All-in-One OS X drivers page had a Nov 16, 2007 v9.7 Beta (261.6MB) download for it. (Note: there's later drivers there now.)
---
Update: In late Jan 2008 I noticed an (incorrectly dated) HP Inkjet Update for Leopard on their Software/Drivers page (bottom of the page there) - titled "Update Required: Mac OS X v10.5.x for HP driver v9.7" with a "10/2007" date, yet a get info on the updater shows a Jan 11th, 2008 created date and per the info on the Update d/l page it is an update for v9.7 (above beta) users that either updated to 10.5.1 or ran repair permissions on their v9.7 install (as I did and saw the problems noted on the update page - missing print and paper tray options. I installed 9.7beta (full Nov 2007 download) on a 10.5.1 system.). The Update page notes:

"Running Repair Permissions or installing Apple's 10.5.1 OSX update corrupts HP print drivers for specific Photosmart, Officejet and Deskjet products.

Fixes:


Some print driver settings are inaccessible
File permissions are set incorrectly
Some installed files appear to be 0 bytes.

NOTE: Users who have not yet installed the 10.5.1 update, or who have not run Repair Permissions, should still run the patch installer to prevent possible future issues. "

See the instructions on the Update download page before installing it. (Recommends reinstall of the full 9.7 software after removing existing HP Cups folder.) I initially was leery of running repair permissions again after installing the update to test if their patch really fixed this (after seeing RP cause problems initially) - but later I did. As I had seen before, Repair Permissions in Disk Utility spewed out a -LONG- streaming list of HP printer software related file permission differences. (I cut and pasted the results into a text editor and saved it - the file was 1.5MB!! - pages and pages long (compounded by included multi-language packages installed). After the repair, a "verify" permissions showed only the common ARDagent one I had seen before. And I'm happy to say the HP patch must have worked as a test print from iPhoto showed the paper source and ink options were still present in the printer setup dialogs (and print output was fine).
---
Initially I set it up using Wireless (connecting to my Apple 802.11N base network running in mixed mode) - that went fine and I could print OK (iPhoto 08, Photoshop, Text Wrangler used) from the iMac (intel) running 10.5.1 using Wireless. The C7180 wireless is 802.11G w/support for WPA security (I use WPA2 personal on my wireless network using the 2.4GHz band.) If you're using the 5GHz band or 802.11n-only mode the C7180 would not be compatible via wireless, although you could connect it to the Ethernet port of the base for sharing on the network. (The C7180 also has a built-in webserver for sharing - configured via a browser. I did not use this feature however.)
The front panel (control panel w/LCD display) is adjustable for tilt and there's status lights to show if the Wireless and Bluetooth radios are on. The control panel has a nice array of features/buttons/controls for Faxing, Copying, Scanning, Printing, etc. that are (IMHO) very easy to use and well laid out. (And do not feel cheaply made.)
The 3.6in LCD is much easier to read than the displays on my Epson R300 and Canon i900D, with large zoom (+/-) and navigation/selection buttons adjacent to the LCD. You can even print frames from Video clips on your flash media directly from the front panel. (BTW: The LCD does turn off after an hour or so with no activity.)

Scanning:
HP's specs list up to 4800 dpi Optical resolution with 48-bit depth support (an option in HP Scan Pro app). Max doc size on the flatbed scanner is 8.5 x 11.7 in. The scanner lid houses a slide/film adapter and there's options for photo editing, scratch/dust removal and more directly on the control panel's array of feature/option buttons.
As some PC owners had reported on the web, scans via wireless typically had some 'noise' (black or white spots) in them - usually about 1/2 dozen in test scans here of 4x6 photos. (The press/website reviews I've seen never tested wireless scans unfortunately, so fair warning.) Although one user said this was dust on the glass - it wasn't for me, although dust on the glass is something to check before any scan. I also had problems scanning from inside Photoshop (CS and later CS3 w/all Adobe updates tested) using the Twain (HP) import option. The Twain import would open the HP Scan Pro app, but after the scan completed, it caused Photoshop to quit (100% repeatable). I sent Adobe a crash log on that. (I didn't choose the option to install HP's reporting/feedback software but will send a note on the Photoshop twain import crash to HP support also.) However if I ran the HP Scan Pro app and selected the output option "Tiff to Photoshop" - that worked fine.
(Screenshots not full size)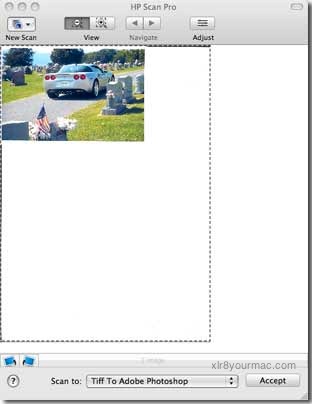 One thing I seem to have lost with this method however was the auto-selection/detection of the photo edge (without requiring manual adjustment of scan/image area). That feature works when HP Scan Pro is called from Photoshop's Import/Twain menu item, but as mentioned, that route causes Photoshop to crash after the scan is done. I didn't see any related setting for edge/document detection in HP Scan Pro's (many) options/settings.
After repeatedly seeing some noise in scans over wireless, I switched to an Ethernet connection. That clearly helped, although cleaning the glass and backing frequently also is a must (at least in this environment). As most reviews noted, scans are not as fast as some comparable models from Canon or Epson but personally that's not an issue for me. (Scans via Ethernet are much faster than my previous Scanner, which is an older USB Canon N656U.) My 24bit/300dpi scans of 4x6 photos over Ethernet seemed very fast compared to my N656U. (48bit and higher DPI settings take longer and are one of many options in Scan Pro.) I just wish I could solve the wireless scan noise problem (and Twain import from Photoshop, although Scanning from HP Scan Pro into Photoshop works).
Scanner Lamp Note:
I read a concern about the Scanner lamp staying on (by default) - you can set this from the C7180's control panel. (I set it to the minimum (1HR), default was always on IIRC.). I didn't see any way to set an off/sleep time for the LCD display however, but it does automatically turn off after long idle periods.

Notes on Printing/Ink Tanks:
Although the (specs) droplet size is larger than my Epson Photo R300 or Canon i900D, photo prints looked very good. (And the inks are said to be long-life.) After printing about half-dozen full page 8.5x11s (glossy paper) and a few 4x6s the Light Cyan cart was almost empty (2 of 3 stores I visited later were sold out of that cart BTW). While looking into ink cart replacements I was surprised to find out the color carts have as little as 4ml of ink (just over 1/8th oz) in them (my R300 is 17ml IIRC - although HP claims similar life in pages). They're just under $10 each for color (black tank is larger/more expensive - which reminds me of a gripe with my R300 black cart - it's the same size as the color tanks for it but costs $5 more typically - and seems to last no time. I swear it must be auto-evaporating ink...) And be aware of the HP 02 "Value Pack" (all 6 HP 02 ink tanks + 150 sheets of 4x6 HP photo paper at $35.99 list), although much less than the standard 6-pack (w/o paper) the "Value Pack" has "Custom" carts which have less ink than the standard 02 carts. I decided to pass on the Value Pack and bought the standard 6-pack of 02 carts at Sam's club (appx $58). This reminds me again that for those that don't value having an in-house photo printer, using one of the many brick and mortar DIY print services (from your camera card, CD, etc.) could save you money. I've not compared costs/quality of current services lately at common stores (even Sam's Club/Walmart) but when I used to infrequently print photos, logically it seemed a lot smarter/cheaper, although not as convenient. (Let's face it - that's what we really pay extra for with many things - convenience and/or instant gratification.) I'd think they'd have higher quality hardware than the typical consumer-class photo printer although the quality of your source file of course also matters. (I welcome comments from readers that use retail chain DIY print services on quality/costs - If I can remember it, I'm bringing in a CF from my Nikon D70 to the local Walmart for some sample prints.)
One plus with the C7180 is the ink carts are very easy to change - they're stationary unlike my previous printers. Just lift the cover and unlatch them. (No waiting for the carriage to cycle to the center of the printer, etc.) However like other designs where the cart does not have the print-head, although cheaper if the print head fails it's toast usually.
Although one (PC) review I read mentioned text/plain paper printing wasn't as sharp as some others, I haven't noticed this on limited text prints so far (down to 5pt). One user suggested they do an alignment. Photo prints I've done so far on glossy paper (from 8.5x11 Epson and 4x6 Canon glossy paper) looked great to my eyes. Supposedly using HP photo paper enables an auto-detect paper quality/type feature (due to markings on the back of the paper) but I've not verified that.
Standalone Printing (w/o a Computer connection)
Although I usually print from a Mac, the (relatively) large 3.6in LCD and direct printing options/features from the control panel are a nice plus that will be useful. The C7180 has slots for CompactFlash (Type I and II), IBM Microdrive, Memory Stick, Memory Stick Duo (adapter reqd), miniSD (adapter reqd), Secure Digital/MultiMediaCard and xD Picture Cards plus a front USB port for camera/device connections. (With an option to copy memory card files to the computer.) Definitely a step up in LCD size and features from my Epson R300 (w/optional LCD) and Canon i900D, but granted they're older models and not representative of the current lines.

Included Software:
The HP driver/software install includes a "Device Manager" (with options to Transfer Images, Make Copies, Scan Picture, Scan to OCR, Scan Film, Send Fax, View Messages), a utility to check for HP Software Updates, show ink levels, clean/align printhead, etc. and "HP Photosmart Studio" which is sort of like their version of iPhoto (with more options, but I've not dug into that - no printed docs on the software apps). Photosmart Studio looks/feels like a Windows app and personally I doubt I'll be using it much. Most of my printing will be from iPhoto 08 and Photoshop. Here's some (reduced size) screenshots: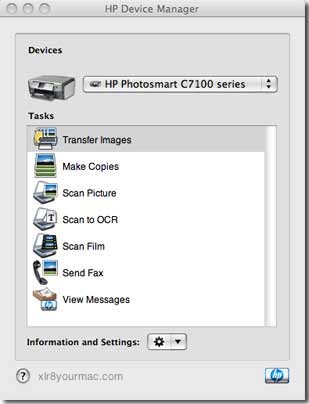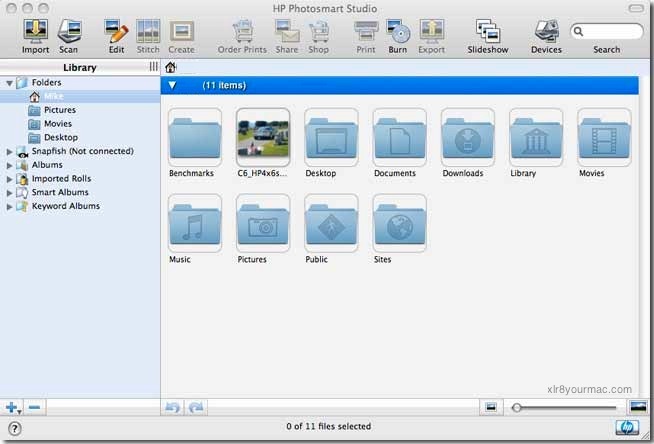 Driver Notes:
As an FYI, as I'd seen with other printer software installs, a verify or repair permissions showed a ton of user/group difference messages for the printer installed files. (There were literally pages of them listed in Disk Utility under Leopard. And the apps have embedded multi-languages which just increases the count and file bloat.) Repeatedly trying to repair those (for no real functional reason that I'd seen so far) still listed a huge number that were not "corrected". (NOTE: See below - repairing permissions resulted in some options being missing in the HP Printer Dialogs - such as paper tray source selection and some ink/printing quality options.)
Paper Tray/Source Selection:
After the Repair Permissions exercise (noted above), I noticed I could not get the C7180 to print from the 4x6 photo tray paper. Also some printer dialog options were not functional - not just the paper tray selection option. Although it did print, if I selected a 4x6 paper size it would still use the main paper tray, not the 4x6 photo paper tray. Finally last night I decided to try a driver reinstall. I used the HP Uninstall option and reinstalled the driver - that fixed it. (I didn't repair permissions again to avoid a repeat of the problem.) Now the paper tray source and other photo quality options are functional. A driver reinstall did not solve the problem with twain scans from Photoshop causing it to quit however. For now I'll just have to scan from HP Scan Pro into PhotoShop.
(Update: See above HP Inkjet Update Notes/download link. They confirmed this issue with RP/10.5.1 and released an update/patch to address that. After another reinstall/applying the HP patch and then repairing permissions - all was OK. And a verify permissions after the repair showed no HP related items.)
---
Although this is far from a complete review, after commenting on my previous HP AIO/OS X (bad) experience years ago, I though it only fair to mention what I've seen with this one so far with Leopard. There's still a lot of features I've not used but for the price I paid ($100) for this C7180 store demo model, I have no regrets. (Granted I'd not have paid near list for it - but at $50 more than I'd have spent for ink carts for the 750 junker, I made out like a bandit IHMO.) Maybe someone else will see a similar demo deal at their local Office Depot (or other brick and mortar store that's updating their display models)
Feedback:
I welcome other HP AIO/OS X user feedback or tips via news at xlr8yourmac.com. (If anyone's found a way to fix/is not seeing the wireless scan noise in images let me know.)

---