Mac Pro 4-Drive Internal RAID Tests
(Seagate 7200.10 320GB Drives)
By Don P.
Posted: 12/29/2006
Last Updated 12/30/2006 (drive firmware versions, DiskTester results, Random R/W Tests)
---
Dave C. suggested that I contact you with the disk benchmarks of my 1.1TB RAID 0. The RAID utlilized the internal bus of my Mac Pro using (4) 320GB Seagate 7200.10's. There has been so much bad press about these Seagate's we thought these speeds to be quite impressive. (He's referring to performance problems (dismal performance) reported with Seagate 7200.10 multi-drive RAID (originally seen with multi-drive 750GB RAID, later thought to be fixed by updated seagate drive firmware, but apparently they're still working on a universal fix.) Actually, I was thrilled with the results. (See notes below however on Random Read performance issues.) I just purchased DiskTester and am waiting for my personal license. Let me know if you are interested in the DiskTester benchmarks on the same RAID or if you would like any other information.
Thanks and Happy New Year...
-Don P.
Hardware Overview:
Machine Name: Mac Pro
Machine Model: MacPro1,1
Processor Name: Dual-Core Intel Xeon
Processor Speed: 2.66 GHz
Number Of Processors: 2
Total Number Of Cores: 4
L2 Cache (per processor): 4MB
Memory: 4 GB
Bus Speed: 1.33 GHz
Boot ROM Version: MP11.005C.B04
SMC Version: 1.7f8
Serial Number: ***************

(I asked for his Seagate drive firmware version - Apple system profiler lists this as the drive's 'revision' typically.)
It appears that I have 2 different Firmware Revisions on the (4) Seagate 7200.10's (3.AAD and 3.AAE) and I can explain that. I purchased two of these drives a few months ago and just purchased the other two this week. I had originally created a two disk RAID 0 that I was using as my StartUp volume and was quite happy with the speed until Dave showed me the results of his RAID. Considering that the firmware in my drives aren't consistent, is it possible that it wasn't a Seagate Firmware problem but an Apple problem that was corrected with Apple's recent firmware updates? (I don't own a Mac Pro to say personally, but I've not heard that other Mac Pro owners said apple firmware updates helped that issue - but again one vendor didn't mention the 320GB models as affected, although one reader did (and since they're the same 7200.10 series you'd think they would be, but I can't personally say for sure.) Seagate seems to realize this is a drive/firmware issue (not a system/firmware issue) though and it's been seen by other than Mac Pro computers.
Personally if I had a Mac Pro and were buying drives for RAID, I'd probably choose a drive/series that hasn't had any issues like this. (The other issue with 7200.10's in single drive config/onboard SATA at least was lower than expected writes (45MB/sec or so vs 70+MB/sec with PCI SATA cards IIRC - noted in some past drive db reports.) Also see notes below on poor Random Read performance w/7200.10's from Michael Bean of AMUG's tests in a Mac pro. I think a good alternative is the Maxline Pro 500GB drives and then do as a reader did with his setup - create a 1TB RAID using a first partition of 250GB on each drive. (For max performance, very low performance degredation as the array fills) See his tests w/external enclosure/PCI-X controller in his G5.)
Drive Firmware Info (from ASP)
SATA HD overview:
Capacity: 298.09 GB
Model: ST3320620AS
Revision: 3.AAE

Capacity: 298.09 GB
Model: ST3320620AS
Revision: 3.AAD

Capacity: 298.09 GB
Model: ST3320620AS
Revision: 3.AAD

Capacity: 298.09 GB
Model: ST3320620AS
Revision: 3.AAE
DiskTester Results (empty volume):
Here are the results of DiskTester on an empty RAID volume: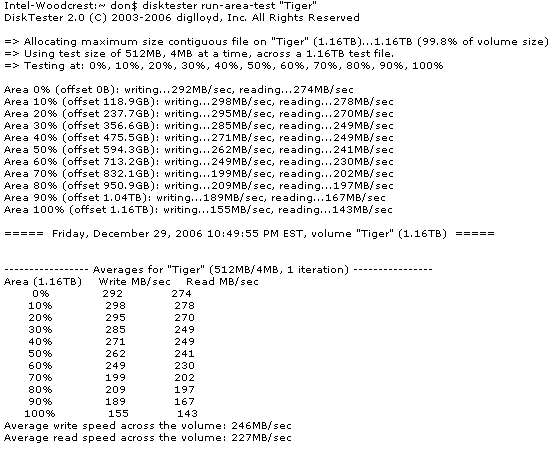 Here are the results of DiskTester using the RAID as my Startup drive: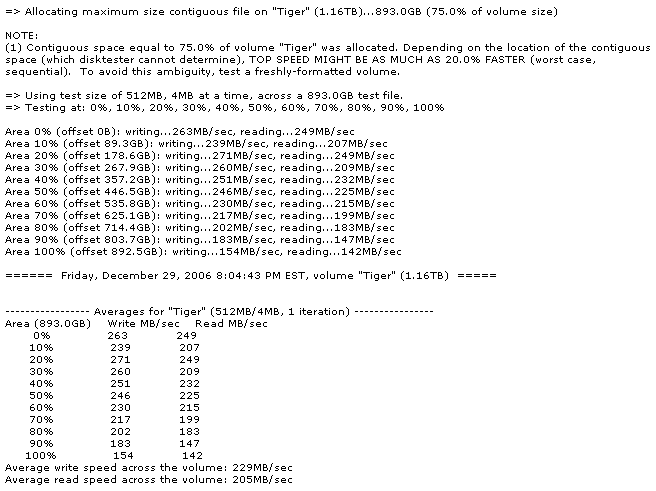 Kona 2 and QuickBench 3.1 Test results:
Kona 2 Benchmark (system cache disabled)
(http://www.aja.com/ajashare/AJA_KONA_System_Test_v2.app.tar)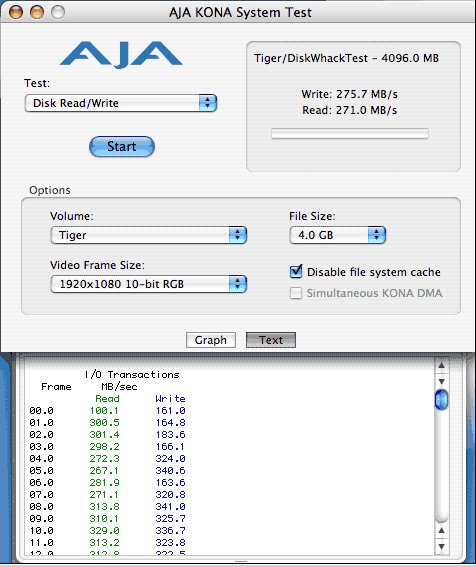 QuickBench 1GB Tests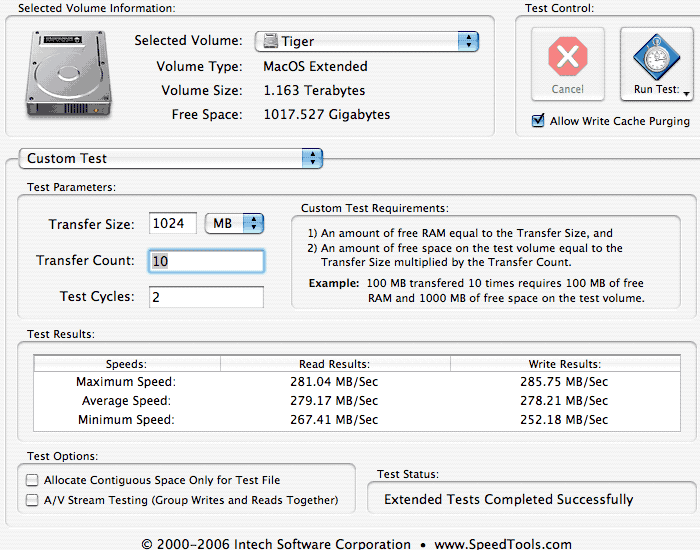 QuickBench 20-100MB Tests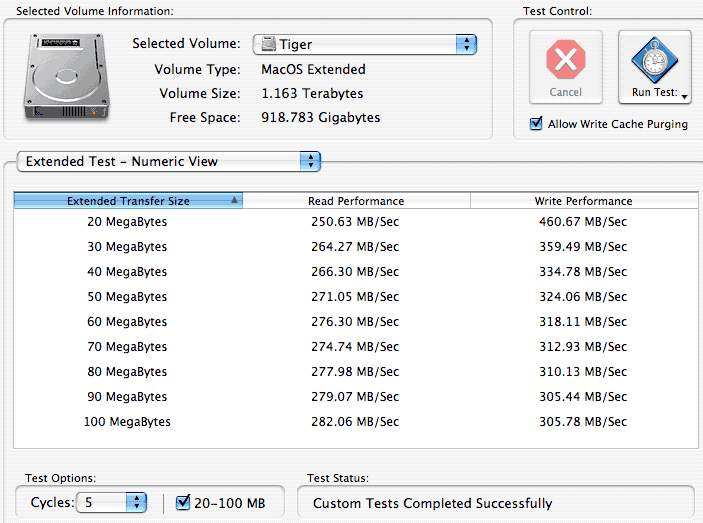 NOTE: Don did not run Random Read tests, which Michael Bean of AMUG said will show very low performance:

"the average Random READ score for the Seagate 320GB is 70% slower than the Maxline III 300GB 7V300F0 and almost twice as slow as the Maxline Pro 500GB 7H500F0"
Michael sent Quickbench tests showing this:
QuickBench Random R/W Tests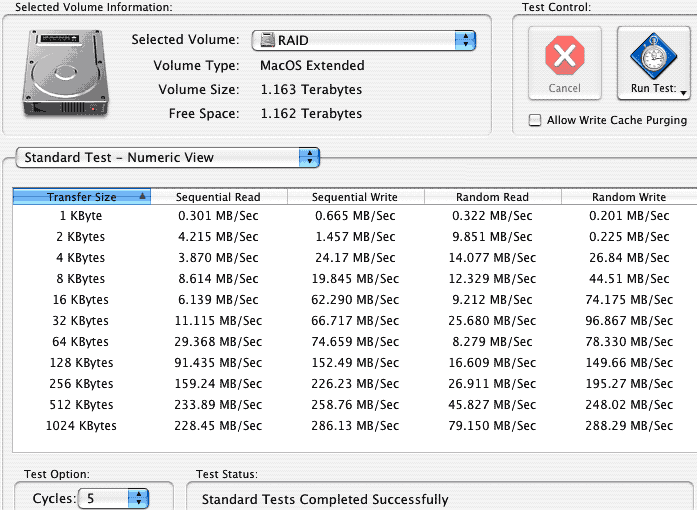 Related Articles:
---