PeaceKeeper Browser Benchmarks - Safari 5 vs Other Browsers (OS X and WinXP)
Posted: June 11, 2010:
---

FYI, here are my latest PeaceMaker browser tests using my 2.26GHz Mac mini running both OS X 10.6.3 and WindowsXP Pro via Parallels 5 and my 3GHz Intel P35/E8400 4GB WindowsXP Pro PC, all using the latest web browsers.

I've found that other browser tests, such as those mentioned in the (PCworld) "Claim Exposed: Apple Safari 5 Not Fastest" article, are too flaky, have poor repeatability and don't clearly show what has changed in browser updates, from one version to another. Chrome is still the fastest, on both the mini running OS X or XP and a screamer on my fast PC.

Screen captures attached and labeled as to what they were running on.
FWIW, Rod P.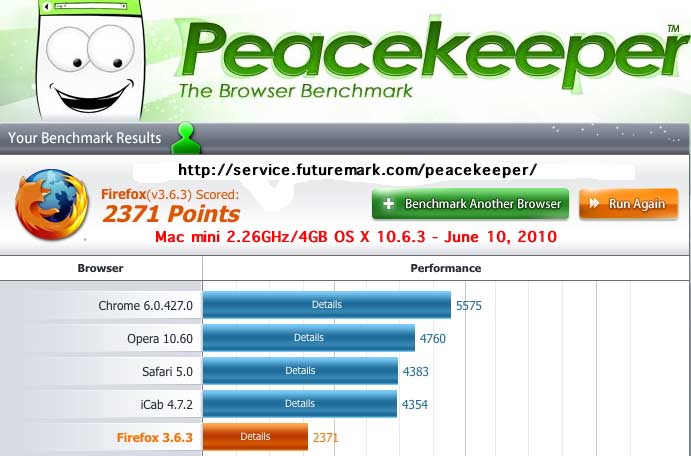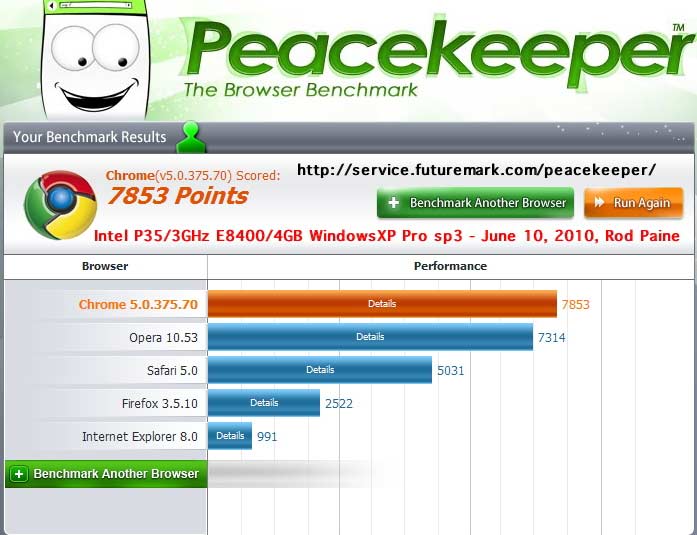 ---
---
OWC XLR8 SPECIALS!
(click for sales)

= UPGRADES by Mac =
Upgrades just for
YOUR Mac!

SSDs from under $65!
Fast SSDs for Most Macs/PCs

= ThunderBolt =
Drives & More

= HARD DRIVES =
Up to 4 TB HDs!
Hitachi, WD, Seagate, Samsung HDs

= 2.5in HDs & SSDs =
Notebook Hard Drives and DIY drive/case kit bundles.

= MEMORY =
Lifetime warranty RAM Upgrades for Mac Pros, MacBook/MacBook Pros, iMacs & Mini
RAM for PowerMacs from under $20

= OPTICAL DRIVES =
Internal and External Superdrives/Blu-Ray drives.

= VIDEO/LCDs/TV =
Graphics cards, TV tuners, Video Capture, adapters and more.

= SOFTWARE =
Apps, Utilities, OS, VM, Games and more.

= WIRELESS =
WiFi and Bluetooth Devices/Adapters/More

XLR8YourMac T-Shirts

---
FasterMac.net
ISP/Hosting
---
Help Fight Hunger
---