WD4000KD/Onboard G5 SATA Problems,
Tests with SIIG SATA PCI card
Posted: 10/10/2005
Reports Last Updated: 4/25/2006 (softraid user report)
(Updated 2/20/2006 for WD Note
on WD4000KD/YR, WD1500AHFD/ADFD Drives & Onboard G5 SATA Issues)
(Updated 11/27/2007 for notes on WD interface guide page)
---
Update: A G5 owner report in the drive upgrades/compat. database on Nov. 26th, 2007 noted using a WD WD4000AAKS OK in his G5 tower (large file copies ok, although he did see one hang originally when cloning to the drive). Included in his reply to my question if he'd seen any problems with the drive such as reported here with the earlier WD4000 series he mentioned that the current WD Interface Guide listed none of their SATA drives as Mac compatible. Down that page is table under the heading "Which internal drive is compatible with my operating system: SATA or EIDE?" that has "No" in the OS X and OS 9 sections for WD SATA Hard Drive Compatibility with a note under the table "Note: Compatibility may vary depending on user's hardware configuration and operating system."
My feeling is after the WD4000 series (and later drives using the same IF design), they decided to avoid any possible support costs by listing "No" for OS X and OS 9 compatibility for their SATA drives with Macs. But it doesn't give you a warm fuzzy about using their SATA drives, as if any problems did arise their support may just say you're not using a supported OS/system.

(Earlier info from 2005 and 2006 follows)

Western Digital note on WD4000KD/YR, WD1500AHFD/ADFD Drives and onboard G5 SATA 2 Readers with Raptor 150GB drive problems sent a link to a Western Digital tech note on compatibility with that drive and the WD4000KD/YR models and the onboard G5 SATA:
(UPDATE - as of fall 2006 WD has revised the Tech note to include 36/74GB Raptor models (WD360ADFD, WD7400ADFD) - copy below updated to include the latest copy as of Nov. 2006)
"Is my Apple G5 Tower compatible with the WD4000YR, WD4000KD, WD740ADFD, WD360ADFD, WD1500AHFD, and WD1500ADFD hard drives?

Answer:

Problem:
After installing a WD4000YR, WD4000KD, WD360ADFD, WD7400ADFD, WD1500AHFD, or WD1500ADFD, the computer system will hang (lock up), necessitating a system re-boot.

Cause:
The Apple G5 tower does not support certain standard Serial ATA interface protocols used by the WD4000YR, WD4000KD, WD360ADFD, WD7400ADFD, WD1500AHFD, and WD1500ADFD hard drives resulting in an interface lock-up. This causes the computer system to hang.

Resolution:
The only work-around we have identified at this time is installing a SATA Host Bus Adapter (controller card), effectively circumventing the on-board interface."
One of the previous reports below has a note about a jumper setting to limit the drive to SATA1, but most users say that isn't a solution to the problem.
BTW - This WD drive issue is -not- related to SSC being enabled. (SSC is Spread Spectrum Clocking, used to reduce EMI. See this EETimes article - SSC enabled drives have been reported as incompatible with onboard G5 SATA and some (often 4-port) Mac PCI SATA controller cards also. Although Sonnet notes their SATA cards are SSC compatible, earlier this year I posted info from Firmtek on some of their PCI SATA cards (4-port models) and compatibility problems with SATA (SerialATA) drives that had SSC enabled. Firmtek added this info at the bottom on some of their PCI SATA card product pages like the 4-port SeriTek/1VE4 and FirmTek SeriTek/1VE2+2. The 2-port models should be SSC compatible. Jeff at FWdepot send a mail with an updated list of compatible drives (i.e. with SSC disabled in Nov. 9th, 2005 news page. Also there are reports that current Seagate 7200.9 SATA drives have SSC enabled - so buyer beware. Search the drive database here for reports from G5 owners on Hard Drives before buying.)
---
(Original article follows from fall 2005)
Several other G5 owners have also reported similar problems with this model of WD drive and the onboard SATA in drive database reports here and a review of this drive at IT-Enquirer also reported problems - see later reports below.)
" I added a quick review to the drive database but I wanted to provide some more info.
I recently bought two Western Digital WD4000KD 400GB SATA drives for my Dual 1.8GHz G5 tower. To make a long story short these drive are not compatible with the internal SATA bus on my G5 tower. I tried all the different jumper settings, zeroing the drives, testing both drives, etc. The drives show up and mount fine but copying large amounts of data to the drives results in the computer 'beach-balling'.

I didn't want to mail them back so I went looking for a cheap solution. I found a mac compatible SATA card at Fry's since I was in a hurry. Kinda surprising but it is PCI-X compatible and seemed like it would fit the bill. I am using it in the 133mhz PCI-X slot. The model is the (SIIG) SC-SATM12, two port, and it comes with a single sata cable and power cable.
So far it has worked great, I hooked the drives to it and it is bootable. I setup a 'concatenated' drive in disk utility and it was also bootable, same with a mirrored RAID. Striped RAID is not bootable; (?) although I was able to install Tiger on it, it locks up at the apple logo. The drives show up under the ATA section in system profiler. It seems to boot a little slower from the card than from the native SATA drives, I'm not sure if this is because of a lack of a 'turbo-boot' feature that some cards have, but I rarely reboot or shut down my machine anyway. (booting from PCI cards typically takes longer than onboard interfaces-Mike)

The drives are very nice, they have 16MB of cache and are faster, quieter and put out less heat than the stock 160GB Seagate ST3160023AS or the 250GB WD2500JD Western Digital. I just wish they worked on the internal bus.
I maneuvered them to fit one above the optical drive and another one laying flat in the PCI zone. I ordered a G5 bracket from http:// www.g5drivebracket.com (I was impressed with their install guide because routing the cables was a bit of a mystery) but I haven't received it yet.

Benchmarks:
here some quick Quickbench benchmarks, although not very scientific or accurate (results varied a bit every iteration of the test) they give a relative speed.
-George T. "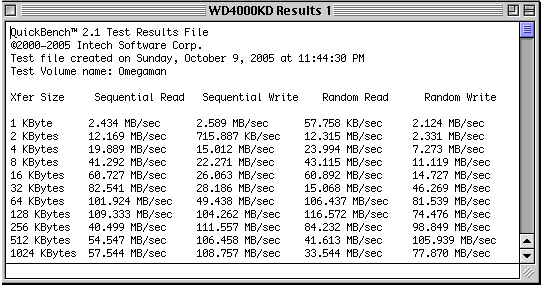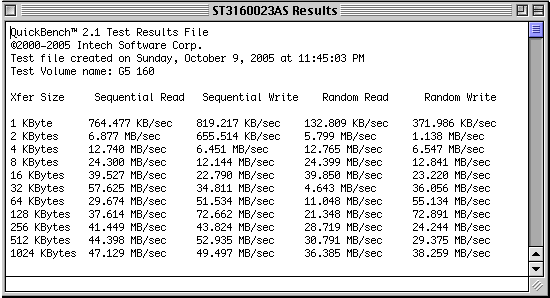 ---

Other Reports from WD400GB/Onboard G5 SATA Users:
SoftRaid User:
(added 4/25/2006)
"WDC WD4000KD-00NAB0 on a G5 dual core
I'm running two WDC WD4000KD-00NAB0 in my G5 2.3 dual-core connected to the internal SATA controler.
System is configured as Raid-1 with Softraid.
SerialNumbers: WD-WMAMY1001675 and WD-WMAMY1069358
It's running since December 2005 and I did't have any problems. I didn't change any jumper on the drives.

But I had problems with these drives in my older G5 2.0 dual and the internal SATA controller, but not on the new G5 dual-core. May be this helps.


(I assume he's running OS X 10.4.x but asked to verify that. I wonder if the Softraid driver helps. I asked if he had ever used it with Apple's driver as a single drive. (Most using apple's driver often had problems when doing large file I/O, although Oliver said he's still running OK I think.)-Mike)
I'm running 10.4.6 and was also running older versions before. I never tested without the Softraid driver, would be difficult to change the system. I don't know if Softraid effects the Apple internal SATA system. May be you send a mail to the softraid guy.
-JO "
---
Latest Feedback on Drive Jumper Settings: (follow-up reports from recent posters)
(added 12/21/2005)
"i tried to reproduce the spinning beach ball problem while copying large amounts of data, but was unable to do so. details as follows:

2003 G5, WD4000KD, default jumper setting, built-in SATA controller (i used to have problems with this setup):

copied about 130 GB from WD4000KD to some other disk and back, no problem.
2003 G5, WD4000KD, jumper settings as suggested by Ishan (setting to limit to SATA 1/disable SATA II), built-in SATA (did have problem once, but not 100% if same problem, as detailed in last mail)
copied about 110 GB from WD4000KD to some other disk and back, no problem.

the only thing that has changed, is that i took a jumper away from a WD raptor, which is connected to the other port of the built-in SATA controller. the raptor has run for 2 years with no problems, and still does, BTW.
the WD4000KD has been connected to a firmtek 4-port SATA card since back when the problem with was discovered (pre-10.4.3 IIRC).

some other discoveries:
-----------------------
i've got a powermac G5 quad today. the WD4000KD was recognized fine on its built-in SATA controller (the stock drive is a maxtor 250 GB diamondmax 10). ASP reports the WD4000KD's SMART status as "verified", even though the drive has default jumper settings, so i do not have the problem reported by Jeff earlier.
so far i've copied nearly 160 GB off the drive onto the 250 GB maxtor, without a hitch... (the quad runs mac os X 10.4.3)
cheers, oliver "
---
Follow-up from Ishan (Dual Core G5 owner) who originally reported on the jumper setting change (see older post below):
(added 12/21/2005)
"Dear Mike,
Just an FYI that I copied a 50 Gb file from an external FW drive to a WD 400 without problems (with the jumper setting change). Since I wrote to you, I bought another identical WD400 drive and put it in the top bay. I didnŐt remove the jumper from the bottom drive; the drives donŐt come with jumpers (at least the ones from OWC donŐt). In any event, I copied that same 50 GB file between the two WD400 drives (both ways) with no problems at all.

I donŐt feel like removing the jumper from the lower bay WD400, because a) everythingŐs working as it should and b) SATA II speed vs. SATA I speed in the quad G5 is a moot point given the limitations of the drives and the bus. Have a Merry Christmas (to you and yours)!
-Ishan "
---
Follow-up from Jeff (Dual Core G5 owner) who reported earlier (below) on the jumper setting change:
(added 12/21/2005)
"Hey, Mike, I actually (also) had a problem similar to what Ishan was having with the boot drive not working properly (the computer would intermittently boot to a gray screen and just sit there forever) with both drives connected.
When I could get the computer to boot the drive would mount but it would hang when copying big chunks of data (the same 31GB chunk that works now).
Just for the record the computer is a brand new dual core 2.0GHz with the stock WD 160GB boot drive, 2.5GB of RAM and a GF6600. The system profiler reports the drives as a WD1600JS-41MVB1 and a WD4000KD-00NAB0. The drives are revision 10.02E01 and 01.06A01, respecitvely.

Not to add another twist to this whole mess, but I put the drive into an identical G5 tower just to make sure it wasn't a fluke, and the drive worked perfectly, with or without the jumper installed. I then moved the jumper to the second from the right (enable SSC and PM2) and the drive continued to function normally. Also, the computer reported the SMART status as Verified no matter where the jumper was. That would lead me to believe two things; first that the new G5's do in fact have a different SATA controller than the previous models, and second that there may be different revisions of the controller in the new G5's as well (either that or one of the towers I have might have a problem.) I put the drive back into the first G5 tower and had the same results as before; it works perfectly with the jumper on the disable SATA II setting but any other settings don't work.
-Jeff "
---
2003 G5 Owner report on WD Drive Jumper Setting Tip: Yesterday I added 2 posts here from owners of new Dual-Core G5s saying that jumpering the WD4000KD drive to disable SATA II fixed problems they saw originally with the drive. (One noted the previously mentioned problems copying very large files and the other mentioned a problem with the original HD mounting after installing the WD drive, both said disabling SATA II mode helped.)
A reader with an older G5 (2003/single core model) said the jumper setting tip did not help (he was one of several readers to previously report problems with the WD4000KD drive w/G5 onboard SATA - typically problems copying large files)
(added 12/20/2005)
"...note both Jeff and Ishan (reports from yesterday - see below-Mike) have a new dual-core G5. on my first generation G5 tower (dual 2 ghz), things are different.

- SMART status of WD4000KD on internal bus is "verified", wether or not said jumper is set. (Jeff mentioned in his post yesterday that the drive was reported by ASP as "S.M.A.R.T. Status: Not Supported" until he jumpered it to disable SATA II, then it was "verified". Jeff later wrote that trying the drive in an identical G5 tower showed "verified" with either setting. Strange.-Mike)

- first harddrive (raptor in my case) is visible, wether or not said jumper is set. (Jeff didn't mention a problem like this but Ishan said his original 250GB drive wasn't recognized until the WD drive jumper was changed.-Mike)

so it seems like the dual-core models may have a different SATA controller and thus different problems.

still, i tried setting the jumper as reported by Ishan B.
my main drives are a WD raptor and WD4000KD. they did ship with different default jumper settings. according to the following WD knowledge base docs, the WD4000KD was set to "default 1" (no jumper). the raptor was set to "default 2" (jumper on rightmost pins). note both drives have the same options, even though the docs are different.


WD4000KD jumper settings
sidenote:
what i don't get is the difference between the "default 2" and "SSC enabled" setting, as both have a jumper on the rightmost pins (and as far as i can see, the jumper does connect the pins either way, at least it looks this way on my raptor). (reader FYI - Enabling SSC is reported to cause compat. problems with G5 onboard SATA, with any brand of drive.-Mike)
anyway, as i did not have a spare jumper of this size, i just removed the one from the raptor (meaning it would be set to "default 1" instead of "default 2").
i then put the spare jumper on the WD4000KD on the second pair of pins from the left to limit it to SATA 1 transfer rates, as suggested by Ishan B.
interestingly, both raptor and WD4000KD are reported to be SATA 1 drives, so i would think this jumper should have no effect (but it did help Jeff and Ishan on their dual-core systems):
http://www.wdc.com/en/products/Products.asp?DriveID=159#jump11
(note 150 MB/s transfer rate, vs 300 MB/s for SATA II drives)
however, while copying 20+GB of data from the WD4000KD to some other drive, the spinning beachball appeared after copying about 14 GB. strangely, an error -36 was reported first - which i have not seen before in this context, usually i get this when trying to read an old or scratched optical disc (cd or dvd).

at this time, i must assume that the fix does not work for my first generation G5. however, the error -36 i got is strange, so i might have run into yet another problem. i'm currently trying to copy another 20+ GB and will report back if anything unusual happens...

(he later wrote)
i just successfully copied 21 GB of data from the WD4000KD to some other drive, with its *default* settings (no jumper set). apparently, 20 GB is not always enough to trigger the problem.
this leads me to the following conclusions:

Setting the jumper as reported by Ishan B (and confirmed by Jeff) does seem to help owners of new dual-core/PCI express G5 to be able to "see" the harddrive. (I also wonder about the chance their drives may have later firmware than some earlier production runs readers bought in the past.-Mike)
Whether or not these new dual-core/PCI express G5 even have the problem with large files copies remains unknown. jeff reported copying 30GB of data without a problem, this could mean that new G5 don't have the problem at all, or that he was just lucky (as i was right now when copying 21 GB). (From him taking the time to write on the jumper setting change I assumed it solved a problem he had seen in the past - he said after changing the jumper setting "I can verify that the drive now (emphasis mine) lets me copy large chunks of data (31GB to be exact)..." - but I wrote him to verify that - he replied today he had seen the copy problem before the jumper setting change.-Mike)
Setting the jumper (as above) on older G5 systems does make no difference. this is backed by both my findings of this morning, as well as the very first report of WD4000 issues by George T., where he said he tried all the different jumper settings: "I tried all the different jumper settings, zeroing the drives, testing both drives, etc. The drives show up and mount fine but copying large amounts of data to the drives results in the computer 'beach-balling'" (with a lot of variations, unless he specifically mentioned this setting there's still some question - also there's the question of later drive production/firmware, later G5s systems, etc.-Mike)

this is supported by the fact that AFAIK WD4000KD drives are SATA 1 only (can't find any other information on the WD site), but IT Enquirer review notes (some/all?) SE16 models come in SATA 1 and SATA II configs (if true for 400 GB version, are they still called WD4000KD?)
(if it was SATA 1 only, why even have the SATA II disable jumper setting? Unless it's a common board/jumper area for many drive models or there for compat. with some SATA II controllers that may have problems with the default setting. The 2 dual-core G5 owners indicated it did something...-Mike)

also note all the reports about the large-amount-of-data-copying problems at (this page) are from people using old G5 systems. (But also consider how new the Dual Core systems are - of course most past reports are going to be from owners of older models-Mike)

open questions:


does the WD 400 GB SE come in both SATA 1 and SATA II flavor? (if so, model number?)
if the answer to above is yes: do the problems of dual-core/PCI express G5 owners stem from SATA II drives only? if so, would old G5 have the same problems with SATA II drives?
do dual-core/PCIe G5 owners even have the problem with large-amount- of-data copying?
(Jeff replied today he'd seen both the file copy problems and the (other) drive mount problem before changing the jumper setting.-Mike)
maybe further input from readers will help solve (answer) these questions...
best regards, oliver "
I welcome other feedback on this issue from G5 owners with these drives. (Include notes on tests for very large file copy problems, etc. and drive model number.) Like anything, there's rarely a single magic bullet for every system/configuration but hopefully at least owners of new G5s (and perhaps later drives) will find the jumper settings info useful.
---
Another Dual Core G5 Feedback on Jumper Settings Tip: (in reply to the earlier report below on jumper settings change.)
(added 12/19/2005)
"Hey, Mike. I am a technician at a college and I have been having trouble with a brand new dual core 2GHz G5 and the WD4000KD drive.
I tried changing the jumper settings (per the news article this morning) and I can verify that the drive now lets me copy large chunks of data (31GB to be exact).
Also, I noticed that without any jumpers on the drive the System Profiler reported it as S.M.A.R.T. Status: Not Supported.
After I added the jumper it says Verified. So it definitely fixed some sort of communication problem between the computer and the drive.
Jeff "
---
Dual Core G5 Owner Tip on WD Jumper Settings:
(added 12/18/2005 - from a drive database report)
"On both my quad G5s with the standard 250GB internal HD in the upper bay, I added a 400GB WD4000KD with 16MB cache. When I did that, the 250GB drive would not mount nor be seen by Disk Utility or Diskwarrior (3.0.3 v39). The drive was clearly there, because in Single User mode, I got an error message of sorts which said (paraphrasing) that the 250 GB drive was there but not "ready." After some pondering and talking to WD, I added a jumper to the second from left position. This disabled SATA II (drive became SATA I) and also disabled CLQ. Of importance to me, the 250GB drive in the upper bay on both quads now mounted fine.

There was no perceptible change in copy speed with the jumper in pace, at least from an external FW800 drive (which had the same WD 400GB model as in the internal location). Using Superduper 2.0, a 255GB clone of approx 1.1M files averaged 40MB/sec. Since SATA I maxes out at 150 Mb/sec, a speed which would only be approached in a high level RAID config, this was expected.

WD and/or Apple should prepare a tech note about this, because this WD drive offers a better $/GB than either the 500 GB drives out there now or the 300 GB drives. It only has a three year warranty.
Of course, all will become cheaper in the months to come.
-Ishan B. "
I asked if he later saw any problems during very large file copies to post an update.
---
(added 11/15/2005)
"Dear Mike, As I said earlier I contacted both Apple and Western Digital about the issue with the WD4000KD on the internal SATA bus of a PowerMac G5.
Western Digital's support replied the following:

"The drive on this controller cannot seem to handle more than 20 gig transfers at a time. The solution usually in such circumstances is to have updated drivers installed for the SATA controller. if the Serial ATA Hard Drive controller is using an older driver it could potentially be costing a little in the way of performance. Updating to the latest driver can potentially increase performance as well as work out compatibility problems between devices. To find the right driver to download, you first need to know what controller the HDD is connected to.
But as this is a MAC I do not know exactly to update the drivers for the SATA controller on the G5. I am not sure if this is possible, but hopefully MAC have an update for their SATA controller..."

No surprises there, they "blame" Apple. I do too, given the drive runs perfectly fine on another controller (Firmtek Seritek 1v4 in my case).
By the way, I did not mention any data size of 20 GB, but did mention your reports page on the subject. Also, did you see my email saying that the WD Caviar SE16 drives have SSC disabled by default?
Best regards, Oliver "
Oliver was one of several readers to report a problem with the WD4000KD (400GB/16MB cache) SATA drive when used on the onboard SATA of a G5. (Like others he used a PCI SATA card as a work-around - see his earlier report below.) At first I wondered if the issue was SSC being enabled on the drive but Oliver noted he's using a 4-port Seritek card with the drive and that card is reported to not work with SSC enabled drives.
---
(added 11/10/2005)
"dear mike, i'm another G5 user who had problems with a WD4000KD (Western Digital Caviar 400GB SE) on the internal bus of a G5. it's a 2.0 ghz dual, initial (2003) model.

after reading about the problems (which i already experienced, but had no solution for) on xlr8yourmac.com when the first report showed up, i connected it to a FirmTek SeriTek/1V4 PCI-X card which i already owned. this solved the problems (the occasional "beach- balling", as described by others).

i sure don't like a harddisk that's not compatible with the onboard SATA controller and will probably get rid of it (even though it's a nice drive apart from this issue). maybe a future OS update will help... i recommend telling apple and western digital about the problem and will do so myself.
best regards, oliver"
Firmtek notes that card is not compatible with SSC enabled drives - so the compat. issue with this drive must not be SSC related.
---
(added 11/10/2005)
"I am using the WD4000KD in my G5 Dual 2.7 with a minor problem. Mac OS 10.4.3. ATI X800 Video card, 3GB Ram, an external 500 GB Lacie FW 800 HD, and 2nd internal 320GB WD HD. Using factory SATA Bus. (No 3rd party SATA cards in machine)

The only problem to report was when moving a large 100GB data chunk from the external Lacie to the WD 400KD, the machine would lock up. Copying smaller 20GB chunks resulted in success. This issue was easily reproduced.
Hal S.
HAL9000 Macintosh Service"
Problems during large file copies are one of the common problems apparently. (personally, I'd not want to use this drive in a G5 because of that.)
---
(from a Nov. 8th, 2005 drive database report)
"The Western Digital SE16 (WD4000KD) 400GB SATA hard drive appears to be incompatible with the onboard SATA controller in my Dual 2.5GHz Power Mac G5 (running Mac OS X 10.4.2 and 10.4.3).

With the WD4000KD installed, I was getting occasional total system freezes (no kernel panics, and no log entries written regarding the freeze). The freezes were happening 1-3 times per day, and usually (but not always) occurred during heavy disk accesses.

I have a FirmTek SeriTek 1VE4 PCI-X to SATA Controller installed in the G5, and so put the WD4000KD into an external SATA enclosure and attached it via the SeriTek card. This setup has been perfectly stable for a few days now, even when doing large (90GB to 185GB) disk clones. -Daryl F. "
Daryl posted a report on using an Hitachi 7K500 500GB drive instead (without problems).
---
(from the Oct. 28th, 2005 news page)
" I wanted to inform you of a review of the Western Digital SATA 400GB with 16MB cache for the desktop. There were inexplicable problems when installing this disk... (In the article he mentions hangs in the Finder copying files, etc. - see below for a link to a previous page on this problem here. Erik later wrote-Mike)
I'm going to amend the review and add to it that it still stalls when trying to copy over 20 GB from the disk. Previously, I had used 20 GB, thinking this would be enough. Seems wrong. I'm going to ask my WD PR about this. I'll almost certainly be put into contact with their technical dept.
Thanks, Erik"
---
Another G5 owner wrote he also saw problems with this drive. (Updated 11/8/2005 for notes on using PCI controller)
"Hi Mike,
Just wanted to say thanks again for the great site. I've been struggling for a week with this problem with the WD 400GB drives...Wish I would have thought to check your site sooner for a solution to my problems. I always assume it's something I am doing wrong, not that maybe the manufacturer made a product that isn't backwards compatible.
I know I read somewhere that all these sata II drives were supposed to be sata I compatible. Damn! Well, I'll send you an update as I am putting my 4 400GB drives in the new firmtek 4 bay enclosure. What a truly nice product that is. Of course I also had to find out the hard way that my old hitachi 250 gb drives were incompatible with it. This migration to Tiger has been a nightmare...I hope it's worth it. :)
Cheers, Scott
(he later wrote)
.... I figure I better update like I said I would. I moved my 4 WD 400gb drives to the firmtek 4 bay enclosure and put my 2 WD 320GB drives inside the G5. Everything has worked great since (knock on wood). The drives copy files at an apparently quicker speed than my previous hitachi 7k250s.
I am loving having some room available on the drives again and Tiger seems to work fine. Lots of weird permissions things initially though as far as copying between drives (telling me I don't have permission to copy and such). I think I have them worked out now...