Reader reports on iLife 05
Last SW Update: 7/26/2005 (iPhoto 5.0.4)
Reports Last Updated: 5/26/2005
---

This page has reader feedback from users of Apple's iLife 05.

iLife 05 Updates: (latest first)

iPhoto 5.0.4 Update (7/26/2005) Available via Software Update and http://www.apple.com/support/downloads/iphoto504update.html.. Here's the info from the SU window:
" iPhoto 5.0.4 (41MB) addresses an issue with browsing photos that have been auto-rotated by a camera. "
GarageBand 2.0.2 (7/25/2005) Available via Software Update or http://www.apple.com/support/downloads/garageband202update.html.

" GarageBand 2.0.2 (14.6MB) addresses issues with time signature handling, Apple Loops authoring, locking tracks, and improves compatibility with Mac OS X Tiger."
iPhoto 5.0.3 Update (7/13/2005) Available via software Update or from http://www.apple.com/support/downloads/iphoto503update.html. Here's the info from the download page:
" About the iPhoto 5.0.3 Update
Recommended for all customers using iPhoto 5.0, 5.0.1 and 5.0.2, iPhoto 5.0.3 addresses issues with Tiger compatibility, Book and Print ordering, and Smart Albums.
Changes include:

On Tiger, images are no longer color-shifted after editing --(Mac OS X 10.4.2 update required)
Book layouts will not change when moving an image on a page
An issue was addressed that caused some book orders to be cancelled
Smart Albums will display correctly in other iLife applications

Requires Mac OS X 10.3.4 through 10.3.9, or 10.4.2 or later. "
Updates released 4/14/2005:
"iDVD 5.0.1 (3.7MB) addresses issues related to general stability and compatibility with iPhoto slideshows and iMovie HD. (Note: see reports below on not being able to create 8GB iDVD projects with many non-apple shipped dual layer compatible drives.)

iMovie HD 5.0.2 (3.9MB) Update addresses issues related to video and audio synchronization for DV projects and other issues. These include:

Audio in PAL widescreen
Sharing (exporting) HDV to videocamera tape
Synchronizing with HDV 720p content
Importing video from a DV videocamera when using analog passthrough or recording live video
Compatibility with some analog-to-digital converter boxes
Capturing video with Hi-8 (Digital 8) devices
Placing titles over DV content
Playing iPhoto slideshows that include protected content
Opening iMovie 4 projects that use speed-adjusted clips.

This update is recommended for all users.
You must have iMovie HD 5.0 or iMovie HD 5.0.1 installed in its original location to update to iMovie 5.0.2.
For more information on iMovie HD, please visit this website:
http://www.apple.com/ilife/imovie.

iPhoto 5.0.2 (6.7MB) addresses issues with iPhoto book layout, multiword searching, iDVD slideshow integration, and slideshow performance and photo editing on G3 systems."
I welcome feedback on these updates from readers.
On Jan. 27th Apple released iMovie HD 5.0.1 update via Software Update (later available at http://www.apple.com/support/downloads/imoviehd501update.html) )
"About iMovie HD 5.0.1 Update
Addresses issues related to video and audio synchronization for DV projects and other minor issues, including:
audio in PAL widescreen
Sharing/exporting HDV to videocamera tape
compatibility with some analog-to-digital converter boxes
importing video from a DV videocamera, such as when using analog passthrough or recording live video."
On Feb 2nd, Apple released iPhoto 5.0.1:
" iPhoto 5.0.1 addresses issues with upgrading iPhoto 4 libraries, dragging albums into folders, importing MPEG 4 movies, and also includes a number of other minor fixes. "
Apple now has a download version available at http://www.apple.com/support/downloads/iphoto501.html

Reader Reports: (most recent first)
I welcome other iLife 05 user feedback. Please include your system/OS details.
(BTW - So far many reports on Firewire DVD burners being used if there's no internal DVD burner - otherwise the easter egg trick from the FAQ's DVD section was usually needed to target/select the external drive.)
Mod to enable 8GB/DL Project option in iDVD 5.0.1 for non-Apple supported DL drives: (from the 5/26/2005 news page) Two readers sent a note that Macbidouille has a post on mods to enable DL projects in iDVD 5.0.1 for Dual Layer DVD Burners that are not listed as "apple shipped/supported". (There were past reports on this option not showing in iDVD 5.0.1's Project Info window for non-Apple supported drives, even though they had basic iApps burn support and were listed as supporting DVD+R DL media.)

I've not tried this personally but Michael Bean of AMUG said it worked in Tiger but not in Panther.
" Dear Mike, Concerning the Mod to enable 8GB/DL Project option in iDVD 5.0.1 you might want to know that it only works with Tiger. If you install it in Panther the 8GB option will not show up. Using 10.4.1 my non-Apple Pioneer A09XL with the iDVD 5.0.1 patch installed now shows 8GB support.
(I asked if he removed the Patchburn profile from 10.3.x for his drive, but of course for the DVR-108/A08, 109 and most other DL drives that profile is used for common iApps burn support in Panther.-Mike)

Yes, I used patchburn to remove Patchburn 3 as per the note, while in 10.3.9. I then tried again and repaired permissions. Still no 8GB in iDVD 5.01. As a side note, this left 10.3.9 with an unsupported drive per system profiler. That would be an undiserable effect in 10.3.9 even if it did work. However, it does not.

I then copied the modified iDVD 5.0.1 to a Tiger 10.4.1 disk with no patchburn installed as it recognizes the Pioneer A09XL as a vendor supported Pioneer 109 in profiler. Now iDVD 5.0.1 (while Tiger is launched) shows 8.0GB capacity. I did not have to remove or rename any file in the frameworks as the Hardmac docs indicated might be needed with a Tiger supported drive.
Both tests were done using the same PowerMac G5 Dual 2.0GHz with only different boot drives.
Michael "
---
Pioneer DVR-K04L upgrades support 8GB iDVD Projects: I've posted notes on problems with some Dual-Layer compatible DVD burners (like NEC 3xxx, Pioneer DVR-108/109s, etc.) although showing "+R DL" support in Tiger's Apple System Profiler, the option to change the Project size to 8GB (in the Project Info menu) with iDVD 5.0.1 wasn't shown. (See posts below from last Thursday's and Monday's news pages.)
Recently I've gotten 2 reports that the Pioneer DVR-K04L notebook drive (also popular for Mini use) does show the 8GB project size option. (As mentioned here in drive database reports and the Mac Mini page (see this older Mac Mini page post here), the K04L (regardless of source) has native burn support - reported as "Apple Supported/Shipped" in 10.3.7 and later at least, (no patchburn needed).
Here's a screenshot a reader sent (thanks William) showing the project size option in iDVD 5.0.1 for supported drives (perhaps only those that are reported as "apple supported/shipped" since the media option doesn't appear for other DL drives that are listed as "vendor supported", etc. even though they have iApps burn support otherwise.)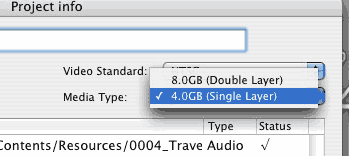 Note: For those that missed the reports earlier this year (in the drive database) - some Powerbook G4 owners reported that earlier bought DVR-K04L drives (from MCE, OWC, etc.) were not recognized in some models (firmware set to Slave mode, which is normal for Mac Mini models or Cubes with one IDE bus, but PB G4s have a separate optical drive bus and are normally set to Master).
Not all PowerBook G4 owners reported a problem with slave set drives though (but several did) and there was at least one report in the database here on mtg screw tension causing drive problems (drive not recognized or a corrupted drive ID depending on screw tension), so I'm not sure if that was a factor in the other problem reports.
Just a FYI if you're buying a K04L for a PowerBook G4 (vs a Mini, Cube or other mac with only one IDE bus) you might want to check with the dealer first. (OWC stopped selling the DVR-K04L drive as powerbook G4 compatible after the initial problem reports.) And BTW - Mac parts dealers have K04Ls without a bezel attached as Minis, Cubes, PowerBook G4s, etc.. don't use drives with a bezel attached, but for use with a system that needs one (like for PB G3 Exp. bay use), PC parts dealers like Mwave usually sell drives with a bezel attached. (Although often there are bezel mods needed to fit in the expansion bay housing.)

Sony DCR-PC350/iMovie HD 5.0.2 problems after Tiger/QT7 install: (updated -see his later comments noting it's working now.)
(added 5/18/2005)
"Here's my report on using iMovie HD after updating to Tiger/Quicktime 7:
I can't get my new Sony DV camcorder to import video since updating to Tiger and Quicktime 7. Has anybody gotten this combination to work?
I've done everything I can think of: deleted preferences, run maintenance scripts, repaired permissions, disconnected other firewire devices, removed third-party plug-ins, etc., etc., etc.
Using OS 10.4.1, Quicktime 7, and iMovie HD 5.02 with Sony DCR-PC350 Min-DV camcorder that worked fine until Tiger/Quicktime 7 broke the ability for me to import video (or even see the video on the screen when I hit the play button). The FF and REW functions work to control the camera, but no video shows up in iMovie and I can't import anything. In fact, when I roll my mouse over the control buttons, they dissappear! So there is a GUI problem as well.

Curiously, Quicktime and iChat (current versions) both work fine with the camcorder and show the video on the screen as they're supposed to.
Please see this thread at Apple's forums and this one: kryptic, "Tiger + iMovie HD = Can't Import from Sony DV CCD?", 10:24pm May 8, 2005 CDTY for some other chatter on the issue. (no link to that last post)
I'm desperate for help as I'm not getting any on the Apple discussion boards.
Thanks, Ron
PB G4/17"/1.67/2GB RAM
OS 10.4.1, iMovie HD 5.02, Quicktime 7
(I asked if he had problems in 10.4.0 and if he tried disconnecting/reconnecting the camera with the OS running-Mike)
Thanks for the response. Here's another user that seems to be having the same issue and has posted a more detailed description in the Apple forums:
http://discussions.info.apple.com/webx?14@499.BhpnaML5Wos.0@.68afd95c

Curiously, and for no apparent reason, iMovie decided to work for me last night--for the first time ever since updating to Tiger. I was using Quicktime 7 (Pro?-Mike) to import my DV directly (since iMovie wasn't working) and had iMovie open at the same time (in edit mode, not capture--since two programs can't be using the camcorder at the same time). I then went and captured some more footage from my TV in the other room and brought it back to edit. Lo and behold, when I put my camera back in the dock, iMovie was working properly. No more capture issues and no more GUI anomalies.

Some might say that removing and replacing the camera did the trick, but I had already tried this multiple times with no success. The only thing I can think of is that when I used Quicktime to import the video, some sort of connection got rebuilt.

In case someone wants to try EXACTLY what I did, here it is:
1) I decided to turn on Quartz 2D extreme (via the terminal) to see if it had any effect on my system. (note: I've since turned it off and iMovie still works, even after logging out)
(Quartz 2D Extreme shouldn't affect this although it's still disabled by default even in 10.4.1. Quartz Debug can enable it or a terminal command (listed in the page here on PCI QE enabling in tiger)-Mike)
2) I imported some footage directly into Quicktime 7 (Pro?-Mike) while I also had iMovie open. I had to put iMovie in edit mode (by moving the slider to the right. Otherwise, it would complain that another program was using my device at the same time.
3) I went to the other room and recorded material (a PBS segment) directly from my cable box to the CCD tape. I had previously only had actual home movies on the tape that I was trying to import.

I'm afraid to restart my computer, but I'll let you know if iMovie survives a reboot when I do.
Thanks, Ron
PS, in answer to your other questions:
1) No, it did not work in 10.4 either (before the 10.4.1 update)
2) I completely reinstalled iMovie 5 and it didn't work. I then applied the 5.02 HD update and it didn't work either. So reinstallation (of the iMovie update) did not solve the problems.
3) Here's the direct link to the other discussion thread that you couldn't open (still no link for that in the email.-Mike) "
Not sure what the cause was but I've seen some devices (often USB devices) not work after an OS update until disconnected / reconnected. (Not always a fix of course but along with the usual voodoo it's worth a try.)
---
More on Problems creating Dual Layer Projects with iDVD 5.0.1 w/non-Apple firmware drives (Update: see later post above for a mod to address this)
Last Thursday's news had a post about owners of non-Apple firmware Dual Layer DVD burners not being able to set iDVD 5.0.1's project size to 8GB (for Dual Layer size projects), even though Tiger reported the drives as supporting "+R DL" burning. (See below for a copy of that news item) Here's a couple of mails since then on the issue. (Although it's not been used in the past - we could only assume that iDVD 5.0.1 may be checking for apple firmware in the drive before enabling that feature)
" Just a quick follow up to last week's exchange on the 8GB (Dual Layer) feature of iDVD 5.01. I was in a CompUSA store today and spoke to the Apple Rep. They had a new G5 sitting there with iDVD displayed (on a Samsung HD monitor via DVI- very impressive looking). As I hoped, the G5 had the DVR-109 drive in it, and iDVD 5 reported an 8GB disk capability.

The Apple rep hadn't been ware that older machines, even with DL drives could not get this feature. He called someone else on the phone and they concluded it was the Apple Firmware that enabled this. Apparently iDVD looks for a particular firmware before it will accept 8GB projects. Since one cannot even build a project of that size without the new G5's drives (Project Info doesn't show 8GB option), one can't even use Toast to burn iDVD disk images with.
(Note - as mentioned last week here, Apple's kbase doc on iDVD 5.0.1 dual layer support mentions that even if you could save a DL (dual layer) image, using a utility outside of iDVD to burn it "will not set the layer break according to the DVD specification and may result in playback issues"-Mike)

So even the very last G5 generation, if updated with a DL writer would not be able to do this. Of course Apple could unlock this capability in an update to iDVD, but currently it's part of their new G5 specs.
William R. "
I wonder if someone edited a firmware file of say the DVR-109 1.50 firmware update to change the version number to match the one in Apple's screenshot of their firmware version DVR-109 drive if that would show the option enabled.
The reader that originally reported the problem wrote:
"...There must be a checker in the 5.01 updater that withholds the package components for DL media... I figure I'll use PACIFIST to look in the 5.01 updater, see if there is anything obvious to extract...
-Hussein "
Related articles (for those that missed last week's post):
The last doc above has a red arrow that points to the ASP report noting "+R DL" support - but again it appears that alone is not enough to enable the feature in iDVD 5.0.1 with non-apple firmware DL drives.
Problems creating Dual Layer Projects with iDVD 5.0.1 (from the 5/12/2005 news page - I don't use DL media as the price is just too high IMHO but I also don't see the option for 8GB projects with a DVR-108 drive reported as supporting DVD+R DL media by Tiger's ASP.)
" According to Apple Article 301556 iDVD5.01 now supports DL burning, with the option available under Project>Project Info to alter the project size from 4 to 8GB. (see below for links and more info-Mike)
This does not work (no option under Project Info to change size) with either my DVR-108 or my ND-3500AG, even though Tiger's VendorSupport.drprofile includes both (and many other previously unsupported drives) and indicates DL support. The DVR-109 is not in this file, so there must be another profile somewhere, that iDVD checks for.
I checked at the Apple Store to confirm that iDVD5.01 includes the radio button in the Project pane regardless of the presence of DL media (AppleCare could not confirm this for me).

There must be a file that iDVD5.01 update searches to determine the presence of a supported DL drive, which it seems is limited to the DVR-109.... Has anyone else contacted you with any more info on this? I have an open case w/AppleCare on this, but I'm going to assume that since I don't have an Apple-supplied drive they are not going to offer much help...
-Hussein H. "
Other DVR-108 and DVR-109 (non-apple shipped) iDVD 5 users wrote they also see no option for an 8GB iDVD 5.0.1 project size - neither do I with my DVR-108, although ASP in Tiger reports "+R DL" as supported. (I also checked in 10.3.9 w/iDVD 5.0.1 - no option to increase the project size.)
Apple's iDVD 5.0.1: Burning Double-Layer DVDs (Doc 301577) and links to another doc titled New SuperDrives support Double-Layer DVD burning (referring to the new 2005 Macs w/DL burners) and shows an example ASP (apple system profiler) report with a red arrow pointing at the "+R DL" media support listing. The reader's that sent mails indicated their drives also show (DVD) +R DL support (I checked my OEM DVR-108 drive and it also reports +R DL support in Tiger's ASP.) I don't know if the problems are due to drive firmware/media bugs, an app/OS bug or what is the cause - but one reader believes that Apple checks for drives with their OEM firmware although this has not been a requirement in the past for other burn support. (Apple also notes you want 16GB or more free HD space for DL burning.)
If any readers have burned a Dual Layer disc with iDVD 5.0.1, let me know the details.
Toast 6.0.7 and later (as well as DVD Studio Pro 3.x and later, Popcorn, and also CaptyDVD 2 a reader said) have DL burn support. I thought another option was to save an image file from iDVD and burn it in Toast but the Apple iDVD 5.0.1 doc mentions that DL disc images may not burn properly outside of iDVD (thanks to Thomas for the reminder on this):
" ...You should only create Double-Layer disc images for testing purposes (it is only an option if you have a new SuperDrive installed). Burning those disc images to a DVD using a utility outside of iDVD will not set the layer break according to the DVD specification and may result in playback issues "
---
iLife 05 Updates help w/Formac Studio DVR problem:
(added 4/25/2005)
"Subject: iLife Updates- Studio DVR problem now fixed
Mike,
This is an update to problems that I have had getting my Formac Studio DVR to be recognized with iMovie 5 as reported on 2/10/05 (older report below). I have run the latest updates to iMovie (5.02) and OS X 10.3.9 and at long last it all seems to work ok. It didn't immediately work after I ran the updates but after a couple or restarts, iMovie can now import a TV signal from the Studio DVR and it all seems to be as it was before with iMovie 4.
Hope this is of use to your readers.
Cheers, Rick S. "
---
iMovie 5.0.2 and w/Sony TRV320 Digital 8 Camcorder: The v5.0.2 changes notes said it fixed issues w/Hi-8 (Digital 8) devices, among other things. This reader said it helped with his TRV320 problems:
(added 4/15/2005)
"I have a Sony TRV 320 Digital 8 Camcorder. While I haven't done much, I have created some movies and edited them in iMove in the past. For the record, I have a Dual 867 MDD, 1.25GB RAM, three internal HD's, Radeon 8500 card, m-audio sound card, WiFi PCI, USB 2.0 PCI

Several days ago, I hooked up the Sony intending to make a DVD from some tape I shot out in Philly and a few other things. Tried to import and NADA. iMovie 5 HD wouldn't see the camara or import things. Tried and older iMovie 3.0.3 and that would import one clip and stop seeing the TRV 320 and I could do no more.

One of my friends suggested the Apple discussion boards and I read of the problems with iMovie not working with Digital 8 and a few others. It was suggested to go back to iMovie 4.01 so I tried that and it works fine. But that very evening Apple released the iMovieHD 5.02 update. So I updated that and all seems well.

iMovie5 HD will now import from the TRV 320 tape shot in DV format on the camera as well as Hi-8 tapes that I did on my older camcorder. Before these didn't work at all as I noted above.
So far so good!
Regards, Jim P.
(since he didn't mention iMovie 5.0.1 specifically I asked if he had applied that update previously.-Mike)
I first tried iMovieHD that came with iLife. With auto update I don't remember if it updated or not, but regardless, it didn't work with the sony TRV 320 until I had the 5.02 update yesterday. "
Another TRV320 owner later wrote he's using it OK with iMovie 5.0.1, so despite the 5.0.2 update notes, perhaps 5.0.1 also had a fix for that model.
---
First feedback on iMovie 5.0.2 update (A/V sync issue) First reader report on the iMovie update (see above):
(added 4/15/2005)
"I am livid. iMovieHD still does not sync on my Sawtooth (800 mhz upgrade). Look, I have heard all that nonsense about not being a supported machine, and whatever, but iMovie 4 works perfectly. I have converted a lot of my old VHS tapes to DVD, through an analog converter (Pyro A/V link, and get wonderful results (burn with iDVD5). I can multitask all I want, even iChat video conferencing, while the DVD is encoding, and read mail, browse, play iTunes, etc. This syncing thing is killing me.
I have tried extracting audio, input is 16 bit, and I have the latest update (5.0.2), and nothing helps. I would appreciate any other advice.
Later, SCB "
It may not help (he may have already tried everything noted there) but there's a general doc on QT A/V sync posted here in the past at http://cit.duke.edu/pdf/vid_docs_quicktime_audio_synch.pdf (looks like duke removed that doc since it was posted here some months back - try this copy at http://www.miglia.com/Support/Files/QT_guide.pdf.)
I welcome other iMovie 5.0.2 user feedback. (Please include your system/OS details.)
---
Formac Studio DVR Not Recognized: (update - see his 4/25/2005 report above where he noted the iMovie 5.0.2 update helped.)
The reader that reported the problem w/iMovie HD sent a follow-up:
(added 2/10/2005 from 2/9 mail)
"Mike, I have tried to disconnect/ reconnect the Studio TVR but this makes no difference. The Studio TVR is working ok as I can watch TV through it. Formac via their website have however suggested a work around:

'Save the video you require as a DV stream (Quicktime) and then import that into iMove HD.'

This seems to work but is quite long winded. The clip I tried and tested also did not have the sound interference problem that I have always had when I convert video via the Studio TVR. (To eliminate the sound interference, I had to extract the audio of every converted video clip!)

So the Formac work around does work. Lets hope Apple fix the problem ASAP. Hope this helps
Rick S."
Here's a copy of the email from Formac that Bill D. sent regarding this problem (see 2/7/2005 report below)
" Dear Formac Studio customer,
it has come to our attention that Apple's iMovie 5 has problems with DV devices. This is a general issue with DV devices and not specific to the Studio. We strongly recommend not to upgrade to iMovie 5 yet, as we cannot guarantee the functionality of your Studio under these circumstances. We have informed Apple about this issue and hope to have a solution soon.
Best regards,
Your Formac support team "
I don't own iLife05 (yet) or the Formac Studio to test but if anyone finds that an update fixes this (like 10.3.8 or a future iMovie HD update) let me know. Thanks.
A Formac Studio owner wrote he's been using Vidi (free app noted in past news pages here)
" I use VIDI
http://www.mitzpettel.com/software/vidi.php
ever since my very old Formac studio stopped working with iMovie 4. Happy with it.
Bert "
Here's the original reader report on the Formac studio/iMovie HD problem:
(added 2/7/2005/Updated 2/8)
"iMovie HD.
I have found that since I upgraded from iMovie 4 to iMovie HD my Formac Studio TVR is no longer recognised. Formac have acknowledged this on their website. Does anyone know of a work around or a fix for this problem?
I am using a Power Mac G4 (1.4Ghz) with OS 10.3.7
(I asked if he installed the iMovie 5.0.1 update)
Yes, I applied the update but it still does not work. I also re-installed iMovie 4 on my second hard drive (after removing the receipts file in the Library folder) and the Formac Studio TVR no longer works with iMovie 4. I guess I'll have to wait for Apple to fix this...if they ever will!
Cheers, Rick S. (UK)"
I asked if he tried disconnecting/reconnecting the device. (Old tip for some USB devices after os updates.) I'm assuming the formac DVR hasn't failed but it might be good to test it with another mac that wasn't updated. Also I'd write Formac to ask them if they have any suggestions (good luck with that though but maybe they could at least confirm if it's a common issue).
I've not yet bought iLife05 but if any other Formac Studio owners have a suggestion or comment, let me know. (Thanks)
---
(added 1/28/2005)
"I have both an internal, and external fw burner.
When I first installed iLife, and tried burning a project from iDVD, then internal tray was ejected when I was asked for the media. My burns failed several times during the encoding process. I did a re-install as another user (suggestion I picked off a board). Same problem persisted. I deleted the pref files and iDVD cache files.....*suddenly* the external tray was ejected when I was asked for media. Oh, and my encoding process/burns are completing fine.

I am reluctant to believe simply deleting the pref file caused iDVD to default to the external file, but it does seem this way. Unfortunately, I was making too many changes trying to fix my original problem to know exactly what I did to make this happen. but, I'm not complaining. ;)
Aaron B."
---
First Feedback on iMovie HD 5.0.1 Update:
Not very detailed but the first mail so far on the update. (Bob had previously reported audio problems and I asked if he had tried the update.)
(added 1/28/2005)
(I asked if the iMovie HD 5.0.1 update helped-Mike)
"Not really. Seems ok for now. But, I have to tell you, if I do anything else while capturing with iMovie(HD), there are pops and clicks and drops. Even scrolling a page. It continues with the update.
Later, SCB
(I asked Bob to send his Mac model and OS used just for the record.)
AGP graphics (sawtooth) G4 400mhz (upgraded to Powerlogix 800mhz). 1GB RAM, 80GB hard drive. ATI Radeon 7000 Mac video card. Taping through RCA cables, from a VHS machine. S-Video not available. "
---
(added 1/28/2005)
"Hi, I wanted to provide some iPhoto 5 feedback from a 'new' Switcher. I had an 8500 way back when, and have had a PC since (currently a 3.0 gig/1gig ddr dual channel ram, fast disk and high end video). I always loved Macs, but until lately couldn't justify the high price and low performance vs. pc's.

I just got an 17" iMac G5 1.8/512 on 10.3.7, with iLife 05 as a 'second' (fourth actually) PC. This computer was mostly for iPhoto, iTunes and iMovie use .

Garage band?: No use for it

iDVD?: Haven't tried yet.

iTunes?: That and my iPod are what dragged me back to Apple, though accessing the mini version of the app (?) is more complicated than the original version of iTunes.

iMovie?: Love it. mostly very easy to use except the nonsensical default to the edit mode when you plug in the camera - at first I couldn't see how to get the video in!

iPhoto?:
Hits:


Sorting by roll, date etc.
.mac integration
Photo books
Red eye remover

Misses:


I am completely unable to import my many thousands of pictures from my PC. I tried from the dvd, and from putting them in the 'photos' folder with no luck. I can use Archer or ACD view without problems, but iPhoto reports that the files are bad.
Its slow. It might be better than what folks are used to, but the simple viewer in XP is MUCH faster and easier to use.
There is no easy way to manage files because they get buried many layers deep in the folder structures.
Only allows one library at a time, limiting user management and speed.
No easy image resizer (I love the 'powertoy' in XP for this)
There is no direct view/slideshow without the whole library loading up in iPhoto first.
I hope this is just user error, but so far it is a lot worse than I remember Mac apps being!
Dave S."
---
More iPhoto5 reports:
(added 1/28/2005 from 1/27 mail)
"I posted a lengthy & mostly favorable review of the changes to iPhoto 5.0 at this blog.
-Aaron P. "
---
(added 1/28/2005)
"Hi Mike.
I dont know if I like iLife 05 or not, but think its not fair that I jugde it cause I only use iPhoto 05. Ive upgraded from iPhoto 04, everything was fine. I think that speed is fairly the same maybe a bit more sluggish.
Today I wanted to clean some bad pictures away so I clicked on the thumb to put it in trash. iPhoto doesn't say anything, but doesn't perform the operation. But if I go to "edit" menu I can reverse the operation. But the thumb is still around and cannot be moved. I am still able to display the picture. The file is called 218.jpg so I did a search in finder and deleted it in original destination and iphoto library. But the pick is still around. This is a stupid bug. I did fsck before and after install, so I have no idea what is wrong.
Best Regards Rocco "
Anyone else see this?
---
More Reports on A/V sync problems (I asked if they tried the iMovie HD 5.0.1 update to see if that was fixed - see his later report above)
(added 1/28/2005 - from 1/27 mail)
"iMove. What a mess. Using a Pyro A/V Link, I now get audio skips, and developed the synching problem. Have to use iMovie 4 to make my movies. iDVD 5 is fine so far. Love the "progress barometer". Let's me have an idea of how far along the encoding is. Took all my old Themes, no problem. BTW, take note that a 733 mhz G4 is required for iDVD. Not certain if that was the same for earlier versions. (Bob's using a sawtooth G4/400 system)

Noting new in iTunes, but I love the new interface for iPhoto. It accepts avi's now, but still opens QT to play them. That's a needed improvement they should make. Play it right in iPhoto. All iLife apps seems quicker, too. Big difference in GarageBand. They must have optimized it a lot.
Later, Bob"
Hopefully the iMovie 5.0.1 update will help.
(added 1/28/2005 from 1/27 mail)
"After watching the DVD+RW that I burnt yesterday I too experienced considerable lag withe the audio with it being about a second or more out of sync. I suppose this may be due to using a firewire 800 external to house the iMovie files and my internal to hold the iDVD project. I will try later with having everything on the external and if that doesn't work, with everything on the internal. PowerBook G4 15" 1.5Ghz, 80GB 5400rpm HD w/ 10.3.7 & a Macally PHR-100ACB holding a 250GB 7200rpm HD.
- Joe "
A reader sent some audio sample rate tips (see report below) and The Miglia Alchemy TV/DVR page has a link to a Quicktime PDF file with tips on A/V sync at http://cit.duke.edu/pdf/vid_docs_quicktime_audio_synch.pdf. I asked Joe to report back if the iMovie HD 5.0.1 update and/or any of the above helped.
---
More Ext. DVD Burner/iDVD reports:
(added 1/26/2005)
"Hi Mike
Using iDVD5, MDD G4, ND-3500A & DVR-108 internal, SD-R5112 FireWire external; unless I use the Control-Click (w/hurz & pfurz files),
(old easter egg tip/download noted last spring, files also installed by patchburn3-Mike) there is no way to designate which burner to use; inserting media ahead of time makes no difference; iDVD always opens the DVR-108 (slave).

iDVD5 is much more gratifying to use that iDVD4; I only use it for slideshows, and getting in & out of slideshows in 4 was a hurry-up-and-wait situation; thankfully iDVD5 is much brisker in this department.

I have only created .img files so far, so cannot comment on iDVD5's acceptance of alternate media, or whether burn times from within iDVD5 are more in keeping with higher speed media (in iDVD4, I always got 2X burns, no matter what the media/drive capabilities).
Hussein H. "
---
(added 1/26/2005)
"It isnt just external FW drives that work with iDVD 5.0... but USB 2.0 also! Here's my info:
I have a TOSHIBA SD-R5002 DVD-R/CDRW (which my wife got for free from her work when they upgraded to faster drives). I have been using it in my Yikes 400mhz tower using the drive profile from PatchBurn and it worked fine with iDVD 3. I just took it out of the tower and put it into a generic external USB 2.0 enclosure (ME-325 series, $25 at xpcgear). I used PatchBurn(3) to install the Toshiba profile on my Powerbook G4 12" 1Ghz dvi. I can now burn directly from iDVD 5.0 to the external drive.
-Rome "
---
(added 1/26/2005)
"this has been reported, but i just successfully burned an iDVD5 project to a Fuji Film 4X DVD+RW disc to an external FW DVR-107D (firmware 1.18) burner using the 'Save As Disc Image' function. i used Toast 6.0 to burn the disc image file and it played perfectly fine on my Panasonic DVD-RV31 player. i didn't use the easter egg trick so couldn't figure out how to burn directly from iDVD 5 to the external burner, as it only allowed me to use my internal superdrive.
-grant "
If you install the 2 files in the download (linked in the FAQ's DVD section since last may - also installed by Patchburn3) then hold the Control key when clicking the burn button a pop up dialog box appears allowing selection an external drive as the target. (Still works with iDVD5 according to reports.)
---
Report on loss of A/V Sync: (Note: On Jan. 27th Apple released an iMovie HD 5.0.1 update via software update that says it has fixes for A/V sync issues.)
(added 1/26/2005)
"I have an iDVD 5 issue I discovered today. I created a DVD project from an iMovie HD project (standard DV from a Sony TRV22). The DVD project is about an hour long, and I told it to create a disc image last night.
Today, I mounted the image and tried playing it in DVD player. As the movie progressed, I noticed an increasing audio lag. I tried pausing and re-playing the DVD, no luck. I tried going back to the menu and skipping to a scene further along, and that actually showed how bad it got! Linearly through the movie, the audio got more and more out of sync so that 30 minutes into it, the audio was behind a good two seconds!
I tried playing the VIDEO_TS folder in mPlayer OSX and got the exact same results. So it's not a player problem, but an actual MPEG2 file problem-- chapters would start with the last couple seconds of the last chapter's audio. Testing the original iMovie project file shows no lag in the original DV source. I haven't burned the image to DVD yet because that would be a pointless waste of a disc.
I've never had this problem before (iMovie 3 & 4, iDVD 3 & 4). Can anyone verify?
PowerBook G4 12" 867MHz (rev.a), 640MB
-Alan O. "
I don't own iDVD5 yet but welcome other feedback or tips on this. A reader sent a note on similar issues with iLife 04:
(added 1/28/2005)
"Hi Mike,
I had a similar issue to this in iLife '04, I don't know if my problem was exactly the same, but this info may help:

iDVD creates DVD audio with a 48 kHz sampling rate. What I discovered is that iDVD is not very good at re-sampling audio from 44.1 kHz. Most of my DV files in my iMovie project had 48 kHz audio, but two had 44.1 kHz audio. Once I had created a DVD image in iDVD and played it with DVD player, all files that had 48 kHz audio in iMovie had perfect sync, but the two with 44.1 kHz audio had sync issues that got worse as the scenes were played.

I went back to iMovie and exported the offending files as DV with 48 kHz audio, re-imported them back into iMovie, and then re-creating the DVD image with iDVD - the problem was gone.

So, my advice would be to check the audio sample rate of the source files (this can be done with QuickTime: open the source files from the "Media" folder (which is inside the iMovie project folder) directly in QuickTime, and then select "Show Movie Info" from the "Window" menu). If it is 44.1 kHz, that could be the problem.
Hope this helps,
Harry. "
Thanks. (I remember some past tips or a kbase doc on this issue a year or so ago but can't remember the link(s) now. Also the Miglia Alchemy TV/DVR page has a link to a Quicktime PDF file with tips on A/V sync - http://cit.duke.edu/pdf/vid_docs_quicktime_audio_synch.pdf, also mirrored by Miglia at http://www.miglia.com/Support/Files/QT_guide.pdf)
Apple released an iMovie HD 5.0.1 update that says it has improved sync.
---
More iPhoto5 feedback:
(added 1/26/2005)
"Thought I'd submit a quick report. iPhoto '05 runs GREAT on my G4 400 GE. OS 10.3.7 w/1GB RAM. My photo library is only ~1800 photos all taken at higest quality with a Canon S400. This version is much snappier than the '04 version in which i would get constant beachballs.
-Oliver "
---
(added 1/26/2005)
"After using iLife '05 for a few days now, here's my 2 cents on iPhoto 5 and use with a Nikon D70 Camera with RAW:
Here is a feature that needs to be added to iPhoto 5...
I use Nikon Capture Editor to edit and re-save the .nef RAW from my D70. This is the only application I know of that will do this. This way, I can adjust the .nef file the way I want (camera settings, exposure, etc...), and save it as a .nef again. Then I can Save As .tiff's, .jpg's, etc... from my "tuned" .nef.
Very handy!!

The problem is I cannot see the changes I make to the .nef in iPhoto 5 after I edit in Nikon Capture Editor. I click drag my .nef file from the iPhoto 5 window, to the Nikon Capture Editor icon in the dock, which opens the .nef in Nikon Capture Editor just fine. I edit the file, save it and quit. When I go back to iPhoto 5, the thumb photo is not updated with the Nikon Capture Editor changes I just made. Rebuilding the iPhoto libray or a quit and re-launch will not fix.

The issue is that iPhoto cannot see the tag changes that Nikon Capture Editor makes. iPhoto only see's the original RAW tags the camera created when shooting the photo.

What we need is for Apple to communicate with Nikon, and rev. iPhoto 5 to be able to see this info, and show the changes.
Thanks, Scott K. "
---
More iDVD5 Firewire DVD Burner Reports:
(added 1/25/2005)
"I had originally purchased Roxio's Popcorn because I heard that iDVD 5 would output to a disk image. I did this, then opened the image in Popcorn and burned to external DVD just fine.

Since reading your note I tried the following: Opened the project (not the disk image) that I used above. Selected File-->Burn... --- the burner drawer opened and asked for a blank disk to be inserted. Did that. It burned and played like did it w/ Popcorn.

(note: the none of the DVDs play on my Philips 711 player. they do play on my Panasonic DMR E80H DVD player/recorder. None of the DVDs created on the Panasonic played on the Philips either. If you have any suggestions that would be nice)
(you could try different media brands - although some older home dvd players are more picky about media. I have had some generic DVD blanks in the past that would not mount in anything but the pioneer drive I burned them in, although using other brands of discs (verbatim for instance) didn't have the same problem.-Mike)

OSX 10.3.7, using iDVD 5
PowerBook G4 15" 1GHz w/internal Matshita CW-8123 combo drive, 1.5GB RAM
External Burner: Firewire LaCie d2 DVD-RW (NEC DVD_RW ND-3500AG)
-Peter
(From the ASP report he was using either a Lacie profile or Patchburn3 (for iApps burn support) with the Lacie cased NEC drive. (ASP report showed "vendor supported" for that drive.)-Mike)
I don't ever remember applying that patch. This was a new DVD writer (never had one before).
This was just plain vanilla laCie. I don't remember if I did an install from a CD for drivers. If I did, then laCie addressed that issue. "
From the "vendor supported" ASP note, it's running a drive profile (since you said you never used patchburn3, then it had to be a lacie profile installed) There's no iApps (nor any) apple burn support for that NEC drive model (as of 10.3.7 at least), so most use Patchburn3 (which also installs the easter egg files for iDVD) when they buy the NEC ND-3500 drive. (Most buy the drive alone rather than Lacie cased, often an OEM one since it's much lower in price.)
---
(added 1/25/2005)
"Hey Mike!
Just wanted to confirm that iDVD 5 DOES support Firewire DVD burners. I have the DVR-105 and the DVR-108 both in OWC firewire enclosures. The DVR-105 is in the OWC Mercury enclosure and the DVR-108 is in the OWC case that is more like an aluminum cylinder. I forget the model number and I can't find the enclosure on Macsales.com anymore.

I am using the 1.25 GHz 15" Powerbook with a Combo drive, but when I simply click the burn button in iDVD it defaults to my DVR-105 drive in the Mercury enclosure. I found no preference within iDVD to select a different firewire drive so I'm not sure why it chose the DVR-105 over the DVR-108.....perhaps the drive, or perhaps the enclosure they are in. Both drives are just in a daisy chain of firewire drives that I have.

Interesting note as well. I still have the iDVD easter egg hack for using firewire drives installed and it still works. The Easter egg still lets me choose WHICH firewire drive I want to use to burn so I may stick with that trick in the end anyways. As always, thanks for the awesome site!
Shane S. "
---
(added 1/25/2005)
"Loaded iDVD5 on a machine with iDVD4 already (upgraded). Still need the Easter eggs to get to the external drive. OS 10.3.7 , Dual 2.0 Ghz PM G5 (2003), 2 GB RAM, 160 GB HD
(he later wrote w/info on the external DVD burner)
it's a Sony USB 2.0/FW DRX-500UL, used in FW mode
-Jack
(I assumed his G5 had an internal DVD burner also and asked
Yes, a Sony (not there now, don't remember the exact model, something like a U10j or UJ10? (DW-U10A I think-Mike)
Hold down Control key (the easter egg trick) while clicking Burn and you get a dialog asking what drive to use, or if you'd prefer to burn to image, and if you want to burn in DVD-R mode (I was using a RW disk to test, so I'm guessing it pulls the same trick as the one DVD that makes everything look like a DVD-R). "
I assume the G5 has an internal DVD burner also. Some other reports said the easter egg/trick wasn't needed but most of the reports had an internal combo drive, not a DVD burner (i.e. if you have an internal DVD burner how do you select the ext/FW burner as the target). However the first report (see below in yesterday's posts) mentioned that a FW cased DVR-105 was supported as well as an internal (OEM) sony DVD burner but he didn't mention how he selected the FW drive as the target. (The easter egg trick popped up a dialog where you selected a target.)
From the other reports iDVD5 does support external burners, but not sure how to select the external burner when an internal burner is also present (which would be the default normally). I don't own iDVD5 yet to check prefs, etc. to see if that's an option.
---
(added 1/25/2005)
"iLife 05 refused to install on a (early) G3 iBook - the screen resolution of 800 X 600 (maximum for this ibook) was not enough - the installer quit. game over.
Michael D. "
---
(added 1/25/2005)
"iDVD not only supports DVD+R, but it also supports writing to disc images. (this was also an option before with the easter egg trick, but now it's a file menu option.-Mike) This is a big deal to those who have external burners and makes iDVD accessible without hacks. (There's reports of native external drive burn support now also.-Mike) I just created one and it mounted and played in DVD player, and I am certain that it would burn using disk utility just as easily as toast. I haven't burnt a test DVD yet, but if I have problems I'll report back.
- Joe
(he later wrote)
As of right now I just installed a profile for my DVD+-RW external with the newest version of PatchBurn 3. After a reboot I was able to see the burner as vender supported. (typical for Patchburn3 profile) My previous experiences with iDVD 4 didn't allow me to expect much since I had done this before and it had not recognized the burner without the easter egg. (no native external burner support in iDVD4 and older.)
I ran iDVD 5 and to my surprise the burn button wasn't disabled. I popped in a DVD+RW and ... the burn completed without a hitch on the DVD+RW media in my external burner. The only thing that I did besides install iDVD was to run PatchBurn 3 and install the default profile for my external drive. Hope this works for everyone else! The burner is a generic "Mad Dog" DVD+-RW 12x single layer drive inside of a third party firewire enclosure. The model reported by PatchBurn is VOM-12E48X and the drive is made by Artec. And the computer and OS I'm using are an Aluminum PowerBook G4 15" 1.5Ghz and MacOS X 10.3.7 if that matters. "
---
(added 1/25/2005)
"Mike,
I got iLife 05 last Thursday and I have major problems with it on my 1GHz TI powerbook G4 with 1 GB Ram. (133 type RAM)

I tested importing video via the Dazzle DV bridge Fire Wire box, which used to work flawlessly with my Powerbook. Every time I imported video, iMovie froze within a minute or two, a blue screen would show and I had to dump the DV file.

However, iMovie's new version works fine on my G4 Gigabit Ethernet Power Mac. I have the max 1.5 GB of RAM in the machine and when I hooked up the Dazzle DV bridge to the Power Mac, it works flawlessly. (PC100 type RAM)

Also, iDVD is freezing on my Powerbook. works fine on my Gigabit Ethernet Power Mac G4.
Joseph b. "
---
(added 1/25/2005)
"DP 1.8 G5 1.5GB ram
iPhoto is my primary iLife app. It is FAR better than 04 version. I haven't had any issues with importing libraries (I have 10 of them that I keep arranged with iPhoto Buddy - which still works, by the way) from iLife 04 nor with any lockups or speed problems. In fact, it "feels" 25% faster than before, but I don't have any hard data on that. It read my RAW pictures from my Digital Rebel just great, and saved them as RAW in the library (more on that later). The books are wonderful, and the print prices for the 4x6s are "insane!" The book making is my favorite part of iPhoto - I haven't had to go to the mall for some time now when looking for family gifts, although I'm sure some people may be sick of getting hard-bound 8x11 books... now they're going to be sick of tiny paperbacks by the time I'm done with them.

My one frustration has been figuring out how to make subfolders, but its probably because I've only spent my time do far working on two books, and not retooling my photo libraries. I'm sure I'll figure it out, and that stands so far as my one complaint. Meaning that I'm a huge fan of 05.

As for the RAW "problems" - you can, at any time, right click on a picture and select "revert to original" and you get back your original RAW file because it was never "deleted" in the first place. Everyone knows to backup their important files. If someone wants to make sure they have their RAW pictures backed up (and I do), they do what I do - they use backup software and save the files to some other media. I backup my /Pictures every night with Backup.app (and have done some restores in the past). (For serious photo editing I'd use Photoshop anyway.-Mike)

Yes, when you modify the RAW files, it makes high-quality JPEGs... but this is a beginner's program, not a high-end professional photographer's application, and I didn't expect anything more or less. One cannot modify, in general, RAW files in any program I know of. (this was mentioned before) Its always converted to something like TIFF or PNG or something else. If you didn't know that, then it shouldn't matter to you if the files are RAW or JPEG after the manipulation. (some apparently expected more from iPhoto it seems, or at least an option to not use a lossy format like JPEG. But again this is a $80 consumer Apps bundle, not a pro editing app.-Mike)

Backup your files, and you will always have the original RAW files around.

Another possibility would be to simply first backup your CF/SD/etc card data to an external hard drive before letting iPhoto manipulate the photos. Then you'd have double redundancy backup of the RAW photographs (since the RAW files are kept and stored as the original file in iPhoto 05)
My 2 cents.
(name withheld by request) "
Personally i'm stoked on the changes in iDVD5, which would be my main reason for getting iLife 05. (iPhoto5 is just gravy so to speak for me. I use it but not for any serious photo editing.)
---
(added 1/25/2005)
"You can't directly edit RAW files in any program. (as mentioned before, even Photoshop converts RAW files for editing, although to TIFF, not a lossy format like JPEG) In fact, you can't directly view RAW files without applying various transformations on the data to create a "normal" image with red, green, and blue channels. After that conversion is done, what happens to the file is dependent on the program. In Photoshop, you can save in the native format (PSD) which is lossless and preserves layers, etc. I don't know how iPhoto works, but it probably isn't going to be as good as Photoshop.
-Larry R. "
I wasn't really expecting iPhoto to be a Photoshop replacement, although some probably wish for another format option than JPEG.
---
(added 1/24/2005)
"Mike, Unlike most reviewers, I actually like iPhoto 5. I've only tried it and Garageband so far. Here is what I posted on my blog -Mike S.

iPhoto
So far I've spent the most time with iPhoto 5--an application designed to import, organize, and edit digital photos. You can, of course, scan film or prints and include them in iPhoto as well. In contrast with other people who claim that iPhoto 5 is painfully slow, I'm not noticing any slowness.
I backed up my photo library and repaired permissions before installing it. The first time I ran iPhoto, it took a few minutes to upgrade the library. Then when I started using it, it seemed as snappy as iPhoto 4 -- which is fairly decent using my 1.8 GHz G5 with a little over 1 GB of RAM. There were two improvements I noticed quickly that I really liked. First, the red eye correction tool is much easier to use and doesn't paint everyone's eyes blue.
Next, the ability to create folders and put albums in those folders greatly unclutters my workspace. Now, I can put my Simple Minds photos in one folder and my family photos in another one. Within each folder, there are several 'albums.' Works great. Just wish they had that since the beginning. I did play some with making iPhoto books. The new formats look very nice. And I think I'm about to pull the trigger on making books from the photos of two of the concerts I attended. The automatic layout option works nicely. And being able to print on both pages is a much needed improvement.
I also was very happy with the 'Adjust' tools. I can now do everything I would normally do in Photoshop within iPhoto. And since I never bought Photoshop, this is a great relief for my conscience and wallet. There are too many improvements to mention in this little review. But so far, I'll give iLife a hearty endorsement just based on iPhoto 5.

GarageBand 2
This is Apple's fairly recent addition to iLife which is used to make original music. Rather, it's mostly for hacks like myself to make theme music from prerecorded loops. I didn't play with this much, because I'm not very musically inclined. But I did like the new feature that lets you see sheet music and adjust it for each track. For some reason, GarageBand still doesn't import MIDI files. But you can download Dent Du MIDI for free to fix that shortcoming.

iMovie HD, iDVD, and iTunes
iTunes is nothing new and can be downloaded from Apple for free. And I haven't tried out iMovie HD or iDVD(5) yet. As far as I know, the big improvement for iMovie is that it now supports HD video. I'm sure this will be important in the future, but for now it's rather unnecessary -- that is unless you have $3000 to spend on an HD camcorder. As usual with iDVD, the improvement is in new themes. So, while that is always useful, it's nothing to get too excited about.

In conclusion, iLife '05 seems like a good update just based on iPhoto 5. But I do have a problem with the price of $80 ($60 education price). Just a couple of years ago, all of the applications except for iDVD were free to download. It was one of the many reasons that it was good to be a Mac user. Then last year they started charging $50 for it. That was painful but most of us bit and paid it. Now after only one year, it's $80 with no discount if you bought iLife '04. That's just wrong.
Personally, I just hope their sales numbers go way down so they realize they need to keep the price no higher than $50 and give previous users a discount for the upgrade. But if nothing else, you can sell your iLife '04 discs on eBay and get about $20 or so back. That's what I did! "
---
(added 1/24/2005)
"iPhoto 5 problems:
(1) After modifying a picture with available iPhoto 5 tools then clocking DONE or moving to another photo with the arrow button, after the "Saving Changes" bar is done iPhoto 5 immediately crashes.

(2) With a photo in the window, dragging the lower right corner of the window to enlarge it sometimes produces two or three spurious horizontal white stripes across the photo. The damage is not permanent but.....

(3) When opening a previously created album one or two vertically (portrait) formatted photos will sometimes be replaced with a white rectangle the same size as the missing photo. Clicking on the white rectangle will restore the missing photo.
Allen W
(I asked for his system/OS details since-Mike)
Model: G5 2 ghz Dual processor, MacOS: 10.3.7, RAM: 2GB
Curiously, these problems have not been observed on the 1.33 Ghz 17" G4 Powerbook also running 10.3.7. "
---
(added 1/24/2005)
"iLife '05 on a Pismo 400 resulted in an immediate return to iLife '04 as just about everything choked, whereas 04 still runs decently for limited tasks in GarageBand and iDVD, fine with iMovie and iPhoto.

iLife '05 on an iBook 1ghz runs quite nicely with iPhoto and iDVD and GarageBand all showing worthwhile though minimal improvements. iMovie has not been run yet but I will be shooting some later today on my Canon ZR and trying out the Quick movie or whatever it's called new feature that some have had issues with.
Matthew C.
(I asked Matt if he had a FW DVD burner to test with iDVD 5)
Actually, that's what I do have (ext OWC FW w/DVR-106 and never Patched for the prev. ext. drive burn trick or w/patchburn3) and plan to try a burn on the same movie later today or tomorrow at latest. "
---
G4 or Better Needed for Advanced iPhoto Editing: (turns out the reader that reported only brightness/contrast was using a G3 Mac)
(added 1/24/2005)
"Advanced editing features in iPhoto 05 require a G4 or faster processor.
On a G3 computer, brightness and contrast are the only editing features enabled - no straightening, exposure, etc.
I didn't see this anywhere on Apple's iPhoto web pages, but it is (hidden) in the iPhoto help:

"Faster and easier editing
New editing options like Exposure, Color Adjustment, Straightening, and Saturation make fixing those not-so-perfect shots easier than everŅand faster, too. All of iPhoto 5's editing tools have been sped up considerably, so you can get your photos looking their best in no time at all. (A G4 processor or faster is required for advanced editing."


-Gerald "
---
iDVD 5 and External DVD Burners (looking for other feedback on this - especially from users that have not installed the 2 files in the download/easter egg trick used for iDVD2-4 which are also installed by Patchburn3.)
(added 1/24/2005)
"There is a gentleman over in the Apple Discussions claiming he burned directly to an external Lacie FW burner out of iDVD5.

(he later sent a link to the thread) (from) http://discussions.info.apple.com/webx?128@777.7RDpayZILYl.1100308@.68a497e6


" Well, I use a pioneer DVR-105 (yes this is several years old and only does "dash") but both iDVD 05 and disk utility recognize the drive in addition to the internal Sony superdrive.
Don't need the Easter Egg or Batchburn (he means Patchburn3-Mike), which as I understand it, includes the Easter Egg as part of its' "expert settings" mode of install.
Bob"

Any of your other readers reporting a direct, not image file, burn to an external fw drive? "
If any other iDVD5 owner tries burning to a Firewire drive, let me know if that's supported now w/o needing the 2 files/easter egg trick. Thanks.

---
(added 1/24/2005)
"Hi just wanted to pass on my experiences with iphoto 05.
I have a 17" iMac G4/1ghz 768mb ram running 10.3.7. Install went fine for everything in the iLife suite. Repaired permissions before and after. The first launch the program did not respond real well. Had to quit out once because it wasn't rotating the image properly in edit mode, threw it way off center and off the page. Scrolling was jerky at first. After I quit out and repaired permissions again it seemed to respond much better.

Now that I've used it several times over the weekend, I don't notice much lag. Almost like I had to scroll through everything once. I have over 5200 images.

As for the RAW support. Little disappointed. Its true that you end up editing the jpeg instead of the raw file, but the trick to editing the RAW file is to not double click the image, do an export as original and then open that file in photoshop using the raw plugin. And dragging the file from iphoto to the photoshop icon seems to work sometimes, the couple of times I tried it, it still went right to jpeg, tried later after I read someone else got it to import properly doing the same thing and sure enough it worked that time. Don't know why. All in all though, I think its a great update.
It still loads a little slow, and its a bit slow in response when changing book themes. I don't notice that much speed difference between this on iphoto 04. I'm sure the first update will clear out some of these little bugs. Thanks.
Leandro "
---
(added 1/24/2005)
"I think there is a lot of confusion on the RAW issue with iPhoto '05. It appears that when editing a RAW image the actual information is derived from the original RAW data but the saved edit is in compressed. That way, the RAW image is never harmed. So every-time you edit that "RAW" photo, you're working with the original RAW image and not the edit. This is I suspect the best way to handle edits, you never lose the original photo information, otherwise two or three edits down the line, your image will become heavily skewed.
- Jack
(I replied I didn't own iLife 05 yet and wasn't sure if the RAW file was preserved.-Mike)
I haven't tested it yet, but I understand that to get the orginal RAW file, either export the image from iPhoto or click drag it to photoshop. iPhoto appears to keep the RAW original and a jpeg form of the RAW original. This is a consumer product and not a pro product. But, I understand from others that editing occurs on the original RAW image and your edits are saved as part of the jpeg, thus not destroying the original RAW image. I will test this as soon as I can. "
---
(added 1/24/2005)
"Received package on Friday and installed on upgraded Cube (1.2Ghz, 1GB RAM GeForce3).
No issues installing & running although iPhoto is the only thing I've used at any length.

iPhoto Likes:
now imports movie clips from cameras
imports RAW (from my cameras anyway)

Dislikes:
SLOW. Much slower importing even with a Firewire CF card reader. RAW support is a lie; box says "Import and edit uncompressed RAW photos". In fact they mean import uncompressed RAW photos but iPhoto will turn them into a JPEG as soon as you try to edit it, even though the edit tools look like they work on RAW and the file information still says RAW. This is a very big deal to me as it's one of the main reasons I bought iLife05. (A reader replied that even photoshop converts RAW files when edited (to TIFF), although not to a lossy format like JPEG, although I don't know what JPEG compression/quality level iPhoto5 uses.-Mike)

Sometimes double clicking an image doesn't open the image in the edit view. The screen shows 'Loading Photo' and the layout changes to the edit view, but the picture never appears. Seems to happen the first time you try to edit a picture.
So far I'm not impressed. Hopefully they'll have an update soon.
Gavin M.
(after a reader post on iPhoto editing features last week mentioned only brightness/contrast (turns out he had a G3 Mac, G4 or better required for full editing features) - I asked Gavin about that and to report back if he tried iDVD5.-Mike)
I had all the editing controls available. Real time freehand rotation for straightening, exposure, sharpness, tint as well as brightness and contrast.
Trying iDVD will mean installing it on another machine and I don't really want to do that just yet - sorry."
"

One reader post mentioned he could not import RAW files due to an unsupported camera. (http://www.apple.com/ilife/iphoto/import.html has a sidebar Camera Compatibility list.)
---
I welcome other feedback from iLife 05 owners. (Please include your system/OS details.)