This page has reader feedback on burning Dual Layer discs with Toast 6.0.7. If you've used a DL drive with Toast 6.0.7 for burning DL discs, let me know your experience. (Include system/OS/Drive, etc. details in reports. Thanks)

Reports/Updates: (most recent info first)

DVR-108 v1.18 Firmware Update: (from the 12/8/2004 news page)
The usual Pioneer Japan firmware page now has v1.18 firmware updaters listed. (As mentioned before, there's 3 drive model/versions of the 108 listed there. Owners of OEM DVR-108 drives should use the "BK" version to flash their drives.)
Here's the change info for the 1.18 firmware from their Firmware version history page: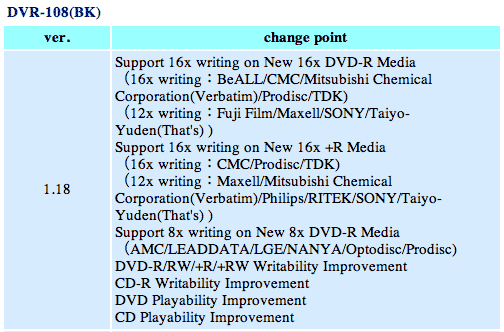 I used FlashKit 2.0/DVRFlash 2.0 (see below) and the .118 firmware file from the PC exe download and flashed a DVR-108 (OEM) to 1.18 successfully. (I uncompressed the exe file on a PC, I didn't have stuffit expander 8 or later and v7.01 I have won't uncompress these exe files.)

OS X Flasher UPDATE: (Oct. 15th, 2004)
See the FAQ's DVD section for links to download Flashit 2.0/DVRflash 2.0 which now has DVR-108 support so you can flash the drive in OS X now.
Use Stuffit Expander 8 or later to uncompress the PC firmware update download (see below for links) so you can use the firmware file with the mac flasher. (Although VirtualPC was used to flash some optical drives if installed in a USB case - VPC will not flash onboard IDE or Firewire drives.)
Pioneer DVR-108 1.14 firmware update (from the 9/15/2004 news page) As with the 1.10 firmware update, the USA page trails this Pioneer Japan page which now has v1.14 firmware updaters listed. (There's 3 drive model/versions of the 108 listed there. Owners of OEM DVR-108 drives should use the "BK" version to flash their drives.)
Here's the change info for the 1.14 firmware from their Firmware version history page which has the same notes as the previous 1.10 firmware:
Reduction of 12X/16X DVD-R Writing time
DVD-R Writability Improvement
Reduction of 12X/16X +R Writing time
+R Writability Improvement
CD-R Writability Improvement
DVD Playability Improvement
CD Playability Improvement
---
(added 8/24/2004)
Mike, Just wanted to share my experience with the DVR-108 drive. I received 4 drives last week and ran a number of tests with Toast 6.0.7.
I tried to burn with a Verbatim disk using firmware v1.04 from a VIDEO_TS folder from my hard drive. Made two coasters. Took Drive #2 and updated it to firmware 1.06 via my Windows XP PC. Tried to burn the exact same folder off the hard drive and success twice!
Burned both Verbatim disks at 4x took roughly 25 minutes for 7.8GB. I then tried to burn 2 more discs with Ritek's new DL media. Toast would only allow burning at the 2x speed option with this media, unlike the Verbatim which offered 2x and 4x.
But, using the Ritek media also provided two successful burns and every disc was playable in my G4 and G5 Macs. So perhaps that 1.06 firmware contained something to help with the burning on Apple computers.
Hope this helps, Wellis"
Several DL burn problems (errors/buffer underruns) reported in the past using the 1.04 firmware. Version 1.10 is the latest version but the updater is for PCs (see info below from last week.) BTW - just as a general reminder, also remember to set Energy Saver to not allow drive sleep. (Helps prevent drives going to sleep if a disc left in the drive for long encoding periods - old tip from the past.)
---
Pioneer DVR-108 1.10 firmware update (PC flasher/3 models) (from the 8/20/2004 news page) A recent DVR-108 owner reported that his Pioneer DVR-108 had firmware version 1.10 (most shipped with 1.04) which is not at the USA Pioneer site yet, but a reader (thanks Med) sent a note that it is linked at this Pioneer Japan page. (There's 3 drive model/versions of the 108 listed there - with different download filenames for each although they all list 1.10 firmware. Owners of OEM DVR-108 drives said the "BK version worked to flash their drives.) It's a PC flasher so you'll need a real PC to update the drive (although with some previous Pioneer drives, VirtualPC was used to flash the drives if installed in a USB case - VPC will not flash onboard IDE or Firewire drives.)
Here's the change info for the 1.10 firmware:
Reduction of 12X/16X DVD-R Writing time
DVD-R Writability Improvement
Reduction of 12X/16X +R Writing time
+R Writability Improvement
CD-R Writability Improvement
DVD Playability Improvement
CD Playability Improvement
The firmware listing page also links to a Firmware version history page that includes changes in the 1.06 firmware. (most early 108 drives originally shipped with firmware 1.04.)
---
This reader sent an email with answers to questions I had on his previous drive database report. (Like Plextor, in the past pioneer's other sites (japan, etc.) have had firmware updates listed before they were at the USA site.)
(added 8/20/2004)
"More about the pioneer 108 firmware update
The firmware I tried was at:
http://www.pioneeraus.com.au/computer/DvdWriters/DVR108/support/firmware.htm l
As stated previously, flashing did not work in windows xp (It stated that the drive contained a disk when it didn't & refused to run. Anyway at the time this pc had a dvd-rom as well as the pioneer 108 installed. So I used nero to create a bootable dos dvd disk containing the firmware flasher and rom file, booted off this disk in the second drive, with the pioneer drive empty of course, and applied the update. It worked and the pioneer 108 now has firmware 1.0.6.

I imagine a bootable dos cd would be fine too but for some weird reason nero wanted me to use a dvd-r, though of course it does not matter as the files are tiny. Also, if you have a windows 98 machine you can boot into dos to do the update, but my windows xp pc does not boot into dos from the hard disk (I create bootable DOS floppies for flashing video cards, etc. in WinXP.) and only has an 80GB ntfs partition so I had to make sure the files were on a readable disk, since dos wont read ntfs and I could not be bothered fitting the files on a bootable floppy I went for the bootable dvd. (Although I've not owned a DVR-108 yet, I've flashed other drives in Windows XP OK. if you really need a boot floppy though (I used them for flashing graphics cards and PC motherboard bios updates) there's a site with bootable DOS floppy disc images that are handy to keep around for PCs, esp. XP. See www.bootdisk.com. The floppy drive still comes in handy sometimes - at least with PCs.)

Well then I was ready to try again. I burned a 6GB video_ts folder in toast 6.0.7 at 2x. The folder had no css encryption. This time the burn went all the way with no sense key or other errors. The dvd played fine on my mac using dvd player and in the pioneer 108 drive. (DL burns with the 108 should result in a standard "DVD-ROM" disc type, unlike many other DL disc burners. Pioneer comments on that in an older report below.) I skipped past the layer change and it played the end no probs. I have not bothered trying to find the layer change point yet but if there are any problems I will report back. My mac running osx 10.3.5 had no trouble reading the disk. Also, the pioneer 105 drve in my g4 read and mounted the disk no problem ! Remember the pioneer drive has set the book type to dvd-rom. (I did not verify this but assume that's why all this is working)

My dvd player connected to the tv is cheap, but pretty new (XMS branded 2004 model) It has no problem playing the dvd either. So I guess the experiment was a success, we just need some cheaper media. My supplier told me it would be a few months yet... I hope he is wrong :)
Cheers Andrew
Mac Guru Consulting "
---
(added 8/20/2004)
"Regarding dual layer burns with a DVR-108 drive and toast 6.07. I got it to work just fine. I just got the DVR-108 this afternoon. I made a copy of a 7.7 GB dvd of my daughters. I figure let her scratch up the copy.

I ripped the DVD with "OSX" and burned it with toast. The DVD mounts and plays fine in my mac and on my set top player. I haven't looked to see, I don't even have a tool to check, if the break point is set the same as the original disk. I guess I'll have to watch the movie with her several times to see if their is a jumpy bit near the middle.

The media I used was a RiData Dual layer disk, like the one that comes with the drive. Toast was 6.07. MacOSX was 10.3.5. The burner showed up as unsupported in ASP. I used patch burn (Patchburn II for panther, now replaced by Patchburn 3.-Mike) to take care of that. The drive showed in ASP up as "PIONEER DVD-RW DVR-108" with firmware 1.10. (See above for download links for the 1.10 firmware update/pc flasher. Firmware 1.04 shipped in most early 108 drives.) I haven't heard of that firmware. This was drive with a black face plate purchased from www.mertiline.com (must be a typo - URL is not a drive dealer)

I also used iTunes to burn an audio CD. Aside from that I haven't used this drive much but that will change very quickly.

I can't wait for region free, rip speed removed firmware for this drive. All the pioneers I've had behaved so much better with rip speed limits removed.
-J "
---
(added 8/20/2004)
"Hi Mike, I've been a long time reader. Just wanted to report on my Pioneer 108D Dual layer burner.
I have the Burner in a firewire/ USB 2.0 housing and am using toast Ti. 6.0.7 with an iBook G4 1.07GHz, 1.25GB RAM and OS 10.3.5.
I bought 3 of the Sony disks for $9.99 U.S. (see link in last Monday's news) and within a few days I received Verbatim disks, So far, I've created 2 coasters. Both disks were from the same Video TS folder, no CSS. The 1st try was a straight burn from the hard disk.

My 2nd attempt was from a Disc Image. Again, both failed. Each disc was listed as a CD-r and my burn speed for both was 2X. Everything seemed fine right up to the end. At the last moment, it reported an error on the lead out. I was surprised to see the error on the 2nd disc after burning it from the disc image.
I'll try it again tomorrow with my G5. The drive burns +R and -R disks just fine.
C. "
I asked what DL burn rate he tried. Although two tower users reported burning disc images worked w/o buffer underruns, a notebook hard drive is slower than a desktop model (esp. the OEM drives). I also asked what firmware version was in the drive (assuming 1.04).
---
A follow-up from Taka, the first reader to report on using the DVR-108 with a Mac (his original report is the oldest/last one on this page.)
(added 8/18/2004)
"Hi Mike. I read report (from Tony below, who had BU problems and misread the notes on 108 DL disc types).
I tried burn DVD+R DL (Mitsubishi Chemical Media (Worldwide brand is Verbatim) DTR85N1) in simulation mode on Toast Ti 6.0.7, but simulation mode check box was gray and blank (couldn't check box).
Buffer under run check box was checked, but it's gray (couldn't change check box).
These check boxes are set for every burn mode (mac, mac & pc, DVD-ROM(UDF) ...) with DVD+R DL.
I couldn't burn DVD+R DL in simulation mode.

I burned about 20 discs DVD+R DL, of which 1 disc media error occurred while layer changing point.

I saw no problem about DVR-108 burning DVD recording media with Toast Ti 6.0.7.
-TAKA
(He later wrote)
I tried remove other country localize lproj folder in Toast Ti 6.0.7 app. package.
Toast 6 Titanium >> Contents >> Resources >> (Country).lproj
After starting Toast Ti 6.0.7 was recognizing DVD+R DL as 8GB blank CD-R. If media is blank CD-R, could burn in simulation mode even as DVD+R DL. Other DVD writing media has recognized correctly. "
---
(added 8/17/2004 from a drive db report)
" (MDD G4 tower system with 10.3.x)
I purchased a pioneer dvr-108 the other day and mounted it in an external firewire case with an oxford 911 bridge that previously contained a dvr-107. I only use toast to burn with external drives, in this case v6.0.7.

Burning cds and single layer dvds was perfect, the same as with the 107. No coasters. Also when a movie dvd is inserted apples dvd player runs perfectly.
Now about dual layer. The drive was an oem (firmware 1.04) and did not come with any media. I bought a verbatim dvd+r DL disk and tried to burn a movie from a video TS folder (7.5GB, no css) The burn at 'best speed' was 4x despite the fact that the media was rated at 2.4x. Right at the end of the burn the drive reported a sense code error and failed to write the lead-out. result: an AU$14 coaster.
As this is the only media around sydney at the moment, I took the drive out of the box & put it in my PC. I tried to flash the firmware to 1.0.6 but the flasher did not work - it says the drive has a disk in when it does not and fails to update - so its still at 1.0.4. So, for now the drive will stay in my PC until a useable firmware update comes along and then I will buy some media, maybe a different brand, and ensure that it is burned at the rated speed, and then try to play it in my dvd player connected it to the tv. And let you know what happens.
cheers andrew"
Thanks. Was the firmware updater an official pioneer flasher? (just curious) I'm hoping eventually there will be an OS X flasher for the DVR-108 like it is for the 107-103 models. (Linked in the FAQ's DVD section.) The Monday (8/16/2004) news page had a link to a sony page selling DL media for $9.99 each (w/free shipping in the USA only I suspect). Still not cheap though.
---
(added 8/16/2004)
" Mike, I have been very interested in the dual layer burning since I bought my DVR-108. The first two I tried to straight out copy a movie from an external firewire with a DVR-106 drive to the internal DVR-108 in my dual 2.0 G5.
The first two attempts using toast 6.0.7 created coasters with buffer underun errors. Not to happy with that as the discs Verbatim dvd+r dl cost about 9.00 a piece. (Shawn sent a note that sony's online store has 2.4x rated DL media for $9.99 each)
So I thought about it for a while not wanting to create another coaster. I remembered back in the bad old days with the first cd-r burners without buffer underrun protection and how toast use to have problems with those types of errors back then. To solve the issue back then I always burned a copy to a toast image file and the burned it from the hard drive. So I decided to try it with the dual layer dvd.
I selected 2x burn speed as the verbatim discs say 2.4x max for dual layer burns.
Then I took the same movie that failed to burn previously and created a toast image.
I then burned the movie from the image file and SUCCESS!!!!!
No buffer underrun errors and the disc mounts and plays on my G5 and my 5-year old sony dvp-s500p dvd player and a newer toshiba sd-k600 dvd player.
I will attempt it again tommorrow but I have to get some more discs first. I sure hope that they come down.
-Shawn F."
A reader with a NEC 2510A dL burner in a lacie FW case also reported burn problems with a DVR-106 drive as the source. Like Shawn, he also said using a disc image on the hard drive solved the problem.
If you have another model of DL burner (not a DVR-108), the burned (DL) Discs may not mount in players or Mac OS (due to the disc type).
---
(Earlier reports follow)
Note: The reader that reported DL mounting problems below later agreed he had misread the Pioneer comments at CDRinfo, - which clealy says the DVR-108 drive sets the DL booktype to 0000h (DVD-ROM) for improved compatibility, unlike some other brands/models of Dual Layer drives. His entire report/comments are a) based on mis-reading the comment on DL format type for the 108D and b) based on tests with a DL disc not burned properly/normally. See other DVR-108 reports here for a more accurate comments.
(earlier report follows)
A reader w/Pioneer DVR-108 sent a long report on burning Dual Layer discs with Toast 6.0.7 (latest update w/DL support) and noted issues with buffer underruns and said a simulation test actually burned a disc instead of just a test. (The previous Mac owner report on the DVR-108 and Toast 6.0.7 didn't note these problems, but I've sent a copy of his mail on Toast 6.0.7 to a contact that does Toast development.) And unlike an earlier report from a reader with this same drive, he also mentioned problems mounting a Dual Layer burned disc in OS X (but if I'm reading his comments correctly - he's using the 'simulation' burned disc for testing - not a normally burned disc)
(from 8/13/2004 news page)
" Hi Mike,
Just a quick note to let you know of a strange happening when I tried to burn a test DVD+R DL disk with Toast 6.07. First off I was able to write to Ritek 8x single layer disks (RITEKG.05) without any issue at 12x with the verify coming up OK. I then tried a DVD movie of 7.7GB onto a Verbatim DVD+R-DL. Things began normally writing Lead-in and then notifying a burn time of 25 minutes 45 seconds. The burn got 12 minutes in (maybe at the layer change) and gave a buffer under run error even though I had buffer under run protection enabled in the software. Tried with a second disk and this one reported a burn time of 29 minutes and 25 seconds. This one got 14 minutes in and, once again, failed with a buffer under run error. (Note that in the past when I asked roxio why there was no BUP support checkbox when burning DVD+Rs (but was for DVD-Rs) they said it was not needed for that format. However in the past some have noted buffer underruns even when burning DVD-Rs sometimes. if BUP was working properly, this shouldn't happen. (Faster systems are less prone to buffer underruns also.) With DL discs around $9 to $15 each, I'd probably stick with single layer discs for awhile.-Mike)

I thought I'd play it smart and do a simulation burn the third time to test the data going to the drive through Toast. Toast reported that buffer under run protection could not be enabled in simulation mode and turned that off. All seemed to go well until the end when the disk was ejected. To my surprise the disk had been written during the simulation but, it would seem, not in a readable format. The Mac would not mount the disk and my standalone set top Pioneer DVD recorder (7000) could not read it and ejected the disk. I put it back into the 108 and asked Toast to write the disk without simulation. Toast reported the disk as unable to write because it was full. Running disk info from the Recorder menu showed that Toast saw an 8GB disk which was full. The issue was that it was burned as an ISO 9660 disk image.
(I asked if he had a DL burned disc that was burned normally, since the first DVR-108 Mac owner report here said a burned DL disc was readable. See a copy of his report below-Mike)
Here is a screen shot of what Toast reported (from the simulation unexpected burn - this is not normal)):

I checked the Roxio web site and they note that other double layer drives write a format unreadable by Macs and that Apple was aware of the issue and would fix it in future. It did not have the Pioneer DVR-108 in the list of affected drives. (Note: The reason why the DVR-108 wasn't on that list is that it sets the DL Disc format to standard DVD-ROM Type, unlike many other DL drives. See Pioneer's comments below - they confirm the 108 sets the DL disc booktype to DVD-ROM for better compatibility, as other owners of this drive have confirmed.) It seems though that it may be the case. I will keep the disk handy and load it again in future when the Mac Finder is updated to read DVD+R-DL disks. (I'd want to use a normally burned DL disc for tests, not one burned from the "simulation which may not have been a normal/correct burn. When burned correctly, a DL disc from a DVR-108 should be of type DVD-ROM) From these tests it seems that Toast is writing the disks at 4X even though they are rated 2.4x. (Pioneer in the PR I posted last month said the drive allowed 4x writes on some brands of DL 2.4x media and 16x writes on some brands of 8x single layer media.) Probably the firmware (mine is currently 1.04) is enabling this.
I can't upgrade to 1.06 because there is no Mac version of Flash 2.0 currently available that knows about the 108. There is only a Windows beta out as yet. There is a beta version of the cracked 1.06 firmware floating around with a release version out in a week or so.

(he later wrote)

After sending my first email, I read the news on your site today about ReadDVD! from a fellow reader. I decided to try this software and see if it solved the issue I mentioned about the ISO-9660/UDF mounting issue in OS X (10.3.5). (for normally burned DVD DL discs from the DVR-108, you should not need this software, since the 108 sets the DL disc type to standard "DVD-ROM" type. See previous 108/Toast 6.0.7 reader report below. The problem with Tony's odd burn is not typical.) The Software Architects site is very slim on information and it is only when spend $24.95 and you download the software, where you get to read the read me file, that they list incompatibilities:

1) Small files cannot be opened directly from the disk, nor can they be copied from the disk. Files which are small enough to fit within their file descriptor block cannot be mapped using the kernel's cluster I/O routines.

2) ISO-9660/UDF bridge disks do not mount (neither the ISO-9660, nor the UDF partition is mounted).

3) Open multi-session disks do not mount correctly.

The second point is the one which I was trying to solve but this software is not my saviour. (again I'd not trust the one simulation disc as typical for read compatibility until I had burned a DL disc normally. The DVR-108's DL burned discs normally are "DVD-ROM" format, and doesn't need any 3rd party drivers to mount.) The only value is that I can now mount my Pioneer DVR-7000 VR mode DVD-RW disks on the desktop.
Unfortunately, it is only a partial solution as there is nothing to open them that will play the video and sound unless a fellow reader can make a suggestion. QuickTime and the Finder show the video portion but no sound is available. A limited utility software in it's first version. Mounting of DVD+R-DL disks may have to wait for Apple to fix the Finder and its underlying I/O hooks. (see below - a reader said his DL discs burned in this same drive, same firmware was readable as a DVD-ROM disc. See also Pioneer's comments below)

Anyone after a comprehensive review of the Pioneer DVR-108 should go the the cdrinfo web site URL:
http://www.cdrinfo.com/Sections/Reviews/Specific.aspx?ArticleId=10114 (CDRinfo always has some of the best/most comprehensive tests of burners anywhere. I wish Mac users had burner software with performance reporting/testing tools that the PC has.)

In particular users should heed the Pioneer quote on DVD+R-DL disk format:
http://www.cdrinfo.com/Sections/Reviews/Specific.aspx?ArticleId=10114&PageId=20 (Make sure you read the *last* paragraph, which mentions how the 108 drive sets a more compatible booktype for DL media than some other drives (like the sony apparently)-Mike)

"Media Support - Book-type issue on +R DL media
+R DL media is tentatively-assigned the book-type field "1110h" which results in very low playback compatibility when the disc is placed into a legacy DVD player or legacy DVD-ROM drive. For "maximum compatibility" with legacy DVD players and DVD-ROM drives the book-type field should be set as "0000h" (DVD-ROM) when the disc is finalized/closed.

The DVR-108/DVR-A08XL's firmware will "automatically" set the default book-type field to "0000h" (DVD-ROM), thus eliminating the need for a separate "bit-setting utility" and further increasing the playback compatibility of +R DL discs when used with legacy DVD players and DVD-ROM drives..." (emphasis mine)

The DVD-ROM format written by the DVR-108 means that the Mac will not mount these disks (whether video or pure data) until Apple fixes the Finder to support the format.
(NOTE: This isn't true of the Pioneer DVR-108 Drive as noted above but is for some *other* brands/models of DL burners. Tony later admitted he misread the comments. The Pioneer quotes above notes that (unlike some other drive models) - the DVR-108 sets the burned disc booktype to "0000h" (DVD-ROM) to *increase* compatibility with older/legacy players. Pioneer's comments are backed up by an earlier mac DVR-108 owner report below that said (successfully) burned DL discs mounted as DVD-ROMs fine for him.-Mike)

It also means you may need to buy a new set top DVD player to use them as well. (Again see the Pioneer comments in the last paragraph of the linked page - Pioneer, unlike Sony and some other models of DL burners, sets the disc type to 0000h DVD-ROM for improved compatibility.) My 12 month old DVR-7000 recorder does not though I will contact Pioneer directly and see if a firmware upgrade to read these disks can be obtained. Much like the recent firmware update for the DVR-107 PC drive (which added DL burned disc read support - but again Tony is basing read tests on a fluke disc, not a normally completed burn).
At the moment I have a disk written by Toast 6.07, in simulation mode mind you, that I can not use.The up side of this test was that the Verbatim disks do write at 4x on the 108 and that the -R performance on 8x disks is also much better than my previous DVR-107.
Regards.
Tony "
Here's a copy of an a short earlier report from a Mac owner with the 108D drive - who said he could mount a burned DL disc. (from a drive database report/August 2nd news page posting)
" PIONEER DVD-RW DVR-108 (4x Dual Layer DVD+R rated, 16x DVD+R/-R rated), Firmware 1.04.
G4/AGP Tower (w/Gigadesign G4/933) running 10.3.4

(Using) Apple standard driver:
DVD Player 4.0 works. (there's no native iApps burn support for the 108 drive, too new - so patchburn II profile used.)

After Patchburn II:
iTunes 4.6 was supported.
iDVD 4.0.1 was burned. (using DVD-R)
Finder Burning was supported.
Apple software has not supported DVD+R DL.

Toast Ti 6.0.7 (update last week for Dual Layer burner support, including this drive model) - DVD+R DL 4x was supported.
Another Mac recognizes as DVD-ROM after burning DVD+R DL with Toast Ti 6.0.7. (Emphasis mine. The Sony 700 model was reported to burn DL discs that may not be read in many players and older drives. See news.com story on this issue.)

Bootable from CD.
-Taka"
I don't know why Taka's DL burned disc was readable but not Tony's (unless the "simulation" burn was not done correctly?) If any other Mac owners have used Toast 6.0.7 to burn Dual Layer discs, let me know. Thanks
One other note I saw in a recent PCworld article on DL discs (which also mentioned a similar problem with the Sony DL burner (700 model), most home players could not read the discs) - DL discs must be burned completely (even if you select less than the appx 8.5GB capacity) for the disc to have the properly opacity to be read.