On Jan. 5th, ATI officially announced the Radeon X800 XT Mac Edition graphics card for PowerMac G5s. The Mac X800 XT has one Dual Link DVI and one ADC port and supports the Apple 30-inch Cinema HD Display as well as legacy Apple ADC Displays and (with included adapter) VGA monitors. The X800 XT features 16 pixel pipelines, six vertex pipelines and 256MB of GDDR3 memory. (2005) Original list price is $499 ($100 less than the Mac Nvidia 6800 Ultra, although that card can drive two 30in displays). Since 99.9% of Mac users won't own two 30in Cinema displays, I think the choice of Dual Link DVI + ADC port makes market sense and it's -very rare- to see a retail card with an ADC port. Although I have never been a big fan of ADC (powering a monitor from the computer P.S.), there are a lot of those displays out there and having a native ADC port saves having to buy a $100 or so DVI/ADC adapter w/Pwr Supply.

This first posting compares performance of the X800 XT to a Mac 6800 Ultra DDL (256MB) and the original OEM Radeon 9800 Pro (128MB) card that was a BTO option with the 2003 PowerMac G5 and includes pages on the ATI Displays Control Panel. Test system is a Dual 2GHz G5 with 3.5GB RAM running 10.3.7 (More system details below.) Drivers used were the ones included in the OS X 10.3.7 update. (The X800 XT uses the Radeon 9700 extension as does the 9800 card.)

Here's a photo of the X800 XT Mac Edition (courtesy ATI).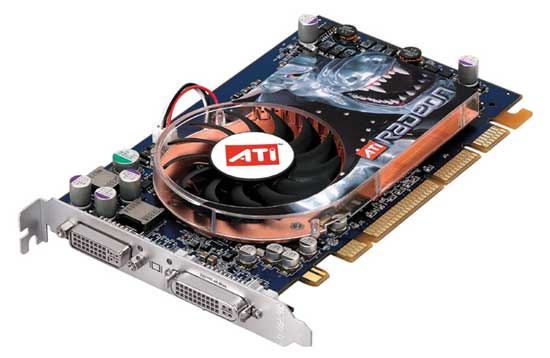 There's no Aux/Molex power connections on the card as is typical for many higher end ATI and Nvidia retail models (where older systems may not source enough power in the AGP slot.)
Here's a photo of the X800 XT card installed in the test system (2003 model Dual 2GHz G5).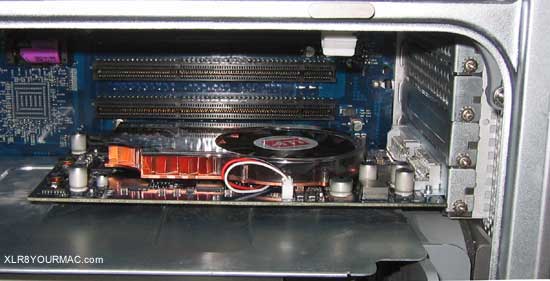 Just to give you an idea of how much smaller/slimmer the X800 XT is compared to the 6800 Ultra, here's a pix of the 6800 installed in the same G5 (from the 6800 Ultra review):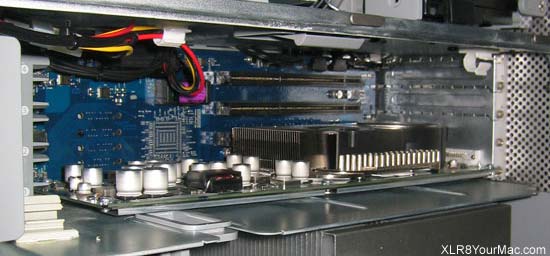 One of the reasons the 6800 Ultra card is so long is for support during shipping of G5 systems. (The end of the card engages in a retainer/support slot to avoid damage during shipping.)
Fan Noise:
This is always a common question from readers. My review sample X800 XT arrived without any docs or CD and after installing the card initially, I was surprised at the fan noise level as it was clearly louder than the 6800 Ultra sample I had used. I immediately mentioned this to ATI and was told I was the only person that had complained about fan noise. A day later after writing for a version of the ATI Displays that recognized the X800, I was sent an installer that included a ROM Xtender file. After installing that I noticed some new resolutions but also noticed that the fan wasn't running at WFO anymore in typical use. I noticed at cold start the fan noise/speed was high, but then dropped after the OS loaded. I wrote ATI to confirm my quess that the ROM Xtender enabled fan speed control on the card - they replied it did.
(BTW: The OEM 9800 Pro card I have has a verax G03 replacement fan/heatsink and is virtually silent. For articles on replacing a 9800's HS/fan with the verax (too expensive IMHO) or the lower cost Arctic VGA Silencer, see the Video topics page, graphics card section.)
X800 XT Card ID/Firmware Info: (from Apple system profiler)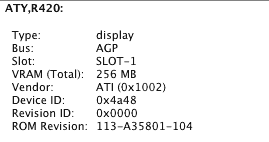 This card has the initial production run firmware version and included on CD is the previously mentioned ATI ROM Xtender. (As a FYI - the 6800 Ultra card used for comparison had firmware v2119.)
Features:
Rather than regurgitate the details on the features of the X800 XT Mac Edition and other cards used for comparison in this review here's a summary with links to more info at ATI's site. (Some features not yet supported in current Mac software)
475MHz Core Clock (vs 375MHz for 9800 Pro*)
1000MHz Memory data rate (vs 375MHz for 9800 Pro*)
160 million transistors on 0.13 micron low-k copper fabrication process
16 pixel pipelines (vs. 8 for 9800 Pro)
6 vertex processing engines (vs. 4 for 9800 Pro)
7.6 GigaPixel/sec Pixel Fill Rate (vs. 3.0 for 9800 Pro)
32GB/sec Memory Bandwidth (vs. 22 for 9800 Pro)
182 GigaFLOPS (vs 77 for 9800 Pro)
712 Vertices/Sec transform rate (vs 340 for 9800 Pro)
High precision 32-bit per channel rendering
256-bit quad-channel GDDR3 memory interface
3Dc(tm) (High quality 4:1 Normal Map Compression)
DVD and Quicktime(tm) Acceleration
*Per ATI supplied comparison docs. The OEM G5 9800 Pro model used in this review had slightly lower performance than the retail model (see my OEM 9800 vs Retail 9800 tests from last fall), so I believe the OEM 9800's clocks are 350MHz core, 325MHz (DDR) memory. (I keep forgetting to run ATIccellerator II to check this.)
Here's a summary of the 6800 Ultra included for comparison (see Nvidia's Geforce 6800 product page for more details)
NVIDIA CineFX 3.0 Technology
NVIDIA UltraShadow II Technology
Superscalar 16-pipe GPU Architecture
64-Bit Texture Filtering and Blending
256-bit Graphics Core and Memory Interface
35.2 GB/sec. Memory Bandwidth
6.4 billion texels/sec. Fill Rate
600 Million Vertices per Second
1100 MHz Memory Data Rate (400MHz core clock)
Pixels per Clock (peak): 16
Textures per Pixel* 16
(*Maximum in a single rendering pass)
RAMDACs 400 MHz
More info at Nvidia's Geforce6 tech specs page.
Review Index:
This article is divided into the following categories/pages:
---
Test System Hardware Summary:
Details of the test system used for this review is listed below.
Apple Dual G5 2GHz (2003 model):
System Firmware 5.1.4f0 (and Fan Control firmware update incl. w/6800 card)
3.5GB RAM
Hitachi 7K250 160GB and Seagate 160GB Hard Drives
OEM Pioneer DVR-108 (firmware v1.18)
OS X 10.3.7 with all updates applied
Monitor: Sony FW-900 (24" widescreen CRT)
Airport Active for all tests