(Page 2 of the article)
Step #3 – ATX Power supply
[Reminder: The ATX supply does not have 28VDC used on Gigabit G4 and later Towers for ADC. The pinout of the power supply connector/motherboard connector on the Gigabit and later G4s is not the same as earlier Sawtooth models. See my notes above.-Mike]
Macintosh Power Supply Connector (G4/AGP Pre-Gigabit "Sawtooth" Model)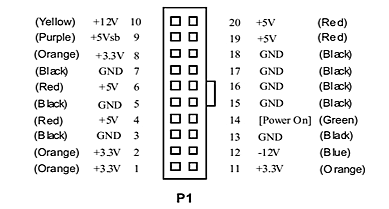 The power supply connector on the PC ATX does not have exactly the same connections as the Mac. You will have to do some altering of the power supply wires to get it to work. Don't worry only two pins. Here is the schematic of what the ATX power supply pin outs are.
ATX Power Supply Connector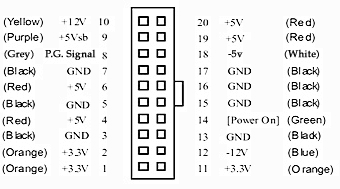 OK. Now the P.G. Signal is the "power good" signal in which the ATX power supply sends a +5v signal from. You will need to cut the "power good" wire on pin 8 from the connector side and splice it together with any orange wire (+3.3v). You will need to take the wire from pin 18 (-5v) and splice it to a ground or black wire. Now pin 8 equals +3.3v(orange) and pin 18 equals ground(black).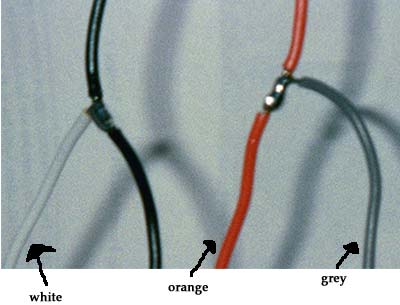 Figure 5 Alterations to ATX power supply
(Of course after soldering, insulate bare wires
using heat shrink sleeving or Elec. Tape.)
Now you are good to go with the ATX power supply.
NOTE: all the "power good" signal does is send a signal to the motherboard that it is ok to start the boot up now. The Mac has a built in delay, so there are no problems when the computer boots.
Step #4 – Power Supply connector
The power supply connector cable that comes with the ATX power supply is pathetically inadequate in length to make it to the connector on the Mac's motherboard. So you will need to go out and buy a power supply extender cable, or solder on new lengths to make the cables longer.
(I had a link here to a 12in long PCpower & cooling extension cable but they no longer list it. Check local stores or the web/ebay for these, they're very cheap.-Mike)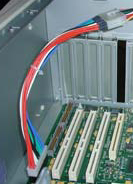 Figure 6 Sample cable extender
I highly recommend that you go out and buy the cable it took me almost 2 hours to solder on new lengths.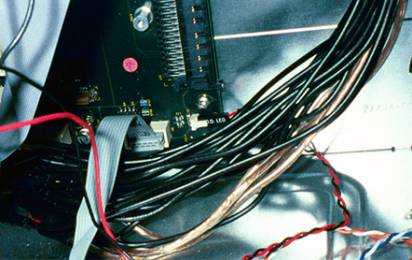 Figure 7 "Rats nest" of extended wires on power supply connector.
Also shows front panel board connector.
The next page deals with Front Panel Board/On Off Switch.