Mac Nvidia 7800GT with NV Silencer 5 Cooler
Posted: Nov. 14th, 2006
---

Arctic Cooling NVSilencer on OEM Mac 7800GT card
I just wanted to report a successful install of an Arctic Cooling NVSilencer 5 (rev 3) on a PowerMac G5 Quad with a 7800GT. The stock fan sounds like a small tornado, but the AC Silencer is dead quiet and my GPU runs 10¼C cooler at idle and 15¼C cooler under full load (during Quake 4 testing, Ultra High, 1680x1050, 4xAA) according to Hardware Monitor.

It's a bit of a tight squeeze (the nuts that mount the heat sink hit the plate below the PCI-E slots) and it takes up and extra PCI-E slot, but it does push the heat out the of the back of the case.

Now to see about some over clocking :-)
-Leander H.
I've attached some pictures of the install: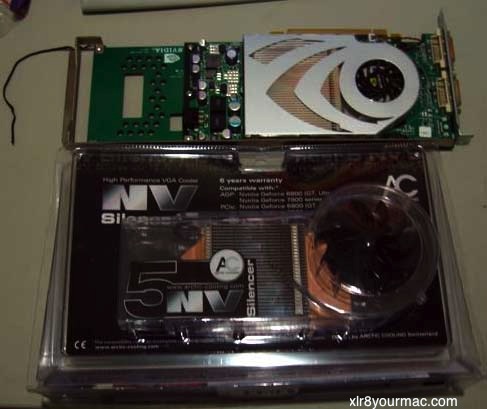 Stock Heatsink Removed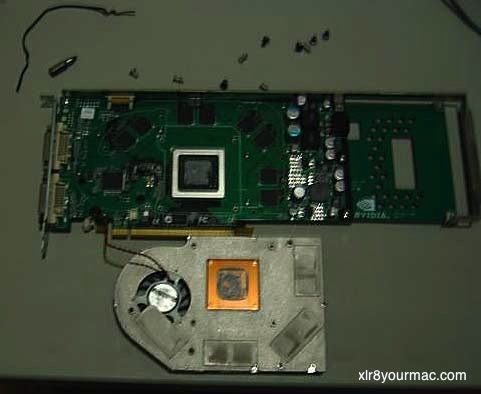 NV5 Silencer Installed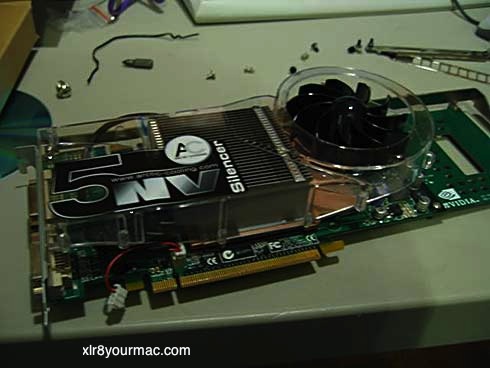 Card Installed in G5 Tower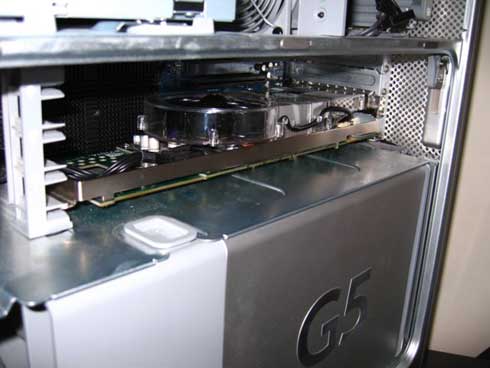 ---
Other Graphics Card Cooler Related Articles:
For other Mac graphics card related articles, see the Video Topics page.
I welcome other Mac 7800 owner comments on cooling/fan mods, performance, etc. - please include your system/OS version and details on apps/games, etc. you used in reports. Thanks.

Return to Main News Page
---
OWC XYM SPECIALS!
(Ad/Sale items)

= UPGRADES by Mac =
Upgrades just for
YOUR Mac!

= Refurb Mac Pros =
(Click for List)

SSDs up to 4TB
Fast SSDs for Most Macs/PCs

= ThunderBolt =
Drives, Docks & More

= HARD DRIVES =
Up to 12TB HDDs
HGST, WD, Seagate, Toshiba

= 2.5in HDs & SSDs =
Notebook Hard Drives and DIY drive/case kit bundles

= MEMORY =
Lifetime warranty RAM Upgrades!

= OPTICAL DRIVES =
Internal and External Superdrives/Blu-Ray drives

= VIDEO / DISPLAY =
Graphics cards, Displays, Adapters, Cables & more

= AUDIO ITEMS =
Interfaces, Cables, Software, Speakers, Headphones & more

= SOFTWARE =
Apps, Utilities, OS, VM, Games and more

= WIRELESS =
WiFi and Bluetooth Devices/Adapters/More