Archive of Monday Oct. 20th, 2014 News
Go to Current News Page
---
Mac Upgrades/Mods | CPU Upgrades | Storage | Video | Audio/HT | Apps/OS/Network | Search
---
Miss a Day? See the Archives
= Recent Articles/Updates =
( Your Tips, Upgrade Reports, Questions to news at xlr8yourmac.com)
Nvidia Drivers 343.01.01f01 for OS X 10.10 (Yosemite):
Nvidia's 343.01.01f01 Mac driver update for OS X Yosemite. (Page dated Oct. 18th.) Here's a clip from the release info tab:

"CUDA Application Support:
In order to run Mac OS X Applications that leverage the CUDA architecture of certain NVIDIA graphics cards, users will need to download and install the 6.5.18 driver for Mac located here.
(As of 10/23/2014, still links to CUDA 6.5.18 update for OS X from Sept. 19th.
See CUDA problem notes below when using this graphics driver version.-M)

New in Release 343.01.01f01


Graphics Driver updated for OS X Yosemite 10.10.0 (build 14A389).
Contains Performance Improvements and bug fixes for a wide range of applications.
Includes Nvidia Driver Manager preference pane.

Release Notes Archive:
This driver update is for Mac Pro 5,1 (2010), Mac Pro 4,1 (2009) and Mac Pro 3,1 (2008) users only. Supported products: GTX 680/285/120, 8800GT, Quadro K5000, 4000, FX4800 and F5600."
(Supported models on their page is often not a complete list. Later saw a note GTX 780 Ti was supported with this driver but not the default OS X driver.) Additional Info tab has more on driver installation and Nvidia Driver Manager prefs page features and settings.
"CUDA Update Required" in OS X Yosemite using Nvidia 343.01.01f01 Driver:
(Oct. 30th f03 Update: 3rd graphics driver update, but users still see 'CUDA update required' with 343.01.01f03. FYI: A Nov. 14th post has notes on editing the CUDA 6.5.18 info.plist for a NVDAResmanVersions key for driver version 343.01.01 to prevent the "Update Required" message.)
(Info from original Oct. 20th news follows.)
Saw this link to an Apple Mac Pro forum thread ("Nvidia CUDA drivers says it needs an update but says no update available") Despite being the CUDA version Nvidia listed (with download link) on the Yosemite graphics driver update page (above), several OS X Yosemite users of the new driver and CUDA 6.5.18 have reported it isn't working and Nvidia's CUDA prefs panel shows (in red) "Update Required", but none is available. (As of 10/29/2014.) I asked if anything useful seen in console messages, but so far the only workaround has been to switch to the 'default' OS X driver until Nvidia releases another update.
Here's a screenshot of the Nvidia CUDA prefs panel showing the message/versions, etc. from the OP in the forum thread.

The OP of that thread later posted on reinstalling both drivers (device/GPU and CUDA):

"I tried uninstalling both drivers and reinstalling them. I was able to install the device manager properly in system preferences however the (6.5.18) CUDA driver failed."
One reader (John) said he switched to the Default OS X graphics driver (via Nvidia Driver Manager prefs) and no longer gets the CUDA update required but I don't know if the CUDA drivers are working that way. Here's a screenshot he sent (from report in Oct. 21st news page) for anyone that has not seen the nvidia software options.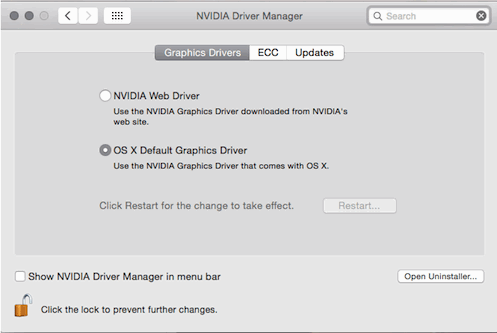 Since I'm flying blind on this (no Nvidia card/Yosemite install), I welcome any suggestions, tips or solutions.
I'm only able to check Nvidia's website/download pages, which may trail availability of an update via Nvidia's control panel. (CP screenshot from thread OP showed none available, but that could change at any time.)
(Oct 23rd) FYI: I noticed that now the OS X CUDA 6.5.18 update page has revised release info - now lists "Supported Mac OS X 10.10.0, 10.9.x, 10.8.x". (The original Sept 19th posted page just said added OS X 10.9.5 compatibility. Of course Yosemite was not released to public then.) Curious if anything was revised in the installer/pkg after seeing several reports that when used with the Oct. 18th Yosemite Driver update (above), CUDA Prefs shows the (red) "Update Required" note. (But doesn't if running Default OS X driver. So does that mean the issue is related to the Nvidia graphics driver?)
Update (Oct. 24th): Noticed an Oct. 24th post in the Apple forum thread says he's not seen the CUDA update required problem with his (2008) Mac Pro w/GTX 680 and the updated graphics and CUDA 6.5.18 drivers:
"Oct 24, 2014 8:06 AM
I'm using a Mac Pro 2008, EVGA GTX 680 Mac Edition, Mac OS X 10.10. I'm not experiencing this problem after I installed the latest CUDA driver (cudadriver-6.5.18-macos.dmg dated Aug 21, 2014 8:49 PM) (date on D/L page is Sept. 19th) after the NVIDIA driver was updated to 343.01.01f01.

I had to download the CUDA driver from http://www.nvidia.com/object/macosx-cuda-6.5.18-driver.html.
-joevt"
I wonder if he's using a later graphics driver than 'f01' release. Since that CUDA URL the same one I included since its original Sept 19th release - link above and in Sept. 19th news archive. (However as noted above (Oct. 23rd), a force refresh on the page showed the info was revised to list Supports Mac OS X 10.10.0, 10.9.x, 10.8.x instead of the original 'added 10.9.5 compatibility', but Yosemite was not released then.) And again they listed CUDA 6.5.18 as compatible on the 343.01.01f01 driver update page for OS X 10.10.0 (build 14A389).
I've seen a couple posts (including a reader above) that said they switched to the default OS X driver (for now) to avoid the "CUDA Update Required" message (despite having the latest CUDA drivers), so now wondering if it's a Nvidia graphics driver bug (not CUDA) that is the real cause. (It was based on an '.f02' graphics driver release to fix that.)

Tips for Apple TV Home Sharing Problems (after iTunes 12/Yosemite upgrade):
It hasn't helped everyone with the problem but for Apple TV v7 users that had Home Sharing Problems after iTunes 12/OS X Yosemite update here are some things to try:
On your Mac, go to System Preferences > Sharing > Computer Name and change it. (Reportedly once changed/working you can change it back if desired.) "Vents" posted this tip recently and several others said it helped.


In iTunes check if File > Home Sharing > Turn On Home Sharing is enabled.
Some also suggested toggling Home Sharing Prefs On and Off. (As with the computer name toggle, as if the changes/rewriting of a (corrupted?) prefs file helped. At least for some.)

Apple/products related Tips, Updates, Reviews and PR:
Recent Apple Support Article Updates: (Oct. 20 - Oct. 16.)


(More at page of Tips, Troubleshooting & How-To articles for Mac/OS X/iOS Users.)

Recent Updates, DIY Upgrades/Tips/Repairs:
List of Updates, DIY Repair, Upgrade articles, Tips and more you may have missed. (MacBook Pro ExpressCards, OS X Nvidia Driver/CUDA updates, Mac compatible 802.11ac WiFI uogrades, DIY Mac Pro 6 and 12-core CPU Upgrades, Mac Pro Northbridge Heatsink Retainer Repair, Mac EFI/SMC/SW updates, OS X Tips, Low-Cost CPU Upgrades for early Mac Pros/Xserves and Minis, Mac Mini SSD upgrades, OS X SSD Trim Enablers, DIY Fusion drives and more.)

---
= From my Sponsor, your click matters =
More Memory = A Faster Mac!
Use our memory guide to see how much RAM your Mac can use and the cost.
Our installation videos make this a simple "DIY" job for almost any Mac.
Or Search for Upgrades for Your specific Mac Model
---
Previous News Archive Summary:
Oct. 16th/17th News Archive
Aperture 3.6 Update for OS X Yosemite
iPhoto 9.6 (OS X Yosemite)
iMovie 10.0.6 (OS X Yosemite)
GarageBand v10.0.3 (OS X 10.9 or later).
(OS X Yosemite) Pages v5.5, Numbers v3.5, Keynote v6.5
(IOS 8) Pages v2.5, Numbers v2.5, Keynote v2.5
iTunes 12.0.1 Update (with notes on Troubleshooting)
OS X Security Update 2014-005 for OS X 10.9.5 & OS X 10.8.5
New Mac Mini, 27in iMac w/5K Retina Display, iPad Air2/Mini 3 Info
(Late 2014) Mac mini Memory specifications (soldered to motherboard)
OS X Server 4.0 (Yosemite), OS X Server 3.2.2, 2.2.5 Updates.
Carbon Copy Cloner 4.0.2 update (yosemite compatible)
Little Snitch 3.4.2 (4216) release notes (update before Yosemite recc.)
OWC blog on Yosemite Compatibility and Transition Guide
The LEGO® Movie Videogame is out on the Mac
Apple's Windows Migration Assistant v1.0.5.7
iBooks Author 2.2
New/Updated Apple Support Articles:
- About the security content of OS X Yosemite v10.10
- About Security Update 2014-005
- About the security content of OS X Server v4.0
- About the security content of OS X Server v3.2.2
- About the security content of OS X Server v2.2.5
- About the security content of iTunes 12.0.1 (for Windows)
- OS X 10.10: List of available trusted root certificates
- OS X 10.9.5: List of available trusted root certificates
- System requirements for iCloud (incl. feature minimums)
- Sharing purchased content with Family Sharing
For links to older news pages, see the Archives.

---
OWC XYM SPECIALS!
(Ad/Sale Items)

= UPGRADES by Model =
Upgrades for YOUR Mac!

= Refurb Mac Pros =
(Click for Current List)

= SSDs up to 4TB =
SSDs for Most Macs!

= ThunderBolt =
Drives, Docks & More

= HARD DRIVES =
Up to 12 TB HDD
HGST, WD, Seagate, Toshiba

= 2.5" HDs & DIY Kits =
Notebook Hard Drives and DIY drive/case kit bundles

= MEMORY =
Lifetime warranty RAM Upgrades!

= OPTICAL DRIVES =
Internal and External Superdrives/Blu-Ray drives

= VIDEO / DISPLAY =
Graphics cards, Displays, Adapters, Cables & more

= AUDIO ITEMS =
Interfaces, Cables, Software, Speakers, Headphones & more

= SOFTWARE =
Apps, Utilities, OS, VM, Games and more

= WIRELESS =
WiFi and Bluetooth Devices/Adapters/More

= Repair Service =
for iPhone, iPad, Macs

= iPad/iPhone/iPod =
Accessories, Cases, Docks & More