32GB RAM in a (2006/2007) Mac Pro using 4GB FB-Dimms
Posted: 5/25/2007, updated: 5/31/2007
---
NOTE: This page was posted in May 2007 -before- Apple announced the 2008 Mac Pros which Apple now lists as supporting up to 32GB of RAM. (Apple listed 16GB max ram for the original 2006 Mac Pros.) And FBDIMM Prices originally noted here from May 2007 are not Current pricing - prices have dropped a LOT. Sponsor OWC has a Mac model MaxRAM page with current info on their testing of max ram supported by Mac Model/series.)

(from May 31st 2007) Site sponsor OWC sent a press release on their 4GB fbdimm upgrades for Mac Pros:
(May 2007 press release)
"OWC OFFERS DOUBLE THE MAC PRO MEMORY UP TO 32GB VS. FACTORY INSTALLED
Other World Computing (OWC) http://www.macsales.com, a leading Mac and PC technology company, announced today that it is offering double the Apple Mac Pro memory vs. factory installed to up to 32GB, twice the 16GB Apple is currently supporting via factory installed.... 4GB modules allow up to 32GB are available for customers employing high-memory intensive applications, such as audio/video, photo, 3D modeling, and other applications where the extra memory really makes a difference in their computer's performance.
OWC Memory Upgrade Modules are fully-tested premium quality, meeting and/or exceeding all Apple specifications. Utilizing superior components, including true Apple-Qualified heat spreaders, the modules provide a lifetime of high-performance, reliable operation backed by a Money Back Guarantee and OWC's Lifetime Advance Replacement Warranty...
For more information, see: http://eshop.macsales.com/shop/memory/Mac-Pro-Memory "
I wrote to ask them if there had been any temperature or other issues seen with 32GB ram in a Mac Pro and they replied "Nope - ran overnight with zero issues."


(mail/info from May 25th follows)
"32GB of RAM in a Mac Pro
I've been a long time reader and now I'm excited to announce that we have shattered the 16GB RAM limit on the Mac Pro 4 and 8 core systems as well as the xServe 1U server.
Please look at the attached screenshots of the modules in action.
Please feel free to contact me.
Sincerely,
Jason Cole
Associate Design Engineer
Legacy Electronics Inc.
http://www.legacyelectronics.com "
(Note: to reduce the size and width of the original screenshot, I cut and pasted the "About" box and placed overlaying a blank area of ASP and reduced the image file/size, and quality took a hit.)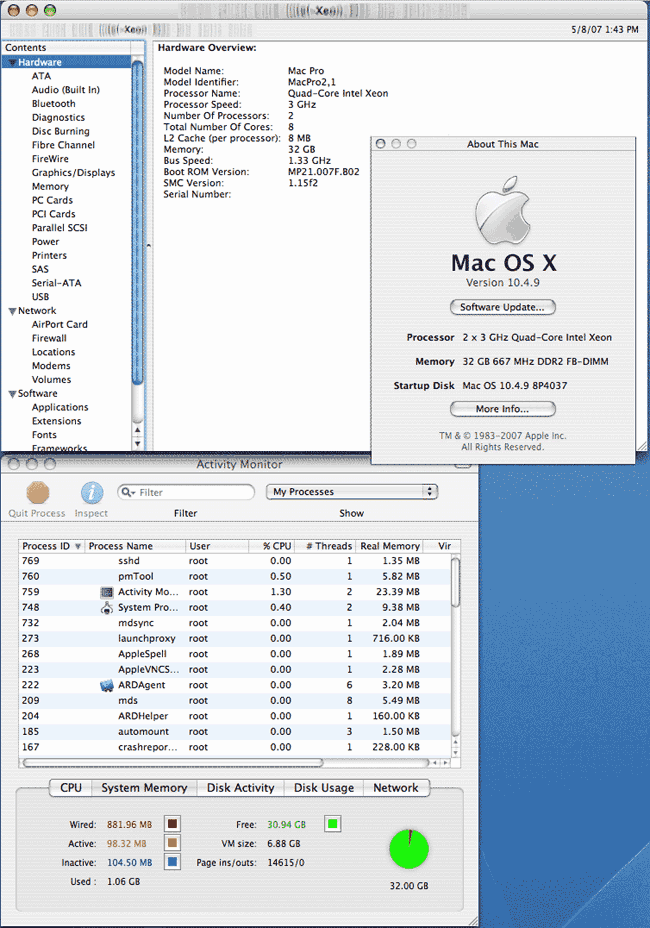 I wrote Jason with some questions I had:
Q: Your website (as of Friday afternoon) shows 4GB FB-Dimms with the standard flat (jedec) heatsink, and even 1GB FB-dimms in Mac Pros run too hot in extended use without very large heatsinks on them. (And 4GB FB-dimms would be hotter running than 1GB or 2GB) - are you using large heatsinks on them in the Mac Pro?
A: Yes, we use the Apple heat spreaders. The web site is being updated as we speak. I've attached a photo for you that shows both heat spreaders that we use.-Jason (scaled down version below)

---

Q: Even if they had large heatsinks, I'd be curious what Temperature Monitor (freeware) shows for the 4GB FBDimm temperatures after several hours of stress tests. (Temperature monitor will report the dimm's temperature sensor readings.) And I'd keep Apple System profiler open to the Memory section to monitor for ECC errors/corrections (soft error corrections can occur and not cause a system crash/KP).

A: These modules operate within acceptable parameters. Can't comment further.-Jason

---

Q: Apple's Ram Expansion Developer Note, Mac Pro section says "...The largest capacity FB-DIMM supported is 2 GB, with a maximum memory capacity of 16 GB.... The memory controller supports 512 MB, 1 GB, and 2 GB FB-DIMMs, installed in identical pairs", but does list 4GB modules in the table 1 on that doc. (However there seems to be a mistake in the number of devices per rank (side) for the 4GB dimm listing - with 2x denser devices than the 2GB, it should have the same number of devices (18 per rank/side), not twice the number - I sent a note on that via Apple's feedback form and also asked if they had tested 4GB FB-Dimms. (i.e. Why they list 2GB dimm/16GB total as max supported in the Mac Pro, yet Table 1 has a 4GB dimm listed.) Apple, like many mfrs does far more complete Enviromental/Stress testing of their designs than typical parts vendors do with Macs, so I've asked Apple if the 2GB dimm/16GB max limit was listed because they had perhaps not tested with 4GB FB-Dimms yet in a Mac Pro.

A: Actually that table is confusing (Apple's table). Using x4 components in a system with a bus width of x72, total components needed is 18 for 1 rank (side), 36 for 2 ranks. Most people think the max is 16GB for the Mac Pros. (regarding apple's testing) You are correct, I can't talk about it.-Jason

---

BTW: the (August 2006) Xserve (Xeon) notes in the Mem. Exp. Doc and Xserve (xeon) specs page notes that 4GB FB-Dimms are supported for up to 32GB total. The Xserve's have higher airflow over the memory than in the Mac Pro case design though. (The fans in the older Xserves at least almost sounded like jet engines, but with the slim 1U rack case design, you want a lot of airflow and fan noise is more of a concern for desktop/workstation users.)

---

Q: What's the cost each? (I saw some std jedec heatsink 4GB FB-Dimms today for $795.xx each)

A: I've been told that the price per module is $750 ea. I'll see if I can get the web guy here to post the press releases that we have here when the holiday weekend is over. -Jason
---
I later wrote to ask Jason if he'd ran any RAM tests to see if that checked out (as fully usable/addressable).
There have been cases in the past where Apple's documented "max" memory for a model wasn't accurate (often docs were written before denser memory was available or tested) although many times they're correct due to address space limits or memory controller limitations (in older Macs for instance). Heat however is an added wrinkle for the Mac Pro...