Netgear WN311B-110ISS Rangemax (802.11n) PCI card in G5 Tower
From Jan. 7, 2010 mail
---

(For a couple years there's been 802.11N PCI (and USB, PCMCIA) adapters available for Macs with OS X 10.3.x and later drivers (reports here in the past on those and sponsor OWC sells a Newer tech PCI ($39.99) and USB ($39) version) but today I recd a mail from a reader (Thanks Viktor) on how he got a Netgear WN311B-110ISS Rangemax Next Wireless-N PCI card (Broadcom BCM94321MP based he said) working in OS X 10.4.x. (OS X 10.5.x doesn't need the apple '802.11n enabler' but he's using 10.4.x so had to install it via Pacifist. It was a Univ Binary he said as was the IO80211Family Kernel Extension w/AppleAirPortBrcm4311.kext he installed from OS X Server v10.4.7.)
But like the typical Ralink chip based N cards, he said it's limited to 2.4GHz. (I've not searched for current US prices on the card but he noted paying about 100 euros, quite a bit higher than the typical Ralink based cards.)
(BTW - despite the typical Ralink PCI/USB 802.11N adapters only having 2.4GHz support, a year or so ago I was able to use 5GHz mode with a Linksys Dual-Band 802.11N USB adapter (appx $60 IIRC) with my PowerBook G4 (running 10.3.9 at the time) by editing the RAlink driver plist to include the Linksys adapter ID.)-Mike)

(from a Jan 7th, 2010 email)
Hello, Mike, This is a WiFi 802.11N Experience report.
Some history: Apple Released Mac OS X 10.4 for intel-based macs and it has a wider range of supported wireless NICs. (And going back years, Airport 3.x and later also have native support for many Broadcom based 802.11G cards (notes and examples from years ago in the FAQ, past news pages, etc. here.)-Mike) Such as Broadcom N cards and Atheros. (The most common N card apple ships is Broadcom, but some macs shipped with Atheros AR5008 cards, as mentioned on the Mac 802.11N page here back when Apple first started shipping macs w/N wireless cards.)
For some reason Apple does not provide 802.11n support for PowerPC based Macs. Officially. I've start to research other ways of "Of How-To" work with this newer and faster wireless standard. And what i found is fantastic! First I found is Apple AirPort 802.11N Enabler is Universal Binary build. (It has PowerPC code support.) Next I found that IO80211Family Kernel Extension with AppleAirPortBrcm4311.kext is also Universal Binary-based. This kernel extension contains IDs for cards with 802.11n support. So next is Mac OS X. First I get a Mac OS X 10.4.7 Server Universal Binary build. It already has an IO802.11Family.kext. With help of Pacifist Program I installed AirPortEnabler.kext.

Second major step in this saga - search and buy compatible card. I've researched that BCM94321MP (Broadcom PCI chip) is compatible and have found a NIC with this chip. It was a Netgear WN311B-110ISS Rangemax Next Wireless-N PCI Adapter. Only one thing, it work only in 2.4 GHz frequency and Max speed a can get with this (without channel bonding, don't know how to activate this) is 130 MBit/sec. 5 GHz unsupported via manufacturer. (no 5GHz radio I assume.-Mike)

Here are the photos and screenshots.

NetGear Card box: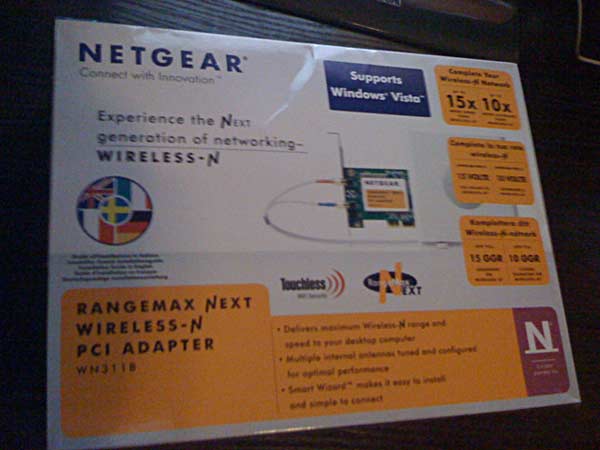 Card Itself:

In Power Mac G5 (In middle slot):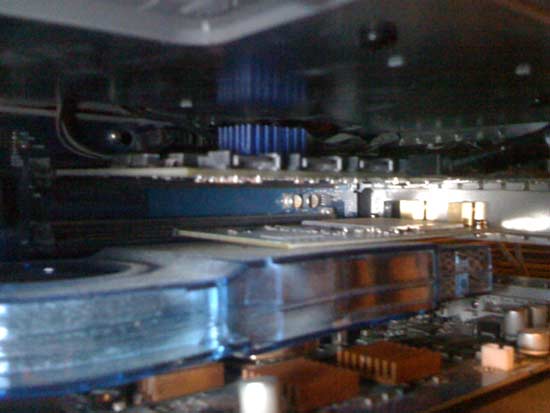 Antenna (MIMO Supported):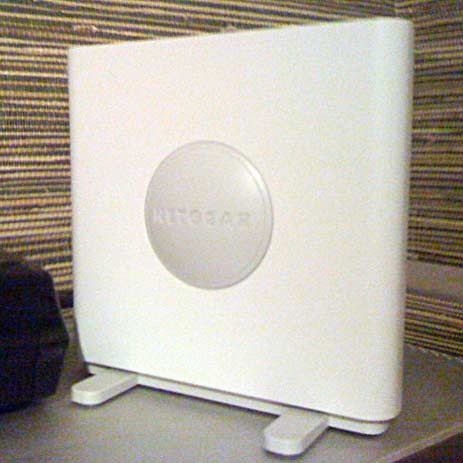 OS X (Apple System Profiler) PCI card Info: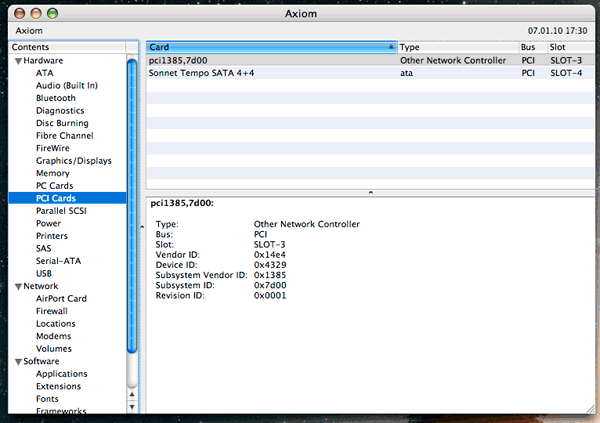 (ASP) AirPort Card and Network Info: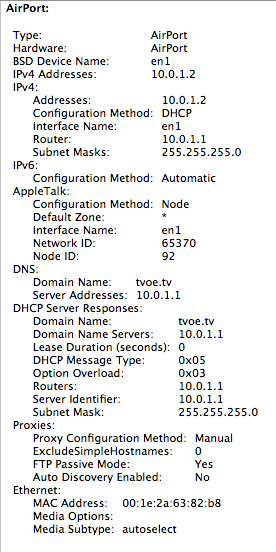 And Network Utility Info: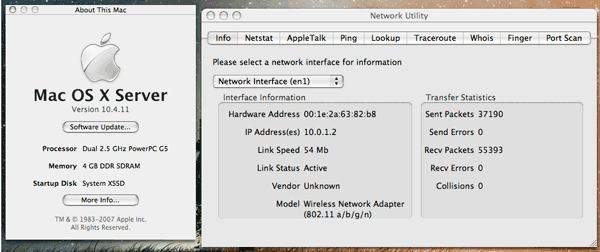 From start without AirPortEnabler.kext it show only (a/b/g) standards, after installation you see in photo above. I get this card for 100 euros from Germany (bought it from Germany to Russia). In any case it works stable, and compatible with AirPort Extreme base Station via 2.4 GHz frequency.
Mac OS X 10.5 Leopard supported this card without any movements.
-Viktor D.
---
---
OWC XYM SPECIALS!
(Ad/Sale items)

= UPGRADES by Mac =
Upgrades just for
YOUR Mac!

= Refurb Mac Pros =
(Click for List)

SSDs up to 4TB
Fast SSDs for Most Macs/PCs

= ThunderBolt =
Drives, Docks & More

= HARD DRIVES =
Up to 12TB HDDs
HGST, WD, Seagate, Toshiba

= 2.5in HDs & SSDs =
Notebook Hard Drives and DIY drive/case kit bundles

= MEMORY =
Lifetime warranty RAM Upgrades!

= OPTICAL DRIVES =
Internal and External Superdrives/Blu-Ray drives

= VIDEO / DISPLAY =
Graphics cards, Displays, Adapters, Cables & more

= AUDIO ITEMS =
Interfaces, Cables, Software, Speakers, Headphones & more

= SOFTWARE =
Apps, Utilities, OS, VM, Games and more

= WIRELESS =
WiFi and Bluetooth Devices/Adapters/More