OCZ Agility SSD Drive Upgrade in 2006 iMac
Posted: 10/9/2009
---

Hey Mike, I replaced the faulty 250GB HD in my iMac (white Intel, 2006, 20", 2.16 GHz) with an OCZ Agility 60GB SSD. With a clean install of OS X 10.6.1, the drive runs flawless for over one week now. It's extremely speedy (booting in 13 seconds) and makes no trouble at all, e.g. send the mac to sleep/waking up works without any problems.

I paid 149 Euro incl. VAT at my german dealer and I recommend this for everyone who wants to speed up their mac (a lot) and keeps his data on an external drive anyway.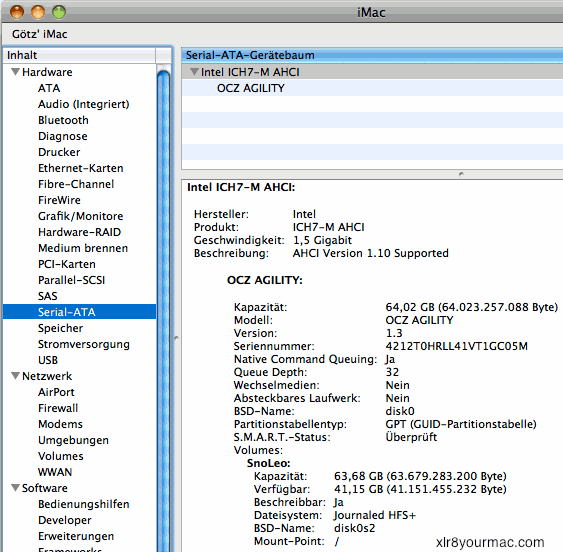 Switching the drive was easy with the pictures you linked to (referring to an Dec 2006 article here w/Notes on 2006 iMac Take-Apart) - with two exceptions that weren't in the guide:
- On both sides of the iSight there are two levers you have to press to remove the top case.
- My HD had no plastic lever but a metal bar which was screwed on.
I included some pictures. (see below) All the best from germany
-Goetz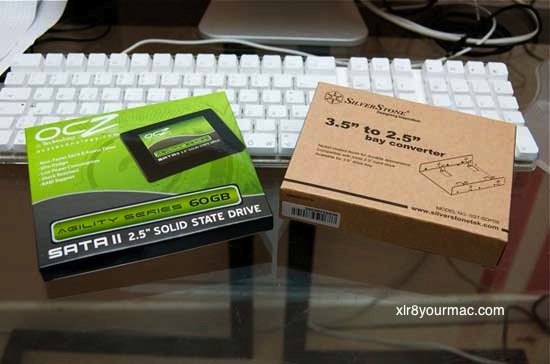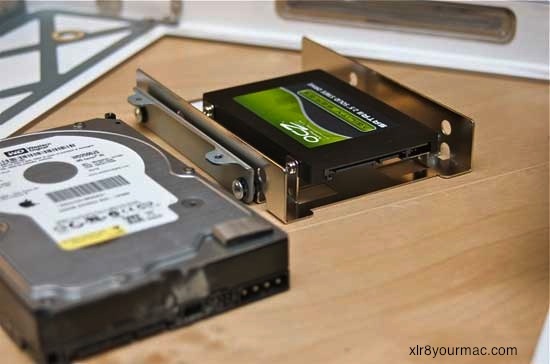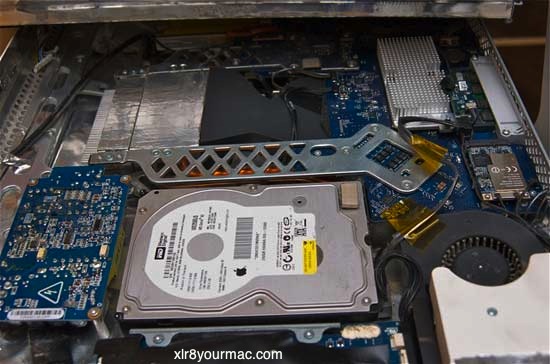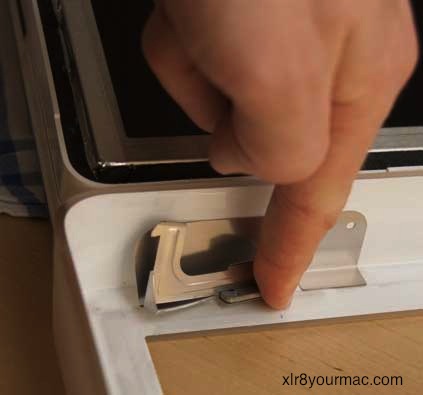 Previous Mac/SSD Drive Reports Here: (there are also more reports in the searchable drive upgrades database)
---
OWC XYM SPECIALS!
(Ad/Sale items)

= UPGRADES by Mac =
Upgrades just for
YOUR Mac!

= Refurb Mac Pros =
(Click for List)

SSDs up to 4TB
Fast SSDs for Most Macs/PCs

= ThunderBolt =
Drives, Docks & More

= HARD DRIVES =
Up to 12TB HDDs
HGST, WD, Seagate, Toshiba

= 2.5in HDs & SSDs =
Notebook Hard Drives and DIY drive/case kit bundles

= MEMORY =
Lifetime warranty RAM Upgrades!

= OPTICAL DRIVES =
Internal and External Superdrives/Blu-Ray drives

= VIDEO / DISPLAY =
Graphics cards, Displays, Adapters, Cables & more

= AUDIO ITEMS =
Interfaces, Cables, Software, Speakers, Headphones & more

= SOFTWARE =
Apps, Utilities, OS, VM, Games and more

= WIRELESS =
WiFi and Bluetooth Devices/Adapters/More

= Repair Service =
for iPhone, iPad, Macs

= iPad/iPhone/iPod =
Accessories, Cases, Repairs & More

NuGuard KX Cases
*Extreme* Drop Tested!

XLR8YourMac T-Shirts

---