For 3D gaming, I'd suggest 128MB installed RAM as a minimum and Virtual Memory will still be needed for many of the latest games (some have 90MB or more preferred memory allocations). Remember the game, OS and OpenGL all need RAM. I intend to install another 64MB dimm in this iMac but wanted to test the system as shipped (128MB, VM on).

In some cases the 8MB (fixed) video ram was a handicap, but considering most owners will be running 800x600 resolution (due to the monitor's size) this was not a major issue, especially when considering the target market of the iMac. As a note to those that don't regularly read the front page news or my FAQ the video in the new iMacs is not upgradeable. The AGP Rage128 VR chip is not on standard AGP card and there are no signs the video RAM is upgradeable either. The VR chip in the iMac is also reported to be a 64-bit running at a lower clock speed than the latest Rage128 models in other Macs. I mention this for reference only, as most owners will be more than pleased with the overall performance, especially compared to previous iMacs.

How I tested: I ran my usual array of game demo framerate tests with game settings the same as I use for all my video card and other tests. For Unreal I used my high quality ini file and the same Quake, etc. game settings noted on the FPS database entry page. As I note in the recommendations at the end of this article, I highly recommend 128MB or more of installed RAM in any 3D game machine. Some of the games here still required Virtual Memory to be enabled to be playable even with 128MB of RAM.

I've included information from other iMac owners for comparison (from the Framerate Database reports, although there are few iMac entries there). Also for comparison is a standard Rage128 Orion PCI card installed in a B&W G3/400 (1MB backside cache) running in the 66MHz PCI slot (since the AGP 2x design of the iMac also runs at this speed).

Game Performance Results: All scores in the tables below are in frames per second (higher is better). For Unreal the score is the 3rd cycle (loop) of the Castle flyby timedemo. In some cases I don't have iMac RageII/RagePro/Game Wizard scores.
Quake1 RAVE v1.09
Shadows, Flames, Filtering ON
(96MB RAM iMac w/Game Wizard used 3dfx Quake 1)


Resolution

iMac DV SE

iMac 233
w/RagePro

iMac 233
w/Game Wizard

Rage128 Orion
(B&W G3/400/1MB)

640x480

38.0

22.1

42.1

47.3

800x600

26.4

14.1

(no data)

39.6

1024x768

16.7

9.6

(Can't run)

25.3
Quake2 (16Bit mode)
(iMac DV tests used v1.0)
[Scores in red are w/OpenGL 1.1.2/192MB RAM/VM Off]


Resolution

iMac DV SE

iMac
w/RagePro

iMac 233
w/Game Wizard

Rage128 Orion
(B&W G3/400/1MB)

640x480

36.5
[39.1]

(no data)

28.5
(OS 8.6)

47.3

800x600

25.7
[26.1]

(no data)

28.5
(OS 8.5)

39.6

1024x768

15.9
[17.6]

(Can't run)

(Can't run)

25.3
Q3Test 1.08
Scores in ( ) are 32Bit mode
(iMac DV can't run 1024x768/32bit textures due to only 8MB VRAM.
Previous iMacs may not be able to run Q3test depending on ATI chip/installed VRAM.)
[Scores in red are w/OpenGL 1.1.2 final drivers at 32Bit mode except as noted.]

Resolution

iMac DV SE

iMac
w/RagePro
(160MB RAM)

iMac 233
w/Game Wizard

Rage128 Orion
(B&W G3/400/1MB)

640x480

27.6
(18.3 32-bit)
[23.0 32-bit]

9.5

25

35.6
(30.7 32-bit)

800x600

20.5
(12.2 32-bit)
[14.3 32-bit]

6.1

24.9

28.5
(22.1 32-bit)

1024x768

13.2
(Can't run 32bit)
[16.3 16-bit]

5.1

(Can't run)

19.4
(11.4 32-bit)
Note: OpenGL 1.1.2 w/its new ATI drivers really boosted Q3test scores in 32Bit mode (23.0 from 18.3), but there were some image quality issues in 16Bit mode with the new drivers as noted below. 32-Bit color looked great however.
Unreal 224B7
(16-bit/thousands color mode)
[Scores in brackets are with OpenGL 1.1.2 installed ATI drivers]
(96MB RAM iMac w/Game Wizard used Glide mode
iMac w/RagePro scores from earlier Unreal version)


Resolution

iMac DV SE

iMac 233
w/RagePro
(160MB RAM)

iMac 233
w/Game Wizard

Rage128 Orion
(B&W G3/400/1MB)

640x480

27.55
[27.84]

6.96

27.64

47.3

800x600

20.58
[21.27]

5.14

25.87

39.6

1024x768

16.2
[16.8]

3.06

(Can't run)

25.3
Image Quality Notes: I've included screenshots of Q3test 1.08 in 32-bit color mode and will summarize image quality in other games below. The thumbnails below are linked to full size images for examination. [Update: The OpenGL 1.1.2 update's ATI drivers displayed a 'buzzing bees' effect to pixels very noticable in 16Bit mode (most noticable at 640x480 mode where pixels are larger). It improved performance significantly however and 32Bit color mode looked great, but be aware that 16-Bit gaming won't look as good with the ATI cards under these drivers. OpenGL 1.1.2 with 3dfx cards still looks great in 16bit mode however. Except as noted, all screenshots below are from the as-shipped drivers (OpenGL 1.1.1) in 32Bit mode.]
(Click to see 640x480 high quality jpeg images -100KB+)
Comparing iMac w/RagePro to new iMac DV w/Rage128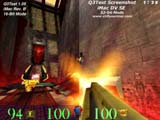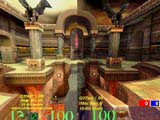 (Click to see 640x480 larger jpeg images)
Thanks to Rob Thiemann for taking my 32-bit screenshots and using his RagePro 16-bit screenshots to make the side-by-side images. He noted that 32-bit iMac/Ragepro screens didn't look any better than the 16-bit version (not sure why).
11/10/99 Update: OpenGL 1.1.2/ATI driver update 16-Bit vs 32-Bit color mode sample (Q3test1.08). To see what I mean about how much better 32Bit (millions colors) mode looks - here are screenshots from the game that shows the effect most - Q3test 1.08 at 640x480. Other games didn't show the effect as badly.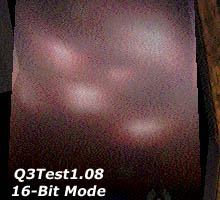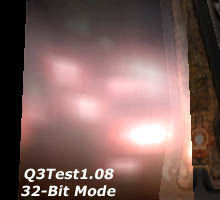 Summary of image quality seen in games (coments based on as-shipped original drivers/OpenGL version):
Quake1 RAVE v1.09 - Same as Rage128 (very good)
Quake2 OpenGL - Same as Rage128 (very good)
Q3test 1.08 - 16-Bit mode has the same 'fishnet' like image quality issue I've seen with other cards in 16-Bit mode like the Rage128 and Proformance 3. [OpenGL 1.1.2 w/ATI driver updated removes the fishnet look, but adds the 'buzzing bees' pixel effect very noticable in 16Bit mode.] 32bit mode looked great however. Carmack commented on the 16 Bit mode issue in a recent MGL news page post. For 32bit mode, I suggest 640x480 mode for performance and RAM issues (8MB VRAM is a limit). As the screenshots above show - 32-Bit mode looks great.
Unreal - Same as Rage128 (very good except for flares/fog dithering noted in previous video card reviews)
Suggested Resolutions by Game Title:
Quake1: 800x600 or 640x480
Quake2: 800x600 or 640x480 (if networked)
Q3test 1.08: 640x480 (32bit color looks best)
Unreal: 800x600 or 640x480 (if networked)
Performance Tips: Reducing game settings (quality/detail levels) can help with higher resolution modes' performance (disabling Q3test options like 'ejecting brass', 'marks on walls', etc.) but in many of these games 640x480 is still a more responsive mode (especially important for network play). Due to the 8MB VRAM limit, I don't recommend 1024x768 mode. Performance suffers and the 13.8" viewable screen makes this a less desirable mode regardless.
Q3Test 1.08 Performance Tips: To boost your game framerate without sacrificing too much in image quality, here are some Game Options I disabled in Q3test that improved scores from 23.8 (OpenGL 1.1.2/640x480 32Bit mode) to 28.9.
Marks on Walls: Off
Ejecting Brass: Off
High Quality Sky: Off
Dynamic Lighting: Off
This make the game far smoother in 32Bit mode and it still looked very good.
About RAM: Performance may have improved a bit with Virtual Memory off - however even with 128MB of installed RAM, many games were unplayable with VM disabled (remember many games now want 70MB to 100MB of RAM and the system uses 20+MB, and OpenGL needs available RAM as well).
I highly recommend iMac gamers with 64MB or less of RAM to add more memory. The difference can be dramatic (as with any Mac running demanding applications).
I intend to test later with another 64MB of PC100 RAM installed and VM off.
---
Summary: Overall I was pleased with game performance and it's dramatically improved compared to standard iMacs of the past. Although I wish there was a 16MB VRAM upgrade option, I still think the iMac is a well rounded machine overall. All games I tested were playable at least at 640x480 even in 32bit mode. Since the demise of the mezzanine slot in rev C and later iMacs, the ability to play the latest games like Quake2 and Q3test smoothly has not been possible. Thanks to the improvements in the new models, iMac owners will be able to enjoy the latest games for the Mac.