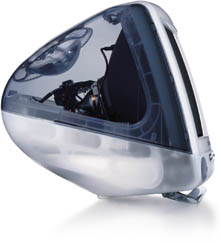 photo courtesy of Apple

New iMac System Specifications:
DV Model Specific Features:
Transparent Graphite color scheme (SE model only)
DVD ROM drive (non-DV models have 24X CDROM)
400MHz G3 CPU (non-DV models are 350MHz)
13GB Hard Drive (SE model only, 10GB on DV model, 6GB on others)
128MB RAM (SE model only - 64MB on other models)
Bundled iMovie software
Processor, Cache and RAM:
400MHz G3 CPU with 512KB backside cache at 2.5:1
Two 168Pin Dimm Slots for up to 1GB RAM (PC100 or PC133, non-ECC)
(Apple noted 512MB max originally)
100MHz system bus
Easy Access slot for RAM expansion using PC100 (or PC133) SDRAM DIMMs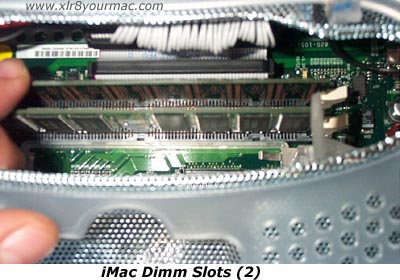 Audio/Video Specs:
15 inch (diagonal) (13.8" viewable) 0.28mm dot pitch built-in monitor
1024x768/75Hz maximum (800x600/95Hz recommended)
Harmon/Kardon speakers (subwoofer option due soon)
Spatializer 3D Audio enhancements
Slot loading DVD ROM drive (24X equiv. CDROM rating)
VGA output (mirror of built-in video - useful for presentations/schools)
Built-in microphone
Dual headphone jacks
Rage128 VR AGP 2x video chip w/8MB SDRAM
QT 4.0, QD3D 1.6 (preinstalled)
Interfaces/Ports:
Dual USB ports (12Mbps max)
Dual Firewire ports (400Mbps max)
10/100BaseT Networking
56K/V.90 internal modem
VGA output (mirror of built-in video - useful for presentations/schools)
Dual headphone jacks
System Reset and Programmer's Interrupt Switches
Easy Access slot for RAM expansion using PC100 SDRAM DIMMs
USB Mouse and Keyboard
Optional AirPort wireless Networking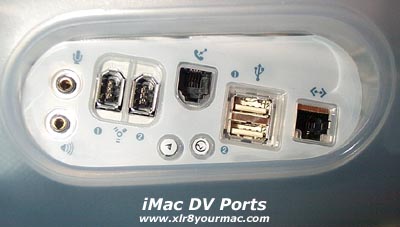 About the Internal Modem: I am happy to say that based on what I've seen so far, the past problems with internal modems are over. On both this iMac and the G4/450 AGP, I have had no disconnects and consistently high connect rates (43-46K - usually 45.3K). This is as good as any modem I have ever used on these lines - PC or Mac.
Note: There is no fan in the new iMac design. This makes them literally silent, a welcome change from most computers, especially when you're working at night and trying to concentrate. Recently I did notice a slight whine from the DVD drive (I assume) - but the iMac is literally as quiet as a notebook.
Although initially I (and other owners) were concerned over the heat wafting up off the rear vents, further examination reveals the sides are cool and I suspect the internal temperatures are no more than many compact TV sets. The heat of the vent area plastics may be uncomfortable for a child to touch after several hours of use however. (Granted this is not a likely scenario.)

Monitor Geometry Adjustments: The iMac's Monitors Control Panel includes a Geometry adjustment panel as shown below.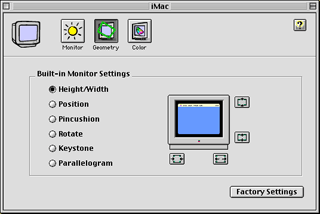 (Click on the image for a full size picture)

The only setting I wished for was one for convergence, since there was a slight green edge on the lower left side of my display and a red edge on part of the upper right corner. These were not very noticable however, and overall image quality at the recommended 800x600 mode was very good.


The new iMac design, especially the SE model with Graphite plastics, grows on me more every day. It's a pleasure to look at and is something you'll be proud to display in any room of your home. It's also a great conversation piece that (from my experience) will evoke positive comments from Mac and PC fans alike.


The final page of the review has comments on documentation, compatibility and overall summary of the system.