---

What made you want to build this unusual system?
First off, I wanted to see if it could be done. I loved my Power Tower Pro which was rebuild into the custom ATX case. (Power Computing systems usually used a standard ATX Power Supply.-Mike) However, it was showing limitations, and yet, I still wanted a six PCI slot mainboard. So I came up with the idea of adding another mainboard for the added functionally. But which mainboard? Well, the Blue & White G3 would accept a standard ATX power supply (with one wire cut), and still has the ADB port (which my keyboard is). (See previous articles on the Systems page for B&W G3 ATX case conversion article w/photo of the wire mod for std ATX P.S. use.-Mike)

Where did you buy the Case and How much did it Cost?
The case is an iCute case, I bought it at my local "4th Dimension" computer store. It is no longer being made and has been replaced by another case. It did not accept Extended-ATX mainboards (which the Power Tower Pro was), so I removed part of one of the hard drive supports.

What mods you had to do for mounting the mac logic boards, ports, etc.?
The Power Power Pro mainboard mostly just fit in, with only a couple of mounting holes drilled into the mainboard area of the case. I used the paper backing off the original case, and it fits just fine into the new case port area (It has been reinforced with a little bit of cardboard around the edges of it.

The B&W G3 mainboard is mounted to the Plexi-Glass window, and the area where the rear case fans were cut out to make room for its PCI openings (I found a four-slot PCI backing from a salvaged case).

The photo below shows the B&W mainboard in the window panel/side cover (laying on the floor) with the 20-pin front panel cable running to the front panel board, which was cut out of the B&W case and mounted in the area for two 3.5" drives.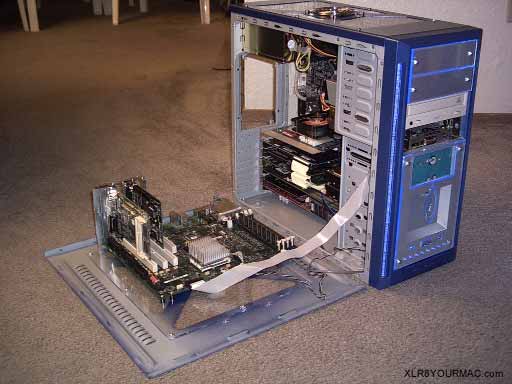 ---

The photo below shows how the Power Tower Pro mainboard runs behind the lower drives, since the other drive mounting support was partly removed. The orange fan is a ThermalTake high-speed CPU fan on top of the XLR8 450 MHz CPU upgrade. It is a 600MHz capable 7410, however can only run at 450 MHz as the PTP's 50MHz mainboard (design) speed and 9x (Max) multiplier for that CPU. (Note: Although the Tsunami motherboard was designed for a 50MHz bus speed, there is often some margin and I've run 55MHz (sometimes higher) in some Tsunami based Macs (9500/Genesis Umax S900, etc.) with CPU cards like the CarrierZIF that have bus speed settings on the CPU card. Higher than 50MHz speeds may not be reliable however depending on memory config used and cache dimm (if present). Adrianna later said that higher bus speeds weren't reliable in this particular system however.-Mike)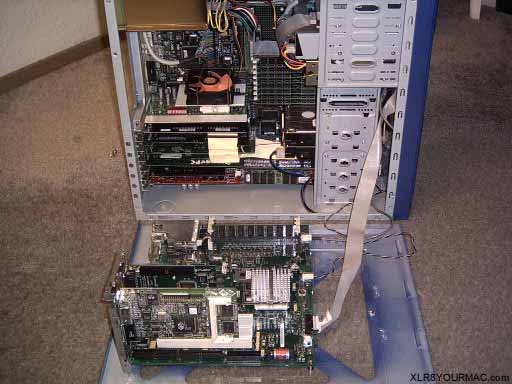 ---

The photo below shows the paper I/O panel for the back of the Power Tower Pro mainboard fitting into the ATX opening. The large cutout beside it is for the back of the PCI cards in the second mainboard when the window panel/side cover is closed.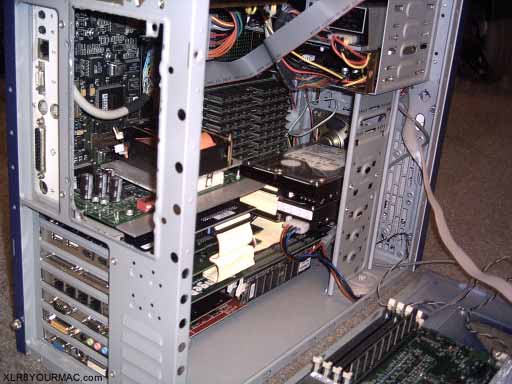 ---

The photo below (blurry) shows the Mini-ITX power supply plugged directly into the B&W mainboard (The -5 volt pin was removed on the connector). Leading away from it is the DC 12 volt line that powers it.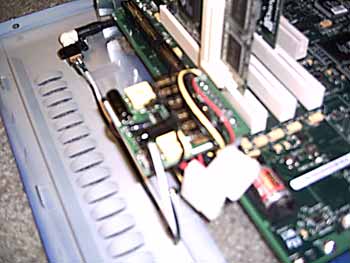 ---

The photo below (blurry) shows the 12 volt line leading to the second power supply connected to the main power supply (which is 650 watts).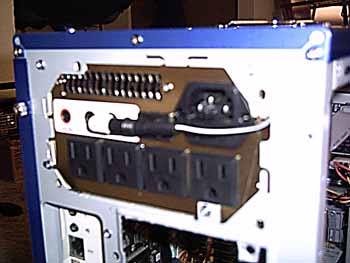 Since some of the cards used don't have OS X support, what OS's are you using?
The Power Tower Pro is running System 7.6.1 (I personally love System 7 and have lots of applications for it, I did not like the "Metal" look of OS 8 or 9. I just wish that they did not give up the "classic" system 7 look. I loved that look so much. I used to work as a lab tech for a computer lab back in 1995-1997, and all the Macs had System 7 on them. That OS was the longest running (1991-1997) and must have had the most updates.
The B&W side is running Mac OS 8.6 (which it needs anyways, and allows for HFS+ hard drive formatting). (OS 8.1 was the first OS version to support HFS+)
Someday I might upgrade both sides to Mac OS X (using XPostFacto for the Power Tower Pro side). I already have a full copy of OS X 10.2 that I plan to try out soon.
System/Case Details:
Case/Power Supplies Info:
Arrow 650 watt power supply (for PowerTower Pro). Dual fans, four 110-volt outlets, eight drive connectors, less than one-ms response time, over voltage and over wattage and short circuit power protection, dielectric withstand.
Short-Circuit Mini-ITX 200 watt power supply (for B&W G3). Totally silent operation, low heat dissipation with over 95-percent efficiency. Plugs directly into the mainboard, small approx two-inch square size. Runs off one of the 12-volt ports of the main power supply.
iCute mid-tower case, acrylic side and top windows. Four 5-1/2" external drive bays. Case size: 200 by 440 by 430 cm, 7.9 by 17.3 by 16.9 in (width, length, height). Computer weighs 36 pounds loaded as the specifications above.
Power Computing Power Tower Pro "Tsunami" Mainboard
(Apple "Tsunami" design but with L2 cache dimm slot vs soldered-in cache)
XLR8 Processor Upgrade CarrierZIF card w/G4 450MHz ZIF CPU module)
Sonnet Tempo Trio combo PCI card (Dual ATA-133, support for drives over 137GB, dual USB 2.0 ports, dual FireWire 400 ports)
Adaptec PowerDomain 3940UW Dual-Channel SCSI PCI Card
Intel 4-port 100-baseT Ethernet PCI card
OrangePC 660 Windows compatibility card. 12" full-length card. Supports Socket 7 processors including AMD K6-II and K6-III running up to 450 MHz, Intel MMX up to 233 MHz and Cyrix 6x86. 100MHz bus speed. Two PC100 SDRAM slots (256MB Max RAM). nVidia RIVA 128 graphics w/4MB SDRAM. Maximum resolution (32-bit color): 1152 x 864
Sound Blaster Live! 32-bit audio card. EMU10K1 DSP Supports EAX and OpenAL, reverb capability, latency of 23ms. Midi input and output.
ATi Radeon 9200 PCI video card. 250 MHz core engine speed. 128MB DDR memory, 128-bit memory interface, 200MHz memory speed. VGA, DVD-I and S-Video outputs.
Apple PowerMac B&W "Yosemite" Mainboard
XLR8 G4 ZIF CPU upgrade (overclocked) at 600MHz
Adaptec PowerDomain 39160 Ultra-160 64-bit PCI SCSI controller (a past article on 39160 SCSI cards in a B&W G3 notes lower than expected B&W G3 33MHz PCI card performance with this card.)
Orange Grappler Plus PCI card (Single-channel SCSI-II (10MB/sec max), 50-pin internal, 25-pin external, 2 RS-422 "GeoPort" mini Din-8 serial ports.)
Griffin Technologies gPort serial adapter (adds a 8-pin serial RS-422 "GeoPort" mini Din-8 port, plugs into the mainboard modem card connector and uses the modem cotout on the I/O panel for the serial port. Does not use a PCI slot.)
Drives:
Yamaha CDRW4416S-NB Compact Disk burner
Seagate Scorpion STD224000N DAT Tape Drive (Up to 24GB per tape w/hardware compression, 12GB native capacity. DDS-3 format.) SCSI-2 interface.
Maxtor 6GB HD
Maxtor 100GB HD
Samsung 120GB HD
IBM Deskstar/Hitachi 123GB HD
Reference Info on the Motherboards:
Power Computing Power Tower Pro "Tsunami" Mainboard.
Processor on a daughter card for upgradeability, 50 MHz mainboard bus speed (Adjustable CPU Upgrade cards can change that, although higher speeds may not be reliable. See older Mac CPU Upgrade reviews of adjustable cards like the CarrierZIF here.). Four-megabit bootstrap/firmware ROM size. Eight 168-pin FPM DIMM 5 volt memory slots supporting 70ns ram modules for one-gigabyte total ram, one gigabyte installed. Uses the HammerHead IC memory controller, which enables memory interleaving. (with matched pairs of like dimms in Ax/Bx slots - see older article on legacy Mac Memory Interleaving tests.) Six PCI expansion slots for superior expandability. Dual on-board SCSI (internal 10MB/sec, external 5MB/sec). Includes two serial ports with RS-422 "GeoPort" mini Din-8connectors, and onboard 10-Base-T RJ-45 and AAUI Ethernet for networking. 20-pin auto-eject floppy drive connector onboard.
Apple PowerMac B&W "Yosemite" Mainboard
Processor in daughter card for upgradeability, 100 MHz mainboard/lookaside bus speed with a 64-bit data and 32-bit address paths, supporting split address and data tenures. Uses Grackle MPC/XPC-106 memory controller and PCI bus interface and Paddington I/O device controller and interrupt handler. One-megabit bootstrap/firmware "NewWorld" ROM-in-RAM design plus 3mb toolbox instructions loaded into RAM. Four SDRAM memory slots supporting 168-pin 8ns 100MHz 3.3 volt PC100 ram modules for a total of one gigabyte of ram. (Due to the limits of the XPC/MPC-106 controller, max dimm size is 256MB each, and 256MB dimms must be made up of (16) 128Mbit chips.-Mike)
Three 33MHz 64-bit PCI slots and one 32-bit 66MHz PCI video slot. Dual IDE channels, one Ultra ATA-33. (Note: "Rev 1" B&W G3 motherboards have a flawed IDE controller chip that usually requires disabled UDMA to avoid drive corruption. This was fixed in the later revision motherboard and 3rd party drivers from FWB and Intech had adjustable modes to address this issue. A 1999 article on the revised B&W G3 model shows the IDE chip marking of the later controller chip.) Onboard 100-Base-T RJ-45 Ethernet port. Two onboard Firewire 400 ports (not bootable), Two USB 1.1 ports, modem card port built-in. 44.1 kHz 16 bits/channel stereo input and output.
-Adrianna Lane
---
Related Articles:
For other System/Case Conversions, Mods, etc. see the Systems page (organized by mac model/series).