Another (pre-2009) Mac Pro Hard Drive in Optical Bay Solution
Posted: Jan 11th, 2010
---

(This article and others on the subject here in the past (since 2007) used brackets with rubber isolation for reduced noise. And the bracket this reader used also had a heatsink. Of course if you don't care about that you can do this very cheaply with the all metal 5.25in bay adapter brackets, which used to come free in retail box 3.5in HDs in the past. I've thrown away at least 1/2 dozen of these over the last decade, but still kept a couple around just in case.-Mike)

Hi Mike, Longtime coming, but I promised some pictures of my solution for a 5th drive in the optical bay. I tried the 45cm cable, just a bit too short. So one afternoon, down at PC World in the UK, I found this 60cm Akasa cable with latching plugs (no use on the MB side, socket is without a latch) Good length to allow the optical caddy to be removed easily. Very flexible cable, which seemed to be better since space is constricted in that area of the MP.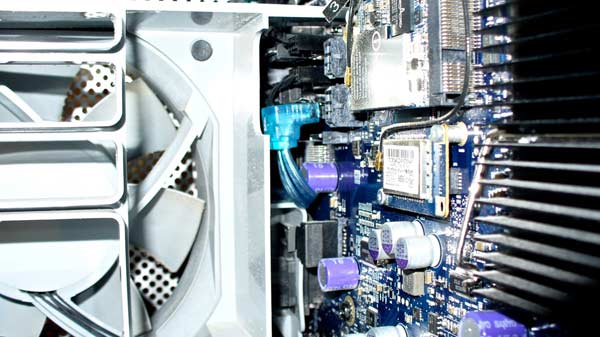 I originally wanted the X-Swing brackets, but they are somewhat expensive over here. (Oliver used those in his earlier articles here on putting HDs in Mac Pro Optical drive bay (ref: his 2007 article on "How I Silenced a WD Raptor...." as the 2006/2007 Mac Pros had no rubber washers on the HD bay brackets). But the X-Swing's also been hard to find in stock recently I hear.-Mike) I did some research and came across a pair of heat-sink adapters, from Akasa again. They got a good review and were not expensive.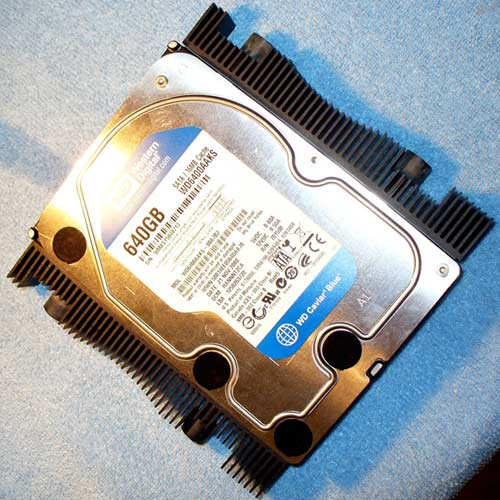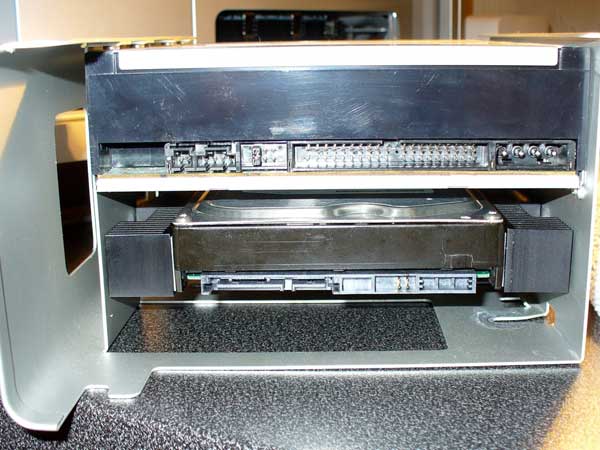 Everything fitted fine, no struggle or sweat getting the cable routed. Because I figured the 5th drive would warm up the incoming air for the PSU, I put my TM drive in there, since I thought it had the least uptime out of all the drives.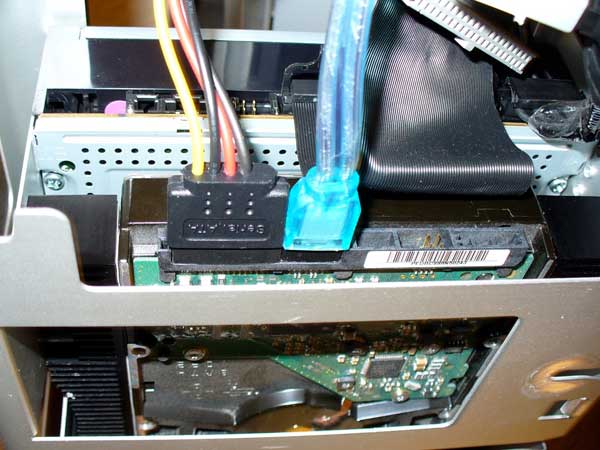 I do video editing here in the UK and it's so useful to have access to multiple big internal drives for all the material.
(To save some searching I asked about prices, etc.)
Here's the link for the Akasa AK-HD-03-BK Hard Drive Cooler (brackets), not expensive at ~£6 incl. shipping! I don't think the heatsink makes a huge difference, since the contact area is uneven on the drive sides. And a link for the cables in the UK, I didn't use these guys, but could have if I'd spotted this earlier. Still only a few pennies difference to PC World.
Best wishes, Rob
---