Review of NewerTech's Low-Cost eSATA 6G PCIe card
Posted: Jan. 29, 2010
Updated Feb 12th, 2015 for notes on Boot support w/10.6.8 & later
Updated Feb 5th, 2010 for more Reader Feedback
Updated Nov 15th, 2010 for FYI on Qx2 report
Updated Dec 2011 for FYI on Hot-Swap bug fixed in OS X 10.7.2 & later
Updated Aug 2012 for FYI on sale prices and OS X 10.8 support
(Updated links in 2013 for later rev of card)
---
[FYI - As of Sept. 2015 the MAXPower 6G PCIe eSATA card reviewed here on sale for under $40. Prices change so check link for current cost. OWC now lists it as bootable with OS X 10.6.8 & later. Native support w/OS X 10.5 & later.]
---

Intro:
As I've mentioned before, personally my eSATA needs are simple (typically single drive use w/HD docks - no PM/high end enclosures/RAID arrays, etc). I've gotten by fine with low-cost eSATA cards (typically $20 range) and until ordering the NewerTech 6G card, I've been using a Sil3132 based 2 port (1x) PCIe card in my Mac Pro, which as you know requires a driver install (and like most all 3132 based cards except for the more expensive firmtek models, the current SI 3132 drivers are 32-bit only - card isn't usable with 64bit SL boots.)
However when this NewerTech SATA 6G card was announced (natively supported incl. 64bit SL) at $59.99 List, I was interested in replacing what I have now. This isn't a high end/expensive card (and doesn't support Port Multiplier enclosures), but considering its native support (plug and play basically), better controller chip and reasonable cost - it's a very good fit for my needs. (I don't own any PM enclosures and don't have any plans to in the future.)
Although site sponsor OWC offered to send a review loaner, I felt like I'd want to keep it, so I decided to buy one. And I also ordered one of OWC's ($59.99 at the time) dual-drive eSATA-only enclosures for tests with a couple WD Caviar Black's I had on hand to at least have a bit more performance headroom than the HD docks I typically use. And being eSATA pass-thru, it rules out any issues with the bridge board used in multi-interface enclosures. (Although I am a big fan of HD Docks - easy to swap in bare HDs used for backup/TM with various macs w/o the need to open a case up or have several ext cases around.)


NewerTech eSATA 6G card: What's Included: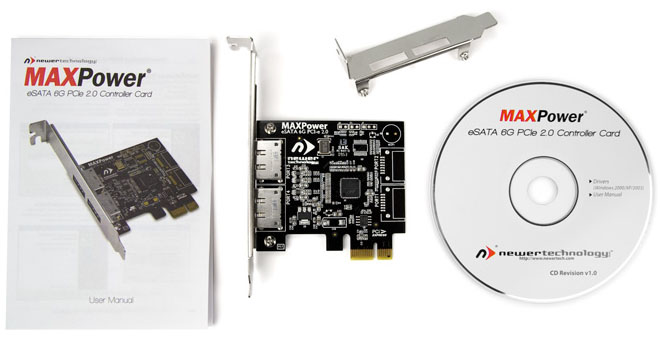 The card is smaller than I expected (even smaller than the 3132 card). A low-profile bracket is included, but not needed for installs in machines like Mac Pros. Here's the specs from the product page:
Type: SATA 6Gb/s
External: Ports 2 x eSATA
Interface: PCI-Express 2.0 x1
Form Factor: Low Profile Ready
Data Transfer Rate: Up to 500MB/s per port (up to 500MB/s total for x1 PCIe 2.0 slot or 250MB/s total for x1 PCIe 1.0 slot)
Operating Systems: Out-of-the-box ready driverless install for Mac OS X 10.5 & 10.6, Windows Vista & Windows 7, and any Linux version with built- in AHCI support.
Booting: Update: I tested this card with OS X 10.5.x (not bootable), but OWC now lists it as Bootable with OS X 10.6.8 and later as did a customer review. (clip from product page)


"Supports booting in Mac OS 10.6.8 and higher, Windows (Vista & Window 7) with AHCI mode enabled in the BIOS."

Compatible With: Intel-based Mac with available PCIe 2.0 or 1.0 slot. Mac OS X 10.5.x and later, Windows Vista and later, Any Linux-based OS with built-in AHCI support.
3 year warranty (per Feb 2015 product page)
The Features list on the product page mentions eSATA hot plug support is dependent upon external enclosure compatibility. (Someone had asked about that.) The manual notes it's Marvel 8891x based and it's been plug and play in both OS X and Windows here (as promised). Since it wasn't mentioned on the product page originally, I assumed it didn't support PM (Port Multiplier) enclosures. (Again, not an issue for me as I don't own any PM cases) Here's Larry's (head of OWC) answer to my original email - I wrote to confirm no PM support:
"Correct - this current card doesn't support Port Multiplication.
It does work with multi drive eSATA solutions like the NewerTech Guardian MAXimus, Elite-AL Pro RAID, and Elite Qx2 solutions which feature eSATA but do internal RAID control of the drives."
OWC has now revised the product page to note no PM support.

Works with ANY eSATA interfaced equipped external hard drive or optical drive (NOTE: does not support port multiplier cases/enclosures.)
(FYI/Update: - They now offer a version of this card with Port Multiplier support - the MAXPower PCIe 4-Port eSATA 6G RAID Controller)
---
Test System/Hardware Used:
I didn't have any SATA III/6Gbit Hard drives on hand, but did have a couple 1TB SATA2 Caviar Blacks. (Which IMHO were a great value at the time I bought them in late 2009.)
Early 2009 Mac Pro (Dual 2.66GHz CPUs), 12GB Ram, GTX-285, 4HDs (10.6.2, 10.5.8, Vista Ult/64bit, Win7 Pro/64bit), dual optical drives. Benchmarks run while booted to OS X 10.6.2.
eSATA only (pass-thru) Dual Drive Enclosure with two 1TB Western Digital Caviar Blacks (SATA II, 7200rpm, 32MB cache, drive firmware 05.00K05)
Dynex (Sil3132 based) 2-port eSATA II card (appx $20 - also a 1x card)
The eSATA cards (both 1x) were installed in the top (upper) PCIe 2.0 slot (ASP link speed reported as: 5 GT/sec)
The 3132 card used driver v1.1.11u, released Oct. 2009. (Again, 32-bit drivers only.) No S.M.A.R.T. support with my 3132 card, although there was using the NewerTech card.
---
Checksum/File Integrity Tests:
Just for my peace of mind, I verified (10 times) that an appx 500MB .DMG file (the 10.6.2 combo updater download) passed a checksum test after copying to the eSATA hard drives in the OWC enclosure - both cards passed as they should. (But I've seen cases where this test failed with some card/ext drives (i.e. a natively supported JMB360 eSATA Expresscard in my MBP w/10.6.2 and several eSATA HD docks for instance) - even though no BBOD/freezes happened as I'd seen with earlier SL tests. I'm not alone in seeing that problem...)
Of course I also did sleep/wake tests - no problems were seen. (Normally I rarely sleep the Mac Pro, although I do with the iMac that is used for daily web work/email, etc.)
---
Benchmark Info:
I'd recently bought Drive Genius (v2.2.1 at the time) and used its "BenchTest" for the results below. (BTW - Prosoft officially does not support RAID volumes with this software - although Benchtest worked for 32-Bit boots in Snow Leopard with the RAID volume - however it would not complete the benchmarks (single drive or raid) when run from 64-bit 10.6.2 boots. I'll try again once 10.6.3 is released.) Also I saw several cases where BenchTests' listed 'avg' rates were higher than the max rate for the run. (The small text max/min/avg they include under the graphs.) Here's an example (clip from a screenshot) -

(I sent the Drive Genius programmer a FYI on that as well - he later confirmed the "Avg" bug, but said the graphed info was accurate.) (FYI: A few days after posting this they released a Drive Genius 2.3.0 Update but the benchtest avg bug is not in the list of fixes. Not retested yet w/2.3.0 to see if it's fixed - but a reader has and his screenshots still show the bug - Avg rates higher than Max reported.)
The NewerTech 6G card was supported in 64-Bit Snow Leopard however, unlike the 3132 card. (And although I'm not a big fan of Xbench, its disk benchmark completed ok in 64-bit SL with the NT 6G card.) When I get some free time I plan to run some Kona benchmarks on it as well.
All benchmarks were run using the OWC eSATA only (pass-thru) Dual Drive Enclosure and again, drives used were 1TB WD Caviar Blacks (SATA II, 7200rpm, 32MB cache). DG v2.2.1 Benchtest used:
Single Drive Results: (Empty SATA II drives, HFS journaled format)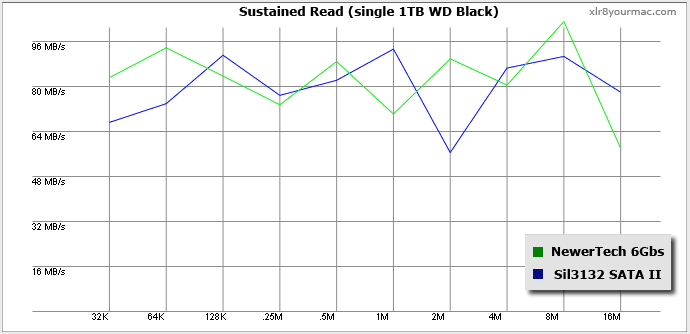 I noticed BenchTest's sustained read rates (consistently) had frequent peaks/valleys although no other apps were running. (I need to investigate that further and plan to run some Kona benchmark tests to see what they show.)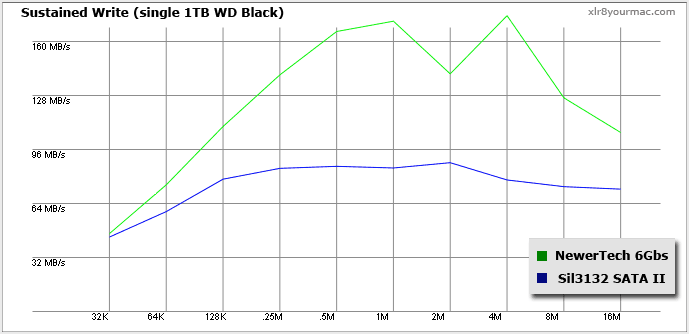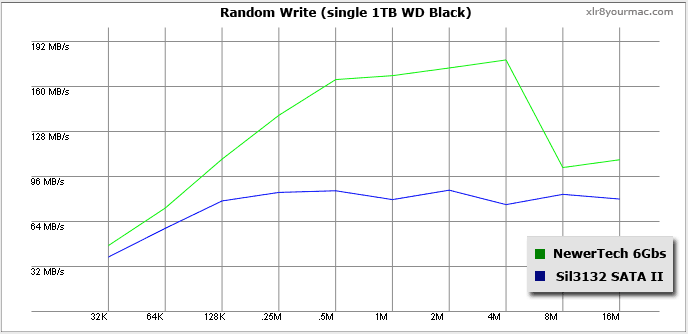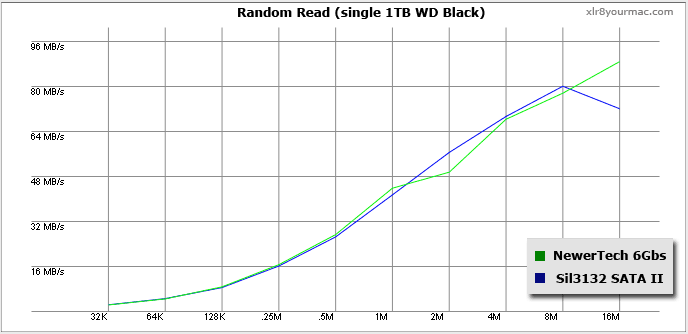 ---
RAID 0 (2 drive stripe) Tests: (for stripe size I selected 64kb, the midpoint option. BT and Wireless off, no other apps running, drives were empty for all tests. Again these are SATA2 HDDs.)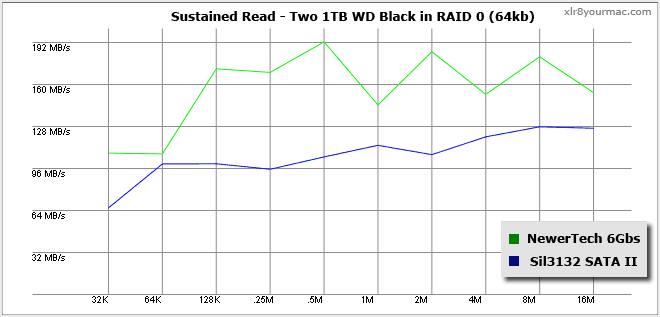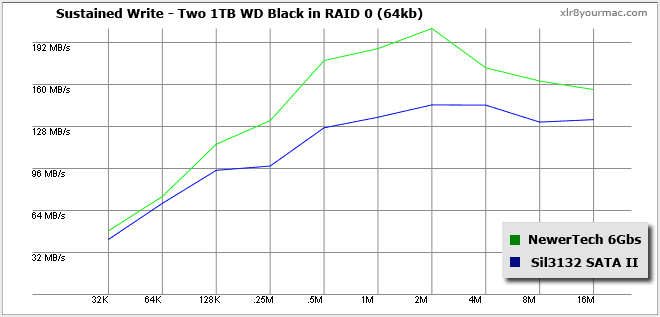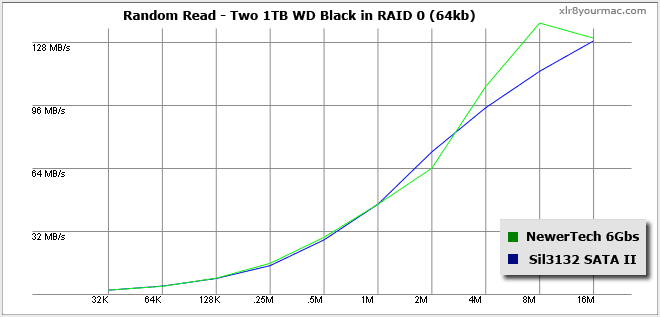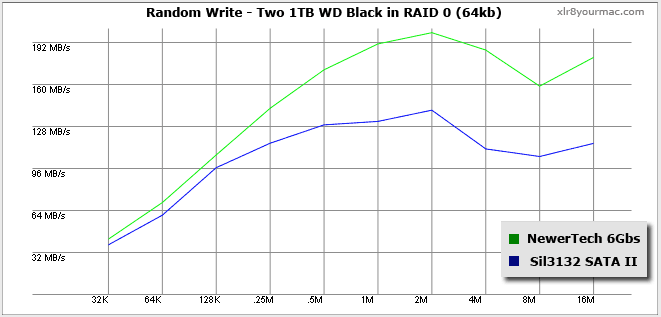 ---
Short notes on Windows 7 (bootcamp) use:
Since one of the HDs in the Mac Pro already had Bootcamp/Windows 7 Pro, I used it in Windows also although only for a short time so far. (On first boot windows recognizes the card change and pops up the usual "installing..." prompt - ready to use in a few seconds. And every boot to windows/bootcamp I see a DOS message on Marvell controller initializing - w/info on any connected/powered up eSATA HD.)
At the time I had an eSATA HD Dock connected to the card with a 2.5in Toshiba 500GB (5400rpm) Notebook Hard drive in the dock. I use that HD (NTFS formatted) for media files (movies, photos, music, etc.) that I play via the eSATA port on an Asus O!Play Air. (Unlike the WD Live, the O!Play wouldn't recognize connected HFS drives.) Anyway I copied several 1GB+ video files from the 2nd partition (a FAT32 volume I label "Shared" as it's R/W from MacOS and Windows) of an internal 7200rpm (3.5in) HD to the eSATA dock's notebook HD - windows exploder info showed copy rates from 80-106MB/sec (maybe due to system write cache, as that seemed high for a notebook HD like this - later large file copies showed from a consistent 80-88MB/sec (for complete duration of a 1.6GB file) to as low as 40-50MB/sec for 2.7GB file. Another 2GB file copy showed consistent 80MB/sec rates. The 500GB notebook drive is appx 1/2 full now). Next time I do this I'm going to use a stopwatch (and divide filesize/time to get an avg real-world rate). But regardless, I'm very pleased with the card's performance I've seen so far.

Summary:
The above is from my first night of testing but I've been very pleased with the NewerTech 6G card. Again it's a perfect fit for me (not expensive, good performance, PnP/no drivers required, S.M.A.R.T. support) and although I currently rarely boot to 64-bit SL (that may change in the future), the fact it's natively supported is still a plus. And maybe later this year I'll have some SATA 6 hard drives to try with it - unlike my previous card this one has more headroom for faster drives in the future.
If like me, you don't need PM support and can't really justify higher-dollar drive arrays and controllers, this card may be just the ticket for you as well.
I normally reserve final judgement on anything until longer term use but here's my summary after a day of using it:
Pros:
First shipping SATA 6 card for Macs (to my knowledge)
Plug-n-Play/Natively supported in OS X 10.5/10.6 including 64bit Snow Leopard (and windows)
Good Performance/bang for the buck
Affordable
S.M.A.R.T. support (w/SATA-only case used, not checked with other/bridge board based cases)

Cons:
No Port Multiplier Support with this model (Update - They do have a 4-port model w/PM support)
Not Bootable (although ditto for many Mac SATA cards)
FYI/Update on Hot Swap Support (OS X):
(From later OWC notes regarding the non-RAID card model)
"On a Mac, Hot Plug/Hot Swap is supported in OS X 10.7.2 and later.
Due to a bug in Apple's AHCI implementation, previous OS versions do not reliably support this feature."
If I see any surprises in longer term use I'll update this page. So far though this card looks to be a great value for my needs. (I have no plans to go back to my previous SI3132 card...)
---
Reports from Readers w/NewerTech 6G card:
(Added 2/5/2010)
"Tried things mentioned in our last exchange.
Ran DU repair on the OWC drive -- it reported everything okay. I tried all of the same methods as before to mount the drive using eSATA. Booting remains the only way this drive will mount.

Then I moved the eSATA card from slot-4 (PCIe 1.0) to slot-1 (PCIe 2.0). That was much more interesting!

I have more data stored on the OWC drive tonight (164GB, or 22% full). I ran AJA with the same parameters as before. Here are results from all runs together

Write (MB/s)
58.1 = FW800
97.2 = eSATA slot-4 --> 67% gain
100.9 = eSATA slot-1 --> 74% gain, and 4% faster than slot-4

Read (MB/s)
65.6 = FW800
89.6 = eSATA slot-4 --> 37% gain
101.5 = eSATA slot-1 --> 55% gain, and 13% faster than slot-4

So, the OWC drive still had more juice in it!

I ran the 2.5" 120GB Fujitsu drive again, still 0% full and using the StarTech dock with eSATA connection. Along with previous runs I got

Write (MB/s)
22.5 = FW400
55.7 = eSATA slot-4 --> 148% gain
56.2 = eSATA slot-1 --> 150% gain, and 1% faster than slot-4

Read (MB/s)
27.9 = FW400
56.2 = eSATA slot-4 --> 101% gain
56.3 = eSATA slot-1 --> 102% gain, and essentially < 1% faster than slot-4

Didn't expect to milk anything more from this little drive, but still a hair faster.
Even though the PCIe 1.0 slots can theoretically support up to 250 MB/s, it's obvious that the eSATA card's utilization of PCIe 2.0 500 MB/s slots is indeed better.

Did moving the eSATA card to slot-1 enable the OWC (Quad Interface) drive to mount without a reboot? Nope. (I didn't think that would matter) Still have to sort that out with OWC and/or NewerTech. Will be interesting to hear if any other users experience the same issue.
-Ron"
BTW - Another Quad Interface EliteAL owner also noted the same thing - hot connects did not mount the drive (restart required) - although a Quad Interface Voyager Q dock does. (Therefore I can only assume it's related to the bridge board firmware.) Ron's earlier report follows.
(added 2/4/2010, see above for his different SATA Slot Results)
"I just installed the Newertech 6GB eSATA card into my Mac Pro (early 2008) and thought you might be interested in some simple benchmark comparisons.
The system is 8 core 2.8 GHz Xeon with 12GB RAM running OS X 10.6.2.
(FYI/update regarding PCIe slot used)
Checking System Profiler, I notice that slot-2 (holding ATI Radeon 2600) shows "Link Speed: 5.0 GT/s",
and slot-4 (holding NewerTech eSATA 6G card) shows "Link Speed: 2.5 GT/s"
(Ron said he may retest the 6G card in a different slot (i.e. slot 1 - 5 GT/PCIe 2.0), saying 2008 Mac Pro slots 3 and 4 are slower, on par with the PCIe 1.0 slots of 2006/2007 models. The only Mac Pro I've owned is the 'early 2009' model but IIRC the 2006/2007 models (only) also had a PCIe expansion slot config utility.)


A few weeks ago I had run AJA KONA on some reformatted drives (7-pass zero) so that made it relatively convenient to run benchmarks again using the eSATA interface.

AJA settings for all tests were:

Test = Sweep File Sizes
Video Frame Size = 1920x1080 10-bit
File system cache = disabled

File sizes were 128MB, 256MB, 512MB, 1024MB, 2048MB, 4096MB, and 8192MB. Results below are averaged for all seven sizes. FWIW, there was very little fluctuation between read/write speeds across the range of file sizes.

The first comparison involves an OWC Mercury Elite AL Pro 750GB quad interface drive purchased just a few weeks ago. The first benchmarks were done using the Mac Pro FW800 front port, and the second set used one of the NT 6GB eSATA ports.
During the FW800 test the drive was zeroed out (empty). During the eSATA test the drive held 141GB (less than 20% full) -- I didn't want to spend time deleting and restoring that data. Consequently, the eSATA results are slightly disadvantaged and the actual gain must be somewhat better.

FW800 write = 58.1 MB/s
eSATA write = 97.2 MB/s
Gain = 67%


FW800 read = 65.6 MB/s
eSATA read = 89.6 MB/s
Gain = 37%

The second comparison involves a (2.5in) 120GB Fujitsu MHY2120BH stock OEM drive pulled from a MacBook (Santa Rosa). (empty) For the first benchmarks, the drive was housed in an AcomData Tango 2.5" portable drive enclosure and using the Mac Pro FW400 front port. For the second set, the drive was inserted into a StarTech SATADOCK22UE and connected to an NT 6GB eSATA port.

FW400 write = 22.5 MB/s
eSATA write = 55.7 MB/s
Gain = 148%


FW400 read = 27.9 MB/s
eSATA read = 56.2 MB/s
Gain = 101%

I forgot to include results for the Fujitsu drive when it was installed in the MacBook. Those are interesting because it shows the drive runs faster when docked to eSATA than when installed in the MacBook. (Not sure if his MacBook has SATA I or II, although I doubt that matters as far as typical OEM 2.5in HD performance)

MacBook Internal SATA write = 46.3 MB/s
eSATA write = 55.7 MB/s
Gain = 20%


MacBook Internal SATA read = 46.6 MB/s
eSATA read = 56.2 MB/s
Gain = 21%

Obviously none of these configurations comes close to pushing the NT 6GB eSATA card towards its limit, but the performance gains are quite nice and it's good to know the card will support faster drives as they become available.

A few other remarks:
1. The PCIe card was recognized at boot and appeared in System Profiler. (Natively supported in OS X 10.5 and 10.6, including 64-bit SL.)
2. The OWC drive did not automatically mount, even after trying the troubleshooting tips given by Newertech in the manual. With the drive on and connected, I had to reboot the machine in order for the OWC drive to mount.
(FYI/Update - see note above about Hot-Swap OS X bug fixed in OS X 10.7.2 and later
)
3. Upon inserting the Fujitsu drive into the StarTech dock and powering it on, the drive immediately mounted.
I'll followup with OWC and/or NewerTech about the Mercury Elite Al Pro drive not mounting like it did when using FW800. Seems to me that shouldn't be happening, especially since the StarTech dock mounted just fine.
(Update: A later follow-up from Ron in Nov 2010)
I just got a Qx2 from Owc and having the same issue with the 6g card. It will not show back up when turning it off and back on, but will show up if it's on and disconnecting the esata cable and reconnecting it.
All in all, I think this was $60 well spent. Installation was simple and the performance gains are worthwhile.
-Ron"
---