(Bill sent info and benchmarks on his latest mini-ITX Hackintosh build he calls the "Monster Mini".)

Report on my now-finished new computer. I intended to make a Hackintosh with more computing power than any of my previous 3 DIY Mini-ITX systems, using mainstream but high-quality components.

Total cost of build (as of Nov. 2020 check, prices usually go down over time) - $2040.
(And remember this is a completely upgradeable/repairable system that you can easily upgrade in the future.
No soldered in RAM/SSD/Video, non-standard/proprietary motherboard, power supply, case, etc.)
OS and Firmware Used
Mac OS Mojave 10.14.6 (with Supplementary updates)
Gigabyte AMI BIOS (UEFI) version F5
(for Z390 I AORUS PRO WIFI MotherBoard)
SMBIOS iMac 19,1 (See comments below)
Links to Benchmarks Results
GeekBench (many) | GFXBench Metal Benchmarks | NVMe SSD Benchmarks
---


Geekbench 5.1 vs 5.0.4 results (macOS 10.14.6 build 18G2022)
(clip from the main news page post on Geekbench 5.1 update)

"(version 5.1) improves the performance of the CPU and Compute Benchmarks across all systems, and is a recommended update for all Geekbench 5 users...
Geekbench 5.1 is built with new compilers, and includes changes to both the CPU and Compute Benchmarks. These changes mean Geekbench 5.1 scores will be higher than Geekbench 5.0 scores. As a result, we recommend users not compare Geekbench 5.0 and Geekbench 5.1 results."
(Bill's comments follow)
I just ran the latest version of GeekBench 5 (v5.1) on my "Monster Mini" mini ITX computer, and compared it to GB's previous v5.0.4. As you can see, the only significant differences are in the graphics areas. Thought you might be interested.


Geekbench 5.1 scores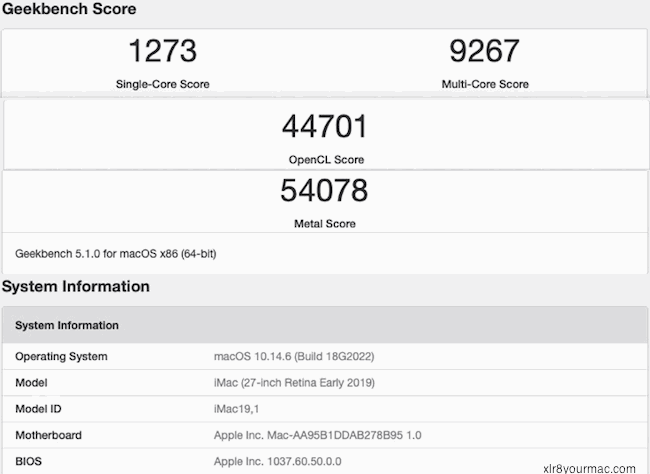 Geekbench 5.0.4 scores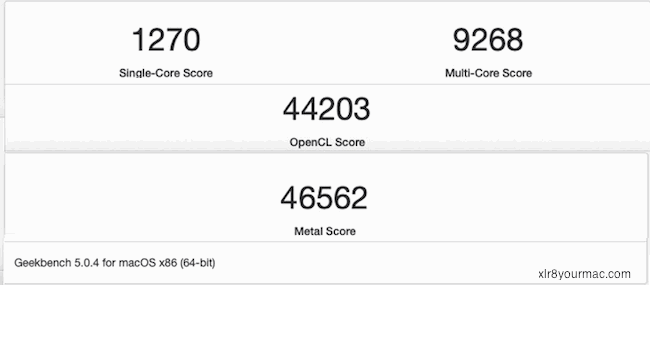 ---
(On Dec. 21st, 2019 Bill sent a note about lower Geekbench 5.0.x scores with the later build of macOS 10.14.6.)
Mojave 10.14.6 (build 18G2022) has a noticeable reduction in CPU performance compared to the previous earlier build 18G95. (The Security update may have affected this, or spotlight indexing after update? And different Geekbench version (5.0.0. vs 5.0.4), but not sure that mattered). Also could be small % difference in run to run variation.-M.)
Build 18G95 scores used Geekbench 5.0.0, build 18G2022 used Geekbench 5.0.4.
10.14.6 build 18G2022 vs 18G95
Single-Core score: 1270 vs 1308
Multi-Core score: 9268 vs 9503
OpenCL score: 44203 vs 46115
Metal score: 46562 vs 48495
Note: You can't compare scores from Geekbench 5 to Geekbench 4.x results - v4.x scores are many times higher than v5.

(Unigine Heaven and Valley benchmarks with build 18G2022 were a tiny fraction better than previous results below, likely just run/run variation.)
---
GeekBench 4.4.0 results with MacOS Mojave 10.14.6 (added Aug, 7th, 2019)
I thought you might be interested to see my Geekbench and Valley/Heaven results having just updated to 10.14.6 today. I saw a slight loss in performance, but not much. Updating the Hackintosh via "Software Update" caused loss of display and sound, but all is back now after I downloaded and used the 10.14.6 combo update. (This is why I always post download update links including Combo Updater in macOS Update news posts, including July 22nd's macOS 10.14.6 update.) Have no idea why the first update caused those problems.
(he later wrote)
1. The macOS 10.14.6 Supplemental Update (Build 18G87) works fine on my 9th-generation Intel "Monster Mini" running Mojave. No significant changes in performance either CPU or graphics.
2. The 10.13.6 Security Update 2019-004 (Build 17G8030) works fine on my 4th and 8th-generation Mini ITX computers running High Sierra. The appropriate nVidia graphics driver version is 387.10.10.10.40.130. No changes in performance from previous benchmarks.
(Our Mac Nvidia Graphics Driver Updates Download page has latest driver first, & CUDA downloads.)
It's always nice when things are all working properly!
(Bill used GeekBench 4.4.0, the v4.4.1 only added updated comparison results with Android/iOS devices.)
GeekBench scores after MacOS 10.14.6 update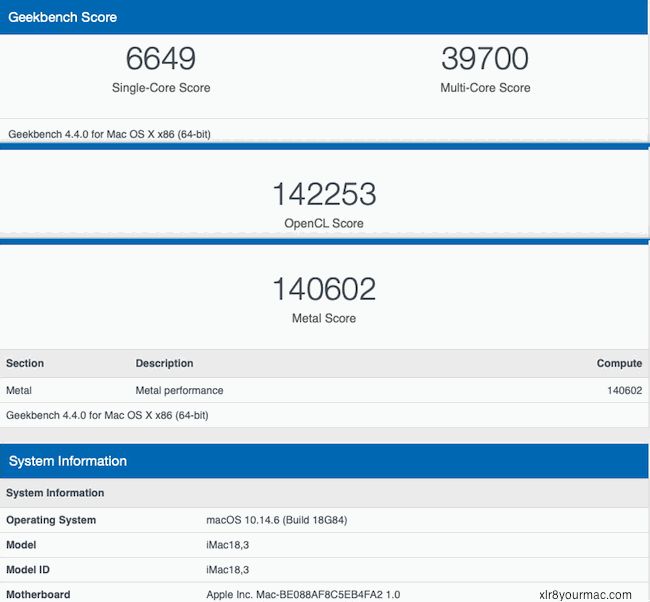 Bill also sent Unigine Heaven and Valley (OpenGL) benchmark results.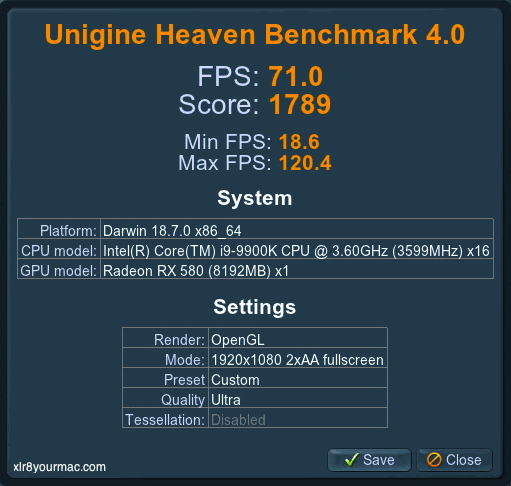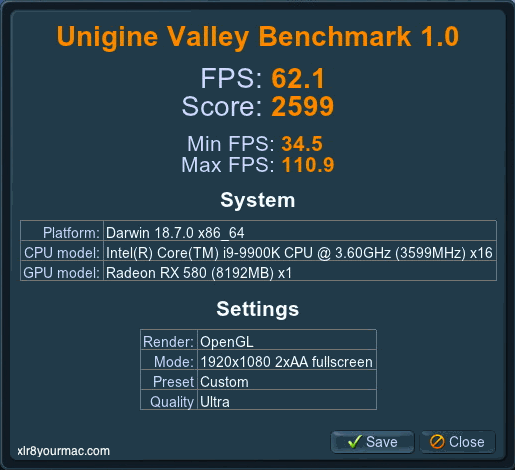 ---

GeekBench 4.4.0 Scores: (added 7/18/2019)
I updated Geekbench from version 4.3.4 to 4.4.0 and re-ran benchmarks on my 9th-generation Intel "Monster Mini".
GeekBench 4.4.0 scores (see note)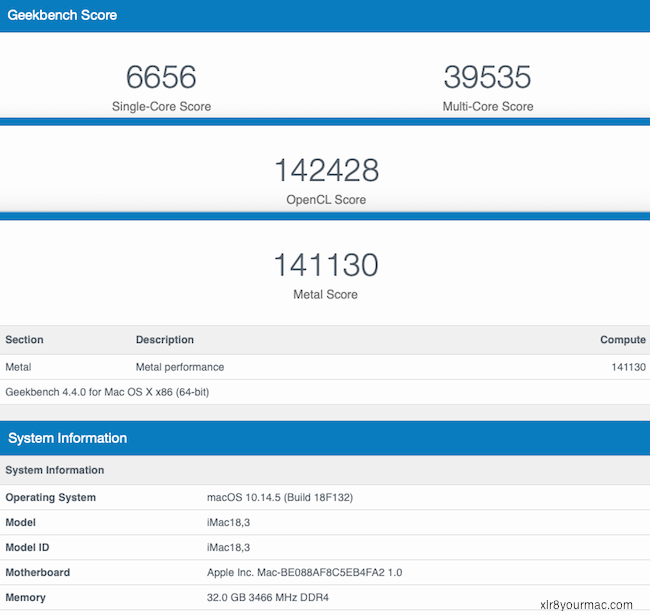 Note: GeekBench 4.4.0 fixed a bug in previous version OpenCL performance scoring and should not be compared to previous versions.
Here's info from their blog post on GeekBench 4.4.0 release.
"Geekbench 4.4.0 includes the following changes:
- Fix an issue with the Particle Physics OpenCL implementation, which caused Geekbench to overestimate performance on recent AMD and Intel GPUs. Since this fix can change OpenCL scores, we recommend users exercise caution when comparing OpenCL scores between Geekbench 4.3 and Geekbench 4.4.

This issue does not affect the Particle Physics implementations for other Compute APIs, nor does it affect the Compute Benchmark scores for those other APIs.

- Fix an issue where Geekbench would not identify certain Intel processors."
(v4.3.x identified Bill's Intel Core i9-9900K 3.6GHz CPU.)
(Since Bill's GPU is an AMD RX580 (first released in April 2017), not sure the above bug affected it, but you can see the previous OpenCL scores with v4.3.4 below - 143,984 (v4.3.4) vs 142,428 (v4.4.0). Approximately 1% difference - possibly within a run to run variation. But again not sure the 4.3.x OpenCL bug affected the RX580 GPU or if they considered it a 'recent' GPU.)
---

GeekBench Scores - macOS 10.13.6 vs Mojave 10.14.5: (added 7/8/2019)
I re-ran GeekBench v 4.3.4 on my "Monster Mini" Hackintosh to see the differences in performance between High Sierra and Mojave, after everything was (finally) working properly on Mojave. Hardware is identical. High Sierra 10.13.6 results are on left, Mojave 10.14.5 on right. (Mojave's "Metal" score is slightly worse than on High Sierra, but all others have improved.)
(That 1% or so difference may be within the run to run variation.)
GeekBench 4.3.4 scores of macOS 10.13.6 vs 10.14.5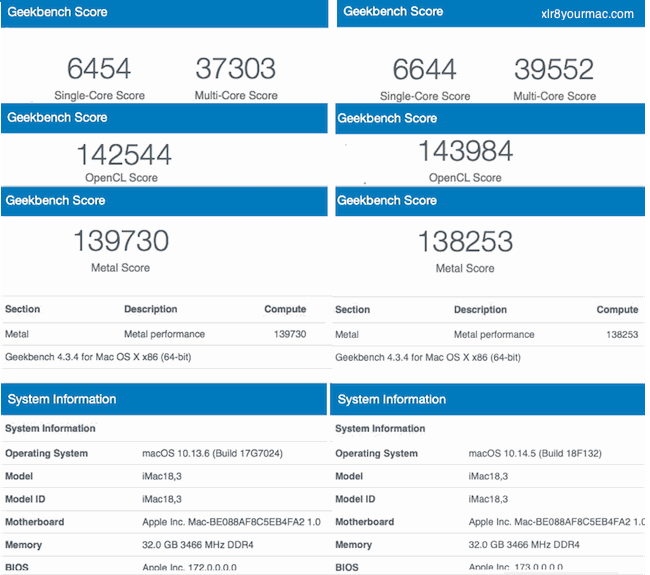 ---

(Earlier Benchmark posts follow)
(Previous) GeekBench Scores:
As I wrote earlier (below), I did try updating the SMBIOS on my Hackintosh from iMac 18,3 (2013 iMac) to iMac 19,1 (2019 fully-optioned 27" Retina iMac with the i9 9900K CPU - same as mine). But the shutdown->restart problem is still here. Below are the Geekbench v 4.3.4 test results for the CPU (single-core and multi-core tests) and the OpenCL "Compute" graphics card test. The overlay is a pic of what Geekbench thinks my computer is now.
GeekBench 4.3.4 score (using SMBIOS iMac 19,1)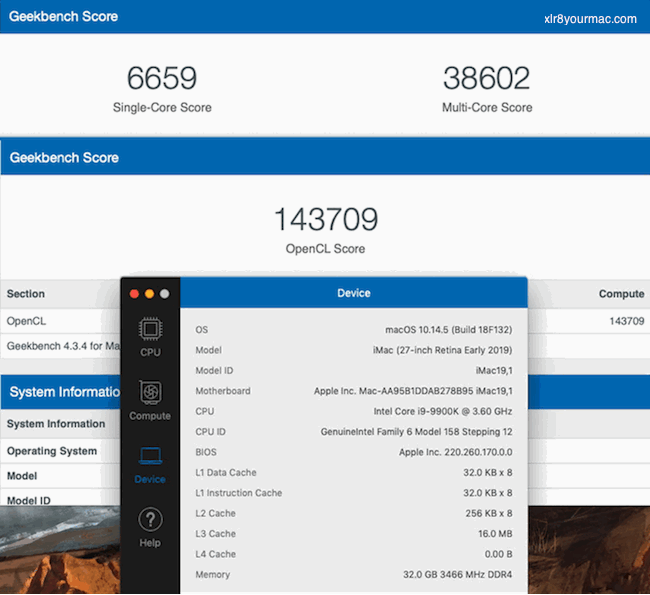 (Previous comments and Geekbench 4.3.3 scores using SMBIOS iMac 18,3 follow.)
Here are Geekbench benchmarks on Mojave build 18F132 for my new computer. I had not yet tried SMBIOS iMac 19,1 which more closely resembles the Mac computer having a i9 9900K CPU. But at least iMac 18,3 seems to work OK, except Shutdown from the Mac menu always results in a restart... I have to shut down using the power switch on the computer case. I'm working on that.
Previous GeekBench 4.3.3 score (using SMBIOS iMac 18,3)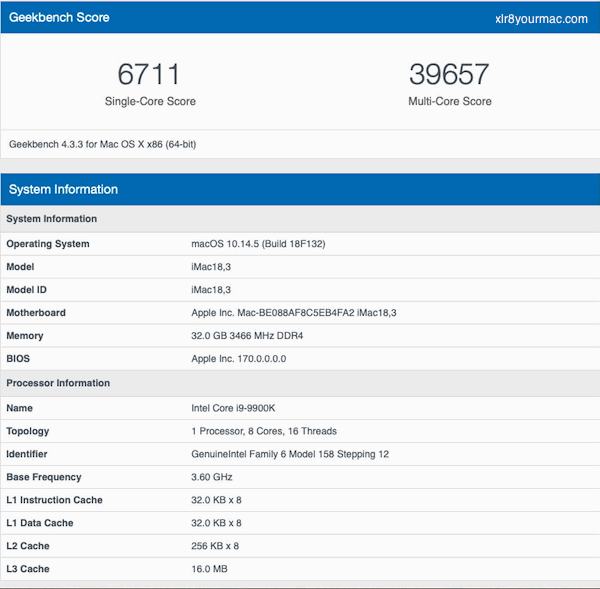 BTW: This beats the scores from a 2019 27in iMac with the same CPU (8-core i9-9900K, 3.6GHz) that scored 6157 single core and 32293 multi-core. Jman's Mac Pro 5,1 with Dual 3.46 GHz X5690 (6 core) CPUs, 64GB RAM Geekbench CPU scores were 2941 (single core) and 21000 (multi-core). His dual NVMe PCIe card disk scores were very close however.


GFXBench Metal Benchmarks: (more results added June 18th)
I wanted to test graphics with the Sapphire RX 580 Nitro+ card, but it turns out neither Heaven nor Valley will run on Mojave. (Apparently there is some file they need which they can't find.) The only benchmark I had that would run was GFXBench, which uses "Metal". Graphics result on that is attached below. 120 fps is pretty good I guess.
(I asked Bill about the Display and Resolution/mode used for GFXBench.)
- LG 24" Gaming Monitor, 1920x1080. Bit depth not stated but guessing 32 bit color. Benchmark runs fullscreen.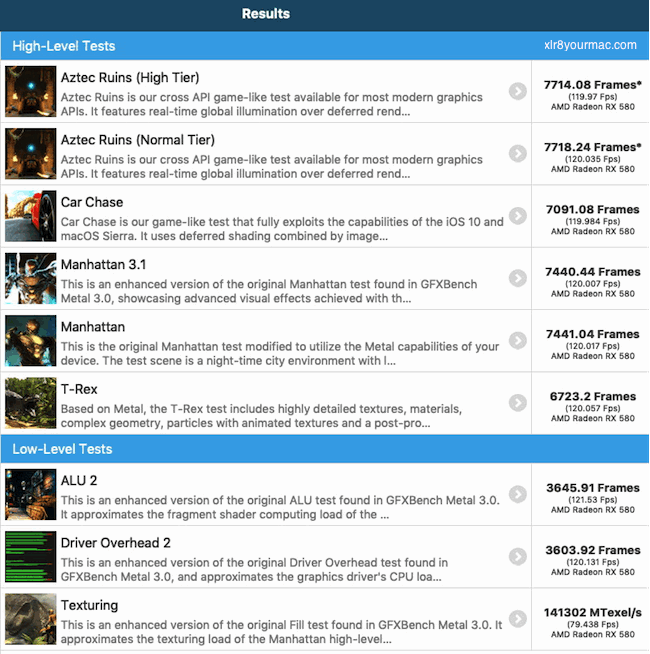 Disk Speed Tests
Here are "Black Magic" disk speed test results running my new Hackintosh Mini-ITX under Mojave 10.14.5 Build 18F132. Storage devices are (two) 1TB Samsung 970 PRO NVMe M.2 SSDs. I have one of these installed on the top of the motherboard, and a second is plugged in underneath the board. The first result below is for the top (primary) SSD. Test result for the underside (backup) SSD is the screenshot below that.
Black Magic Benchmark - Primary NVMe SSD: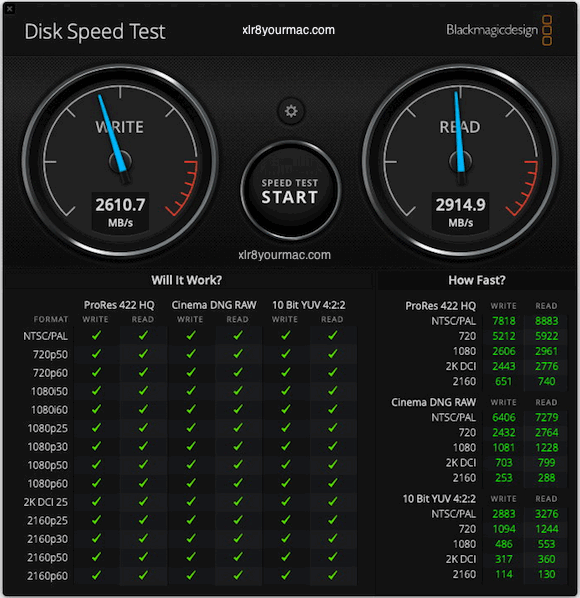 Black Magic Benchmark - Secondary NVMe SSD: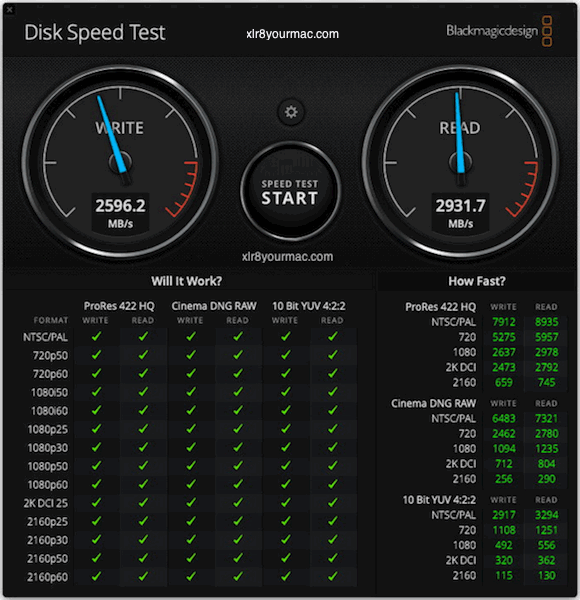 mini-ITX Hacintosh Case Views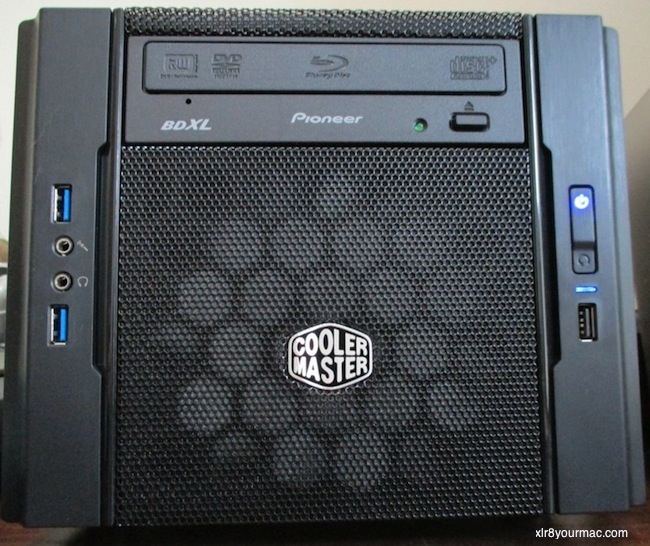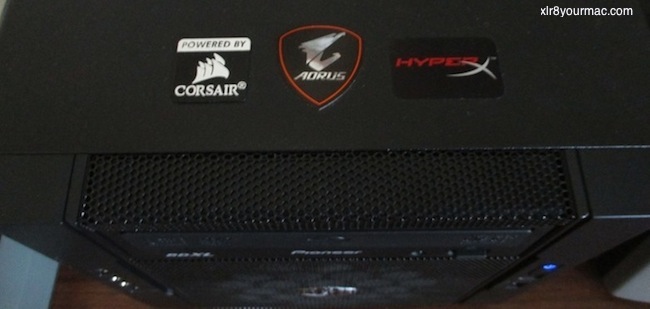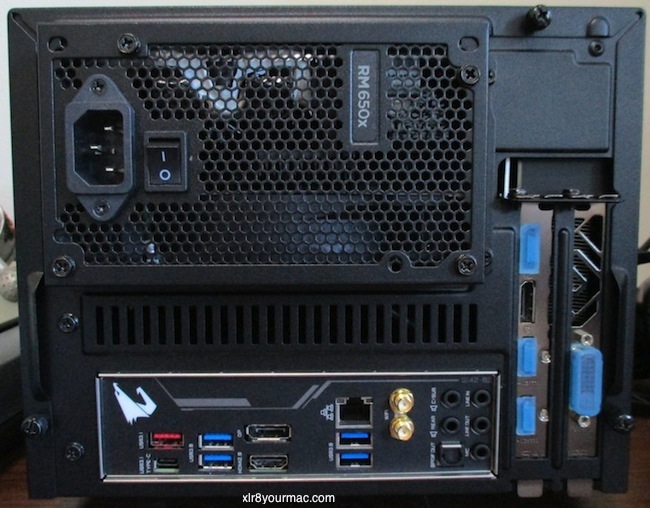 ---
Thanks again Bill!
(I'm hoping to install an NVMe PCIe card in my tower Mac Pro. For my needs (no RAID), the setup in a reader's Review of Dual NVMe SSD PCIe card in a Mac Pro (bootable with Mojave 140.0.0.0 firmware) would do nicely.)

Here are links to Bill's previous Hackintosh benchmarks and upgrades. Includes a summary list of hardware components and software used.

His earlier macOS/Nvidia driver Benchmarks are linked down the Video Topics page.

(There's a previous page here on retail Radeon RX580 in Mac Pros running macOS Mojave, 10.13.6, or 10.12.6.)

= Back to Current News Page =