I/O Crest (SYBA SI-PEX40129) Dual M.2 NVMe SSD PCIe card in Mac Pro 5,1
Review and Benchmarks
By "JMan"
(added confirmation of TRIM support.)
(added addendum on RAID 0 performance, & notes on performance limits)
---
Review and benchmarks of this Dual NVMe SSD PCIe card in a Mac Pro 5,1 running macOS Mojave.
2012 Mac Pro (5,1) System Info
macOS Mojave 10.14.x
EFI/Bootrom 140.0.0.0.0 (added NVMe boot support)
Dual 3.46 GHz Xeon X5690 CPUs (6-core x2)
64GB RAM 1333MHz DDR3
AMD Radeon RX 580 8GB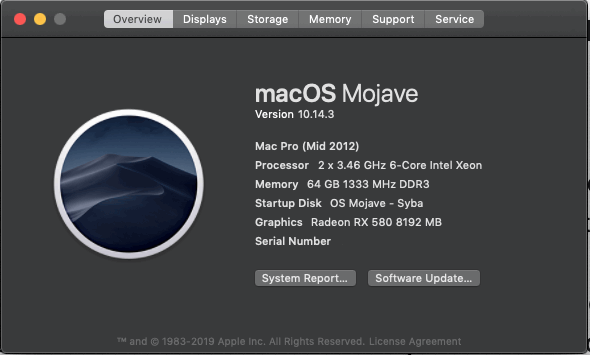 (Card is bootable in Mac Pro with EFI/Bootrom 140.0.0.0.0 from Mojave update.)

NVMe SSD PCIe Card:
(Info from vendor specs follows, but also see discussion below on limits of this design.)
I/O Crest (SYBA SI-PEX40129) Dual M.2 NVMe PCIe Adapter Card with built in PCIe Switch, allowing a 2.0 PCIe to become a 3.0 PCIe with transfers up to 6500 MB/s.
ASMedia's ASM2824 has a PCIe 3.0 x8 upstream port as well as four PCIe 3.0 x4 downstream ports. The switch is designed primarily for storage devices, enabling installation of four NVMe drives on a single card. (This SI-PEX40129 card model only has 2 NVMe connectors.)


SI-PEX40129 card uses ASM2824 PCIe switches and therefore does not rely on PCIe bifurcation supported by CPU or PCH (i.e., they will work on closed end systems that have limited PCIe bifurcation capabilities) as well as on software RAID technologies supported by the platform.


Dedicated PCIe 3.0 x16 bus bandwidth fully maximizes NVMe SSDs performance.
(* See reader notes below on limits/RAID performance.)
FYI: Per Customer Support, this card only supports NVMe - it does not support AHCI base M.2.

(For more details, see SYBA's SI-PEX40129 card page.)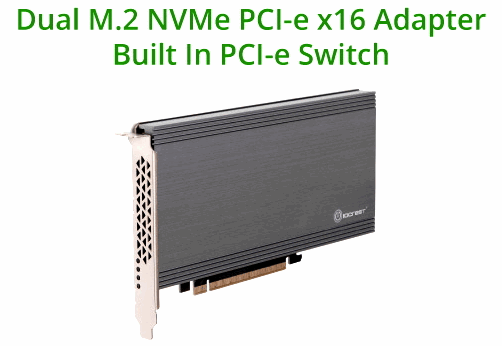 Card Vendor Photos/Info
(Card with Cover/Heatsink attached)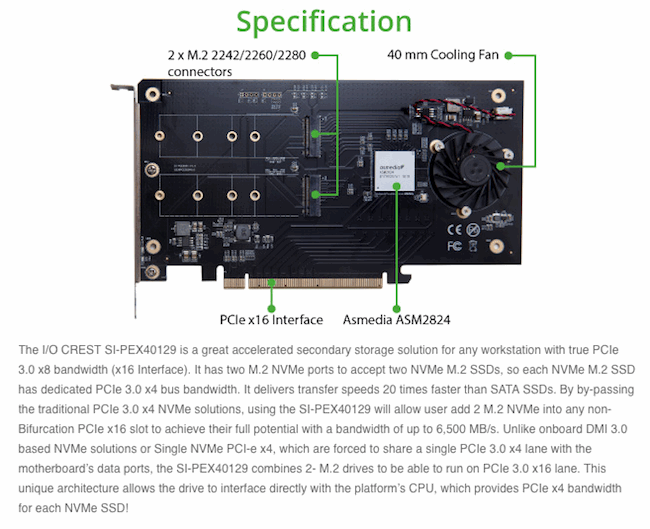 (Images/Info above are from card vendor - see notes on RAID/performance below.)

NVMe SSDs Used: Two 500GB Samsung 970 EVO M.2 2280 SSD NVMe blades.
The Samsung 970 EVO 500GB NVMe PCIe M.2 2280 SSD blades can go from $130 - $170.
(A 1TB 970 Pro M.2 SSD can be $250 on up.)

M.2 EVO 500GB SSD Specs
PCIe 3 X4, NVMe 1.3
SLC Write Cache: 4 GB Dedicated, 18 GB Dynamic
Sequential Read: 3400 MB/sec
Sequential Write (SLC Cache): 2300 MB/sec
Sequential Write (TLC): 600 MB/sec
(PCIe 3.0 X4 is 4GB/sec, twice that of PCIe 2.0 X4.)
FYI: There are reports of kernel panics if using the EVO PLUS NVMe SSDs.

Installed the card in PCIe Slot 2, which is a 16 X PCIe slot and sits right next to my Radeon Pulse RX 580 Video Card. (Riser used to separate cards - photo of card installed is below.)

There are 2 different NVMe PCIe Cards in my Mac Pro, and there are 3 SSD blades. The I/O Crest Card has 2 NVMe Blades in it and so they show up in Slot 2 (2 entries). The Angelbird Wings Card is in Slot 3 with 1 Blade in it at 5GT/s with a link width of 4X.

(Here's the PCIe info from Mojave's system report. Slot 3 info is from a different PCIe NVMe card.)


Info for first NVMe SSD Blade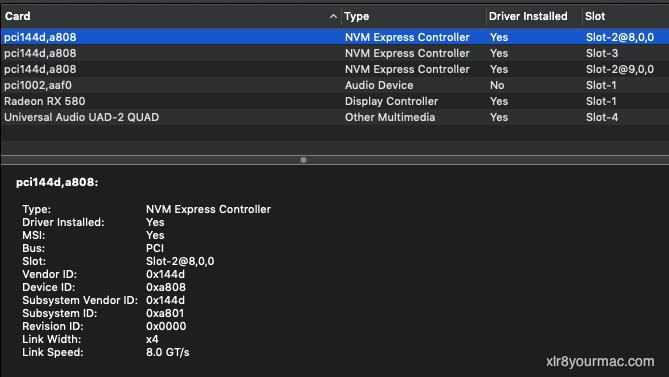 Info for second NVMe SSD Blade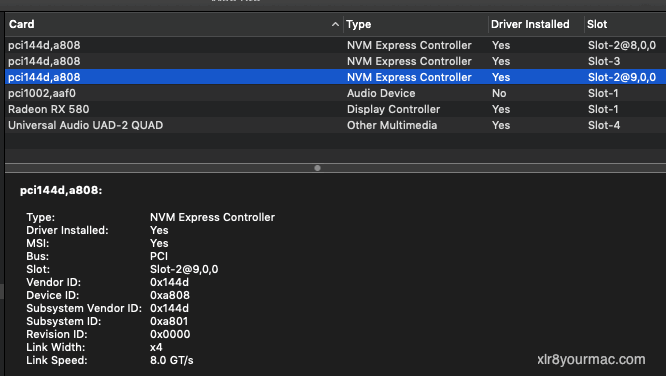 Shows x4 Link Width (970 M.2 SSD is X4), but with PCIe 3's 8 GT/s Link speed.
(PCIe 2.0 is 5 GT/sec max, PCIe 3 is 8 GT/s. Also see addendum below on speed limits.)

TRIM Support:
(I asked to confirm that TRIM was supported. Below is system info screenshot.)


Yes, there is Trim support with the I/O Crest Card. I've been running these cards for almost a month now, without any problems or anomalies. (OMMV) Obviously, your power supply needs to be working properly, you need to make sure everything on your PCIe bus is properly seated. I'm using a riser to separate the I/O Crest (x16 Slot 2) from the RX 580 GPU. The I/O Crest SSD's were formatted as Journaled HFS+ (Mac OS Extended) running Mojave, but you could also make it an APFS drive if you wanted to.
(JMan also commented on checking for dust buildup in Mac Pros. And for 2009-2012 owners, also check the Northbridge Heat Sink to make sure the plastic retainers have not broken, which can result in overheating, kernel panics and shutdowns.)
Card Installed in Mac Pro 5,1 (see note below)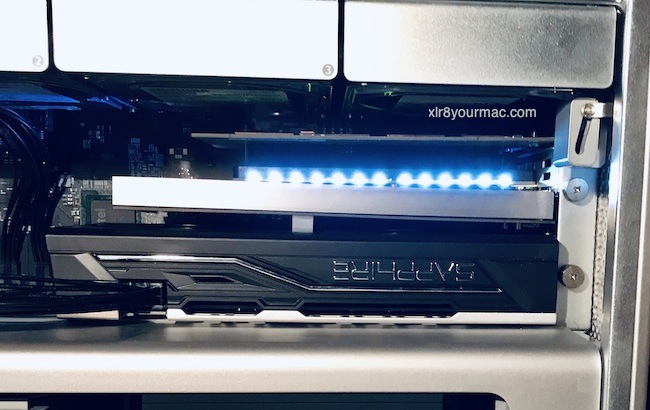 One thing to note:
I've modified the riser for the I/O Crest Card, so that it sits more perfectly horizontal. The riser is to give the I/O Crest card clearance over the fans of the Sapphire Pulse Radeon RX 580 Video Card. While there is a little fan noise coming from the 2012 Mac Pro, it is minimal and mostly from the Radeon RX 580 card.
These I/O Crest (Syba) Cards sell for around $200 and are becoming quite popular because of the way they increase the Read & Write speed of your NVMe Blades. While they are primarily used for transferring data quickly for Film Editing, Photography and Music Professionals, they can also hold a Boot drive. (IIRC, Mac Pro 5,1 bootrom 140.0.0.0.0 from Mojave 10.14.1 update added NVMe boot support.) It is a great way for my old 2012 Mac Pro (5,1) to gain some of the speed you are seeing on newer Macs and PCs.
Carbon Copy Cloner used to copy macOS Boot Drive to one of the NVMe SSDs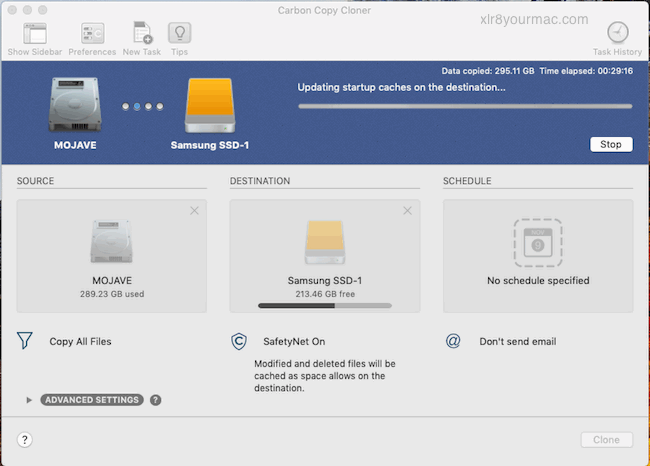 In my 2012 Mac Pro 5,1 the I/O Crest Card gets about 2400MB/s Write & 2900MB/s Read in Blackmagic Disk Speed tests. (Singe Drive Benchmark results screenshots below, and later note on RAID 0 performance.) AJA Disk Speeds are at 2420MB/s Write & 2984MB/s, which compares to the BlackMagic speeds. AJA has the video Frame Rates at 111 fps write & 143 fps read. I'm attaching various tests (see below) while booted to macOS Mojave from the I/O Crest Adapter Card. These tests may or may not have scores that reflect directly to the OS Boot Drive speed. (Video Tests like Heaven is based primarily on your CPU Speed and Valley is based primarily on your Video Card FPS speed. So, YMMV.)
My personal speed increased dramatically using the NVMe SSD card compared to an onboard SATA2 SSD Boot Drive of about 250 MB/s Read & Write. To say the least, I have no cons so far for this card. It is performing as advertised over the last several days.
- John ("JMan")
(I saw an Apple forum post that claimed this card's PCI switch doesn't provide the full bandwidth noted in the specs above (citing appx half the 6,500 MB/sec rating). John later sent an update after trying RAID 0 with 2 SSDs. Also see reader notes below.)
Update - Initial RAID 0 Tests
Since the MacOS release of 10.14.3, I figured this was a good time to wipe the drive and test the 2 blades in Raid 0. With the numbers I'm running on the I/O Crest in Raid 0 with two identical 500 GB Samsung EVO 970 blades, I am getting about 2570 MB/s Write & 2858 MB/s Read. So, the post about the card must be correct.
With the Highpoint 1701A (Do you mean the SSD7101A-1? Appx $399, with RAID controller.-M) using 4 blades installed you will get twice the disk speed you are getting with the I/O Crest card. It's actually a little disappointing that the switcher doesn't give you better speed in Raid 0.
(But still, this much lower priced card delivers a huge gain over earlier Mac Pro PCIe SSD cards, and the onboard SATA interface. Personally, I'd run the 2 SSDs as separate volumes, with one as boot drive since unless something's changed, Apple firmware updates won't apply from a RAID boot drive.-M)
A reader replied regarding a reason for the RAID performance above:
"I know SYBA's product page is not clear about this point, but even though the SYBA has a PCIe x16 physical interface (i.e., the edge connector takes up an entire x16 slot's length), it still has only an x8 logical interface, so it will never be able to use more than 8 PCIe lanes of whatever slot it's plugged into. This means that when it is installed in a PCIe v2.x slot (such as the one in a silver Mac Pro), even though each M.2 stick can individually speak to one side of the Asmedia ASM2824 switch at their full v3.0 x4 (8GT/s per lane = 3.9GB/s total) as shown in the screenshots from System Profiler/System Information, the Asmedia ASM2824 has to funnel that down its other side into the v2.0 slot at x8 (5GT/s per lane = 4.0GB/s total) which means even a striped RAID 0 will never go faster than one single high-performance SSD since PCIe v3.0 x4 is essentially equal to PCIe v2.0 x8. ... each blade installed on the SYBA can run at its full speed/get its full bandwidth, they just can't both utilize it simultaneously. So installing this card even with a solitary v3.0 blade will improve performance over a "dumb" x4 adapter, it's just that there's no additional speed to be had by adding a second v3.0 blade and creating a RAID array. It's probably better to just leave them as two independent drives.
(I agree - as I mentioned above, I'd just use it 2 separate drives, with one being a boot drive. (And unless something changed, firmware updates from Apple won't apply from a boot RAID volume.)-M)

This is probably why the Highpoint card gets better numbers, because the Highpoint card actually uses all of the slot's 16 lanes, allowing it up to a full 8GB/s of bandwidth when installed in a PCIe v2.0 x16 slot. This also probably explains why the Highpoint card is twice as expensive, too.
-Patrick"
(Thanks for the reply Patrick. This makes sense from the performance noted, although I wish the vendor would clarify this (vs the comments on the product page/images). But all things considered (including cost), I'd be happy to have this setup in my Mac Pro. I also added a note in the NVMe card specs section above that it supports NVMe only - not AHCI.-M)

(Benchmark results below used a single Samsung 970 EVO NVMe SSD, Journaled HFS+ format.)




System and (Single Blade) Disk Speed Benchmark Results

Amorphous Disk Mark Results


Blackmagic Disk Speed Test Results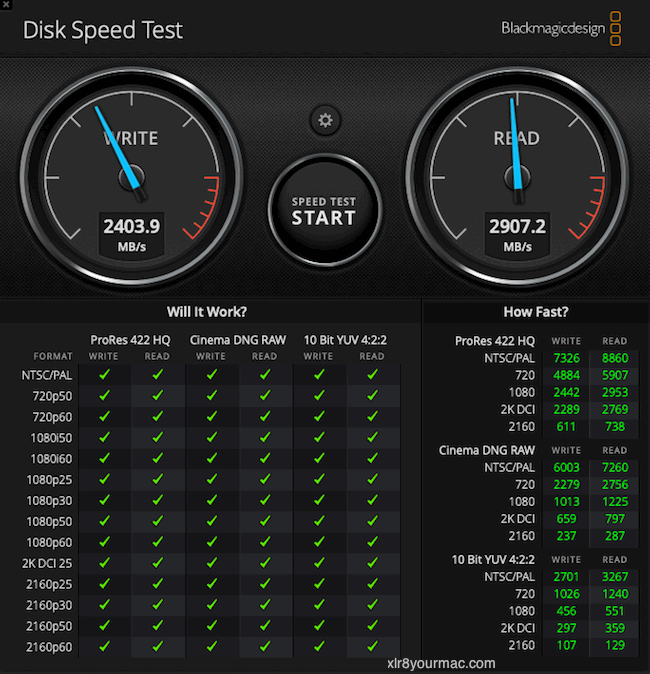 AJA Disk Speed Results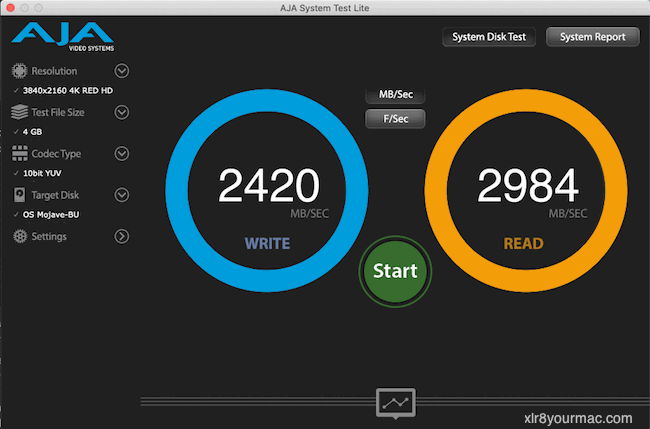 AJA FPS Speed Results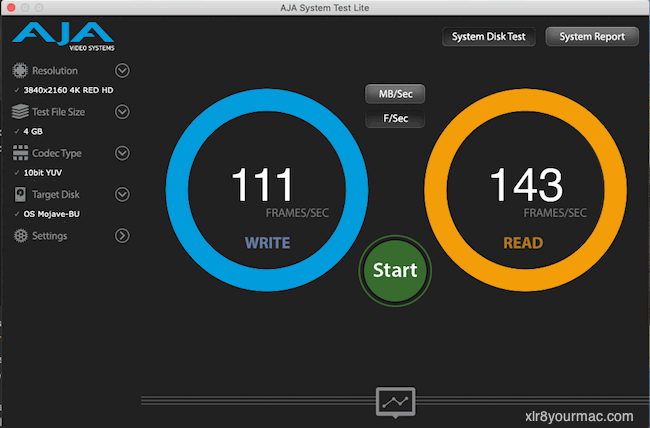 CineBench R15 Scores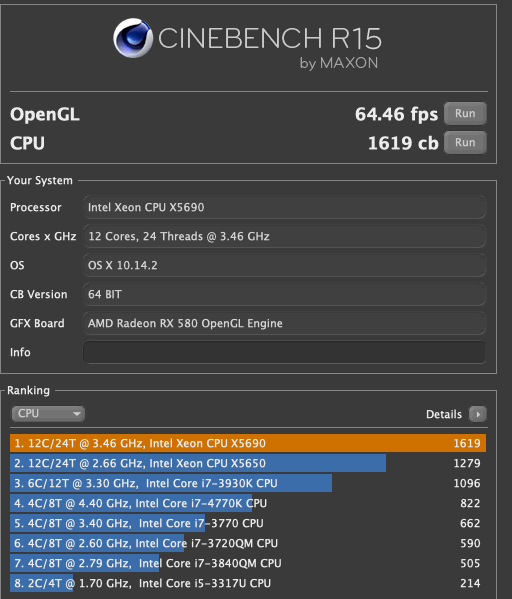 Unigine Heaven Benchmark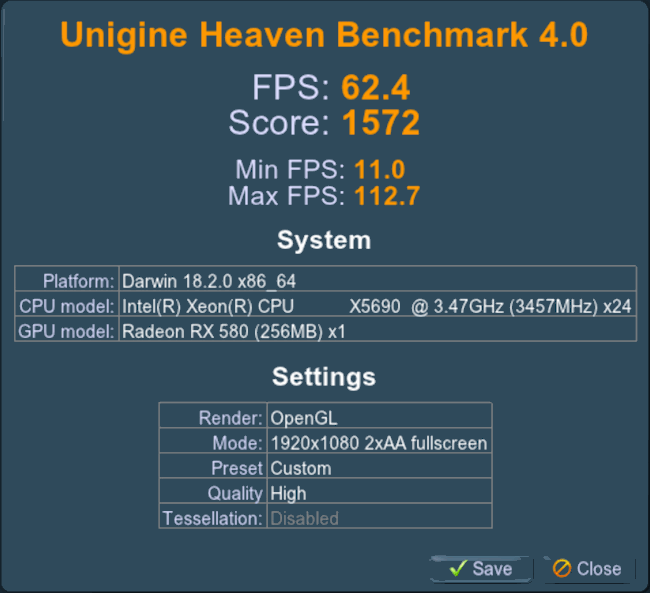 Unigine Valley Benchmark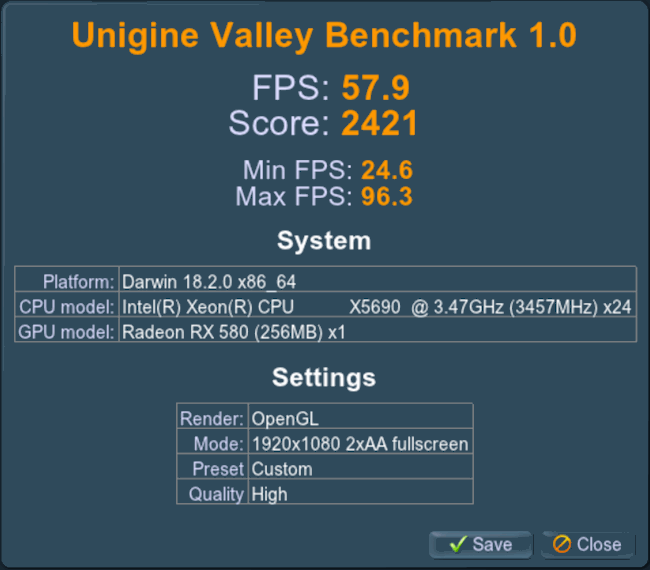 ---
= Back to Current News Page =