2009-2012 Mac Pro Northbridge High Temperatures due to broken Heatsink Retainer:
(originally posted for 2009 Mac Pros, but also applies to the 2010-2012 Mac Pros.)
Noticed an older thread on Why is my Northbridge Chip running at Very High temperatures? (due to a broken plastic heatsink retaining pin) has a later reply on the problem and noted using screws instead of the original plastic retainers. (I call them plastic retaining pins, some call them plastic rivets.) Over time, heat and thermal cycling may be causing the plastic/nylon retainers to crack/break. Something for owners to check especially after years of use and/or if they've noticed any odd behavior (errors/crashes, etc.). The CPU(s) have their own heatsink fan so when checking temperatures, look for the Northbridge reading. (If in doubt, pull the CPU tray and check the northbridge heatsink retainers - see photo below. If the retainer is broken, find the spring that was part of it.)

Here's a picture of a 2009 Mac Pro Northbridge Heatsink (with original black plastic retainer) from a Dual CPU Tray. (The retainer on the other side isn't visible as it's under the larger CPU heatsink.)

2009-2012 Mac Pro Northbridge Heatsink with OEM plastic retainers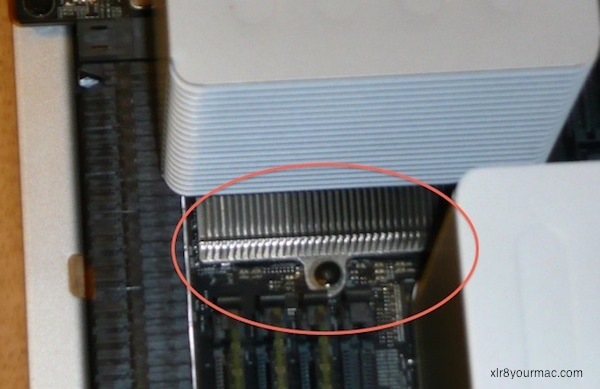 (Dual CPU Tray is shown, but Single CPU model has the same Northbridge heatsink.)

Photo showing both Plastic Retainers (after CPU Heatsink removed)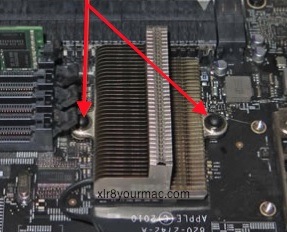 The 2009-2012 Mac Pro's CPU tray slides out after releasing 2 levers at the bottom edge. (While it's out, check the CPU Heatsink fins, they often accumulate dust in the fins over time.)
FYI: An older post in that thread includes a link to a 2009 Mac Pro service manual. (Historically whenever I posted links to them they seem to vanish.)
(BTW: For Mac Pro owners that are seeing unexpected shutdowns/reboots or frequent crashes, I wonder if they have checked their Northbridge heatsink retainers (and temperature). (Some already tried running Apple Hardware Test (may show no errors, if able to complete), checking console diagnostic logs, resetting SMC and NVRAM.) I saw one owner with shutdown/reboot problems say he'd installed an SMC Fan utility to boost fan speeds and had low temperatures, but that didn't solve it. I wonder if those temperatures were the CPU(s) and if the Northbridge temperature was checked. May not be related to his problem, but just curious if the Northbridge was checked since it wasn't mentioned and some owners may not be aware of the problem of broken heatsink retainers, which I suspect is more likely after years of use. If the Northbridge chip isn't overheating, then try some basic troubleshooting by first disconnecting any non-essential devices (external drives, interfaces, etc) and preferably test w/o any 3rd party addons (as close to a clean OS X install as possible) to ensure they are not a factor.)
For checking temperatures, in the past I've used Marcel Bresink's freeware Temperature Monitor on my 2009 Mac Pro, although I never updated it beyond OS X 10.6.8. (Yet.)
It wasn't mentioned in the post but if using screws I'd suggest nylon (non-conductive) ones (hardware stores often have a selection of them) or at least a nylon washer in case there's any circuit traces close to the screw. As far as sources for the plastic retaining pins, not sure if Radio Shack still carries parts like this but they used to. Our page on 2006-08 Mac Mini CPU Upgrades has a post linking to a spring-loaded retaining pin at Digikey, but you'd need to check compatibility. (Digikey typically sells in quantity.) A post on Sunday had a possible source - heatsinkfactory.com/retention-hardware.html.
Updates/More Reports on Mac Pro Northbridge Heatsink Retainer Failures/Repairs:
The Dec. 11th news has a report from a reader that bought 2 'bad' 2009 Mac CPU boards and fixed them by replacing the broken Northbridge heatsink retainers.
The July 18th news has another 2009 Mac Pro owner's notes on repairing broken Northbridge heatsink retainers (using screws), which dramatically lowered temperatures (by appx 30&deg C). He suspected the northbridge chip overheating caused occasional PCI problems before the heatsink retainer repair. Those comments are in his 2009 Mac Pro 6-core CPU Upgrade (3.46GHz W3690) report.
Another 2009 Mac Pro Northbridge Heatsink Retainer Repair: (added 8/27/2014)

"2009 Mac Pro Northbridge High Temperatures due to broken Heatsink Retainer
Here's another tale of Northbridge Heatsink failure. By some quirk of fate, not long after I read about the Northbridge heatsink problem on xlr8yourmac.com (above posts), my Mac Pro 2009 (dual CPU, 2.26GHz) started to crash randomly. I reinstalled iStat Menus and discovered that my Northbridge was running at 127°C/261°F. (Using Temperature Monitor?) I'd been having some random lockups over the previous couple of weeks, so it's likely that the problem had been around for a while.

Anyway, by boosting up the intake/exhaust fans I managed to get the temperature down to around 100°C/212°F, which kept the machine stable, but I wasn't too happy about running it for long at those temps (or the noise).

By a bit of web searching, I found that some others had used the clips that came with the Akasa "chipset cooling kit" (http://www.akasa.com.tw/search.php?seed=AK-VCX-01). My local PC shop had this in stock, so I went with this option in the interest of timeliness. There are plenty of people selling "Heatsink rivets" on eBay that look like they would work equally well.

I decided to remove all the heatsinks and reapply thermal paste, as after 4 years of constant use it probably needed it anyway. When I removed the Northbridge heatsink, the thermal paste was baked onto the chip after the high temperatures, and it took a lot of care and patience to remove (I used Arctic Silver thermal material remover, though rubbing alcohol would probably have worked just as well (or just as poorly in this case). It also looked like far too much thermal paste had been applied at the factory in the first place. The CPU heatsinks were much easier, and cleaned up very easily with the Arctic Silver cleaning fluid and "surface purifier" (made from snake oil?). I also took the opportunity to clean out the CPU heatsinks, which had accumulated a lot of dust and dirt over the years. (I've seen that also so mentioned it in original post above.)

Anyway it all worked well and my Northbridge is running at 60°C/140°F now, which is well within specs. Based on advice on the web, I was pretty paranoid about making sure the CPUs were properly reseated, and not to overtighten the hex bolts on the CPU heatsinks, but otherwise it was a pretty straightforward fix. Probably cost me about £20/$32 in materials, and an hour of my time - much better than whatever Apple would have charged for a new CPU tray!
Cheers, Hugh"
Thanks Hugh.
(I welcome other owner reports on this problem. As mentioned earlier, I suspect over time (and thermal cycles), the original plastic retainers for the Northbridge heatsink may break, which leads to very high temperatures. If you think you may have this problem, as mentioned in the earlier post use Temperature Monitor to check the reported Northbridge temperature in use and if needed, pull the Mac Pro CPU tray and check the heatsink retainers. (As noted above, 2009-2012 Mac Pro CPU tray slides out after unlatching the 2 levers on the tray front edge.) And while you have the tray out, blow out any dust buildup in the CPU heatsink(s) also.)