---
Mac Upgrades/Mods | Storage | Video | Audio/Home Theater | macOS Updates/Tips/WiFi
---
= Recent Articles/Updates =
Reader's Benchmarks with Nvidia macOS 10.13.6 driver & GTX-1050 Ti card
Bill sent GeekBench, Metal, OpenCL and Unigine Valley and Heaven scores with the Nvidia web driver for macOS High Sierra 10.13.6 (see Mac Nvidia Drivers page) used with a GTX-1050 Ti card in his Hackintosh.
"MacOS 10.13.6 (17G65) with nVidia Web Driver 387.10.10.10.40.105.
Attached are Geekbench CPU, Metal, and OpenCL scores, and Unigine Heaven and Valley graphics scores for my Mini-ITX Hackintosh running under Mac OS 10.13.6 (Build 17G65). No problems after updating today.

System
CPU: Intel Core i7 8700 ("Coffeelake" 3.2 Ghz, 6-core, 65 watt TDP)
CPU Cooler: Noctua NH-L9i
Motherboard: Gigabyte Z370N-WIFI Mini-ITX
Memory (RAM): Kingston 16 GB DDR4 kit (3000 MHz)
Storage: Crucial M500 500 GB SATA SSD (2 ea)
Graphics: Gigabyte nVidia GTX 1050 Ti (low profile, 4096 MB VRAM)
Optical Drive: Pioneer BDXL Bu-ray writer/player
Case: Thermaltake SD 101

Software
Mac OS High Sierra 10.13.6 (Build 17G65)
Graphics Driver: nVidia version 387.10.10.10.40.105
Benchmarks: Geekbench v 4.2.3 and Unigine 4 "Heaven" and "Valley"
UEFI firmware is AMI version F4 for the Z370N-WIFI motherboard.
The supplied "SMBIOS" is "iMac 18,3" (matches Apple's latest iMac hardware pretty well.)

Scores
See below. Please note that although the graphics card's video memory is 4096 MB, in the results window of "Heaven" and Valley" it is incorrectly listed as 256 MB. Andrew Balun at Unigine stated that nevertheless, the results (frames per second) are accurate.
-Bill"
(System info on Metal / OpenCL images removed - included in GeekBench CPU scores)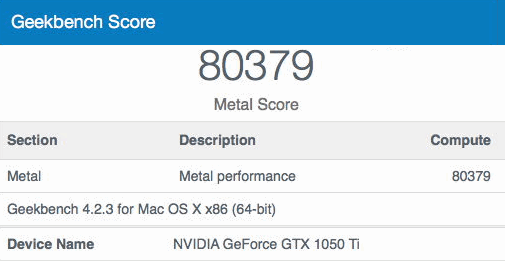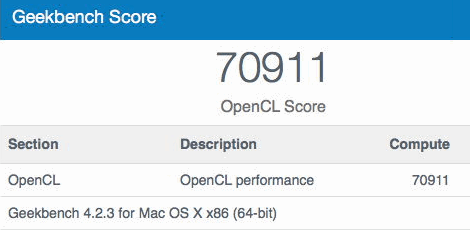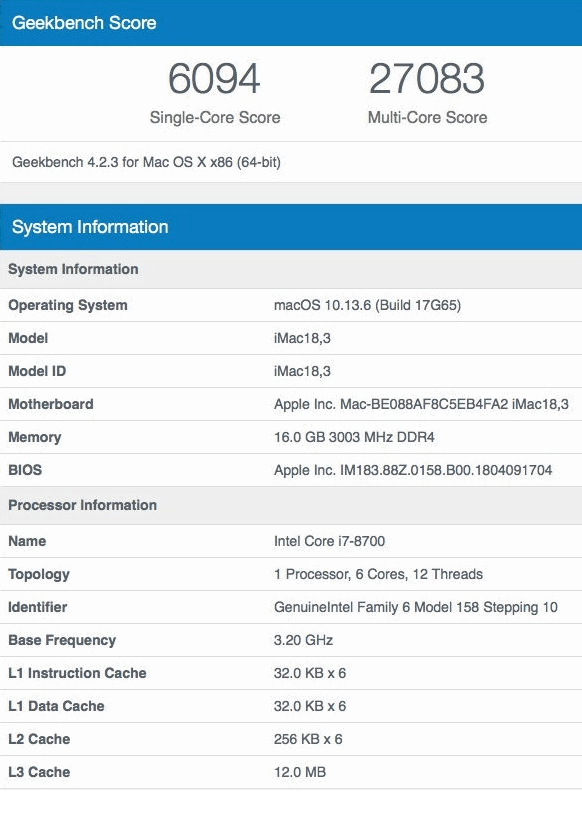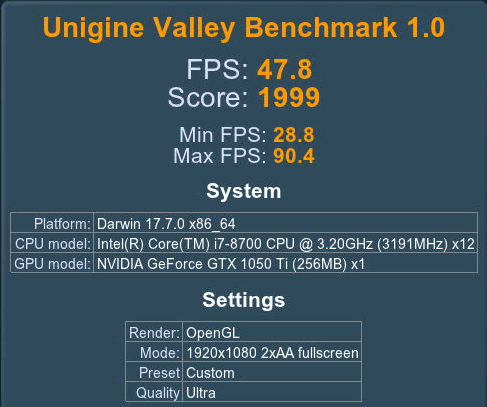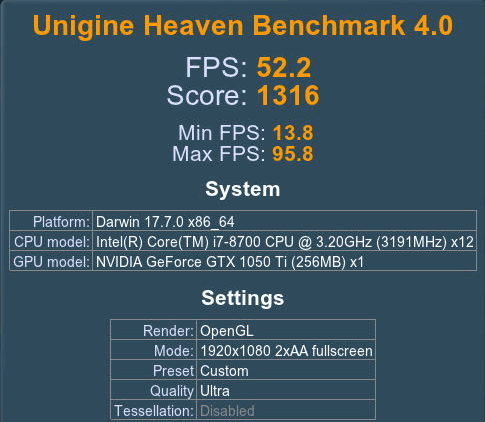 ---
Thanks Bill. (His previous macOS/driver Unigine benchmarks are linked on Video Topics page.)
= Back to Current News =
Recent Updates, Tips, DIY Upgrades and Repairs:
List of Updates, DIY Upgrades, Repair Articles, Tips and more you may have missed. (Topics range from OS/software updates and troubleshooting, to hardware upgrades and repairs.)

= Popular Links =
---
---
---
Dual M.2 NVMe
SSD PCIe Card
(Mac Pro 5,1)
---
---
---
---
---
---
---