Scanners with OS X - Feedback, Tips/Tricks and Alternative Drivers
Reports last Updated: 4/18/2011
(Added FYI on Twain Sane for OS X 10.11 El Capitan 9/2/2016)
---
FYI: This page was originally posted for OS X 10.5/10.6, but there are updated versions of TWAIN SANE for OS X that supports later OS X versions, including OS X El Capitan. I have not tried them personally however. (And if all else fails, try scanning in OS X's Preview app, File Menu => Import from Scanner option or Image Capture.)
---

This page was a catch-all for Scanner owner Feedback and Tips from OS X Leopard users, including notes on software/driver updates, problems, scanners working in OS X 10.5 even though they were not listed as supported and links/tips on using 3rd party/open source 'TWAIN SANE' drivers. Although it's mentioned in the past, I've never used shareware scanner software like VueScan. (I've also posted a page with my notes/tests and tips on Scanning in 10.5.1 with a HP AIO C7180 after buying a store display model for $99.99 - 25% of its list price.)

Reports/Tips/Info: (later ones first)
If you'd like to contribute, let me know (news at xlr8yourmac.com) the details on your scanner brand/model, drivers/apps used, etc. Thanks.
(Please include details like your Mac Model, interface used and if connected directly to the Mac's ports or a PCI Card or Hub. Also note if the scanner is left on all the time or left off until needed for use. Thanks.) NOTE: If you're having problems, check previous reports here from Canon, Epson, etc. owners for tips that have helped many readers. (And of course always check the scanner mfrs site for any updated drivers/software - sometimes although not listed as officially supported in Leopard, readers have gotten theirs to work.)



(added 4-18-2011 from 4/16 email)
"Thanks so very much for this website and wonderful articles that helped me overcome the dreaded "Failed to open driver." dialog when attempting a first-time scan on a new computer. In addition to the details you provided, I installed components in the order you advised, pressed "Save" from the computer screen to set my computer parameters, and then pressed buttons on the scanner rather than from those on the CanoScan Toolbox X computer screen. Success! The scanner came to life.

Here's the information you requested:

Hardware:

Canon CanoScan 9950F Scanner (purchased 8/3/2006)

iMac 21.5" Intel Core i5 (purchased 3 days ago)

Mac OS X 10.6.7 (Snow Leopard)

Procedure:

Unplug scanner from iMac.

Download toolbox cstbosx4934ej4.dmg and driver 9950fosx10341en.dmg from: http://www.usa.canon.com/cusa/support/consumer/scanners/canoscan_series/canoscan_9900f

Install Toolbox.

Install Driver.

Plug Scanner into iMac.

Restart.

Open toolbox to press the "Save" button (after setting computer parameters: dpi, folder storage location, and viewing application)

First, Press "Scan" on the Scanner control panel. (Immediate response)

Second (alternate method), Press the "Scan" & other buttons on the CanoScan Toolbox. (Immediate response)

Regards to all.
-Carl L."
---
(Another) Canon Canoscan Lide 20/30 report: (Not sure what exact model he has - his mails just said "Lide 20/30" - he later replied it was the Lide 30 model) From a PB G4 owner that originally said it was working OK in 10.5.7, but suddenly stopped working. (Not clear if some recent update caused the problem or just some file getting corrupted.) Apparently w/o a Timemachine or other backup, did a clean install and was stuck (original CD he said was for Classic/OS 9) - but later wrote he's got it working again. (To avoid another repeat of this, remember to check http://www.canontechsupport.com/ for the latest drivers/app for your canon scanner. (And have a current backup of your HD.) In some cases (as mentioned here many times), some models (w/10.4.x driver/app) have worked in Leopard despite Canon not officially supporting that model in 10.5.x)
(added 7/7/2009)
"HALLELUJAH! After all the angst and emptying trash when I knew better, totally wiping out the scanner application and not being able to reinstall with the original CD (which was a version 1.02 originally for the Classic OS) I finally got the Canoscan Lide 20/30 scanner reinstalled and working.
Canon states that this version is not compatible with OSX 10.5.7 and I would have to invest in a new scanner. The suggestions to download a driver was not accepted by Leopard. (Not sure what he means by that - I had suggested he check canon's support pages for updated software/drivers. There's many previous posts here on getting Canon scanners working in Leopard, use browser 'find' (search) on this page for previous "canon" (or a specific model) user reports/tips. Many "unsupported" canon scanner owners have noted success in the past. But step 1 of course is to check the vendor's site for any updated software/drivers.-Mike) Since it worked fine on Leopard for a year until I had a problem and had to have Leopard reinstalled this did not make sense. If it will help others with this scanner, here's what I finally did after many days and hours of attempting different solutions, none of which worked.

I googled "updates for canonscan scanners", then (found this Apple kbase doc) Mac OS X 10.5: Canon CanoScan scanners unable to scan", clicked on Drivers and downloads (At Canon's site - Apple doc has link to http://www.canontechsupport.com/ where you enter model info to find drivers/software. That's the same canon support page and apple doc added here in early Dec. 2007), filled in the model, etc. and downloaded the "lide20lide30n670un67un1240uosx7011aen, double clicked on the desktop icon and then on the install icon, and then back on the Drivers and downloads page clicked on the CanoScan Toolbox Ver. 4.1.3.0X (Mac OS X) CSTb4130MXE.dmg.gz which downloaded the toolbox into applications in the hard drive. I then dragged the toolbox to the canoscan toolbox 4.1 file in applications, opened the file and viola! the scanner began to hum as the scanner menu came up and it immediately scanned. I hope you can make sense of this and it helps someone else to not have to invest in a new scanner.
Thank you so much for all your help.
-Irma"
---
(Another) Canon Canoscan LiDE 25 report:
(added 12/2/2008)
"I own a Canon Canoscan LiDE 25 and it was not recognized by Leopard (10.5.4). As the other (earlier) report on your page says, the drivers from the Canon page did not work. Only the original driver from the CD (Version of CD 1.01) worked. It installs ScanGear Starter 1.1G in Applications.
Your page helped me solve it, thanks!
Cheers, Stefan"
According to info in a post I made here back in Dec. 2007, the Lide 25 was one of Canon's 'officially' supported scanners for Leopard. For anyone else, try entering your scanner model in the search page at http://www.canontechsupport.com/ for their latest drivers/app for OS X (in some cases even if not listed as supporting 10.5, the drivers/software may still work. You can do a browser 'find' (search) on this page for "canon" or "lide" to jump to previous tips/reports on those scanners here.)
---
Microtek 3200:
(added 7/22/2008)
" I followed the following post and got my scanner working in Leopard! It works both as the stand-alone app and from within Photoshop.

(copy of June 9th post here from Microtek 4800 user)
"Wanted to let you know the Microtech 3800 user tips below also solved the problem I had with my Microtek 4800 USB scanner. Powermac G4 AGP Quicksilver (w/OWC G4 1.467GHz upgrade), OSX 10.5.2 and 10.5.3. Scanner is left on and attaches to the back of a PCI USB 2.0/Firewire card.
The tip allows the scanner to run perfectly. With the other driver, the Scanwizard software would boot up and then crash.
Driver name from the Scanwizard 5 v 7.565 bundle- a folder called SM-4800 USB 1.0,0.se
Driver name from the Scanwizard 5 v 7.60 bundle- a folder called SM-4800 USB 1.11b1.se
I left the new 4800 USB 1.11b1.se folder in the Scanner_Drivers folder and just dropped a copy of the 1.0.0se folder in, and it seems to run. Weird, weird, weird! -Mike P."

(My details) G5 2Ghz, 2.5GB RAM, OSX 10.5.2, Microtek 3200 USB scanner attached to USB 1.0 hub, PhotoShop CS2.
Thanks again for providing the best tech site for us Apple geeks. When the information cannot be found (easily) anywhere else, I know a solution will always surface here.
Let me know if you need any additional information.
-Ron F."
---
CanoScan N670U (using Twain SANE):
(added 7/22/2008)
" CanoScan N670U finally working in Leopard by downloading SANE 2.5 and installing in the order specified. (see post directly below)
No problems after light use, when scanning at 1200 dpi the interface appears to freeze, I did nothing and waited about 2-3 minutes and it scanned perfectly.
Cheers, JNieves"
---
Canon N650U: (Using open-source "twain sane" drivers mentioned here back in Dec. 2007)
(added 6/30/2008)
"I have been using a Canon 650U on an old G4 Dual 1.25GHz (MDD) system for a couple of years and it worked great. And I really like the fact it was a usb-powered Scanner. Imagine my surprise when I found canon was not supporting (Leopard) with this model. I found your site with info on the Twain Sane drivers (earlier info from 2007 here, near bottom of page now) and followed the order of installation provided by Charles T (in a previous report).


Grab all the files from here: www.ellert.se/twain-sane/. Install in the following order:
libusb.pkg
sane-backends.pkg
twain-sane-interface.pkg
sane-preference-pane.pkg

I am running a new Mac Pro Quad core 2.8GHz Intel Xeon w/2GB ram and OS X 10.5.2
Works on this 10.5.2 machine. Only problem I found so far was when I went to go to custom gamma it crashed PS. Tried it several times to see if it was repeatable. It was repeatable. At the time Mail was running/Safari was running/Suitcase Fusion was running, but that is all.
I'm happy I can scan with this tiny flatbed Canon on the new system.
Thank You, Neil B."
---
Fujitsu fi-5015C:
(added 6/30/2008)
"I have a great tip for you. Excellent scan software for mac!
Some weeks ago I was looking for sheetfed scanner with flatbed, but I couldn't find any solution for Mac. Then I found the scan software Exactscan (www.exactcode.de/site/products/exactscan/) which supports a lot of document scanners. Now I use Fujitsu fi-5015C and everything works fine!
List of supported scanners:
http://www.exactcode.de/exactscan/compatible_scanners/
Best regards, Chris"
The most popular 3rd party Mac Scanner software is Vuescan ($40 (2008) shareware - fully functional trial download available). If you can't get the scanner going using tips from previous reports here (use browser 'find' (search) for your brand or model).
---
Microtek 4800:
(added 6/9/2008)
"Wanted to let you know the Microtech 3800 user tips below also solved the problem I had with my Microtek 4800 USB scanner.
Powermac G4 AGP Quicksilver (w/OWC G4 1.467GHz upgrade), OSX 10.5.2 and 10.5.3.
Scanner is left on and attaches to the back of a PCI USB 2.0/Firewire card.

The tip allows the scanner to run perfectly. With the other driver, the Scanwizard software would boot up and then crash.
Driver name from the Scanwizard 5 v 7.565 bundle- a folder called SM-4800 USB 1.0,0.se
Driver name from the Scanwizard 5 v 7.60 bundle- a folder called SM-4800 USB 1.11b1.se
I left the new 4800 USB 1.11b1.se folder in the Scanner_Drivers folder and just dropped a copy of the 1.0.0se folder in, and it seems to run.
Weird, weird, weird!
-Mike P."
---
(added 6/4/2008)
"To use older Microtek ScanMaker models with Leopard:
1) Download and install ScanWizard 5 v7.565 - ftp://microtek:microtek@files165.cyberlynk.net/microtek/macfiles/drv_sw5_v7_565_ad.dmg
2) Copy and save the driver for your scanner from Library/Application Support/ScanWizard 5 V7/Support Bundles/Scanner_Drivers
3) Download and install ScanWizard 5 v7.60: ftp://microtek:microtek@files165.cyberlynk.net/microtek/macfiles/drv_sw5_v7_60_ad.dmg
4) Copy your saved driver to Library/Application Support/ScanWizard 5 V7/Support Bundles/Scanner_Drivers

Works fine with my ScanMaker 3800 under OS X 10.5.3.
The same drivers also work with ScanWizard Pro 7 v7.60.
-Peter B."
---
Canon Lide 80:
(added 5/23/2008)
"Just wanted to report that after struggling for several days to get my father's Canon Lide 80 working after upgrading to Leopard, I found your site with the links to Vuescan (www.hamrick.com/vsm.html). I downloaded the trial and it immediately recognized the scanner. 30 seconds later it was scanning. I have to say that VueScan is a very nice piece of software. Much better than Canon's toolbox. Very easy to use and it comes with built-in tutorials which were great for my dad. For $40 it was a great bargain when the alternative was buying a new scanner.
-Doyle"
You can try out Vuescan before buying and it's one of the most frequently updated Mac software in history IMHO (along with Graphic Converter). There's also previous reports here from Canon Lide scanner owners with tips on getting Canon's software working (do a browser find/search on "Canon Lide" to jump to them).
---
Microtek i800: (also see later report/tips above)
(added 3/27/2008)
"Scanner - Model Microtek i800
Macintosh - G5, Late - 2GHZ, 4.5GB RAM
Connection - USB directly to rear USB Port
OS - 10.5.2
Use PhotoShop CS3 to activate scanner software

Microtek's Scanner utility ScanWizard 5 does not work in OS 10.5.2.
ScanWizard Pro 7.541 does, however the title of the scan can only be one character when set in software. You can, of course change it in the finder or a folder when the scan is completed. Microtek is aware of these issues and doesn't seem to be in a hurry to fix them.
Otherwise there seems to be no other issues.
-Lou"
---
Canon Canoscan 8400F:
(added 3/25/2008)
"My setup: a new Intel core duo Mac with OS 10.5.2. My scanner: a Canoscan 8400F.
I just moved from a similar mac but running OS 10.4.

I kept getting a message, driver not found, on running CanoScan toolbox or on pressing the scanner's buttons.

I downloaded the latest Canoscan from Canon's website and installed that - still no luck.

Then I realised I needed ScanGear as well, the actual driver. Duhh.
The new version of Scangear on Canon's website has the cheery message that the Canoscan toolbox won't work with it. It's not a great front end but better than none.

So I followed earlier advice on this site and deleted every trace of Canon software, including in both my user library and the system library. Then I ran the original install CD, which installed CanoScan Toolbox 4.8 plus whatever ScanGear was current.
Voila! it all works just as before!
My lessons learnt: do hunt down all trace of earier software
Find the previous versions of software and install those.

Thanks for the hints, I thought my scanner was binfood then.
-S. Keene"
---
Canon CanoScan 4400F:
(added 3/20/2008)
"I stumbled on to your page after googling to see if I could find a solution to my problem trying to get the buttons to work properly on a Canon CanoScan 4400F with my iMac running 10.5.2. Although my specific problem/scanner were not listed, reading through the info gave me some ideas to try and and found one that worked! Please share this info with others so they may also benefit from what I've found out (BTW, I called Canon technical support and they could figure out what was going on).

My scanner: Canon CanoScan 4400F
(Note - an old post at the bottom of this page has an original list from Canon of OS X 10.5 compatible scanners "4400F, 8400F, 8600F, 8800F, 9950F, LiDE 25, LiDE 35, LiDE 60, LiDE 70, LiDE 90, LiDE 500F, LiDE 600F")

My problem: This scanner has seven buttons on the front that are used to simplify operation. The 4 buttons on the left are used to scan and generate PDF files. The 3 buttons on the right are used to copy&print, scan a photo, and scan and attach to an email. I was able to get the scanner to scan using the supplied software from Canon and using Image Capture, but I was not able to get the scanner buttons to work. I followed the instructions from Canon, which were to:

1. Open up Image Capture
2. Go to Preferences and click the option under "Scanner" that says "When Image Capture is launched, open scanner window"
3. Then in the Scanner window, click on the "Options..." button
4. Then click on "Buttons"
5. Make sure "CanoScan Toolbox 5.0" is specified for "Application to launch when scanner button is pressed"

I did all this and what (incorrectly was always happening when I pressed any button on the scanner was that Image Capture started up (along with the Scanner window), and that was it. What was supposed to happen was CanoScan Toolbox was supposed to launch and initiate the action associated with the button. Here's how I fixed it:

1. Followed the instructions in the 1/2/2008 posting here, (I think he means Jan 9th Canon install tips, which several other Canon users found useful.-Mike) uninstalling both the driver and toolbox (including any of their pref files I could find, emptying trash, and restarting as specified) and then reinstalled the toolbox first then the driver.

2. At first I didn't do the "Save" step (open toolbox, and then click the "Save" icon) and the behavior of the buttons was unchanged (and incorrect).

3. Then I did the "Save" step, but only clicked on "Apply" on the dialog box that then pops up. The behavior was still unchanged (and correct).

4. then I did the "save" step again, but this time followed it through until the end, clicking on the "Save" button in the dialog box and letting it save the scanned image in a file. This time, the buttons worked as they are supposed to!!! Hitting any of the buttons launched Toolbox and performed the correct actions associated with the buttons. In fact, it worked better than the Canon tech support people told me it would work. They told me that only the 3 right-most buttons work with a Mac and the 4 left-most buttons would only work with Windows. I've found that all the buttons work. However, Toolbox doesn't seem to reflect the mappings of the 4 right-most buttons in its user interface (and doesn't let you change the mappings, like you can for the 3 right-most buttons).

Anyways, in summary, the key for me was doing the "Save" step, but doing it completely (by letting it save a file). I don't think this was clear from the other comments. Hopefully this info will help someone else.

I was going to return this scanner, but now I think I'll keep it. It's fairly cheap (I paid full retail of $99) and it also scans film negatives and slides).
-Bill D."
---
HP 4070 PhotoSmart Scanner:
(added 3/10/2008)
"HP 4070 PhotoSmart Scanner / QuickSilver 2001 upgraded with Sonnet Duet 1.8 GHz, 896MB RAM
Downloaded the latest driver from HP support page and everything is working flawlessly so far under Leopard 10.5.2.
HP Photosmart Studio v. 9.6.9
HP Scan Pro v. 7.4.6
HP Software Update v. 2.3.7 (report: "your software is up to date")
HP Device Manager v. 1.4.7
HP Photosmart Create v. 1.3.7
HP Photosmart Print v. 2.6.7
HP Photosmart Share v. 2.6.7
HP Photosmart Stitch v. 2.6.7
-Juan J."
---
Canon LiDE 30: (another note on running PS CS3 in rosetta mode to get non-universal drivers/scan to appear in Photoshop)
(added 3/10/2008)
"Canon LiDE 30 with MacBook Pro (2.4 GHz) Running Photoshop CS 3
Only works if you check off the ROSETTA mode option, as described on Canon's website. Frustrating, but I did get it running
-Doug G."
Running Photoshop CS3 in Rosetta mode is a workaround for scanner software that's not universal (including some Epson scanners) although Vuescan was used some some instead. Some previous LiDE 30 owners said they had problems installing the canon software. Also see reminder below on Canon software install order tips from a Jan 9th report helped.
---
Canon Canoscan 8800F:
(added 3/10/2008)
"Canon Canoscan 8800F used w/Dual 2GHz G5 running OS X 10.5.2
I've had a Canoscan 8400F 'till its lamp died, then bought this one. In the process of sorting out why various scanner functions won't work, I've learned that it is IMPERATIVE that ALL traces of the prior Canon scanner toolboxes & drivers be eradicated from the system, including .plist files in each user's Library folder. Canon does not provide a utility that removes prior toolbox versions.
(Some other Canon scanner owners have noted the Jan 9th report/tips from Canon support stated a specific software install order. ("Install the Toolbox first, then the Driver. Reboot... Open the Toolbox, click the "Save" icon")-Mike)

I've also been told via e-mail from Canon tech support that the MP Navigator EX application (replaces earlier Canon scanner toolboxes) isn't completely 10.5 compatible, and a newer one is in work.
-Bob R."
---
Canon CanoScan LiDE 500F:
(added 3/7/2008)
"Scanner: Canon CanoScan LiDE 500F
Computer: MacBook Pro 2.5 GHz
OS: 10.5.2

I got the reported "Can't find driver" error message for the Canon scanners.
I followed the procedure from the January 9th report for the CanoScan 9950F, and it worked fine.
(that Jan 9th report mentioned Canon support stated a specific software install order. ("Install the Toolbox first, then the Driver. Reboot... Open the Toolbox, click the "Save" icon")-Mike)
I scanned using the Import feature in Photoshop. I also reinstalled everything for my larger 8400F scanner, but have not tested it yet.
-Steve V."
---
More Epson 2450 User reports/Reminder for Intel-based Macs w/Photoshop CS3: A string of 3 Epson 2450 user reports in a row (with reminders on Tips for Intel-based Mac owners running native/universal Photoshop CS3):
(added 2/19/2008)
"epson 2450, Mac Pro dual 3.2GHz
Photoshop CS3, OS X 10.5.2
No way to have the import from scan active in CS3, while the scan works perfectly using Epson scan. The CS3 problem is quite annoying.... and frustrating
-Marco"
Since you have an Intel-based Mac and native/Universal Photoshop (CS3 unlike previous versions) - try running Photoshop CS3 in Rosetta mode (get info on CS3 App in Finder and select to run under Rosetta.) A Jan 9th report from a Mac Pro owner noted running PS3 in Rosetta mode to have Epson Scan 2.77 to appear in Photoshop CS3. (See below for another report today on that from an Epson 2450/Intel Mac user on the same tip.) There's some earlier Epson 2450 user reports that noted Pshop scanning worked after some troubleshooting but didn't mention if they were using a PPC or Intel-based Mac or what PShop version they were using (CS2 and earlier isn't Universal, so it runs under Rosetta by default on Intel-based Macs).
(added 2/19/2008)
"I have a Epson Perfection 2450 Photo connected via firewire. After I installed Mac OS X Leopard I could't use Epson Scan anymore. The icon appears short and vanishes every time. Here's the reason why: I used format Mac OX Extended case sensitive and journaled.
For the following steps I used the HD service program.
Make Epson Scan to work again I had to image the whole Macintosh HD to my externel USB 2.0 HD. This took me several hours. After that I deleted the Macintosh HD and created it new with format Mac OS Extended journaled. Now I recovered the Macintosh HD image - again several hours to wait. But after that, first "new" start and?
Epson Scan finally works again!
Kind regards, Dirk T."
(added 2/19/2008)
I've read the page with interest today. I have the following:
Mac Pro (2 x Quad 2.8 Ghz) with Mac OS X 10.5.3
Photoshop CS3 10.0.1
Epson Perfection Photo 2450 Scanner
Connection by FireWire
Epson Scanner 2.77A software.
I'm blessed if I could get the scanner seen until I turned up this page
http://livedocs.adobe.com/en_US/Photoshop/10.0/help.html?content=WSfd1234e1c4b69f30ea53e41001031ab64-74a3.html (link fails to load main frame content here-Mike) which in turn led to this page:
http://www.adobe.com/go/kb402022 which says that if there are no updated drivers, to run Photoshop in Rosetta mode. Lo and behold that now allows me to see and use the scanner. (Note - although other 2450 owners didn't mention that, there was an different Epson scanner model user that also noted using Rosetta mode made Epson Scan 2.77 appear/work in Photoshop.-Mike)
I guess this is because the Epson software isn't universal, but is PowerPC only, so Photoshop needs to be in PowerPC mode also.
So I'd be curious if any of those who posted to this page already are NOT running Photoshop CS3 in Rosetta - ie they're running it Intel Native AND are able to get the Epson 2.77A driver to work with FireWire.
Cheers, Roger"
See other 2450 owners here that finally got it working also - above is one reader success w/2450 scanner and here's an earlier Epson 2450 report w/tips (but didn't note mac model - PPC or Intel-based), although a Epson Perfection 2580 user back on Jan 9th mentioned running PShop CS3 in Rosetta model made Epson Scan 2.77 show up in Photoshop.
---
HP 5590: (follow-up from a reader that previously noted problems with his 5590)
(added 1/28/2008)
"The HP 5590 now has a new driver available ...
It works great on my dual G5 Mac Pro running Leopard 10.5.1.
-Clifford"
Are you sure it's a -driver- update? Or are you referring to the -software- update (from Dec 2007) there called "HP Photosmart Studio Includes Support for Mac OS X v10.3, v10.4, v10.5 (Leopard)" listed as version "1.0, 21 Dec 2007" The Driver section of the page shows driver v9.3.5 dated April 2007 (and just lists OS X 10.3/10.4). I checked HP's support/downloads page (for both 5590 and 5590P) and as of Sunday (1/27/2008) there's no driver update there for OS X 10.5.
---
Canon Lide 25: (also see other Lide model owner notes/tips from earlier reports below)
(added 1/28/2008)
"Canon LiDE 25 / MacIntel 2x2.66 Ghz Dual Core Intel Xeon / MacOS X 10.5.1
I was finally able to get the scanner to work after reinstalling the driver from the original disks. The downloads from Canon WOULD NOT WORK.
Hope this helps others...
-Drew R."
What was the version of the driver/software on your disc? (it can vary over time.)
---
(added 1/25/2008)
"I talked with Epson Tech Support today and was actually pleased with the results. After my own futile and frustrating attempts to get the Epson 2450 to work successfully by going through all the usual troubleshooting and reinstalling I called them. The technician walked me through a few steps to delete some things from the library and application support.

I believe the following files were what he walked me through in deleting which successfully got me back up and running:

1. Move the following files to trash:
/Applications/EpsonScan
/Applications/Epson Scanner Monitor
/Library/Image Capture/Devices/Epson Scanner
/Library/Image Cature/TWAIN DATA Sources/ Epson Perfection 2450.ds

2.After deleting all these files and emptying the trash, I reinstalled the new driver, epson 11929_twain_driver and epson_scan_utility277a

3. The scanner now launches properly from Photoshop and from the scanner app itself!!!!
Hope this helps if you didn't already have it resolved
(Just for the record What Mac Model? (PPC or Intel-mac?) and What Photoshop version? I'm guessing either a PowerPC mac or a pre-CS3 Photoshop version due to the previous users notes on having to run PS CS3 in Rosetta mode to work with Epson Scan 2.77 on Intel-based Macs.-Mike)
Power PC 2GHz dual 5GB Ram, Photoshop CS3
-Lev"
---
(added 1/22/2008)
"Leopard 10.5.1 Canon Canoscan 3200F Tips
If this helps anyone - I was able to get my 3200F working again - as reliably as it did in 10.4. This seems to be a strange path or permissions problem since the drivers work fine - something was "broken" in the upgrade process apparently with one of the preference / Plist files.
System is an iMac Core 2 Duo with 10.5.1. Scanner plugged in to iMac USB directly.

This is a little lengthy - originally posted in one of the Apple discussion forums (http://discussions.apple.com/thread.jspa?threadID=1199504&tstart=0)

Like many others my Canon scanner (3200F) didn't make it through the Leopard upgrade. The "Can't load driver" issue. After much playing around I was able to get the CanoScan software working again. In reading through the postings it seems Canon and Apple are pointing fingers at each other. Bottom line is that the Canon software for the 3200 can be made to work. Your results may vary.
For the Canon 3200F the latest software is shown as the:
ScanGear CS 8.501 (Installer 3200F8501MXEN.dmg)
CanoScan ToolBox 4.5.0.2 (Installer CSTb4502MXEN.dmg)

Part of the problem seems to be in the plist file with the path to the driver.
@ .users/'username'/Library/Preferences/CanoScan ToolBox X.plist

I used Apple's Property List Editor to modify / expand the Plist path to the driver:
(Or use a program like PlistEdit Pro)

Original:
Property List: Selected Data Source
Class: String
Value: /Library/Image Capture/TWAIN Data Sources/CanoScan 3200_3200F.ds

Edited:
Property List: Selected Data Source
Class: String
Value: /Library/Image Capture/TWAIN Data Sources/CanoScan 3200_3200F.ds/Contents/MacOS/CanoScan 3200_3200F

After saving this change I locked the plist file. (using Get Info) Locking the file doesn't seem to affect the functionality and it prevents the edited path from being changed back and the driver not working again.

I also checked the permissions on the driver itself which on my system seemed to be possibly be set incorrectly. Navigate to the driver package: /Library/Image Capture/TWAIN Data Sources/CanoScan 3200_3200F.ds and control-click on the icon. Select "show package contents" and navigate to the Contents/MacOS folder. Select the CanoScan 3200_3200F file and do a "Get Info". One of the permissions was set to "No Access" which I changed to "Read Only" you will have to authenticate to do this. I don't know for sure if this last permission change is really necessary - but I do know that the CanoScan Toolbox is now working on my iMac as well / reliably as it did in Tiger. I'd first try the plist mod making sure you lock the file. (just changing the plist file from to the original back-up reverts to the "Can't load driver" problem. Restoring the edited plist file "fixes" it.)
Hope this helps someone...
-Dick H."
As an FYI to Canon scanner owners with problems - two other model Canon scanner users have said the software install order (and then a Toolbox "save") was a fix for their problems w/10.5.1. (See Jan 21st CanoScan 9900F user report below and earlier report from Jan. 9th.)
---
Epson Perfection 4990:
(added 1/22/2008)
"Leopard w/Perfection 4990
You must use Epson Scan version 3.0.3a (you can download that version from Epson's web site) with an intel Mac and Leopard. It also works with Tiger.
You'll find better results connecting the 4990 scanner through USB and not firewire. The scanner is on 100% of the time when my Mac Pro is power on. I can use firewire with Epson Scan 2.78 version and Tiger but not 3.03a and Leopard. Don't ask me why it just the way it is for now.

If you have a previous install of Epson Scan on that computer then you MUST delete ALL previous Epson files related to Epson and the scanner. The uninstaller does NOT rid the Mac of all traces. Use Spotlight to find the remainder.

BEFORE installing Epson Scan launch Apple's Image Capture and go to preferences and UNCHECK the box "when Image Capture is launched." Leopard up to 10.5.1 has a conflict with Image Capture and Epson Monitor which is installed with the Epson Scan software installer.

I have screwed with this entire scenario for many weeks and even dialogued with the Epson support (who btw are not listening too effectively) and this is the only way I can get that Epson software to run well with that scanner.
The single biggest advantage to Epson Scan and not Image Capture is the use of Epson's "Digital Ice." This feature is great for restoring old damaged photos. If you would like to see an example I'll send you two files later if asked.
-Don H."
Don later sent a sample before/after "Digital Ice" on a 50 year old damaged photo. I took a clip from each and created this composite (web page size) for posting: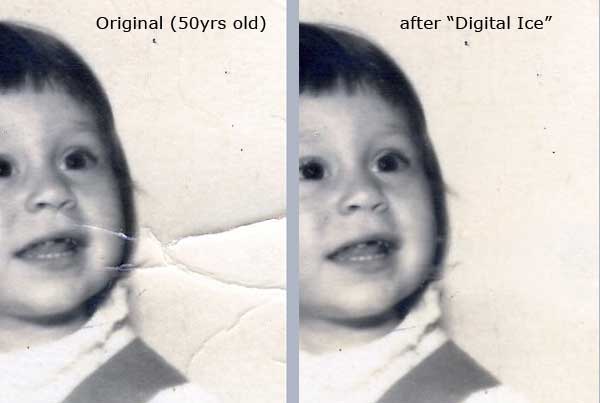 I'm not a graphics pro but remember the days before Photoshop added a "healing brush", a very useful tool for this. (Still can be tedious, but a huge plus.)
---
Canon CanoScan 9900F:
(added 1/21/2008)
"I've just plugged my old Canon CanoScan 9900F into my new Intel iMac running OS X 10.5.1 Leopard and after downloading the latest drivers and canonscan toolbox from the canon website I did, eventually, get it to work.
As posted previously the key seems to be installing in the correct order i.e. toolbox first and then ScanGear CS driver second, ensuring that you select the toolbox as the destination for the driver install. If you then select "Save" from the toolbox then it seems to be working just fine. (FYI: see earlier report from Jan. 9th below with notes from Canon Support on install order, Save from Toolbox, etc.-Mike)

Sadly of course my old Photoshop Elements is not working on Leopard and I can't seem to get GIMP to recognise the scanner but at least it's not a £300 paperweight.
-Ben."
---
Canon Canoscan 3200F: (Update: - see later 3200F user tips above)
(added 1/15/2008)
"I am running 10.5.1 on a MacBook Pro with a Canoscan 3200F attached via a USB 2.0 7-port hub. (May not help but I'd try a direct connection also.-Mike) The driver won't run at all, even following the various delete/re-install suggestions everywhere. Fortunately I still have my old iMac running 10.3.9 on the network so it isn't the end of the world entirely. Just a pain in the backside. But thanks to all for the various suggestions.
-Gordon
Glasgow, UK"
I asked if he tried using VueScan (updated again recently), although not free. (Worked for some Canon Lide owners that had canon software/install problems in leopard.)
---
Epson Perfection 1260:
(added 1/15/2008)
" Epson Perfection 1260 (usb 1) connected to the back of my 10.5.1 on a Mac Pro 2.66. Left off until needed for use. Used the latest Epson software for it - Epson Scan app 2.73.
-Mark"
---
Epson Perfection 1660 Photo: (includes notes on scanning using OS X Preview app)
(added 1/10/2008)
"I can report is that my Epson Perfection 1660 Photo is not working right yet under 10.5.1 on a final generation white Intel iMac (2.15GHz 20" model). Using the latest driver download, which is listed as 2.77 for OS 10.5 (but which I can also confirm expands to show version 2.73 of the Epson Scan utility) I get very patchy results.

Epson Scan 2.73 will not run at all. It launches and immediately quits. (I asked if he'd done a get info in the finder and selected to "open using Rosetta ". A previous report here mentioned that Epson Scan 2.77 didn't show up in Photoshop until he did that. I assumed that PPC code apps automatically ran under rosetta on Intel-based macs-Mike)
It's listed as "Application (PowerPC)" in the Get Info box and there isn't an option to choose how to run it. Other applications that are listed as "Application (Universal)" have a checkbox below to allow me to force them to run in Rosetta if I want to. So far the Epson stuff all appears to still be PPC only.

Of course this one doesn't run for me - so who knows what's going on. Just more data for you. I'll let you know if Epson gets back to me with any useful information.

Repeated reboots and moving of the USB cable from port to port have had no effect.

I do not have Photoshop on this machine yet, but Image Capture does not recognize any "Image Capture Device" when launched.

Preview.app, on the other hand, recognizes the scanner and will prescan and scan quickly from the new "File -> Import Image..." menu item. I was able to produce clear scans, but the interface is iffy. There is no live adjustment to the prescan settings (color/contrast, etc) until you select an area of the image. Saving the image is a strange semi-automatic process that lacks any sort of traditional Mac interface consistency. Worse than that, twice preview has "quit unexpectedly" and usually it reports that the scanner is "in use" when relaunched - necessitating an unplug/replug of the USB cable.

So - it can be made to work, but it's not right yet. Thanks for the always helpful site.

BTW - this same scanner and software (drivers/etc) combo run fine on my Intel MacBook with 10.4.11... so the problem is specific to the iMac under a fresh upgrade/install of 10.5.1 for the moment. (10.4 from the iMac restore disk followed by Apple's "drop in" 10.5 update disk that they are shipping with refurbs now.)
-Charlie"
---
Canoscan Lide 25: (Update - also see later report on Jan 28th from another Lide 25 user)
(added 1/10/2008)
"Installation of the new drivers (lide25osx11030en.dmg and cstbosx4934ej4.dmg) don't make my Canoscan Lide 25 work in Mac OS 10.5 PowerPC.
lide25osx11030en.dmg: doesnot install anything
cstbosx4934ej4.dmg: installs CanoScan Toolbox X, but after opening this program using the Scan button gives the message: Failed to open driver.
In Mac OS 10.4 I think drivers were located in Users> Shared> CanoScan LiDE 25> CNQL1213_Driver.bundle???
Sent email to Canon support.
-Geert B."
I suggested trying VueScan (although not free) - a Lide 30 owner replied that worked (where he also had problems installing Canon software in Leopard.) A previous report (from Jan 9th) from a Canoscan 9950F owner (different model) below mentioned Canon support stated a specific software install order. ("Install the Toolbox first, then the Driver. Reboot... Open the Toolbox, click the "Save" icon")
---
Epson Perfection 1670:
(added 1/10/2008)
"I have an Epson Perfection 1670 working fine with a Mac Pro 2 x 2.66 GHz dual-core (4 cores total), 6 GB RAM, running OS X 10.5.1. I did not install any Epson driver software (I hate using third-party drivers unless absolutely necessary as they invariably go out of date and in my experience often cause problems), and I just use Image Capture to perform the scanning. The scanner is plugged directly into the computer via USB.

I've had this scanner for a few years, I only use it intermittently (it's usually unplugged), and I haven't stressed the capabilities or anything, but I had the opportunity to use it the other day and it worked fine. I didn't see it included in your scanner report, so I thought I'd send in this note. Thanks for a great resource!
-Andrew"
---
Epson Perfection 4490 Photo:
(added 1/10/2008)
"I am using an Epson Perfection 4490 Photo connected to a PowerMac G5 Dual 2.0 4GB by USB through a Kensington Hub. I read with interest the report from Aled B of North Wales about using the Apple SW - Image Capture.. I did not know that this was a possibility so I tried it and it worked quite well.

I had been using VueScan V8.4.53 and had been having problems with the crop feature (selecting the portion of the target to grab). I noticed that VueScan had been updated to correct this problem so I went ahead and downloaded the new version and tried to replace the old version 8.4.53 with the new version .54 and got the error message that VueScan was in use! What? Apple's ImageCapture must have somehow used/launched VueScan? (FYI: There's now a VueScan ".55" update released.-Mike)

Anyway, I closed out VueScan (that I had not launched) and made the upgrade.
The crop problem seems to have been corrected.

I will have to play around with ImageCapture a little more to see what the results are...
Right now, ImageCapture does not seem to involve VueScan.
(I asked if he'd tried using Preview (after seeing a note on that from another reader)-Mike)
Hey, It works... Launch Preview, go to File/Import Image/ and it polls my Epson 4490.
I made a selection of what to scan and it works fine. It appears to be the same GUI as Image Capture app
-Carl B.
PowerMac Dual G5 2.0Ghz 4GB Dual screen (23" Cinema HD and 20" Cinema Displays)"
---
Canon Lide 30: (Updated with note VueSan worked)
(added 1/10/2008 - updated 3PM)
"I have a Canon Lide 30 Scanner and I lost my installation disk. I've tried to download the software from Canon's site but I get the following messages
(screenshots sent - here's the text of them-Mike)

(from finder attempt to install "CanoScan Toolbox Inst Carbon E")
(Vise) "Error creating file
1008L5,-5000 Access denied error"

(another dialog box clip showed)
"! You do not have enough access priviliges for this installation"

I've tried everything suggested from checking priviledges to erasing hard drive and re installing. Still get the message above. Thanks
(I asked he check to confirm that his user acct/login had Admin priviliges (as there was a related leopard bug early on that resulted in some installs not preserving admin accts)-Mike)
Yes, the "allow user to adm this computer is checked. Maybe what you say is the problem, software compatibility issue. Thinking about buying that virtualization software and installing XP on my Mac and there I can install the scanner software.

(It may be cheaper (and less work) to just replace the scanner with a later/supported model. (And in the bargain get a better scanner usually.) But have you tried VueScan?-Mike)
Thanks again buddy! The VueScan software did the trick! My scanner is fully functional. Really appreciate your help Mike. Take care!
Jose L.
MacBook Pro 2.2 GHz Intel Core 2 Duo"
---
Epson Perfection 2580 and V200 Photo: (updated with Epson update download link)
(added 1/9/2008)
"I have a Mac Pro using Leopard 10.5.1. I have the epson perfection 2580 scanner and the scanner does not show up in Photoshop CS3 or GraphicConverter 6.03 or ReadIris Pro 11. However the application Epson Scan 2.77 does open and works by itself. It just does not show up under import in Photopshop CS3 unless you select "open using Rosetta " under get info. Then it does shows up under import in photoshop. The Epson drivers have not been updated (epson site still only shows Epson Scan 2.77 which was updated back in 2006).

I just bought the Epson V200 Photo scanner and downloaded the new Epson scanner installer 3.13A (updated 1/3/2008) (asked for link to download page-Mike) which works perfectly without needing to open using rosetta. Both Photoshop CS3 and Readiris Pro see the scanner and work perfectly with it (not needing to open with rosetta). This means the new drivers must be native/universal binary for intel macs and leopard.
(I asked if he could send the update download page link)
You can get it by going to epson.com and selecting drivers & support at the top then choose scanners.
V200 driver download page.
-Robert"
---
Canon Canoscan 9950F: (with driver install order/Toolbox save tips)
(added 1/9/2008)
"I have Mac G4 (Mirror Drive Door) tower with dual 1 GHz processors. I have a Canon Canoscan 9950F connected to the computer directly using USB2. (I leave the scanner off until needed.) It refused to work with Leopard until I got a little help from Canon Support (for a $10 fee because it was out of warrantee). Basically, the Canon software was refusing to recognize the driver until I installed them in the proper order.
The fix was to:

Delete Canon scanner related software from Applications. Empty the Trash.
Download the new Driver and Toolbox software from the Canon website. (The driver is 9950F Scanner Driver Ver. 10.3.4 and the Toolbox is Ver. 4.9.3.4X)
Install the Toolbox first, then the Driver. Reboot.
Open the Toolbox, click the "Save" icon.

Hope this helps some frustrated souls out there.
-Kurt R."
That tip helped another reader (see Jan 21st report above).
---
Epson Perfection V500 Photo:
(added 1/8/2008)
"Mike, The Epson Perfection V500 Photo scanner works well with my first generation MacBook Pro. I'm now using Epson Scan Utility v3.27A, but the previous version worked just as well. It's powered on all the time and connected via a powered 4-port USB 2.0 hub.

It's produced some nice results; the color restoration feature works way better than I thought possible.
My only two gripes are:

1) that the software can't tell where one photo ends and the next begins on my negatives from the 1970's

2) the slide attachment doesn't support APS Advantix negatives.
I have about 25 rolls of this type of film and would really prefer to scan the negatives instead of the prints.
(I'm wondering if I can make some sort of cardboard holder that will do the trick).
-Joe L."
---
Epson Perfection V700 Photo:
(added 1/7/2008)
"EPSON Perfection V700 Photo, iMac Intel 24", USB Hub, OS X 10.5.1
Works fine with VueScan.
The scanner comes with SilverFast (Epson-SE) Version 6.5 that Works. There are later updates available that also work.
Epson also has new drivers available for download today (1/4/08) for the Epson software that now work.
Copy utility that comes with the scanner works. Does not bring the printer settings, so it is rudimentary.
ABBYY FineReader Sprint that comes with the scanner runs and works on Jpg files, but does not seem to be able to operate the scanner. I was unable to find an update for it.
-Fran"
---
HP 5590:
(added 1/7/2008)
"I can't use my hp5590 scanner with Leopard.
(I asked for more info (interface, drivers/software version used, if he had tried Apple's Image Capture, Vuescan, etc.-Mike)
I am using Leopard 10.5.1 on a PowerMac G5 Dual 2.3GHz. I am using the latest HP interface via USB and HP lists this as not Leopard compatible and promise a driver an update "soon".
-Clifford H."
Update: See his later report (Jan 28th, 2008) above where he mentions a driver update released but I can't find it - but did see a Dec. 2007 dated -software- update.
---
Nikon LS 9000, Epson 2450, Epson 636:
(added 1/4/2008)
"G5 Dual 2.3GHz Tower, OS X 10.5.1
Nikon LS 9000 FireWire
Epson 2450 FireWire
Epson 636 SCSI w/Miles SCSI card.

All three scanners work with 10.5.1 and VueScan.
The 2450 also works with the Epson driver v2.77A but I rarely use it.
The 636 is 8-10 years old but I have never had a problem using it with any version of OS X with Vuescan. The last driver that Epson put out for the 636 was for OS8!
I don't care for Nikon software so I have no idea if it works with 10.5.1.
cheers, William"
---
AGFA Snapscan e20:
(added 1/4/2008)
"AGFA Snapscan e20 - USB
AGFA's Scanwise X (2.1fc2) from Nov 14th 2001 continues to work perfectly
tested on a PPC and Intel Mac, both running 10.5.1, tested direct and through USB hub.
Scanning software designed for 10.1 that continues to work perfectly through every OS update, even with core architecture change, still amazes me.
To bad they stopped making scanners in 2001.
-Brian M."
Somewhere here (boxed up years ago in a move) I have an old SCSI AGFA scanner...
---
EPSON Perfection 4490:
(added 1/4/2008)
"EPSON Perfection 4490 PHOTO with OS X 10.5.1 - works with 100% Apple Software - Image Capture.

Clean install of Leopard and no EPSON software required. I'm very happy about that. Nothing running in the background sucking CPU cycles.

I have Photoshop CS3 but I don't use it for scanning. I always scan and open the files later.

In 10.4 I used to have to use EPSON software, which was patchy at best.
(Just for the record I asked which Mac it was used with-Mike)
Macs: G5 2GHz DP. 5.5GB RAM. 500GB HD + 500GB Time Machine. Radeon X800 XT Mac Edition 256MB (European new one, without the dreaded problems everyone else has been having). Breathed some life into the old faithful G5. Dell 20inch LCD 1600x1200 pixel.
Plus a MacBook Pro 2.4Ghz C2D Santa Rosa, 4GB RAM, 256MB Graphics, 160GB HD. Reconditioned from Apple. Running on a 24 inch Dell 2407WFPHC.
Aled B., North Wales (UK)"
---
Epson 2480 and Canon N656U:
(added 1/3/2008 - updated)
"I have an Epson 2480 connected to an Intel iMac with which I am using Epson's software and driver (version 2.77). It does not show up in Photoshop CS3, but does in Photoshop elements 4. Epson's software is PPC code. (If the scanning app isn't universal binary, is the option to run under Rosetta checked? (option in get info from Finder)-Mike)

I also have an iMac G5 with an old Canon N656U scanner connected. VueScan works very well with this combination.
Both Macs are running 10.5.1.
(He later wrote)
The Epson 2480 is connected full time to an unpowered USB hub on an Intel 20" 2.33GHz iMac (late 2006). Power is connected to a switched outlet and turned on only when needed.
The Canon N656U is connected only when needed directly to a USB port on a 20" iMac G5 2.0GHz ALS (rev. B). It is removed after use.
-Ken M."
---
Canon Canoscan 8000F (USB): (Updated 12:30PM)
(added 1/3/2008 - updated)
"Hi, Great page. I have Mac G4 (Mirror Drive Door) tower with dual 1.42GHz processors. I have a Canon Canoscan 8000F connected to the computer directly using USB. I upgraded to Leopard and used the import feature with Photoshop using ScanGear CS 8.1.2X. The scanner would work, but when I tried to save the image as a JPG it would crash Photoshop.
I unhooked the scanner, downloaded the driver again, reinstalled, and it worked.
Note that this scanner is listed as not supported with Leopard.
(he later wrote)
I regret I must withdraw my success story. Although I did get one scan to work, the next day under identical conditions the crashing continued. I have not been able to troubleshoot this. Perhaps if I reinstalled the driver before each scan it would work, but it is too unstable to function consistently.
Sorry for the misinformation.
-Jeff"
Maybe try the "Twain SANE" drivers (mentioned earlier - see below) or VueScan?
---
HP AIO C7180 (w/WiFi, Bluetooth, Ethernet, USB Support):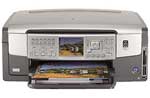 Although I'd about sworn-off HP AIOs for Macs/OS X years ago (after a bad experience with a HP 750 AIO in OS X 10.2.x) last Saturday while in a local Office Depot to buy ink carts for the 750, I saw they had a table with several demo/returned faxes and AIOs - one was a store display model (unused apparently) Photosmart C7180 AIO with Ethernet, 802.11g wireless and bluetooth (as well as a 3.6in LCD screen and cardreader slots) that was marked down from original list $399 to $99.99, only about $50 more than I'd have spent on the 2 ink carts for the old 750. I've posted a page with my first impressions/mini review on using it with Leopard including notes on scanning (wireless and ethernet) with HP apps and Photoshop (CS/CS3), printing, features, networking, included software, ink and driver notes.

---
Epson 2400, 3170, 4870 Owner Notes:
(12/13/2007)
"We have several Epson scanners here, a 3170, a 4870 (FireWire), and my trusty 2400 (USB 2.0) that I use incessantly, all day, every day, for everything related to my business and personal needs. I can use it with Photoshop CS or CS3 (I know, why have both installed on the same G5 PowerMac?...I have my reasons) without issues in 10.5.1. I just finished using it, in fact, scanning more than 20 documents, and all features are working 100%, at least in my Photoshop use.

The 4870 is used exclusively for photography, and the 3170 is my wife's, used with an Intel iMac 2.0 C2Duo 20" (Spring 2007), and she's not upgraded to Leopard yet, running 10.4.11, so no comment about that one but I assume it would work with Leopard too, using the software package we're using.

I haven't tried to use the Epson Scanner software itself lately, but quickly here, let me try to scan a document and see what happens...yes, v2.65A Epson Scan software works stand-alone, no problems. I have never upgraded to v2.77A Scan Utility...using the old version. If it's not broke, don't fix it, you know?

I don't know if this is newsworthy, but at least the original Epson Scan Software package happens to work 100% in Leopard 10.5.1 here with my Dual Core 2.3Ghz G5 workstation. The scanner is always plugged into the G5, directly into an onboard USB 2.0 port, and it's always on...I never turn it off. I learned that trick years ago. It's the off/on cycles that kill scanners not scanning or heavy use.
Kindest regards, David C."
---
Epson Perfection 2450: Updated several times with more reader replies to the first post on problems (below) on using a 2450 in 10.5.1. Includes notes from a few users on some caveats. (later mails first)
(12/13/2007)
"Just wanted to give you another data point on using Epson 2450 scanner with Leopard.
I did an upgrade to Leopard and then to 10.5.1 with no apparent problems. I use the TWAIN drive with Photoshop CS3 (2.77A). I have a PowerMac G5 (the initial model), using the USB port. I don't exercise it very much, but it's never given me any problems or odd configuration issues.
(I asked Bill about the Scan Utility version after -one- reader said it was v2.73 even though he installed the 2.77a version/download.-Mike)
The splash screen that comes up when you activate "Import" under Photoshop definitely says 2.77a.
-Bill H."
This reader said despite the download listing Scan Utility 2.77A - the utility installed is v2.73:
(12/13/2007)
"I also have a Epson Perfection 2450 PHOTO scanner. It worked fine when I first installed it on my new iMac 24in (with Tiger, actually the first time I was able to use the Firewire interface). Since my Leopard 10.5.1 update I have had no luck at all getting it to run. I have removed and reinstalled the drivers (epson11929_twain_driver_and_epson_scan_utility_227a) (latest currently at the Epson Perfection 2450 mac downloads page), tried restarting with the scanner off/on, running the scanner on all the time, nothing works for me.
I am using the Firewire interface. The Epson Scan utility installed is 2.73. The Epson Scanner Monitor is version 1.38.
(I asked if he had any other scan software to try (i.e. VueScan) to see if the scanner is still recognized, asked about connection, etc. He later wrote)
Yes, I've tried connecting/disconnecting it. I also just tried a direct USB connection without any luck (spinning wheel - I have to force quit - even more troublesome than the FW). I do have it directly connected to my Firewire 400 port (nothing else on that port.) - MY FW 800 connects to a external RAID. I don't have any other scanning software to try.
Dan S.
Creative Director
Illustration.com"
VueScan (standard edition) costs about $40 and as others mentioned, probably the most frequently updated mac software ever. Might be worth trying the Trial version at least to check out. I wrote some others using this scanner/software to ask they verify their Scan Utility version (One confirmed v2.77a above) - and I asked Dan if there could be 2 copies of it installed on his Mac (an older version as well as 2.77a).
(12/12/2007 - 9:30PM)
"Mac Pro (8-Core), 4GB RAM
Mac OS X Leopard v10.5.1
Epson Perfection 2450 (Always on, connected via FireWire)
Running Epson Scan v2.77A

No issues at all with Epson Scan; however, Epson TWAIN Driver not available in Photoshop CS3 v10.0.1. (I have not tried a reinstall of Epson Scan to see if it shows back up in Photoshop.)
Sincerely,
Christopher C."
I once had similar problems with my (cheapo) USB N656U after a 10.3.x update - reinstalling the software helped but as always, YMMV.
(12/12/2007 - 9PM)
"Hi Mike, Also have the epson 2450 scanner for some years now. This is a great scanner, really liked it because of the dual interface & ability to have it hooked up to 2 different computers at the same time. Also does great scans. I use both firewire & USB 2 connections on the back of the scanner since it is a dual interface scanner. I use the firewire connection to my MDD dual 1.25 mz (OS 9 native boot version) computer, And use the USB 2 connection for my powerbook 1.67mz (not hi-rez) as well as a macbook core 2 version - 2. ghz. Under Tiger on all machines, scanner has worked great w/out incident w/all apps that use scanners (acrobat 7, photoshop 7, photoshop CS2 on the powerbook & macbook & omnipage X). The epson twain driver I am using is v 5.75 it was installed in all the machines except the macbook, it has v 2.77a which was for intel & ppc.

With leopard much has changed. After updating the powerbook to 10.5 scanning is hit and miss. Sometimes the mentioned apps see the scanner fine other times not. As per epson site suggestion I updated the powerbook now running 10.5 w/the newer intel/ppc v. 2.77a. really has no improvement over the older 5.75 driver. (Both drivers seem to coexist fine although at some point I may remove the older 5.75 to see if it is interfering w/the newer one.) Either driver can be selected & can work, but not w/any true pattern of success. Oddly it seems that when both connections on back of scanner are connected,( even if other computer is off) less chance of powerbook seeing scanner on USB. Disconnect firewire cable on back of scanner, pb sees scanner more often, but no pattern really emerges. Also it would appear that the pb can see the scanner more often w/firewire connection hooked up & usb disconnected.

Macbook 10.5 (epson v 2.77a) seems to see the scanner fine on firewire, haven't checked yet w/usb.

The MDD 10.5 on the other hand which has not had the newer v 2.77a installed, and which I keep always connected via firewire ( as the MDD is not USB 2) scans every time via the 5.75 driver on firewire. Tried it w/USB (1) would not see scanner to scan.

My conclusion so far is that of course epson needs to update or fix their driver. It would appear that scanning via firewire is more reliable than USB, but that kind of defeats the beauty of this scanner's ability to have it connected to 2 live computers at once and be able to scan from either one

Glad someone finally mentioned this scanner as regards 10.5. as I have been scouring the mac sites for some info on this. Maybe someone else has come up w/a solution. As always thanks for keeping up a great site for Mac info.
-Paul"
Thanks Paul. (Earlier replies today follow.)
(12/12/2007)
"Hi Mike, I am using an Epson Perfection 2450 Photo scanner under 10.5.1 with the 2.77A driver. How may I be of service?
(Mac Model? Direct connection to mac ports?)
(Is your Scanner on all the time or can you turn it on and use it after booting the OS? (just curious after the earlier reply below))
-DaddyPaycheck "
Here's another reply that said he can use the 2450 (using FW) if rebooting after turning it on:
(12/12/2007 updated again at 5PM)
"I can get my epson 2450 to work with Leopard - but it requires I reboot my machine just prior to using the scanner. I can't just turn the scanner on and have it work. The scanning software won't start up (it tries to start up - then quits.)
This has actually been an ongoing problem for me. I haven't had descent preformance with my epson scanner for awhile now
(I asked for info on his Mac and to confirm he's using the same version software noted in the earlier post below. (Also please note if you're using onboard mac ports or PCI Card or Hub, etc. in reports. Thanks) There's been quite a few quirks reported with USB and FW cards in Leopard, at least with PCI cards.-Mike)
yep ... same version software (as mentioned below). I'm on a Mac Pro 2.66, 8GB Ram, OS X 10.5.1. I would love get this resolved, but I'm not holding my breath.
I'm using firewire ... perhaps that is the issue? I will try USB and see if that makes a difference.
(he later wrote)
Ok - I thought it was going to work ok with a direct USB connection (no hub). I fired it up and it worked perfectly! ... Then I closed the app and tried to start it up again - No go. It just hangs and I have to force quit. If I turn the scanner off and then on again, I can get Epson Scan to start and work fine - until I close it and try to start it again (hang).
So, to answer your question, I can get it to work, but it's a hassle.
One last comment - I can't get it to work at all through my USB hub. It has to be a direct connection.
-Matt"
The original 2450 post today (on scan utility quits) follows:
(added 12/12/2007)
"Thought you'd like to hear about this one. I upgraded to Leopard on day one along with everybody else only to find that the Epson Scan Utility posted to the Epson Driver/Support page (Epson Perfection 2450 PHOTO Scanner downloads page) crashes every time you try to launch it. (Just for the record I asked for his Mac system info) G5 DP 2.7GHz tower. I have VueScan, most updated software of all time, and it works just fine. I still prefer to use Epson's own software. No particular reason I suppose. So between VS and ImageCapture, I can do pretty much everything you can do with Epson Scan, it's just not the same thing.
Not a big deal, but I find it very disconcerting that Epson posted this "Leopard Compatible" software to their site on August 9, 2006.
I've been in contact with their support people about this and they suggest using Apple's Image Capture application instead. It's terrible to see such a large company display a complete lack of consideration to their customers by putting software on their site which is supposed to be compatible more than a year before the software was ever released to the public.
Sorry, just had to vent a little bit.... After this and the ink fiasco with Epson, I don't think I'll be buying anymore of their products.
Thanks, SMR"
That page must have been updated with the 10.5 notes after Leopard's release. (Which I'd like to think was a result of their own testing with 10.5.) I asked if he'd tried some usual voodoo (rebooting, reinstall drivers, disconnect/reconnect scanner, check prefs, etc.) but that won't help if it's really a software incompatibility. (I mentioned VueScan as an option although it's not free.)
Here's a clip from the page/download he's referring to:
TWAIN Driver and EPSON Scan Utility v2.77A
Intel-based Macs with OS X (v10.5 - 10.5.x) compatible, PowerPC Macs with OS X (v10.5 - 10.5.x) compatible, Intel-based Macs with OS X (v10.4.4 10.4.x), PowerPC Macs with OS X (v10.2 - 10.4.x)
epson11929.dmg - 25.4MB - posted on 08/09/06"
FYI - That page also links to their Macintosh Leopard Support page and link to a page with Professional Imaging Public Beta Leopard Printer Drivers are now available. Professional Imaging Public Beta Leopard Printer Drivers for Epson Stylus Pro 3800, 4800, 7800, 9800 and 11880 Series. (link expired.)
---
(added 12/5/2007)
" Canon Canoscan n676U on Powerbook G4 and Leopard
I thought I'd chime in on the Canon scanner thread as I originally bought my Canon Canoscan n676U based on your review of a previous model a few years back. It's like yours (my old N656U.-Mike), bus powered, very thin/slim and works great. I have managed to keep it working on several systems. It's a great scanner for documents/faxes/receipts, etc.
Originally it was on a Dual 500mhz G4 tower, and then an aluminum Powerbook G4 1.25ghz, and then the final G4 1.67ghz Powerbook.

I upgraded it to leopard the day it came out, and was able to keep it running in both Photoshop CS2 and CS3. Then oddly enough just the other day when you ran the thread on it, I had I just upgraded Photoshop CS3 to 10.0.1, and it finally stopped working giving me a message that the scanner couldn't be found.

I went to Canon's site and downloaded the most recent drivers several years old in the disk image: n676uosx7011en.dmg, and tried just replacing things with pacifist from the .BOM with no luck. So after a couple unsuccessful installs, something finally clicked and it finally started working again, and everything was back in business.

The version of the ScanGear plugin is 7.0.1.1x dated september 18, 2003 and the N067U_Library.shlib in the CFMSupport folder is ver 2.06, from August 25, 2003, and supports the N670U/N676U and LiDE20.

Even the button support works with the original canoscan app, launching it without problems. I seem to remember a long time ago though that it did throw constant errors to the USB log, so I might disable the button manager, as I rarely use that at all. (I did that also - I never liked that USB button polling... an HP AIO I had also did that and their old drivers at least would eventually hog CPU cycles and ram - memory leak I guess. I finally stopped using it for other than a Fax/Copier.-Mike)

This config seems to work fine for me even with the very latest Photoshop CS3 Extended 10.0.1 on my PowerBook G4 1.67ghz.

I havent yet tried it on a brand new 2.2ghz Black Macbook, but will let you know how it works - betting it will fail on the Intel machine, but will also try the Twain Sane stuff you linked to - thanks for that!
Regards, Rob
Manager - Philadelphia Flash Platform Adobe User Group
Official Adobe Community Expert "
---
(added 12/5/2007)
" Mike, I too had been using the SANE TWAIN driver from http://www.ellert.se/twain-sane/, in Tiger on my Intel iMac (w/Canoscan N650U), and it worked great! (Reader FYI - see earlier notes/tips on Twain SANE drivers, including 10.5-Mike
Upon upgrading to Leopard (Archive and install), I found that the older version didn't work, and the installer wouldn't reinstall since it was checking for 10.4.x.

I emailed the author, and within a couple weeks or so, there appeared a Leopard version. But it wouldn't work. So I emailed back and forth with the author for a week or so, and eventually he had a new package on his download page that he wanted me to try.

This worked, so some extent. In the Image capture app, I can only scan at 8bit color. In Photoshop CS 3 I can only scan in 8 bit or 14 bit. really weird. I have a Canoscan N650U, which is a 48 bit scanner...

I haven't decided what to do yet, since I haven't had anything i NEEDED to scan recently.
-Bryan B."
---
(added 12/5/2007)
" Canon USB scanner issues
I have also had problems with Canon USB scanners. I bought a LIDE 70 scanner this summer and it worked passably well (though any resolution over 300dpi was purple colored...).
When I upgraded to a Mac Pro from my Quicksilver G4 in September though, all compatibility was broken. Buried deep within the support pages at the canon site, there was a document referring to some sort of bug with Intel machines and had a workaround which of course did nothing to fix the problem. I still had my Alu Powerbook to use with the scanner so I wasn't too put out, just inconvenienced.
When Canon released the new LIDE 90 I was hopeful that it would be compatible and after a thorough browsing of the Canon Support docs, noticed no references to Intel compatibility. I bought it and lo and behold, it works with my mac Pro. (One Intel-Mac owner with a N656U scanner (see post below) said the PPC software ran if he selected "run under Rosetta"-Mike)
Aside from a weird problem with the scanner arm getting stuck at full extension, which is fixed by having the scanner cycle through again, I am loving the new one. Given the price $60 and the fact that it gets its power only from the USB port this scanner is perfect for me. Granted, for professional use this thing is probably not ideal, but for occasional use its great.

Anyway, just thought I would pass this along given all the talk about scanners. Unfortunately I don't have the old scanner to test with the SANE TWAIN drivers since I got rid of the old scanner but I dont think they would work since the scanner wouldn't work even when plugged in under windows which leads me to think there is some sort of hardware incompatibility between the MacPro and the chipset inside the LIDE 70.
-Charles W. "
---
More on (officially unsupported) Scanners in Leopard, 'TWAIN SANE' drivers (from 12/3/2007 news) Follow-up to yesterday's post on Leopard Drivers/Apps updates for (some) USB Canon Scanners/AIOs and some models not in the Canon list of 10.5 supported scanners working in Leopard:
"Hi Mike, Regarding USB Canon N656U, (I mentioned yesterday I had this bus-powered thin USB scanner for use w/my PB G4 (not running 10.5) and it had no updated drivers/app for 10.5 nor was it in Canon's list of supported scanners in 10.5.-Mike) I've bought 10.5 but holding off installing it for a while on my main computers.

The CanonPI CS-U 3.8X driver still works in Photoshop CS 3, but only if you select 'Open using Rosetta' (intel-based Mac) in the get info window. i.e. not Intel ready...

I did however find a great website which has extensive support for all kinds of scanners, some extremely old: I've installed the packages in 10.4.11 and they work great with apps like Yep.
TWAIN SANE Interface for MacOS X
They even have a package for 10.5!
The install procedure for me was, thanks to Steve Leibers Blog:

Grab all files from here: http://www.ellert.se/twain-sane/ Install in the following order:

libusb.pkg
sane-backends.pkg
twain-sane-interface.pkg
sane-preference-pane.pkg

From http://www.sane-project.org/:

"SANE stands for "Scanner Access Now Easy" and is an application programming interface (API) that provides standardized access to any raster image scanner hardware (flatbed scanner, hand-held scanner, video- and still-cameras, frame-grabbers, etc.). The SANE API is public domain and its discussion and development is open to everybody. The current source code is written for UNIX (including GNU/Linux) and is available under the GNU General Public License (the SANE API is available to proprietary applications and backends as well, however). More details about the license can be found on our license page. Ports to MacOS X, OS/2 and Microsoft Windows are either already done or in progress."

Hope this helps someone...
Regards, Charles T."
A MacBook Pro owner replied he's using the SANE drivers with his LiDE 30 in Leopard:
(12/4/2007)
"Canon LiDE 30 and SANE
Hi Mike, Thanks for the tip from Charles T. about the TWAIN SANE drivers.
I'm successfully using my Canon LiDE 30 in 10.5 on my MacBook Pro. I hadn't been able to use it since I moved to an Intel Mac, as I could never get the Canon installer to successfully install (it always reported an error). I was seriously considering a new scanner, or buying VueScan (which works for my scanner, but is $40), but this saves me from any of that.
Thanks!
Adam N."
Yesterday an LiDE 30 owner with a PPC Mac wrote he's using it in 10.5 OK although it's not listed by Canon as officially supported in 10.5. (Copy of post below)
---
Leopard Drivers/Apps Updates for (some) USB Canon Scanners/AIOs (from the Dec. 3rd, 2007 xlr8yourmac news page)
This probably isn't news to readers with USB Canon scanners and AIO's that already installed Leopard, but today I spotted a couple Apple kbase docs titled OS X 10.5: Canon CanoScan scanners unable to scan and OS X 10.5: Canon inkjet printer cannot scan (no longer online) that both list updated drivers/apps from Canon as a solution, although no specific models are listed in the Apple docs. (And from my search results below - only some models are supported in Leopard - but see a reply below from a LiDE 30 owner that said it's working despite not being in the 10.5 "supported" list). Both docs say to go to www.canontechsupport.com/ and from the Product pop-up menus select your Multifunction printer or CanoScan Scanner model and download the latest drivers/applications for OS X.
I have an old bus-powered USB Canon N656U model I use primarily with my PB G4 (not running Leopard on that machine) but checked there for updates under the Mac OS X item and was directed to a page that had only "10.1.3 - 10.4.x" downloads for the N656U and this note:
" Do I need to update my drivers to support Mac OS X v.10.5 (Leopard)?

Only the following scanner models are supported in Mac OS X 10.5 (Leopard):
4400F, 8400F, 8600F, 8800F, 9950F, LiDE 25, LiDE 35, LiDE 60, LiDE 70, LiDE 90, LiDE 500F, LiDE 600F

The current Mac OS X driver download for the above models will function in Mac OS X v.10.5. However, it is recommended that you check our Download Library periodically for updated drivers."
I didn't search for other scanner models or AIOs however.
Update - a reader said he's using his LiDE 30 OK in Leopard, despite it not being in the list above:
"I have a CanoScan LiDE 30, which is not on the officially supported Leopard list, but it works just fine with the existing drivers on both a G4 PowerBook and a Core Duo MacBook Pro. I had a little difficulty with the installation on the MBP, but at least the Canon scanning application works.
-Alan S."
(Update - for those that have no other choice (and do not want to buy Vuescan), see later post above for info/tips on 'TWAIN SANE' drivers.) That reminds me - years ago after a 10.3.x update on my Powerbook my N656U wouldn't work (scanning in PShop) after an update, but reinstalling the software solved it - but I've not tried it with Leopard yet. (Never installed the software for it on the G5 tower - the only machine here that has Leopard on it.) I originally bought the N656U years ago as it was bus powered (no AC adapter/wall wart required) and thin enough to fit well in the backpack case for the Powerbook. (Handy for trips to relatives for scanning old photos they had.)

---