ATI's Control Panel is one feature I wish Mac Nvidia cards had. (One of the oldest wish-list items for Mac Nvidia card owners.) Although some of the features I don't currently use (like display rotation), I still consider them a bonus.This section has screenshots and some brief info on the various features. (Users can click on the "?" icon in ATI Displays to access Help for more information.) For previous owners of ATI cards this isn't anything new but I included it for readers that have never owned an ATI card or used the later versions of ATI Displays for OS X.
Due to the number of screenshots, there's several pages here on the various sections of the ATI Displays control panel app including Mac2TV options, Advanced Controls and 3D/OpenGL Overrides panels. These pages are based on ATI Displays 4.4.4 which should be included on the retail X800 XT CD. (When I wrote this the latest public release is v4.4.2, which doesn't recognize the X800 XT card.)

When you open the ATI Displays you see the Info panel which has the card ID, memory size and current display resolution/refresh rate. The detect displays button can be used to ID all connected monitors and is handy to use when connecting a 2nd display (avoids the need to restart the computer).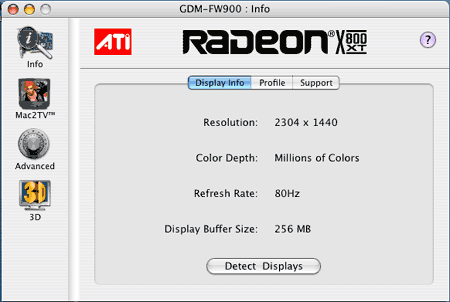 ---

The Profile panel lists details on the installed ATI card including model, firmware version (ROM#), driver version, etc.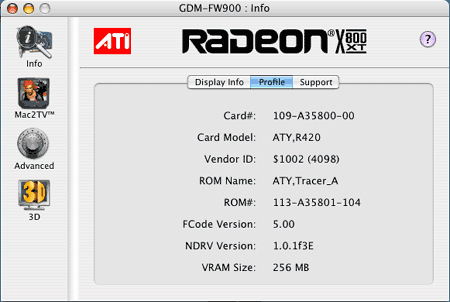 ---
The Support panel has a link to ATI's website and a button to generate an Apple System Profiler report. (Which is good to include when troubleshooting specific problems as it contains info on your system's installed hardware and software.)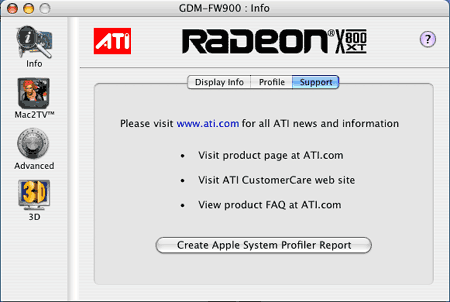 ---
The next page covers the Mac2TV panel options.