---

IBM Article on 970FX G5 Power Usage/Vcore Limits (from M.Isobe, author of several previous articles on G4 CPU module designs on the Systems page.)
" Dear Mike... I have found interesting document from IBM that is related to your Xserve G5 power usage reports.
Please read an article titled "Power envelope and power management in Power Architecture processors" (http://www-1.ibm.com/technology/power/newsletter/august2004/article7.html) (article no longer online now - I did find a current page with specs, docs, datasheets, errata on PowerPC 970 and 970FX Microprocessors (Article no longer online but as of 2018 there's still a PowerPC 970FX datasheet PDF). Apple also has a kbase doc on Xserve G5: Power consumption and thermal output (BTU) information).
The article shows the power consumption of 970FX/2.5GHz in various power management mode. According to the article, 970FX with 1.3V Vdd has a reliability problem. So, the upper voltage is limited to 1.2V. I think it was the reason for the CPU Vcore was 1.2V in newer revision of Xserve G5.
The article also stated that IBM's 90nm process has a problem that prevents operation below 1.0V Vdd. So, I can speculate current situation of 970FX;

1) The reliability problem in high voltage (Vdd > 1.2V) operation inhibits faster (> 2.5GHz) chip,

2) We cannot expect ULV revision for PowerBook because 90nm 970FX does not work below 1.0V.

I am happy if this info is useful for your readers.
Best Regards,
Michiro Isobe "
(previous info follows)
A reader with a new Xserve G5 wrote regarding the lower-power/wattage version (compared to the original G5 towers) of the IBM PowerPC970 it uses
"Re: observations G5 970FX in new XServe
hi mike,
we received our xserve G5 a few days ago. it is the model with one 2.0GHz processor.
theserver-monitor application is pretty much verbose: Vcore of this G5 is 1.32 Volts. when idling it draws about 15 watts (or 11.8amps) (15W/1.32V = appx 11.36A), under 100% cpu-load it draws 44.5 watts or 33.5 amps. (remember this is at 1.32V and using 44.5W/1.32V = appx 33.7A)
the maximum core-temp from the cpu under 100% load was 75 degrees celsius. ambient temp. was at about 25 degrees celsius.
best regards,
michael b.
P4 northwood draws about 18 amps when idle. "
Several readers wrote doubting those current figures (not realizing the fact it's at 1.32V) so Michael sent screenshots of the server utils screens - here's one showing the core voltage and another he took at idle:
CPU Core Voltage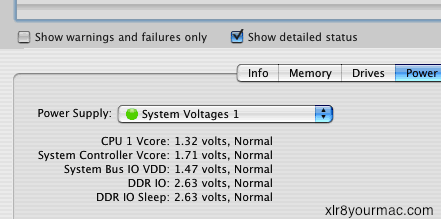 Current reporting at Idle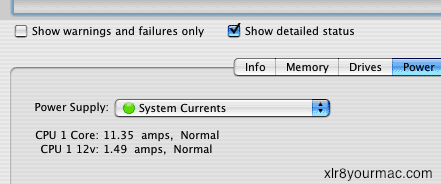 He said he'd take a screenshot of the 100% CPU usage Amp reporting tonight and send it in tomorrow.
Some months ago info on the web regarding the (90nm) PowerPC970FX said it was spec'd at 24.5W at 2GHz (apparently that is typical/avg not max) where the 130nm (original) PowerPC970 was listed at 51W at 1.8GHz.
Update (5/6/2004): Here's the screenshots of 100% CPU usage he later sent.
" mike, as promised, here are the screenshots from the server monitor app while the cpu is under 100% load. the values are slightly lower than yesterday afternoon, i suspect this is due to significant lower ambient temperatures this morning.
note the upper threshold on the screenshot showing the wattage: up to about 70 watts seem to be in the normal range, although i doubt that it will go much higher than 44 watts...
best regards,
michael b. "
CPU Wattage at 100% Usage

Current reporting at 100% CPU Usage


Another Xserve G5 owner wrote with reporting after extended use of Folding at Home.
" I just read the short about the XServe G5 owner - I've been running the "Folding@home" project on the XServe to see how loud it might get while trying to stay cool (it'll set in my cubicle...but more quiet than my old G4 tower 10.1 server). So I've attached a couple screen shots of my G5 single 2 GHz proc at full load - I included Process viewer behind the Server monitor window as proof (system voltages/currents)
Thanks, Steven H. "
His CPU voltage is reported at 1.21Volts vs 1.32V shown in the earlier Xserve G5 report above, although the Amps reporting is higher:
CPU Voltage (2nd Xserve G5)

Current reporting at Extended 100% CPU Usage


Apple's Graph on Power Usage:
Another reader sent a graph (modified) from Apple on power usage of various servers.
" P.S. This pic is what Apple has to say about the 970FX power.
FYI, I swapped I believe (IIRC) it was the Xeon and Itanium numbers, because Apple mixed them up. However, the 970FX numbers are the original. (This pic was from some guy on the net so who knows, but they were said to be in Apple marketing materials.)
Eug. "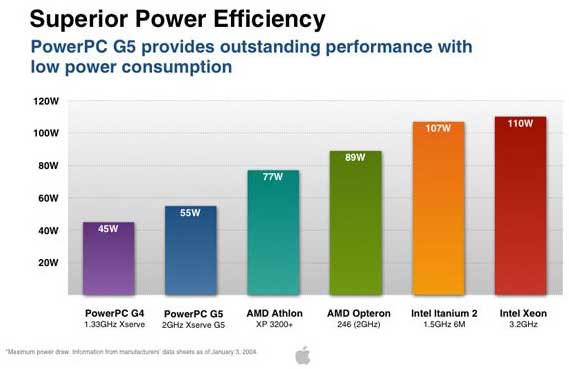 Apple Kbase doc on Xserve G5 Power Usage:
Apple has a kbase doc on Xserve G5: Power consumption and thermal output (BTU) information subtitled "Learn power consumption and thermal output information for Xserve G5". Includes a table with several configurations (drives/CPU, etc.)