Nvidia 8800GT w/Thermalright HR-03 Plus cooler (Fan Cooled)
(In Mac Pro)
By Davor P.
Posted: 8/1/2008

---

Nvidia 8800GT w/Thermalright HR-03 Plus cooler - TAKE TWO
I have more news about modifying Nvidia 8800GT with Thermalright HR-03 Plus cooler. The story continues... Last time (ref: June 19th article) I aborted the whole project and reverted to the original cooler because HR-03 Plus dissipates immense heat inside the expansion bay. I guess it's acceptable when you have just one or maybe two hard drives, but with 4 it's too risky. Hard drives went up in temperature by 5-7 °C during normal sessions and even more while doing intensive 3D. I have found that very unsettling. Maybe the card is cooler in some lower resolution, but on Cinema 30 it's under constant stress.

As I don't take defeat easily, I have searched for some solution to this because of several reasons:

I still think that the stock cooler is too loud,
Thermalright HR-03 Plus combined with a good fan is not cheap at all, I don't want to waste it so easily,
I haven't found anything that promises better solution (apart from NV5 Silencer, and it's hard to find one these days).

All modern aftermarket coolers do the great job when cooling GPU, but they dissipate heat inside case, and I think that's a major flaw. Once, there was a dozen od DHE (Direct Heat Exhaust) coolers available, but not anymore. DIY PC users solve this with a Borg-looking installations, with a bunch of additional fans and so on - not something you want to do to a beautiful and very silent Mac Pro.

I have found some PCI cards with fans - but they are not suitable for a Mac install beacuse they need a free Molex connector (not very elegant to pull one out of optical bay) and they bl°Ck one slot - and in HR-03 case that is "one slot too much" as this monster cooler with a fan attached uses ALL slot space available.
Then I found this: A Pack of 4 Vented Expansion PCI Slot Covers for Improving Rear Case Airflow ($7.99)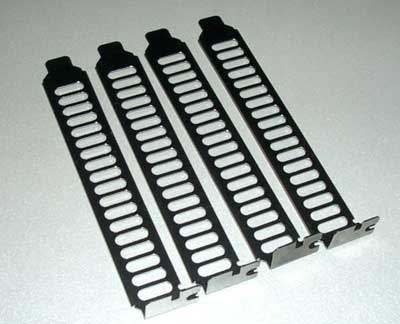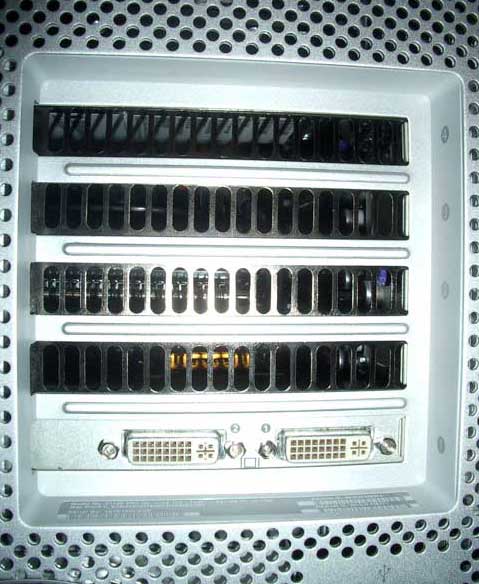 Very simple and cheap solution that provides "70% venting percentage". Looks too trivial, but at $7.99 it was a no-brainer and worth a try. (FYI - The MDD and G5 towers I had came with perforated (holes) PCI slot covers.) To my big surprise, even such a simple modification, made a significant improvement in air-flow. Now the expansion bay temperature was up only by 2°C, and temperature of the hard disks also went up no more than 2°C. Good start!
The other improvement I have made is the way how the fan is connected. At my first attempt I used temporary connection from other source and the fan ran at constant speed in non-PWM mode. I have done it that way beacuse I didn't want to cannibalize the original connector - and I had no luck in finding another one. So, if it's on low revs, it's silent, but the whole thing can overheat in a Mac Pro with 4 drives. If it's on high-revs, we have done nothing - noise again. Maybe, not as noisy as the Stock one, but you can hear it. So, the solution is to use a modern PWM fan and to connect it that way - so that firmware on the graphics card can control it. It's delicate to solder it and the wires are color-coded differently!
NVIDIA <---------------> Arctic Cooling
mini-PWM connector <-> standard PWM connector
black = black (ground)
yellow = red (12 V)
green = yellow (sense)
blue = blue (control)
Once you do it, the thing works like a charm - virtually silent most of time and it spins up if temperature goes out of control.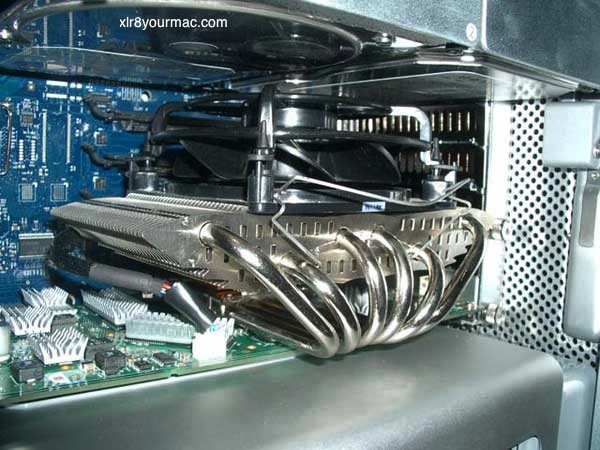 Now, I have done new set of tests (Room temperature 31 °C, without AC.)
NVIDIA 8800GT Stock cooler (in °C)
Hard drive bays: 39, 37, 38, 38
Hard disks: 48, 48, 48, 49
Expansion slots: 44
GPU core, GPU memory, GPU ambient (idle): 70, 54, 58
GPU core, GPU memory, GPU ambient (stress): 85, 77, 79
Thermalright HR-03 Plus + Arctic Cooling 92 mm PWM fan + Silverstone Aero Slots
Hard drive bays: 40, 38, 39, 40
Hard disks: 49, 48, 49, 50
Expansion slots: 46
GPU core, GPU memory, GPU ambient (idle): 61, 53, 57
GPU core, GPU memory, GPU ambient (stress): 75, 67, 69
So, now this seems as an improvement. I'll continue to test it. But even now, when it seems that it works acceptably I still would not recommend this cooler for Mac Pro owners.
Pros:
very, very quiet
cools GPU efficiently (probably the best on the market)
(FYI - the Accelero S1 Rev 2 cooler also got good comments, suprisingly even if fanless. And is lower profile.)
good build quality
cool 6-pipes-monster-look.

Cons:
takes up ALL available slots!
extremely troublesome installation (screws too high for a Mac Pro, delicate connector soldering)
needs quality additional 92 mm PWM fan and Aero Slots covers
dissipated heat inside case and raises exp bay and hard disk temperatures
expensive all around
I hope it's of some help to fellow Mac Pro users!
Best, Davor Pasaric
P.S. - And some fresh photos...
Photos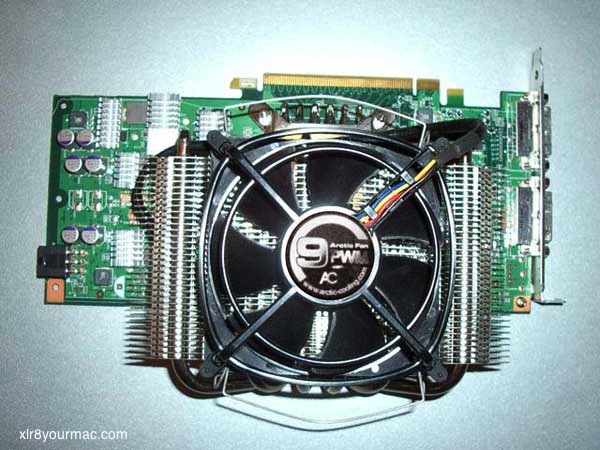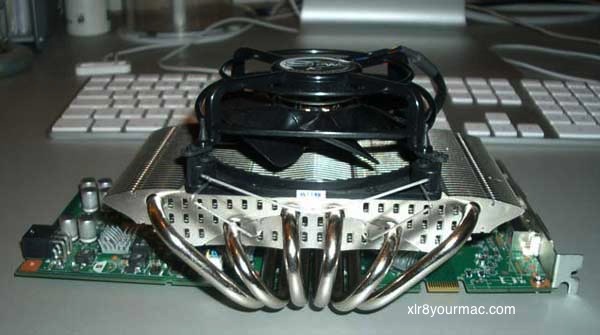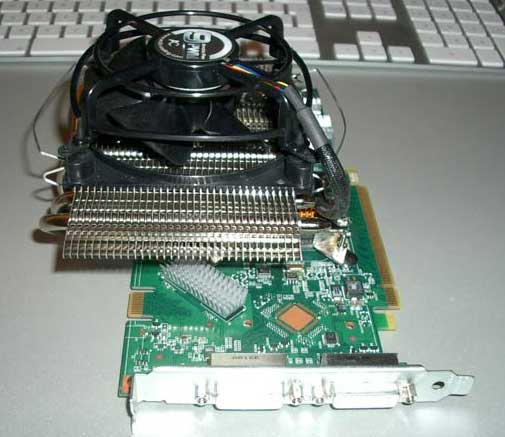 ---
Other Graphics Card and Video Articles: - See the Video topics page.

---
---
OWC XYM SPECIALS!
(Ad/Sale items)

= MAC UPGRADES =
Upgrades just for
YOUR Mac!

= New/Used Macs =
(Click for List)

= SSDs up to 8TB =
Fast SSDs for Most Macs/PCs

= ThunderBolt =
Drives, Docks & More

= HARD DRIVES =
Up to 12TB HDDs
HGST, WD, Seagate, Toshiba

= 2.5" HD DIY Kits =
Notebook Hard Drives and DIY drive/case kit bundles

= MEMORY =
Lifetime warranty RAM Upgrades!

= OPTICAL DRIVES =
Internal and External Superdrives/Blu-Ray drives

= VIDEO / DISPLAY =
Graphics cards, Displays, Adapters, Cables & more

= AUDIO ITEMS =
Interfaces, Cables, Software, Speakers, Headphones & more

= SOFTWARE =
Apps, Utilities, OS, VM, Games and more

= WIRELESS =
WiFi and Bluetooth Devices/Adapters/More

= Repair Service =
for iPhone, iPad, Macs

= iPad/iPhone/iPod =
Accessories, Cases, Repairs & More

= NuGuard KX Cases =
*Extreme* Drop Tested!

XLR8YourMac T-Shirts

---