Nvidia 8800GT w/Thermalright HR-03 Plus (Passive) cooler
(in Mac Pro, not recommended w/o Fan)
By Davor P.
Posted: 6/19/2008

---
Update: (Aug. 1st, 2008) Davor later sent an update with comments/photos on adding a Fan on the Thermalright HR-03 with vented PCI slot brackets in his Mac Pro.
---

Hi, This one could be interesting to many readers.
Issue: modifying Nvidia 8800GT for Mac Pro with Thermalright HR-03 Plus cooler. (FYI: the product page has a "NOTE: In order for HR-03 PLUS to run effectively, it is strongly recommended that a 92mm fan is installed." See Davor's notes on that below.)
This is more of a warning than a tip, but it's important to inform fellow Mac Pro users who are considering an upgrade of the stock cooler on Nvidia 8800GT card not to repeat my mistake.

On my previous Mac (Dual G5 2.5 with 6800 Ultra) I have installed a third-party NV Silencer. It was not an easy install, but it worked perfectly. With the same idea of reducing noise and temperature, I have searched for a solution for my current Mac Pro system with 8800GT card. The most awarded cooler I have found was Thermalright HR-03 Plus - a solid and honest-looking "do the job" oversized cooler that could do it even in passive mode if the case is properly ventilated. So, it was an obvious choice. However, after several days of experimenting I have concluded that this solution is not something I can recommend to Mac Pro users. Here is the story...

The stock cooler is not that bad - it's very slim and it keeps 8800GT in 70-80 °C range for most of time. It's also very silent until running high-end games. But, as we Mac users always strive for perfection, I was keen to try something extra.

The first problem is that Thermalright cooler needs an extra 4-5 mm space under the card for a metal cross that holds gigantic construction above. In Mac Pro the fastest, double-wide, PCI-Express slot is the lowest one - the one with almost no extra clearance. So, the official way to install it is just not possible. The installation without that part is doable, but then everything messes up - the screws are too long, or too short and you need to have a good choice of extra screws to secure the thing. I had luck with some leftovers from my old 6800 Ultra stock cooler. After a lot of tinkering I have managed to install the cooler securely. It was a very tight fit in the lower PCI-Express slot, but it was in. I was very happy as the installation looks impressive inside Mac Pro tower. I also removed one PCI slot cover to enable more air flow over the cooler coming from the huge expansion bay fan.

The initial test showed impressive results - the temperature was down from 73 to just 49 °C - without any fan on the cooler. However, when the huge-mass cooler finally heated up, the temperature started to rise, slowly, but steady. I have done all the measurements in Windows XP with SpeedFan and Everest utilities as Mac's Hardware Monitor does not support 8800 GT sensors. Mr. Marcel Bresink said in an email to me that Apple didn't include a way to read the sensors in current 8800 drivers. I hope Apple will upgrade drivers with that ability soon.

It was time for some heavy-weight testing - I configured demos to use full Cinema 30" resolution with maximum complexity settings. After 15 minutes card reached over 100 °C and finally crashed. The conclusion is that it won't work the passive way with Mac Pro default case cooling. Plan B was an installation of a 92 mm low-noise fan. Trivial? Not so. You have no connector in Mac Pro for an ordinary 3-pin fan. So I have done a temporary setup using power from the 4-pin connector for the stock fan on a 8800 card. New surprise - fan works great, but the card itself won't initialize if you are using that port and don't give feedback from the fan back to the card (PWM standard). OK, no problem, I'll buy an Arctic Cooling 92 mm PWM fan. Now, the catch was that PWM connector on the 8800 card is not of the standard size - it's much smaller. So, you have to get the micro one or cannibalize the existing one from the original fan. Finally, the card was cool enough to run anything you throw at it without any glitch for hours, and it was also very silent. So, is this the happy end? It is not!

All the time I was checking just the card itself, but with that leviathan cooler in the middle of the expansion bay the Mac's eco-system was disrupted! I have four 1 TBs hard drives in upper bays. They were burning hot! If I must choose between perfect silence and my data safety - the choice is clear. It seems that, unlike original cooler, Thermalright dissipate heat all around the case rising the temperature of the expansion bay considerably. So, you have to provide an extra air-flow to keep things in balance. Too much hassle I'd say, it's not worth it.

The original cooler has a heat-shield and it really isolates the card from the rest of components, also, the air-flow goes straight out. I had no choice but to revert to the stock cooler! I'll wait for some cooling solution more suitable for a Mac Pro. The moral of the story is - don't rush with mods, save your money and enjoy Mac the way it is - because it's very well designed.
-Davor

Photos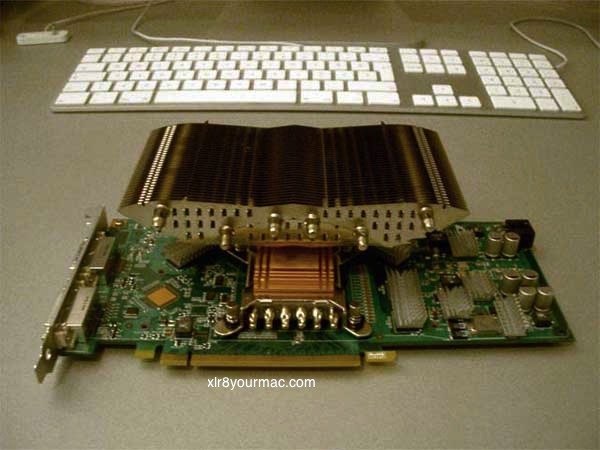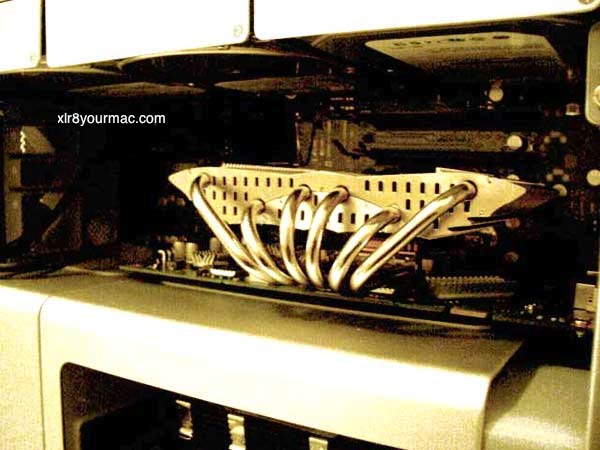 (FYI - A Mac Pro owner w/8800GT replied to this article with notes and pix on his experience with a Thermalright V2 (w/fan) on his 8800GT.)
---
Other Graphics Card/Cooler Related Articles: - See the Video topics page.

---