Radeon X1900 XT Overheating? Check for Dust Buildup
Posted: 7/2/2007
---

Using boot camp to boot into XP to play all my favourite windows games on my Mac Pro, everything was going swimmingly for months. Using the X1900 XT, I used Catalyst to overclock modestly, and enjoyed beautiful visuals with great frame rates. Then one day, Prey decided to keep quitting. No problem, it was only one game. Then, I started to notice that the more graphically demanding games either would quit unexpectedly, or more scary, I would get corruption in the display. I figured, well maybe it's time to back off the overclocks.
Unfortunately, even at stock, I was getting some corruption in games like Need for Speed Carbon (yes, I know it's "coming soon to the Mac!" but I've been playing it for weeks on my Mac already in XP).

On a whim, I opened up the box and inspected the card. All seemed well, fan was operating okay. Just to be certain, I removed the card. I looked at the front of the HSF assembly, where the air comes in. This is what I saw: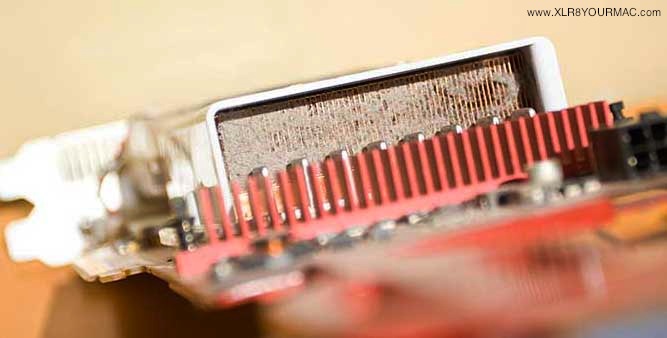 Yikes!
I went around to the back of the card, and gave a nice, sharp puff into the PCI exhaust grill. This is what came out the other side: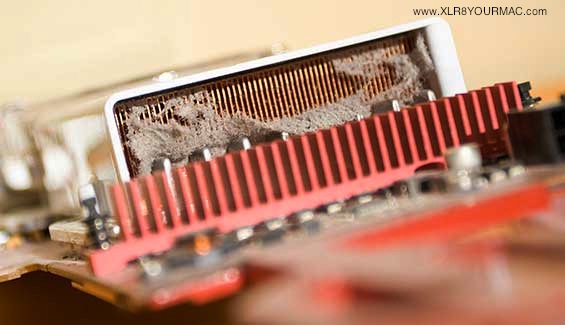 When I picked it all out: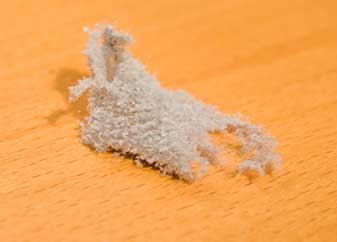 I also unscrewed the fan assembly, because the red rotors were grey, too. Blew them out and reassembled. Popped the thing back in. Booted up Win XP. Went into Catalyst and put everything on max, and then overclocked to 700/650 (just to be sure). Played NFS Carbon for about 30 minutes. Nary a corrupt pixel now my friend!
Seems to me that the big fat grill on the Mac Pro needs to have some kind of dust filter. I don't live in an overly-dusty house!
-Vader
---
The Video topics page has other Graphics card related articles.