Installing a SSD (Solid State Drive) in a 2008 Mac Pro
By Oliver B.
Posted: 5/12/2008
---
I bought a MemoRight GT SSD (solid state drive). (Performance of the drive can be seen in this article on SSD vs 10,000 RPM WD Raptor/Velociraptor drives.) At first, I installed it in the last hard drive bay: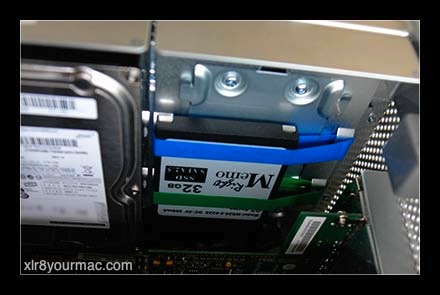 I couldn't use the screws/holes because the 2.5" drive won't fit the 3.5" sled properly. The drive is off-center to match the data and power connector location of a regular 3.5" drive. Here's a picture for comparison: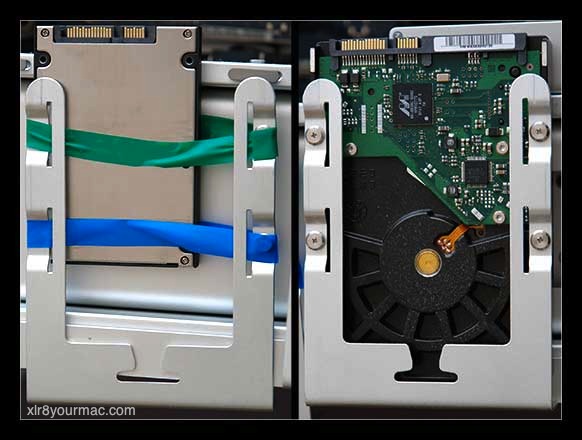 As you can see, this was a rather makeshift/temporary way of installation, so I decided to put it into the optical drive bay. A WD Raptor already resides there. Fortunately, the X-Swing HD decoupler has holes to attach two hard drives. Because the SSD is a 2.5" device I added a 2.5"-drive to 3.5"-bay adapter into the mix: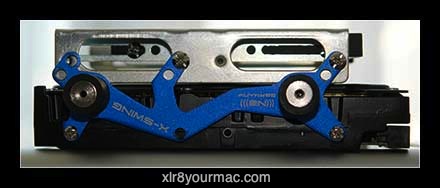 This had to fit into one of the optical bay slots (the lower in my case), which took a bit of trial and error to get right. There are various ways to combine the 2.5"-to-3.5" adapter, the SSD and the Raptor, and only a few of them fit, and even fewer leave enough clearance for the slide-in-bolts at the bottom of the optical drive bay.
The above arrangement just barely fits. However, the slide-in-bolts touch the metal frame of the 2.5"-to-3.5" adapter, which makes the decoupler useless in terms of noise reduction. (For the time being I'll live with the Raptor's noise, as I'll get the new VelociRaptor as soon as it becomes available. It will replace the Raptor and is apparently much quieter - plus I might try putting the whole assembly in the top slot of the optical bay, and the DVD-burner in the bottom slot.)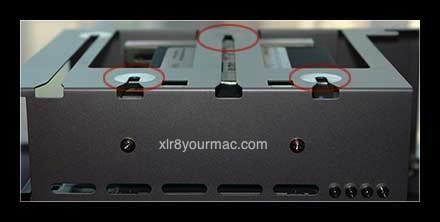 I replaced the previously used SATA cable with two longer ones. I got power for the two drives off the second Molex power connector, using a Molex-to-SATA-power-splitter (Y cable). The following pictures shows how it looks like with all the cables connected.