Mac Pro 2008: Guide to optical bay hard drive installation
By Oliver B.
Posted: Jan. 28, 2008
---
Below are a few photos of me putting a Raptor 150 GB in the optical drive bay of my new Mac Pro. This has been described before for 2006/2007 models (ref: June 2007 article How I "Silenced" a WD Raptor in a Mac Pro), but with the 2008 model it has become easier, as evident in pic 1 to 3. Pics 4 to 8 show the rest of the process. Cheers, Oliver

1. The front fan assembly has be removed, which is attached by two screws. The pic below shows where the first screw would be.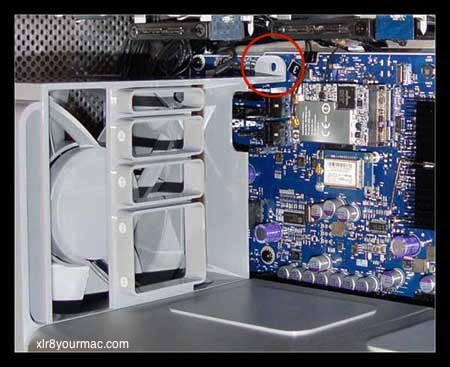 2. The CPU heat sink cover has to be removed. Contrary to the previous Mac Pro, the heat sink cover can be simply pulled off, as it is fixed with magnets (no need to loosen the RAM compartment as with the earlier Mac Pro).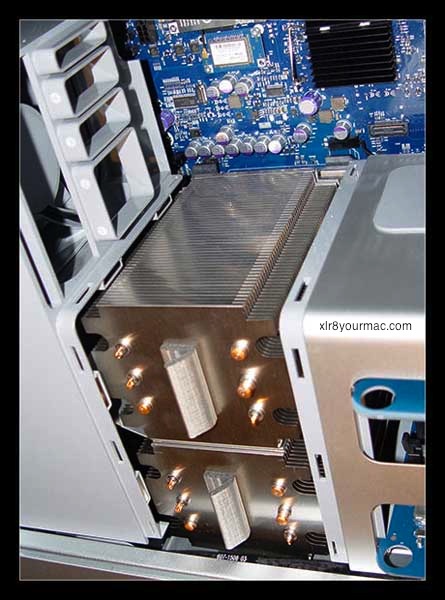 3. This is the second screw fixing the front fan assembly to the case. Also clearly visible is one of the magnets.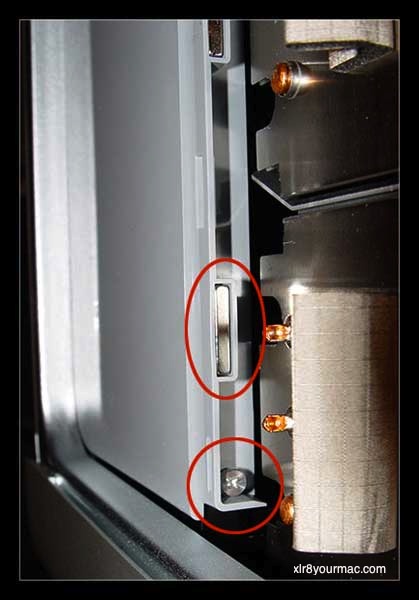 4. When the screw is removed, the fan assembly can be simply pulled out (hardly any force necessary, much unlike the previous Mac Pro IME).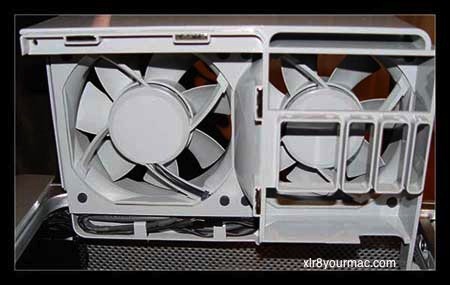 5. There's enough space to fit a SATA cable in there. One has to be somewhat careful not to break the connector on the motherboard, as there's no guide/shroud around the connector.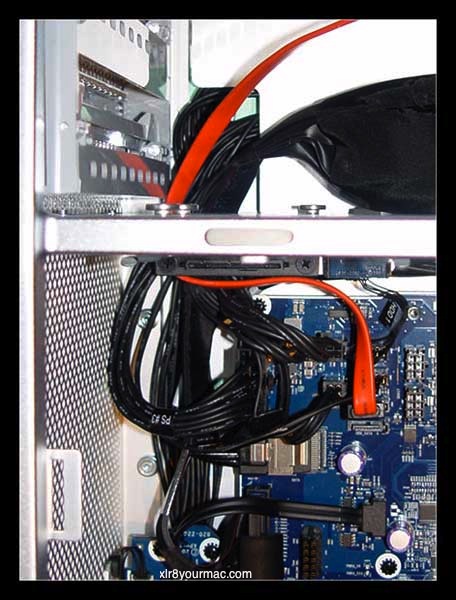 6. I decided to cut out a part of the fan assembly, but it's not strictly necessary if the cable is routed this way. One could route a SATA-to-eSATA cable out the back through one of the PCI slots to attach an eSATA device (I used to do this for my external backup drive).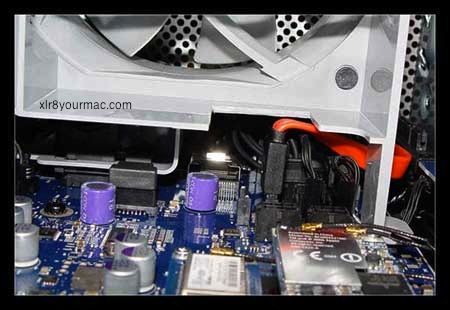 7. The Raptor 150 with a decoupling 3.5" to 5.25" mounting kit (rubber cylinders dampen vibrations).
(Note: He's using an "X-Swing HDD decoupler")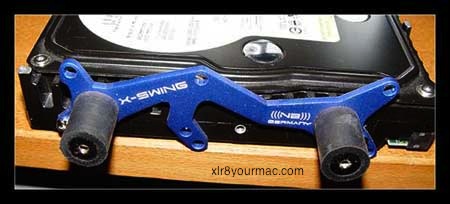 8. The Raptor installed in the lower drive bay.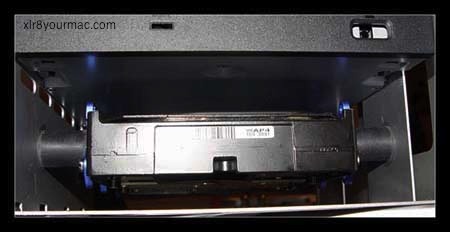 ---
Related Articles:
For other Mac Pro related articles, see the Macs/Mods page, Intel-CPU Macs section.
(There's also an article on Using the Mac Pro's 2 extra onboard SATA Ports w/NT Cable Kit and Ext. SATA Case.)