News Archive for Monday, February 4th, 2013
Go to Current News Page
---
Mac Upgrades/Mods | Storage | Video | Audio/Home Theater | Tips/OS Updates/WiFi
---
= Recent Articles/Updates =
(OS X) EDID Patch Script to Force RGB Mode (vs YCbCr) on External Displays
Over the weekend a reader sent a note about another thread on EDID mods to fix washed out/color issues with some external HDMI/Displayport Monitors used with modern Macs that includes an EDID patch script. See this thread at embdev.net titled Dell U2713H on Mac: forcing RGB mode instead of YCbCr. Down the thread is an update with universal EDID patch script. (I've also added this info/link to the previous page on 2012 Mac Mini HDMI display problems.)

Note for HDMI 2.0 Macs
HDMI 2.0 doesn't support 4K/UHD resolution 10-Bit RGB (4:4:4) mode at 50/60Hz (only 8-Bit), but does support 4K/UHD 10-bit/12-bit 4:2:2 Chroma at 60Hz using YCbCr mode.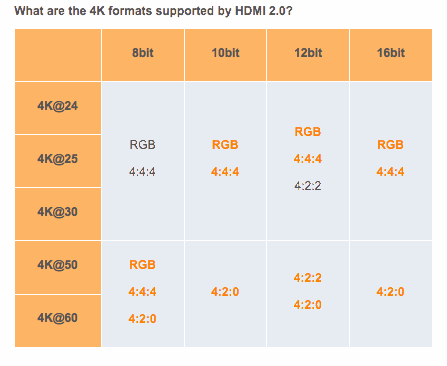 Apple/products related News/Reviews/Op-Ed/Software Updates:
New/Updated Apple Support/How-To/Troubleshooting Articles: (from early Feb. 2013)
(Below are from Feb. 4th, 2013 post - Apple may have removed or changed some articles.)

Topic based page of Guides, Tips & Troubleshooting for Mac & iPhone/iPad/watchOS Users.

Recent Articles/Tips/Tweaks/Reviews:
Listing/links of updates to mod/upgrade articles, tips and reviews you may have missed.

Previous Archived News:
For links to past news pages, see the Archives.

---
OWC XYM SPECIALS!
(Ad/Sale Items)

= MAC UPGRADES =
Upgrades for YOUR Mac!

= New/Used Macs =
(Click for Current List)

= SSDs up to 8TB =
SSDs for Most Macs!

= ThunderBolt =
Drives, Docks & More

= HARD DRIVES =
Up to 12 TB HDD
HGST, WD, Seagate, Toshiba

= 2.5" HD DIY Kits =
Notebook Drives & DIY drive/case kit bundles

= MEMORY =
Lifetime warranty RAM Upgrades!

= OPTICAL DRIVES =
Internal and External Superdrives/Blu-Ray drives

= VIDEO / DISPLAY =
Video cards, Displays, Adapters, & Cables

= AUDIO ITEMS =
Interfaces, Cables, Software, Speakers, Headphones & more

= SOFTWARE =
Apps, Utilities, OS, VM, Games and more

= WIRELESS =
Wi-Fi and Bluetooth Devices/Adapters/More

= Repair Service =
for iPhone, iPad, Macs

= iPad/iPhone/iPod =
Accessories, Cases,
Docks & More

= NuGuard KX Cases =
*Extreme* Drop Tested!

XLR8YourMac T-Shirts

---