Samsung UBD-K8500 4K/UHD Player Settings Tips/Troubleshooting
(This article is from Nov. 2016, Later firmware may fix problems seen with early versions.)
I've seen many early reports of HDMI or handshake problems with this player, or 4K/UHD disc playback issues. Many problems are related to:
Not using HDMI 2.0 Certified Premium cables. (6ft versions are under $10 now)
(preferably 6ft or 2M length if possible. Very long runs may need active cables.)
Forcing 4:4:4 chroma - Use "Auto" Color Format setting on K8500.
(home screen is 60Hz, which even at 8-Bit is near spec max. There are some rare 4K/UHD 60P Movies like "Billy Lynn's Long Halftime Walk" and "Gemini Man".)
Bugs in the player or AVR/TV. (Check for firmware updates.)
AVR or TV not set for Enhanced/HDR HDMI 2.0 modes (See AVR/TV manual.)
4K/UHD Disc freezing or skipping. (Especially with 100GB discs.)
(Try cleaning the disc with warm water/dish soap, even if it appears pristine)

If you have problems with the player appearing frozen - try resetting the K8500 - eject any disc inserted, and then hold down the "Stop" button on the right side of the top edge for 5 seconds. This will reset the player to default settings (Auto Resolution, Auto Color format, etc.) If the Stop button reset doesn't work (not resetting/no video), try playing a blu-ray movie (insert disc, press play on remote) - the blu-ray 24fps playback should show video. You can then quit the movie and the player's desktop/home screen should appear, allowing you to change settings (like forced 4:4:4 that can cause 4K 60Hz home screen problems) back to "Auto".

If you see a blinking red LED on the K8500 (and no video on TV), double check that you have the HDMI cable connection(s) correct. (Ensure that the main HDMI output on the player is being used for Video. Some accidently used the 2nd/audio only port as main/video by mistake.)

If you have problems with an older AVR, try using a direct connection to the TV - using HDMI 1 to TV, HDMI 2 for audio to receiver and keeping cables as short as possible. (Even some HDMI 2.0a/HDR and HDCP 2.2 compatible AVRs (and TVs) have had some issues with this player.) If you're using a 4k/UHD HDTV exclusively, I'd set the UBD-K8500 output resolution to "2160P" (vs Auto), which some said helped with mode switching/detection issues. (Of course the UHD TV's HDMI input port should be set for HDR. Some HDR TV's may call that HDMI setting "enhanced" IIRC. The 2015 LG OLED has that setting in the "Picture" menu, calling it "HDMI ULTRA HD Deep Color". (Not to be confused with the Deep Color setting on the K8500. The LG is a 10-bit panel.) If the TV's HDMI port setting isn't correct, you won't get HDR. The LG EF9500 momentarily displays "HDR On" in the upper right of the display when in HDR mode.)

Some HDMI 2.0 AVR's HDMI ports need to be set to Enhanced/HDR mode. (See the AVR's manual.)

In the setup I tested (LG EF9500 OLED), the owner used a separate Blu-ray player for 1080P discs and the K8500 for 4K/UHD playback. Having the K8500 on a different HDMI port (direct TV connection vs through the AVR) allowed having different TV picture settings for UHD/HDR discs vs 1080P discs. (The ISF Expert 1 (day), Expert 2 (night) and Cinema mode settings can be different for each HDMI input, allowing for optimized settings (day, night, etc) for each player/disc type.)

General Tips for Samsung UBD-K8500 Users:
Don't set (force) the UBD-K8500 Color Format to 4:4:4 - use the (default) "Auto" setting. 4k/UHD (10-bit) and blu-ray (8-bit) discs are encoded 4:2:0. With the player desktop (home screen) at 4K/UHD 60Hz, even 8-Bit UHD 60Hz 4:4:4 is just under the 18Gbps HDMI 2.0 max and with many cables may not be reliable. (4K 60Hz 10-Bit 4:4:4 exceeds the HDMI 2.0 spec. For 4K/UHD 60Hz 10-Bit, only 4:2:0 is supported per HDMI 2.0 spec. 12-bit 4:2:2 is supported.) Even at 8-Bit, the problems with 4K/60Hz 4:4:4 player home screen is typically because the cable used can't handle 8-Bit 4K/60Hz 4:4:4 (17.82Gbps IIRC) - just under the HDMI 2.0 18Gbps spec max. 1080P players usually had a 4:2:2 option, but not the UBD-K8500 although it reportedly outputs 4:4:4 with "Auto" Color Format setting when playing 24fps (24P) content like Blu-Ray and UHD movie discs.

Since it outputs 4:4:4 for 24P disc playback using "Auto" color format setting - why force 4:4:4 (always) when it has the potential for problems at the player 60Hz home screen. (4K/24P 10-bit 4:4:4 is a HDMI 2.0 supported format, as well as 4:2:2 but not 4:2:0 so the player has to convert the disc's 4K/24P 4:2:0.) But if you set the player's Color Format to 4:4:4, it will always use that - even for the 60fps (4k/UHD) desktop/home screen - which caused loss of video with his setup/cables when outputting 4K 60Hz.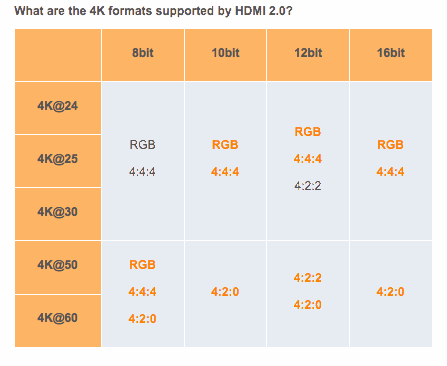 Tested 4K 60Hz (forced) 4:4:4 home screen again with a more expensive 3M ("pearl") cable he had on hand (brand name I won't mention, but infamous for outrageous prices) - instantly resulted no video. Changed (reset) from 4:4:4 back to "Auto", no problems. None of the cables he had on hand were reliable with forced 4:4:4 player setting at the 60Hz player home screen. (He had no certified for HDMI 2.0 18Gbps cables at the time.) Using "Auto" vs forced 4:4:4 was reliable for the 4K/60Hz home screen. (Again, "Auto" setting uses 4:4:4 for 24P discs without the 60Hz desktop problems seen with forced 4:4:4 using the cables he had.)
Again, use (18Gbps) Certified Premium cable as 4K/60P even at 8-bit 4:4:4 is appx 17.8Gbps. (HDMI 2.0x doesn't support 4:4:4 at 10-bit/12-bit, only 8-bit.) If you have to use very long cables, you're much more likely to have HDMI issues at higher rates. (I've never had to use 15+ft HDMI cables, but know some that have went through various brands of 'certified' cables trying to find reliable ones.)
I kept the K8500's "Deep Color" option Off. The "Movie Frame (24Fs)" option should be "Auto" default. And check that Audio (Sound Menu) "Digital Output" is set to Bitstream (unprocessed), as it wasn't the default. (Bitstreaming is required for Dolby Atmos and DTS:X audio decoding by an AVR.) I also turn off Dynamic Range Control.
I left (Sound Menu) "HDMI Audio Output" set to "Auto". (Even though this setup used separate HDMI cables for Video and Audio, the Auto setting allows for cases when the wife didn't want to power up the AVR and used just the TV speakers.)
Even if you use a Samsung TV, I'd set BD Wise to Off. (It's a feature that works with Samsung TVs, but I avoided it even when I used a Samsung player and TV - it set things like sharpness to 50 IIRC. Not sure if it's been improved since then, but even if I used a Samsung TV I'd leave it off.)
I'd also ensure HDMI Control (Samsung calls it "Anynet+") is Off in the player's System settings.
(I always power up devices in this order - Display (TV), A/V Receiver and finally the Player.)
Some owners of HDCP 2.2/HDR/HDMI 2.0a AVRs and TVs have had intermittent problems at times using the UBD-K8500. The 2 cable method, using certified HDMI 2.0 cables (as short as possible) can help minimize problems. Also check for new firmware updates for your TV and AVR.
I did see the K8500 quit disc playback after repeated FF/Reverse testing a scene on a UHD disk, ejecting it with a message about the disc being dirty/unreadable. (I'd seen other reports of this message, but it only happened after repeated or sustained FF/Rev. This was still an issue with firmware 1009, but may be fixed in later firmware updates.) The included remote is too narrow (buttons too condensed, frustrating to use), so I used the remote (AK59-00167A) from my Samsung BD-F7500 instead.
UHD Player Settings Tip for TV's without high Nit (brightness) capability
For users of HDR TV's that can't hit 1000 nits peak (that many HDR titles are mastered at currently - some even higher at 4000), experiment with lowering Contrast setting in the Player. The UBD-K8500 (and some others) have Video/Picture Mode options that include Contrast (and other) settings. (Picture mode options are only accessable during playback, not at the disc menu or player desktop. User Mode settings are retained once set, so don't forget to change the Picture mode back (to Standard or Movie) when playing non-HDR discs.) For the K8500, press "Tools" on the remote, scroll to "Picture mode" option and select the "User" mode. You'll see a list of adjustable picture options, including Contrast. Since some HDR TV's (like this EF9500) don't allow adjusting the backlight/OLED or Contrast in HDR Mode, lowering the Contrast at the Player may help reduce some blown out HDR highlights at the stock settings. Not perfect but for some UHD titles, it helped to show a bit more detail in bright objects. YMMV of course.
For UHD Amazing Spider Man 2 (peak 4000 nit mastered IIRC) with a LG 55EF9500 (400 nit max rating w/10% window IIRC), I used -6 Contrast on the K8500. (In HDR mode the TV's Brightness setting can be adjusted, but not Contrast.) You may not like this workaround, but it's easy to try as an experiment. (It may have some negative effects, I was just trying to reduce blowouts in HDR with this 400 nit rated TV. Some newer Samsung and Sony HDR TVs are designed for very high peak brightness - over 1000 nits.) It's a pipe dream, but I wish UHD Players had an HDR option to adapt/compensate for lower peak nit displays. (Enter your TV's max/peak in the Player's setup/options, and it would tone map the HDR output.) (FYI: That comment was written in 2016, in 2019 Panasonic added an "HDMI Optimizer" in their 4K/UHD Players that has adjustable settings for lower nit displays and projectors.)
---
Tip: Hidden HDR Test Patterns on Sony 4K UHD Discs:
(Not sure if all Sony 4K UHD Movie Discs have this hidden HDR test, but verified the Amazing Spiderman 2 and Hancock UHD discs do. I didn't have any other Sony 4K discs to try.)
To access the hidden test patterns, while at the disc's main menu press 7669 on the remote. The screen goes black and the following appears in sequence during a 3:36 video:
Small primary/secondary color squares (centered on screen, one color at a time), displaying the colors in 100 nits Rec2020, then P3 and finally Rec709 color spaces.


Following that, (HDR) test patterns appear with 10 vertical bars:
- 0 to 100 nits (0.000, 0.001, 0.005, 0.010, 0.100, 1, 5, 10, 50, 100)
- 100 to 1000 nits (100, 200, 300, etc.)
- 1000 to 2000 nits (1000, 1100, 1200, etc.)
- 2000 to 10,000 nits (2000, 2500, 3000, 4000, 5000, etc.)
I hit pause on the remote for each pattern to examine them as they are short duration.
(Remember Emissive displays like OLED have built-in ABL and ASBL. The latter can be disabled in the Service Menu. And in HDR mode the 2015 LG OLED TVs have OLED light and Contrast fixed at max 100 setting, so ABL is more prone to kick in.)
---
Getting off topic of this page so I'll leave it at that. I'm a big fan of OLED, and hopefully LG can eventually solve uniformity at low drive levels (near black banding), deliver higher motion resolution, and improve HDR/Tone mapping. (For banding, it still seems to be a panel lottery. Some improve over time/compensation cycles, but not all. Some have also had problems with tint (yellow, or pink) on white screens, but I've not seen that personally.)
Also see Notes on LG OLED TVs Uniformity, Banding, Burn-In, Bad Pixels, Crosstalk.
(Notes, tips, and tests from an owner of LG C2, C6, E6, and LG EF9500 OLED TVs.)