Mac/OS X Compatible 802.11ac adapters/cards
(USB 3.0/USB 2.0, PCIe, Mini-PCIe)
Latest Report 4/22/2015 (Asus PCE-AC68 PCIe card & OS X 10.10.3)
(Prev update: OS X 10.10 Drivers for Edimax AC450/EW-7711MAC)
---
(Note: Info on this page is from 2013 to 2015 - links and products may no longer be available.)

This page was a catch-all for info/feedback/tips on Mac/OS X compatible 802.11ac adapters (USB, PCIe, mini-PCIe or Expresscard).
---
Mac User Reports (later added first)
(2008) Mac Pro owner report on 802.11ac Asus PCE-AC68 PCIe card: (Updated several times)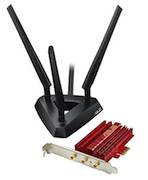 (added 4/22/2015)
"802.11AC Mac adapters - Last Update on Asus PCE-AC68 PCIe card
This is my last update on this card because my MacPro 3.1 (still performing very well) goes out of my house and is replaced by a nice iMac.

Under OS X Yosemite 10.10.3, I did a last short speed test with the MacPro standing next to the Netgear R7500 router - and this card just performs incredibly: Bandwith: full 1300 MBit/s resulting in download speeds from my NAS of up to 80 MByte/s, which is probably the maximum that my NAS can do

And: On longer distances, my new iMac cannot match the reception of the MacPro with external antennas, but that was a tradeoff I took. So keeping thumbs up for this card in old-style Mac Pros!
Cheers, Stefan"
thanks Stefan. (His previous posts follow).

(Updated 10/22/2014 for OS X 10.10.0 Yosemite notes)
After updating to OS X Yosemite, this Asus card now works flawlessly. Identical hardware and router configuration. For some reason Yosemite supports the ac protocol far better, at least with this Asus card - while frequent Mavericks updates had not changed the situation since March 2014. Yosemite reports:

Channel: 44 (80 MHz)
Tx Rate: from 351 Mbps to 468 Mbps (two massive walls between router and the MacPro - nearly the Windows 7 performance with dedicated Asus drivers)

Most importantly: In practice, a big file from NAS downloads beyond 30 and up to 36 MByte/s. This is the performance I was looking for.

PS: On the Netgear Nighthawk Router side, the original drivers still rule, while WRT lagged behind performance-wise during my tests.

(Previous comments from 3/27/2014 follows)
"Glad to inform you that the Asus PCE-AC68 PCIe card works in my MacPro 3.1 (Early 2008) as already reported for a MacPro 5.1. (earlier report below.) It connects to the Netgear R7000 router using the 802.11ac protocol. Connections are stable, however performance is lacking in Mac OS X. (10.9.2 currently.)

In Windows 7 (Bootcamp), the card reaches 585mbps with the latest Asus Windows drivers. Not bad at all.

In OS X 10.9.2, the native Mac OS X Broadcom drivers do not reach 200mbps with an identical router setup. (That's Throughput? (My 2007 iMac 802.11n (5GHz) link rates are better than that.) Have you tried using OS X WiFi Diagnostics tools? (My work machine has 10.6.8 so no WiFi diagnostics utility, but option click on Wifi icon shows stats (channel, RSSI, Transmit rates (varies). Network Utility shows link speed 270Mbps using 5GHz/N.)-M)

Still this might become better through time, and I will probably try out the WRT firmware for the R7000, where I can do much more tweaking of the WLAN settings. Compared to the built-in 802.11n-card from 2008, wifi performance under Mac OS X is already now better (but this has been a very low hurdle ;-)
Cheers, Stefan"
Thanks Stefan. (I think the Netgear R7000 is same as the Netgear Nighthawk AC1900 PCW reviewed.)
(An earlier report on Asus PCE-AC68 in a 2010 Mac Pro is below.)
---
(added 2/2/2015 - see below for later follow-up)
17" MacBook Pro Early 2011 upgraded with MBP 13" mid 2012 Wifi/BT card
I thought I would let you know about my successful switch. Card from the 13" non-retina mid 2012 MacBook Pro - CM94331PCIEBT4CAX installed in my early 2011 MacBook Pro 17". Works like a charm in OS X 10.10.2 with continuity.

The card gives you Bluetooth 4.0 basically, unfortunately these models don't have the 802.11ac wifi like the newer Retinas. Had to enable all the features by using Continuity Activation tool, (at github.com/dokterdok/Continuity-Activation-Tool/ ?) but that was easy. There are not many reports from 17" MacBook Pro users who performed such a swap.
Everything seems to work fine, I dont have another mac with continuity/wifi ac support out of the box so I'm discovering all the uses of hands off and continuity.
I'm also having a GMYLE BT4 dongle ordered from amazon so I hope this will give me some of these features in my trusty Mac Pro 5.1 without having to open the case.
I dont really need ac in this tower as I use ethernet for communication.
Thanks again for your site, been your reader for more than 10 years now.
Best wishes Grzegorz W."
Thanks, I appreciate it. (His report on the USB Bluetooth 4 adapter with his Mac Pro follows.)
(added 2/24/2015, updated 3/2/2015)
"GMYLE BT4 USB dongle used with 10.10.2 on my Mac Pro 5.1
Hello again, I promised to let you know if my BT4 dongle works. Yes it does in 98%. I can receive SMSes from my iphone in imessages, BT low power is supported according to system profiler, I can also receive calls from the iphone, but haven't tested it yet. Continuity has one flaw. When visiting a webpage on other devices I receive notification on all the others that a webpage has been visited on iphone or mac. It works on the mac pro, but after visiting a webpage on the mac pro it does not let other devices know that an event took place. It only receives continuity info, unable to send it. Continuity Activation Tool 2.0 said there was a problem with AWDL and that the interface wasn't up even though the wifi card (original Mac Pro 5.1 Broadcom card) supports it and that the tool can fix this. Now I heve check it again and it says that awdl works and the interface is up, but MP doesn't send anything. (See update below - BT was off.)
The SMSes are the only thing worth the hassle. It works great. I can read messages from my iPhone while having a call. This BT dongle came from amazon UK. It only supports Windows xp/vista/7 according to the packaging, but it works with a mac too! I can recommend it for everyone who doesn't need ac wifi and does not want to mess with MP's Wifi and BT internal cards. It is also a lot cheaper.
(and a later update added 3/2/2015)
Update on the CAT/ Bluetooth 4 USB dongle/Continuity front.
I was browsing in Safari on my Mac Pro with the USB Bluetooth 4 (BT 'on') and noticed that I have got a Safari icon on my iPhone's lock screen! It works now both ways - from and to the Mac Pro! The interface is up. The only thing I might have overlooked is that all the devices have to have BT turned on for Continuity to work :). Silly me, forgot to turn the iPhone's BT on at one point :)
Anyway this little thing gives me all the features I want from yosemity. BTW I have it plugged into usb hub on my desk along with 6 other devices so the range is good, maybe better that the internal one?
Take care, Grzegorz W."
Thanks for the follow-up.
---
Reports on Combo 802.11ac Wifi + Bluetooth 4.0 card/kits for Mac Pros (3,1 to 5,1)

(added 2/3/2015)
"Combo 802.11ac Wifi + Bluetooth 4.0 card/kits for Mac Pro 5,1
I had an interesting issue with the osxwifi.com card in a stock 2010 Mac Pro 5,1
Physically went in no problem, but I had all sorts of spotty problems making Continuity and various functions (like iMessages) work correctly until I zapped the p-ram about 5 times in a row. (Before that I did clean installs and every other trick you could think of, including 1 p-ram zap). For some reason when I did the p-ram zap multiple times in a row, everything cleared up.
(An old tip was to hold the keys down until the mac startup sound repeated 3 times to help ensure it's cleared.)
Since the multiple p-ram zaps it has worked flawlessly on the Mac Pro and in combination with an iPhone 6 and iPad Air 2. My only guess is that p-ram registers do hold bluetooth related info but were not clearing out correctly. So if anyone installs the card and seems to have problems with Continuity or iMessages not working properly, I suggest trying several p-ram zaps in a row.
-Edward"
Thanks Ed, glad it's working. An older apple article "About NVRAM and PRAM" had more info on contents than the current doc it now converts to (How to Reset NVRAM on your Mac which has only a few examples). There was another article "Mac OS X: What's Stored in PRAM?" (info.apple.com/kbnum/n86194) but it's no longer online. But what's stored changed over the years and much of the info in those old docs is obsolete. (For example this old list of pram contents from many years ago.) Found an Apple support doc on OS X: Bluetooth devices become unresponsive (later removed) that said "Resetting the PRAM/NVRAM will not resolve this issue." That article's advice on disconnecting USB devices may be related to cases where USB 3.0 can sometimes interfere with Bluetooth depending on shielding and proximity. (An Intel white paper on the subject was linked at the bottom of Apple's Using USB 3 devices on Mac computers FAQ (now titled "About USB on Mac computers"), but was later removed.)
BTW: Saw 2 threads in the OS X yosemite forum recently (here and here) where some users said their WiFi dropout problems with 10.10.2 were helped by disabling Handoff. (And if you don't use Bluetooth, turn it off. And some USB 3 devices can cause interference.) But nothing seems a fix for everyone. Another later tip is in this post - "sudo ifconfig awdl0 down".
I'm not using Yosemite (yet) but remember posts from day 1 about Wifi problems (especially 5GHz IIRC?) that were supposed (hoped) to be fixed in 10.10.2. (I'm sure many have already read these but links to Apple's articles/Troubleshooting tips for Wifi and BT are listed on the Mac/OS X Help/Tips page here.)

(Added 12/5/2014)
802.11ac and other updates to my 2008 Mac Pro
(below is just the wifi notes from his longer comments on other upgrades here.)

I have been able to add 802.11ac compatibility to my 2008 Mac pro with the following items.
I purchased an Apple Broadcom BCM94360CD 802.11ac mini Wifi + Bluetooth 4.0 Wireless card from ebay, It was less than $29. I also purchased a Mini PCI-E Adapter Card For Apple BCM94360CD BCM94331CD for less than $11. All items took about two weeks to come in from china but I was able to install them easily.

I used all 3 of the airport antennas and removed the bluetooth antenna from the original card on the motherboard.

The installation was straight forward once I found which of the antenna terminals was the bluetooth terminal on the card. Basically, if you are looking at the terminals on the card with the antenna terminals facing up - the second one from the right is the bluetooth antenna connection.

This was a quite a bit cheaper solution for me than macvidcards (or osxwifi from earlier reports below) and everything works perfectly running OS X 10.10.1. I was able to get all the full features (Wifi/BT) that a new system has. This was quite an improvement from the old card in terms of speed and range.
Cheers, Francisco"
Thanks Francisco.
(Added 11/24/2014)
Combo 802.11ac Wifi + Bluetooth 4.0 card for Mac Pro (4,1/5,1)
Got the osxwifi.com card thanks to the post on your site. (earlier reports below).
Install was straightforward (although snapping in the antenna wires was frustrating due to the tight space and the teeny tiny connectors). You will need to buy an extra antenna that will end up taped to the Mac Pro's chassis but this is made quite clear in the item description at osxwifi.com.
(This item? Internal Antenna for Bluetooth - Mac Pro 4,1 and Mac Pro 5,1)
What I didn't see mentioned was that the adapter for the Mac Pro 4,1 and 5,1 (2009/2010-12 models) has a USB cable that needs to snake out of the back of the computer and connect to the USB port outside.
(That USB cable is shown in the Combo 802.11ac+BT 4.0 Card/kit for Mac Pro 4,1/5,1 models)
So those like me who are bothered by having to remove a PCIe dust cover and having a wire snaking out of there may want to get a USB card with an internal port, like this:



(Example Port pix from Sonnet USB2-E PCIe Card)

Not a deal breaker by any means but just thought it should be mentioned. Card works flawlessly in my 2009 Mac Pro with the unofficial 5,1 firmware.
-José"
Thanks José
Below are 2 earlier reader replies to a post in Nov. 14, 2014 news about a combo card at macvidcards. (OEM card from iMac?) MacVidcards has a Guide to installing the Wifi + Bluetooth Combo Card in a Mac Pro 4,1 or 5,1.

(Added 11/17/2014)
Much cheaper source of 802.1ac wifi and Bluetooth 4 LE cards: www.osxwifi.com/adapters
I have one in my old Mac Pro and it enables Handoff and Continuity without problems.
-Robert."
Thanks, glad to hear it's working with Yosemite Continuity (natively supported card/chipset). For the record was it a 2008 Mac Pro (3,1) or a Mac Pro 4,1/5,1 model?
And another reply from a Mac Pro owner (2008/Mac Pro 3,1) from the same source:
(Added 11/17/2014)
802.11 a/b/g/n/ac card (+ Bluetooth 4.0) for 2008 Mac Pro
I bought a card here (osxwifi.com Apple Broadcom bcm94360cd 802.11AC + BT 4.0 with Adapter for Mac Pro 2008) a couple of weeks ago to upgrade my mac pro 3,1 early 2008. It came in less then a week for $89.99, works great, fairly easy install, cheaper than macvidcards and in stock.
-Charles"
Thanks Charles. (The screenshots you sent didn't make it through.)
---
(Drivers for) Belkin F9L1109 Ver.1000 (8830-15167 Rev A00) 802.11AC USB 3.0 Adapter:
(Updated with info he used the OS X 10.8-10.9 driver download in OS X 10.10.0)

(Added 11/3/2014, updated with Mac/OS X info)
Additional Working 802.11ac USB Adapter (w/driver install)
I picked up two Belkin F9L1109 Ver.1000 (8830-15167 Rev A00) Dual Band AC USB 3.0 adapters at a Walmart on clearance for $5 ea. a couple months ago (normal price ~$70). Figured I couldn't go wrong at that price even if they never ended up working. They were labeled as Windows only.

Knowing that most of these adapters are just the same thing in a different shell, I figured I'd start with the Amped Wireless driver for the ACA1 referenced on your site. (ref: earlier post from July 2013 news. There was a Amped ACA1 support page (no longer online) that had driver downloads at bottom of page. Supported OS X list of downloads there include OS X 10.4-10.9. Listing doesn't include OS X Yosemite (yet) but per later comments he's using the 10.8-10.9 driver in OS X 10.10.0.)

(What Mac(s) and OS X version are you using?)
MacBook Pro (Retina, Mid 2012), using OS X 10.10.0 (Yosemite).
The drivers state they're for 10.8-10.9.

I figured I'd at least have to modify the device IDs or something in the driver, if I was even lucky enough for them to be the same chipset, but was very surprised to see the adapter light right up after installing the ACA1 drivers and rebooting.

So far, it has been pretty stable. Only exception is if you rip the USB dongle out when it's not ready for it - had a kernel panic.

The Link Speed on the Amped Wireless Utility seems to always say 867 Mbps (or 144 Mbps on 2.4 Ghz). The last screenshot shows the actual negotiated speed seen from the router end of things. (Screenshots sent but didn't make it through, sorry)

I have not done any real performance tests. A basic internet speed test maxed out my DSL line just fine though at @5.2Mbps, which doesn't stress anything, but at least shows it works. I also did a quick push/pull via FTP from a USB 3.0 drive attached to the wireless router (so one hop) and it came in with a peak of about 208 Mbps (average of about 136 Mbps). That was from across the house a few rooms away (so plenty of walls and such in the way @ 5 Ghz), so I suspect it can do better.

I have not yet tried monitor modes, etc.
(he later wrote)
I've noticed that it doesn't seem to handle sleep well. I've come back a few times and found the device not re-connecting to the network and having to pull the adapter out and put it back in again for it to work. I have not seen another kernel crash though in doing that (good). I don't know if that's related to it being a technically unsupported OS for those drivers, or just the drivers. I don't have a 10.9 device handy to test with.


Been following your site since at least 2002 when you had to hack up DVD profiles to get them to work. Great stuff. Keep it up!
-Michael E."
Thanks, I really appreciate it.
---
USB Edimax 802.11ac Adapters Feedback: (later added first)

(added Feb 4th, 2015, updated Feb 5th)
Edimax Yosemite compatible drivers now available for EW-7711MAC (AC450)
Saw the update yesterday. Installed and the AC450 now works fine under Yosemite.
(See below, driver now updated/notes 10.7 to 10.10.5 support.)
I have it installed on a 2009 Mac mini running OS X 10.10.2. It is connected to the latest generation Airport Extreme at 5GHz.

I ran a cable modem speed test on it and it was right at my max throughput of 60Mbps down and 4Mbps up. Haven't tested file transfer speed between it and another Mac yet.
No problems so far, but I'm not a fan of the software. Puts an unsightly bar graph in the menu bar and I haven't found a way to hide it.
-Michael F."
Thanks. (The Driver update is at Edimax drivers page, 4th heading down titled "802.11AC 5Ghz only" (in yellow) - EW-7711MAC AC450 wireless adapter Mac OS 10.7 to 10.10.5.)
(added Dec 9th, 2014, updated Jan 5th, 2015)
Edimax 802.11ac adaptors
Might also be useful to know that I used both (on a 2012 Macbook Air) and that the (dual band) EW-7822UAC was more consistent than the smaller (AC450, 5GHz only) version. Not surprising I suppose seeing it has a folding out antennae but of course the smaller (earlier) version is much more discreet and less bulky.

And yes I did try re-installing drivers (in OS X yosemite) from the CD to no avail so am waiting (Im)patiently for the updated Yosemite driver which I was advised is to be posted on the Edimax website in January 2015. And long may you continue with the your website - it's mandatory reading for me every morning and much appreciated. *B-) cool.

(later notes on a Beta Driver for OS X Yosemite)
Updating my previous post: Edimax have listed (15 December) a beta version for Yosemite 10.10 of their driver for the 7822UAC dual-band wireless adapter.
(Here's the Edimax (USA) Driver and Manual Downloads page. 4th listing down is "EW-7822UAC, EW-7811UTC, EW-7811UAC, EW-7811DAC, EW-7811USC" that now has OS X 10.10 driver linked.)
Have downloaded and installed with a significant difference in performance on my 2012 Macbook Air. No obvious bugs.
No sign yet of their promised updated driver for the 450AC unit (Update released - see above) but good to finally get the benefit of the AC protocol which should be the ideal match for fibre-optic broadband.
- David
New Zealand."
Thanks again, I appreciate it. (His earlier report follows.)
(added Dec 5th, 2014)
Re: 802.11AC Edimax adapter(s) and OS X Yosemite
Might be useful to know that I purchased the Edimax usb adapters (small and the larger version with an antenna) which worked well with Mavericks but gave up the ghost when I upgraded to Yosemite. (Driver reinstall didn't help.)
Edimax support advised me that they knew this and were working on a new driver for Yosemite which was likely to come out in January 2015. Just fyi.
- David"
Thanks David. (Update - see above for OS X 10.10 driver.)

An earlier report/reply to original PR on Tiny Edimax 5GHz 802.11ac USB follows:

(added 8/1/2014)
"Edimax AC450 802.11ac USB (EW_7711MAC) (5GHz band only)
I'm bought this from OWC and installed in my 2010 Mac Pro with Radeon hd 7950 video card, 32GB ram, 5 internal and one external (usb) hard drives running OS X Mountain Lion, Mavericks and the Yosemite Beta installations. It works, but I had problems with installation of the drivers on three or four attempts, but finally got it to go.

There are 11 (network) connected devices - 3 iPhones, 3 laptops, an iMac, an Apple TV, an iPad 2 and my Mac Pro. Concurrent with this I installed an (802.11ac) Airport Extreme router and Charter bumped up our internet connection from 30 to 150Mbs (for free). I am the only 802.11ac connection, but speedtest ookla indicates excess of 100Mb download and 4.6+ upload. Web pages load faster, but I am not sure what measurement to use to proof real performance improvement. I ran Geekbench recently and got 2441 on the dual-core test.

I noted that they use the same software as the MAXPower g/b stick I used before and I haven't figured how to get it to load with entering the password, but Link Status shows this. (image sent twice, didn't make it through)
Thanks for your website.
-Wright"
Thanks Wright. (Not sure why the image didn't come through - maybe just send a summary text of the info.) When I saw how tiny the AC450 was, I thought it would be more popular with MacBook Air or other laptops. Wish I had an 802.11AC base and adapter, although my net service connection pales in comparison to yours. ('rated' at 10Mbps, actually much less.) Always wanted to try one of the 802.11ac PCIe cards in my 09 Mac Pro, although it's still running 10.6.8. (And might be sold anyway, it's been unused for years now.)
---
QuickerTek QCard3 802.11ac in 15" Retina MacBook Pro: (reply to early PR on 802.11ac QCards)

(added 7/14/2014)
Subject: QuickerTek QCard3 802.11ac WiFI upgrade card
Just a heads up. I installed one of the three port versions (QCard3) in my early 15" MacBook Pro Retina and it provides a significant improvement to the laptop's WiFI responsiveness on both my Apple AC wireless system and on a WiFi system that is based around a Linksys WRT 1900 AC system. On the Linksys I am getting 50 mbps download throughput as compared to 8-9 mbps with the stock "n" card.

(Any comments on the card install/swap?)
QuickerTek sent a note with the package that they were out of the pentalobe screw driver, so it took me about a week to get around to ordering it on Amazon. This after I went to Sears and Home Depot and could not locate one. Also, the plastic tool to lift the wires off the old card was missing, but a golf tee sufficed for that. The actual install was very easy, but it's also a good idea to have a small pair of needle nose pliers handy to hold the wire snaps above the location on the card to press the wires down.

Finally, the instructions were incorrect about the number of (antenna) wire attach points on the new card, if you have the 3-port card. My instructions said one wire (an antenna wire) off the old card would not be used. That was not the case, as all antenna wires do have a place on the 3-port card. (Maybe the instructions were for the 2 antenna version of the card and not revised for the 3 port model?)

They just also released a wifi card for even older iMacs and MacBook Pros, but there is no mention of the last generation 17" MacBook Pro and they have not responded to my questions about whether the new card will work on that laptop.
-John H."
Thanks for the feedback John.
---
(2010) Mac Pro owner report on 802.11ac Asus PCE-AC68 PCIe card: (updated twice)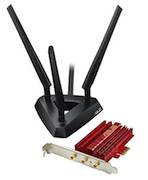 (added 2/10/2014, updated again on 4/17/2014)
"Subject: Asus PCE-AC68 Mac Pro compatibility
Just an FYI that I installed this (Asus PCE-AC68 (802.11ac Dual-band Wireless-AC1900 PCI-E Card) $99.99) and it worked fine in my Mac Pro 5,1. I'm running OS X 10.9.1 and it is using native drivers in my Mac Pro. Nothing other than just going in to the System Preferences to initiate the configuration.
Connects fine, but I need to get an RT-AC68U (Asus Dual-Band Wireless AC1900 Gigabit Router) to verify if the full network bandwidth capability is working. I've had the internal (Airport wifi) card off for weeks and no issues have been seen. In fact, just by virtue of having the external antenna I've been getting better speeds at 802.11n anyway.
RT- AC68U is on order ("fortunately" my old Sonicwall firewall just died, so it needs replacing)

(4/17/2014 update with later comments using AC1900 Router)
So I have the Asus AC-68 card in my MacPro5,1 and I just got the Asus AC1900 router so I'm finally testing an all AC network. The connection speed is in the 365-405 range, while my Mac Book Air 2013 from the same location connects at 585.
On the one hand, the connection has been a bit better than the 802.11N Airport Extreme it replaced, but the cables on the external antenna are remarkably short for a desktop product. I'm going to see if I can get a set of extension cables so I can move the antennas somewhere a little better
-Mike V."
Thanks Mike. IIRC the Asus RT-AC68U 802.11ac base was one of the top-rated in PCWorld's review of six 802.11ac routers (linked at bottom of page here). Appx $200 US at AZ/bbuy last I checked. (Make sure to check for a firmware update when you get it.) Below is an earlier report on the ASUS PCE-AC66 card (similar but specs list 1900 Mbps for AC68U vs 1750 Mbps for AC66U).
---

Edimax AC450 802.11ac Dedicated 5GHz (only) USB Adapter:
Just noticed the tiny Edimax AC450 802.11ac USB adapter ($24.99) at OWC. A very small USB stub type adapter, dedicated 5GHz, up to 433Mbps. Supports 5GHz 802.11ac, 802.11n and 802.11a. USB 2.0 interface, Lists OS X 10.6-10.9 support. (Update: OS X 10.10 drivers at Edimax support page.) The Edimax AC450 page (EW-7711MAC) calls it a "USB Adapter 802.11ac Upgrade for MacBook". (Update - see above for user reports.)
---
Another 802.11ac USB Adapter with OS X Support/Drivers:
Here's the blog post for the BearExtender Turbo: 802.11ac USB Wi-Fi (USB 3.0/2.0) Adapter for Macs (list price was $79.97 at Feb 2014 post date). Has dual (removable) antennas and lists OS X 10.6 and later support. (Here's their support/drivers page.)
---
Earlier Notes on 802.11ac Cards (PCIe and Mini-PCIe) for Macs:
(Reader is from France and native links are in french but I've also included Google's english translated links, which are not always 100% accurate and of course can't translate any text in images.)

"Subject: (Mac compatible) 802.11ac cards
You can use the Asus PCE-AC66 [product page] in a Mac Pro, and the card is recognized as a third party 11ac Card.
It also works on a Mac using a Thunderbolt to PCIe enclosure (with a little driver modification) [English translated])
I have tested the Asus PCIe 802.11ac card in a Mac Pro. [English translated]

You can find Mini-PCIe card with BCM4360 (3x3) or BCM4352 (2x2, 867 mb/s like MacBook Air) on eBay, but they are very expensive (almost $100 for (2x2) BCM4352 at ebay). (comment from 2014, prices often drop over time unless parts go obsolete.)

I think that Mac OS X (10.8.x or later) can use all cards with BCM4360 and BCM4352.
The biggest problem [w/mini-PCIe] is that you must have a Mac compatible with Mountain Lion/Mavericks and a mini PCIe slot: many recent Mac use a proprietary slot for the Wi-Fi card.
Best regards, Pierre"
Agreed. (Mentioned in some past articles. But someone had asked about Mini-PCIe cards.) Some USB 802.11ac adapters had drivers for OS X versions going back to OS X 10.5 and even OS X 10.4 (info/links below), although I've not seen the same for Mini/PCIe cards yet. Article here used 2009 iMac. Mid-2010 and Mid-2011 iMacs per iFixit teardowns appear to have a Mini-PCIe slot wifi card also. Late 2012 and later iMacs however have combo WiFi/BT card. (And of course the Late 2013 iMacs already have 802.11ac wifi (different format card), no need to for an upgrade.)
---

QuickerTek QCard2/QCard3 802.11ac Mini-PCIe Cards:
Quickertek listed two QCard2/QCard3 802.11ac Mini-PCIe cards (2 port and 3 port) for $149, but the links from 2014 here are no longer online. (Original linked page had details on specific compatible Retina MacBook Pro and MacBook Air models. They noted supported with OS X 10.8.4 or later.) I assume they were Broadcom based cards.
(See Report on QCard3 802.11ac in 15" Retina MacBook Pro above.)
---
Sources for Mac Compatible 802.11ac ExpressCard?
I've not done any searching for an OS X compatible 802.11ac ExpressCard, but if anyone has found/used one (in an older MacBook Pro that had an ExpressCard slot - none do anymore) let me know. Thanks.
---
USB 802.11ac WiFi Adapters with Mac OS X Drivers: (from 7/15/2013 news)
Amped's (2x2) $89.99 (2013) ACA1 802.11ac adapter (USB 3.0) (no longer online) listed Mac Support - OS X 10.4 to 10.8 on the specs page. (With reminder on lower performance if used w/USB 2.0 port.) Although more expensive than the D-Link DWA-180 802.11ac Dual Band (USB 2.0) Adapter (was $52.99 list), in addition to faster USB 3.0 (vs 2.0), the ACA1 also appears to have better antennas/design than a USB stick. (Hopefully interference with 2.4GHz WiFi/BT won't be an issue like some USB 3.0 drives.)
(Update) The Asus USB-AC56 802.11ac adapter is USB 3.0 and the specs page listed support for OS X 10.5 thru 10.8. (Drivers page download for Mac OS X includes drivers for OS X 10.4, 10.5, 10.6, 10.7 and 10.8.)
---
[For previous info on Mac/OS X compatible 802.11N adapters, see this page.]
---