Notes on Mac Mini SSD upgrade install/drive swap
Posted: 3/11/2013
(Updated 6/29/2014 with note on TRIM Enabling in OS X)
---
I had a chance to swap a Toshiba 512GB SATA2 SSD in a Late 2012 Mini for a SATA 3 480GB Intel 520 series SSD. (The 520 SSD owner had a 2009 MacBook Pro and later found out an SATA 3 SSD would only run at SATA 1 speeds in it, due to an issue with the Nvidia MCP79 chipset. That chipset is also used in some other older macs including the 2009 Mac mini 3,1. Sponsor OWC includes notes and list of affected Mac models on their SSD pages like this one.) As part of the deal I would do all labor on swaps/install in the MacBook Pro.) Although the only plans for the Mini was a file server (which is why I chose the bargain priced SATA2 SSD originaly) - this drive swap was well worth the effort.
I wish I had a benchmark installed that did 4k/random tests but only had the Blackmagic benchmark from the previous install. Using the 5GB test option on the 480GB Intel 520 SSD reported 498.1 MB/sec Reads and 283.5 MB/sec Writes. (As with any benchmark, scores can vary a bit from run to run.) The BlackMagic benchmark uses incompressible data which limits SandForce SSD write speeds to much less than would be seen with compressible data. (The majority of my actual use will be compressible files, but regardless I have no complaints. Sandforce's compression also means lower write amplification.) Intel's 520 SSD specs list the 480GB model a bit slower than the 240GB model, but regardless I'm very happy with the swap. (The SATA2 512GB Toshiba SSD in the Mini had benchmarked at 220 MB/sec read, 170 MB/sec writes. The Toshiba 512GB SSD also did not support NCQ (Native Command Queuing) which I didn't realize until I'd installed it.)
BlackMagic Benchmark: 480GB Intel 520 Series SSD
(Late 2012 Mac Mini 2.3GHz Core i7, 16GB RAM)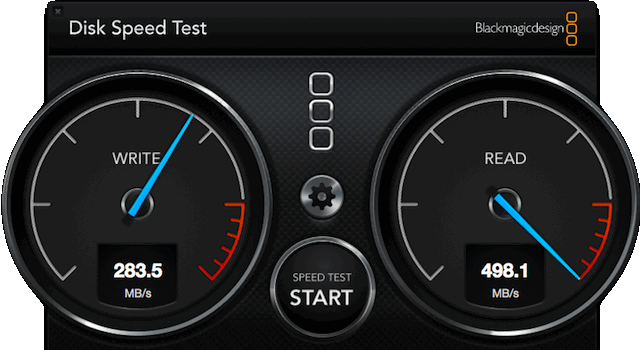 BTW: I later saw a bit better result (503MB/sec read, 298MB/sec write) but again that can vary each run.
(I do wish they'd have an option to auto-stop after 1 R/W run. Unless I've missed a setting for that.) The Blackmagic results for sustained large file R/W performance is good to know, but would be of more interest to someone working in Video/AV production than my usage just as a boot volume for more general/common tasks. Regardless, I'm happy with the swap from the SATA2 Toshiba drive previously installed. (Especially as a no-cost swap.)
---
OS X Drive Cloning (from old Drive to New Drive):
Using an OS X Recovery boot (hold down Command-R key) with a USB 3 Hard Drive Dock (or other external case) with the new SSD installed in it connected to the mini, I clone using Disk Utility's Restore tab or reinstall (clean) OS X on the new drive. If you have a Time Machine backup, you can also select to restore from that as well. Apple's article About OS X Recovery links to a guide to Reinstalling the OS. (Their article on installing OS X on an external drive was changed to one on selecting a startup disk.) OS X reinstalls via recovery requires a broadband internet connection. Another good reason to have a bootable clone/backup using Disk Utility Restore tab (or other utility, although some are not free).
After the clone/install of OS X onto the new SSD, I booted from the new Intel SSD's OS X volume while still in the Hard Drive Dock just to verify it was working and bootable before swapping the drive into the mac Mini. (I verify it in Disk Utility, check permissions, etc. and after installing in the Mac, check the startup disk preference setting.)
---
Reminder/Warning on Disk Utility "Repairs" for SSD + Hard Disk Drive Configurations like this:
When I booted from the OS X 10.8.2 SSD in the USB Drive Dock with the previous OS X 10.8.2 SSD and original 1TB hard drive (set as the Time Machine volume) still installed in the Mini, I saw what OWC had warned about last fall when Minis first started shipping with OS X 10.8.2 (and Fusion drive options). On first boot from the OS X 10.8.2 install, the internal SSD and 1TB Hard Drive volume names in Disk Utility appeared in Red - Disk Utility thought they were a failed Fusion Drive - and any repairs would have created a Fusion Drive, losing all the existing data. (NOT what I wanted of course - the 1TB HD was a separate volume (used for Time Machine). Of course I didn't attempt to repair the drive and processed to clone the original (Toshiba) SSD's 10.8.2 volume to the new (Intel) SSD. For those that missed it, Here's a copy of the November post with this Warning:
OS X 10.8.2 or later Dual Drive Mini SSD Upgrade Warning: ...As of mid-November (2012), new mac Minis ship with OS X 10.8.2 pre-installed and anyone that installs an SSD as a second drive (with hard drive in other bay) may have Disk Utility on the Recovery Partition think they have a 'damaged' "Fusion Drive" configuration and any 'Repair' will erase the drive(s) to create a Fusion volume. For more details, see the November 2012 OWC blog post with Special Note on Adding SSD as 2nd Drive in 2012 Mac mini that shipped with OS X 10.8.2.
---
520 Series Intel SSD Retail Box Kit (tacky decal included)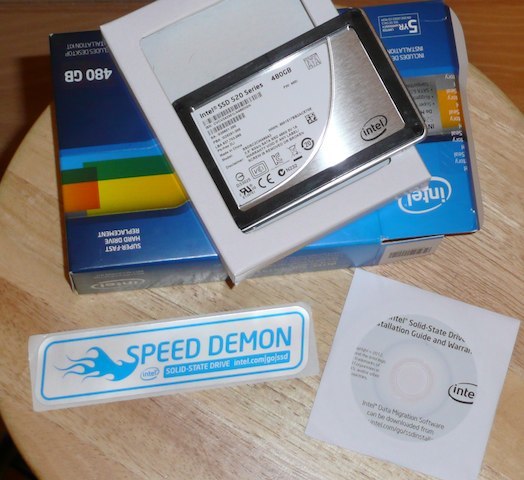 Not shown but also included in the kit is an aluminum 3.5in bay drive adapter plate, an SATA data cable, Molex 4-pin to SATA power adapter cable and a Quick-Start Installation Guide. (The mini-CD included in the kit isn't usable with slot-loading drives.)

Installing/Swapping the SSD Drive:
As I'd done before, I used Sponsor OWC's DIY video guides on Mac Mini upgrades as a refresher on the steps involved. Since I was only swapping the lower drive (the drive that's facing you when the mini is inverted for upgrades), I only removed the fan, fan shroud and the antenna/shield. The Motherboard can stay in and I left the memory modules installed. I also didn't disconnect the antenna cable - I just flipped/tucked the antenna/shield assembly away from the drive area as shown in the photo below. (BTW: A stiff business card or similar thin sheet can be an aid in positioning the drive to align the guide pins to the mating holes inside the mini case, that you can't see during the process. I've used a laminated card, thin but rigid enough to provide good leverage/support.)
Photo of 2012 Mac Mini Parts Left Installed during Drive Upgrade/Swap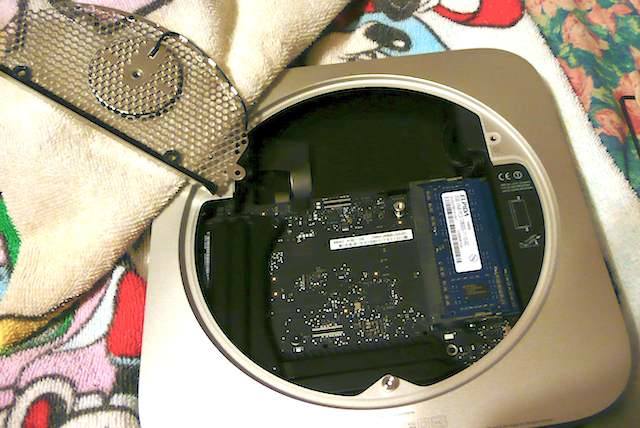 Before reinstalling the bottom cover, I like to do a final check of connections and verify that the mini's fan runs when powered on. (Don't forget after booting from the new drive to select it in OS X Startup Disk Preferences. Otherwise it takes a bit longer to boot.)

(Later when OS X 10.8.3 was released, I had no problems updating from 10.8.2 on the Intel 520 SSD. Unlike Intel X25M SSD owners that didn't have the latest firmware for it, as noted in the 3/14/2013 news post on OS X 10.8.3 Update (Combo/Delta).) I also noticed a surprising increase in Cinebench OpenGL scores after updating:
OS X 10.8.2
OpenGL: 22.85
CPU: 6.22

OS X 10.8.3
OpenGL: 26.51
CPU: 6.24
Of course the onboard graphics are not the best, but otherwise this SSD/RAM upgraded 2012 (core i7) mini feels faster in typical use than the (hard drive equipped) 2009 Mac Pro (8-core/2.66GHz) I had. An SSD really makes a big difference you'll notice every time you use it. (I'm reminded of typical comments like "feels like a new computer".)

Mac Mini Drive Upgrade Service:
If you are not comfortable installing an SSD or a second drive kit yourself, site sponsor OWC has a Mac Mini Drive Upgrade Installation Service. (Other upgrade options also available.)
Update on TRIM Enabling
I didn't originally, but I later enabled TRIM on this SSD in OS X manually using commands in the OS X terminal app. (Info on that and reports from users of 3rd party apps to enable TRIM in OS X are on a page here with reader Feedback on Chameleon SSD Optimizer/ OS X Trim Enabler.)
Although I didn't this time, in the future I may try setting up a Fusion drive. (If the SSD had been smaller, I probably would have.)

---
Other Mac Mods/Upgrade Articles:
For articles on other DIY Mac upgrades and tests by Mac Models (Intel and PPC), see the Mac mods and upgrades page.
---