---

A G4 Cube owner sent pictures of his customized Cube which has a U.S. Flag design inside the shell.
Subject: All American Cube
"Mike, got bored and decided to express my patriotism via my Cube G4/450, CDRW GeForce 2X, 40 GB 7200 Maxtor, and 512 MB RAM. I simply downloaded the flag from macdesktops.com "New Glory", printed it out, cut and tape. (just taped it to the inner liner with transparent tape.)

[I asked for more details and he wrote]

I removed the inner shell of the Cube which is held in place by phillips and torx #8 screws.
[Note - A T9 driver fits the screws on my G4 Cube case much better.-Mike]
please look at the attached photos that show the removed inner shell with the Flag print tapped on. Other photo shows the outer shell next to the completed inner shell.
The res [of the New Glory image] was 1280x1024 but made to fit on a 8.5" x 11" paper.
- William R."
Thanks William. (I've did the same mod to one of my Cubes.)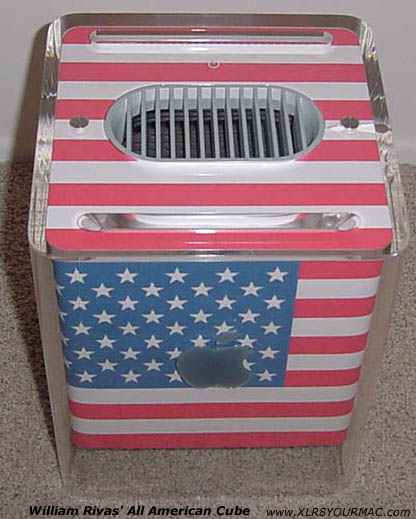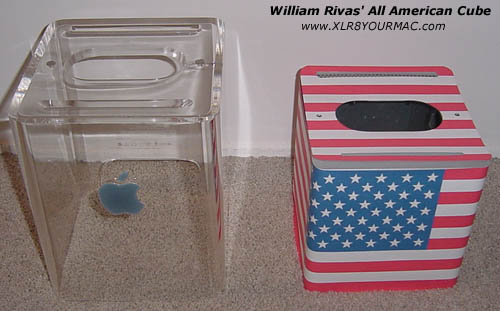 Although I didn't apply the image to the top, I did do the sides on a spare (extra) G4 Cube housing I had. Here's a photo of the results.-Mike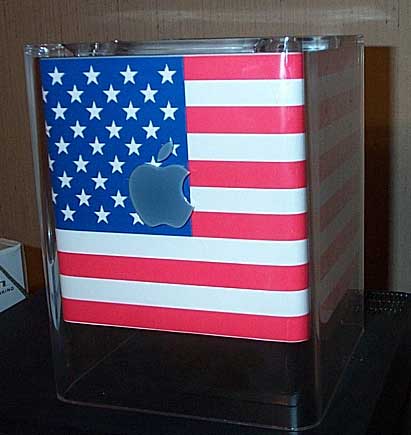 Other Cube Related Articles:
The Mac Mods/Upgrades page has articles on Mac Pros, Mac mini, iMac, Macbook Pro, and PowerMac G5.

---