ATI X1900 XT Artifacts/Overheating Notes/Tips
Reports Last Updated: 7/19/2007
(Links to other articles/cooler swaps updated Jan 2008)
---

This page is a catch-all for mails from Mac ATI X1900 XT owners on display artifacts, overheating, etc. with the card.
Previous/Other X1900 XT articles here on the subject here are:

Of course not everyone with an X1900 had seen problems. Here's a recent reply to this page for instance:
(added 7/19/2007)
"No problems here with the ATI X1900XT in my MacPro 2.66.
I swapped the card's heatsink with an Accelero X2 the moment I received it ( prev. article on Accelero X2) and nothing since then, not a single problem, and I play daily at Battlefield 1942, Call of Duty 2 and so on.
OS is 10.4.10 with 4GB of RAM.
Here's a picture of details of the card.


Thank you, Florin"
(What follows are reader mails from those that have seen artifacts/overtemp problems)
I saw your piece (reader comments in news page months ago) on pink and green artifacts titled "G5/X800/Dell 24in user notes on 10.4.9 Display Artifacts" (I never had the problem w/same setup (G5 tower/X800 card) so the post included tips for determining if it was a card issue (overheating/bad vram, etc.) or due to a corrupted OS X update/install, etc.) and thought I'd share my experiences.
I have a 3GHz Quad Mac Pro with ATI Radeon X1900XT graphics card, which I bought from Apple's UK online store at the beginning of February. Around the time of the Mac OS X 10.4.10 update I started to see pink (and sometimes green) artifacts on my screen after several hours of use. Initially I thought it to be a problem with 10.4.10, so I reverted back to 10.4.9 using a clone of my system I had made prior to upgrading. The following day I saw more of the artifacts. That's when I started to research whether others had experienced similar display issues, and I found your article.
I soon ruled out that it was not a monitor or monitor cable problem as I managed to take a number of screen grabs of the artifacts when they appeared. I have attached these below.
I have since trawled the Internet and have found a significant number of people that have experienced problems with the X1900XT card. Much of the blame seems to be directed at overheating due to the poor performance of the stock cooler employed on the card. It would seem that after a while the cooler, which isn't the most efficient anyway, gets slightly clogged with dust due to the very narrow spacing of the cooling fins. (See Overheating X1900 XT due to Dust Clogging Heatsink Fins) As a result the GPU temperatures start to rise along with the fan noise as the card starts to bake itself. A significant number of Mac Pro owners that play World of Warcraft have experienced overheating of their X1900XT cards to the extent that the World of Warcraft forums have a very long thread relating to this problem. (one reader used a Framerate cap in WoW) It would appear that many have had their faulty cards replaced. I do not play World of Warcraft, but I do run a java trading system with lots of realtime graphs and charts, which can be quite graphically intensive.
I decided to do a fresh install of Mac OS X and upgraded as far as 10.4.8 to see whether the problem was related to 10.4.9. I zapped the PRAM and NVRAM, ran DiskWarrior, Applejack (all tasks) and also ran all the cleaning/maintenance jobs in Onyx. Having taken all these steps I can categorically say that it's not a 10.4.9 issue, nor is it related to NVRAM, PRAM or a disk corruption of any sort, as I still got the same pink artifacts in 10.4.8 (screen grab below). (As mentioned in the original post, if the corruption is appearing in a screenshot, then the screen buffer is corrupted, usually due to overheating or (more rare) vram problems)
My next course of action was to contact Apple. After being faced with the Hobson's Choice of either paying for AppleCare or paying £35 for telephone support, despite the machine still being under warranty but outside the first 90 days (Apple, you should be ashamed of that policy), I was finally allowed to tell the support person all the steps I had taken. He agreed that it was a hardware issue and believed it to be an issue with the video RAM on the graphics card. He then told me he would send out a new graphics card. Apparently there are two versions of the card: revision 1 and revision 2. He sent me a revision 2 card and claimed that should resolve the issue.
I used the new card for a couple of weeks and the artifacts did not return. However, having read about the experiences of some World of Warcraft players, who had a replacement card also fail, I decided to replace the stock cooler on it with a third party one, as I had little faith in the X1900XT's normal cooler.
After much research I plumped for the Zerotherm GX815 (bought from overclockers.co.uk). As there is no spare 3-pin fan connector on the motherboard, I had to use a 4-pin Molex Male to 3-pin Male Fan cable (bought from Performance-PCs.com), which I ran from the spare Molex power connector in the optical drive bay. The cable I used was 30" in length, but I could have used a 24" cable. When fitting the GX815 to the X1900XT you have the option to use either the standard knurling-nuts and screws or the SLi/Crossfire nuts and screws. As there is very little clearance below the Double-wide PCI Express graphics slot I used the SLi/Crossfire nuts and screws. To improve airflow through the case I also replaced the existing PCI Express cover plates, I replaced the standard ones with vented cover plates (bought from silverpcs.com). I've attached pictures below.
I did find that the GX815 wasn't entirely silent, and its fan had a slight whine. As the GX815's fan changes speed with temperature, I counter the noise by using smcFanControl to increase the speed of the PCIe/HDD and Rear fans to 750 rpm (from the default of 500 rpm). Although the Mac Pro is not silent, the case fans produce a more acceptable level of noise than the GX815 did when the case fans were running at their default speeds. An alternative would be to use a Zerotherm GX810 cooler which is exactly the same as the GX815 but runs slightly hotter than the GX815 due to lower fan speeds. However, it is virtually silent if the various online reviews are to be believed.
Kind regards, Stuart W.
Grab from 10.4.9 showing pink artifacts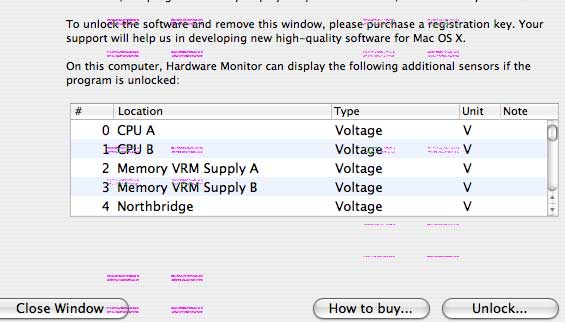 Grab taken from 10.4.8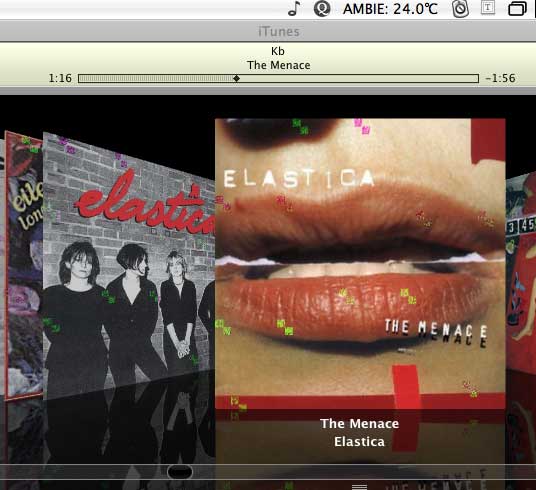 Mac Pro with Zerotherm GX815 installed. Notice the GX815 fan cable is attached to a 4-pin Molex to 3-pin fan adapter cable run from the optical drive bay: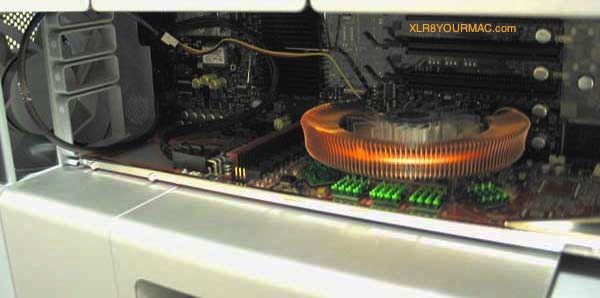 Mac Pro with vented PCI Express cover plates used in spare PCI Express slots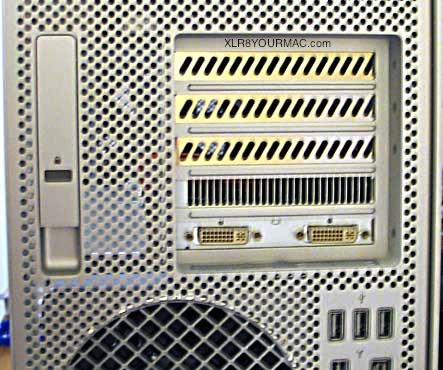 ---
Some other recent mails (reply to the WoW FPS Cap rate post)
" I was having similar problems with the X1900XT card in my Mac Pro and WoW. I did the standard blowing off the dust and that didn't help much. Found this little piece of freeware - SMCfanControl
(mentioned here in the past several times, originally used by MacBook/Pro owners but also used by some to reduce HD bay temperatures in Mac Pros)
It allows you to adjust the speed of the fans inside the Mac Pro separately. Doubled the speed of the fan that cools the PCIe slots and I haven't had a problem with graphical glitching ever since.
-Neal"
---
A PC X1900 XT owner wrote:
" I've been noticing a lot of X1900XT owners having issues on your site. I don't have a G5 or Intel Mac version, mine is a PC version, but I think I can help shed some light on things.

For starters the X1900XT is a very very hot running board with multiple parts which generate heat. Before I installed a new fan/heatsink my 1900XT was easily getting temps above 80C. (Some GPUs are rated for over 100C temps - my PC 6800 card had a GPU clock throttle point of 120C shown in Nvidia's control panel. It never reached that high a temp, but 80C+ was often seen in 3D gaming use.) On the PC side there is VPU recover which resets the GPU whenever it crashes. This would happen quite often on intensive games whenever temps would go past 80C. This was with the stock cooler and it was on dynamic fan speed settings which for some reason have the fan in the 27-50% range almost up until temps hit 90C. To help this problem all a stock fan owner can do is turn the fan speed up to 100% and lock it there via software like ATItool. But still that didn't help much and I don't know if there is an OSX solution for fan speed control.

While the stock cooler can somewhat control the heat of the main chip, there is an even worse culprit on the GPU board which can cause these GPUs to lock up or artifact. That is the voltage regulators. These very hot running parts are located under a simple aluminum heatsink behind the stock heatsink. In most cases I think many of your readers are having these regulators overheat. Sadly there isn't much that can be done to help these besides getting a new cooling system for the rest of the board. I tried this myself and I can tell you that the Artic Cooling Accelero X2 does not adequately cool the regulators. The GPU was nicely cooled down into the 40-60C range but the regulators still maintained 70-80C+. To get these boards stable, you have to take into account cooling the regulators first before the rest of the board. (The regulators should be rated for higher temps but I suspect he means their heat affecting other components like vram)

In the end I was able to get my X1900XT stable but only after I rigged a fan to blow directly at the regulators plus run with the case door open. Right now temps are stable on the regulators around 50-55C and the lockups have not happened since. Recently I found out there are better coolers which seem to pay more closer attention to the regulators but I didn't want to spend more money on this card. For your readers, if they choose to buy a new cooler, it is imperative they take into account the regulators in cooling. I'm not really sure what is the best for this but I have heard good things about the Thermaltake TMG AT2 since it moves air across the entire length of the regulators instead of just part of them. Course I heard the same about the Accelero X2 and in the end that failed me but I do wish I had tried the Thermaltake. (Early on several Mac owners w/X1900 XT's used the Accelero X2 cooler and I had not heard back from any of them about problems to date, and an X2 cooler user replied to this post he's seen no problems since day 1 with heavy gaming use. If anyone that did swap in an X2 has seen a problem let me know. Of course the Mac Pro (and G5 towers) have different designs (airflow, cooling, etc.) than PC case designs.)
Here is an idea for added cooling if a reader needs more:
PCI Cooling Fan card (www.newegg.com/Product/Product.aspx?Item=N82E16835192007) .
I'm not sure if that is long enough for the X1900's board but if may give someone an idea. Really any fan aimed at the regulators will greatly help cool the chips, its just a problem of dealing with the mounting of such a fan. (The PCI fan cards I've had were different - they exhausted hot air out of the case.)

Hope that helps some folks deal with their X1900 problems. I only wish I had known what I know now about these boards before I bought one.
-Josh "
I don't think those PCI slot card fans typically do much. And one CPU upgraded G4 tower owner had Overheating problems solved by -removing- 2 of them, as they were conflicting with the original airflow design in the case.