iCloudNotificationAgent Problems (macOS Big Sur 11.1, M1 Mac Mini)
(Update: This problem seems to be fixed in macOS 11.2. But 11.2 has a new problem - CVM Server crashes.)

BTW: Although it didn't eliminate the problem, she said Turning OFF "Do Not Disturb" in Notifications prefs seems to have helped. With it Off (for the first time), after 30 minutes iCloudNotificationAgent showed 0 CPU usage, only 0.22 CPU time, & 'only' 1830 faults (not increased during the last 15 minutes). Previously within about 5 minutes or so after startup, iCloudNotificationAgent was using 97+% CPU, with 157,747 faults and CPU usage stayed over 95% constantly (she usually force quit it after 15-20 minutes of that). Although it seems improved, the problem has happened again since the DnD settings change, with iCloudNotificationAgent exceeding the CPU % over time threshold, and triggering another Diagnostics report in the Console. But it doesn't seem to be the constant CPU hog it was previously.
The last time the M1 mini (macOS 11.1) was used (appx 25 minutes, no streaming or heavy use), iCloudNotificationAgent CPU usage didn't stay high, but again had triggered a CPU usage related Diagnostics report, and Statistics showed no Hangs, but 652,599 Faults in just under 15 Minutes of CPU time. The day before that, sometime during 2 hours of use (6GB video download) it had triggered another Diagnostics report. Checking iCloudNotificationAgent's Status again showed no hangs, but listed 295,843 Faults with 8 minutes, 10 seconds of CPU time. The next day it was low (1,833 faults), but the following day iCloudNotificationAgent stats showed over 1.92 Million faults during 20 minutes, 14 seconds of CPU time. As I mentioned earlier (below notes), if it's not due to her Modem blocking some port/service, I can only assume this is a bug and hopefully Big Sur 11.2 may improve things. (Big Sur 11.2 update seems to have solved this.)

(Original comments follow - will update later if an update fixes the problem completely.)

Despite my warnings about the M1 being new hardware and only able to run Big Sur (a new major OS version), a friend (local nurse) bought a new Mac mini M1 (8GB memory/512GB SSD). I told her about all the Bluetooth and display problem reports in Apple's forums, but she was not going to use Bluetooth, would be using a single HDMI Display (Samsung Syncmaster 2493HM, 1920x1200, 60hz, MFG date Aug 2008) and planned on using only Apple software for the time being. (And with no migration of data at all - see detailed list below.)

Although she's overall happy with it, there's been a repeated problem with iCloudNotificationAgent high CPU usage (generating diagnostic logs) and several times (IIRC while using Apple media services), the keyboard input seemed ignored. (Repeated pop-up of sign-in dialog after entering correct PW - no error message, just repeated prompt.) Once while creating a Mail Rule, could click to add another criteria, but typing into the entry field was not shown. After a later reboot, problem did not reappear. (I don't think the keyboard entry problem has happened again in the last week AFAIK.)

I asked her to check the Console logs and Activity Monitor. No errors or crashes were logged, but within several minutes of booting up, "iCloudNotificationAgent" would be at 97% (or higher) CPU usage (triggering a Diagnostic log entry eventually - which always has duplicate entries shown in the Console app, both pointing to the same log file).

(I searched Apple's forums for any previous reports on this, but to date found only one thread iCloudNotificationAgent high CPU usage from a M1 mini owner, but he also had a kernel panic related to a third party extension (I noticed iStat Menu in Activity Monitor). But her M1 mini has had no crashes or kernel panics to date, and has not installed any software or extensions (only using the Apple installed apps). I'm posting this here since neither she nor I post at Apple's forums. I can't respond to mails about this, but if others see this problem maybe they can reply in the thread above.)

I had her click on "iCloudNotificationAgent" in Activity Monitor and then click the Statistics Tab. (As shown below, 157,747 faults in under 4 minutes of CPU time.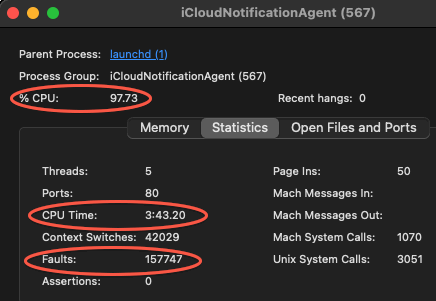 (CPU usage remained this high, so she force quit it after 15 minutes.)
(Update - The below is after she turned off Do Not Disturb, as noted at top of page.)
It may not have been a factor, but she tried turning off her previously set "Do Not Disturb" in Notifications. Although CPU usage was still often 95% or more for long periods, at least some of the times it was low or 0%. Below is a later iCloudNotificationAgent Statistics screenshot, showing over 1.92 Million Faults in just over 20 minutes of CPU time. The CPU usage had varied from 60% to 98%, finally dropping to 0% after about 20 minutes of use. The screenshot below was then taken, after usage at 0% in Activity Monitor. The number of faults was surprising.
(CPU usage was often 95-98%, but finally went to 0% before this was taken.)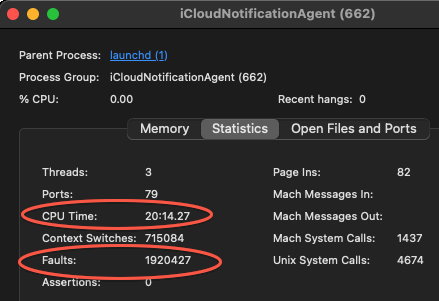 After trying many of the usual troubleshooting tips (other than an OS reinstall, said she'd wait to see if 11.2 helped), I wonder if her Modem is blocking some port or service needed by this process. (The WiFi base is an Apple Dual-Band Airport Extreme, with current firmware.)
Here's a summary of her hardware and software (and troubleshooting).
M1 Mac Mini (8GB ram/512GB SSD), macOS 11.1
USB wired Apple extended aluminum Keyboard (A1243 IIRC).
USB wired Apple mouse (connected to keyboard).
Apple USB Superdrive (via Apple USB-C to USB adapter).
5GHz Wifi used for Internet Access (Bluetooth OFF).
Apple Dual-Band Airport Extreme Base Station (current firmware).


Only Apple Software used (No added Apps, drivers, etc.)
No file or software Migration.


All Notifications OFF except Mail.
Logged out of FaceTime and Message.
Unchecked all Notifications Widgets.
Not using iCloud Drive.
Mail and App store working OK (updated bundled Apps).
No Devices (iPhone/iPad) ever Sync'd to the Mini.


Safe Boot done several times (to clear caches, etc).
Disk First Aid shows no errors on system or data volumes.
No Crash or Spin logs in Console. (Only Diagnostic logs.)
Tried Logging out/Logging back in (iCloud).
All software up to date.*
* The Mini was not used Jan. 18th, but on the 19th, the install.log was updated.
Here's a small clip from the install.log update at that time (I added the bold emphasis):
"SoftwareUpdateNotificationManager[472]: Controller: Received availableUpdatesChanged notification; new updates: []; new major updates: [001-86606]

SoftwareUpdateNotificationManager[472]: AssertionMgr: Could not cancel com.apple.softwareupdate.NotifyAgentAssertion-BadgingCountChanged assertion - no assertion found for pid 472
SoftwareUpdateNotificationManager[472]: (null):softwareupdated: Service connection invalidated!
SoftwareUpdateNotificationManager[472]: (null):softwareupdated: Service connection invalidated!
SoftwareUpdateNotificationManager[472]: (null):softwareupdated: Service connection invalidated!
softwareupdated[279]: Removing client SUUpdateServiceClient pid=472, uid=501, installAuth=NO rights=(), transactions=0"
She's enabled sending Analytic data to Apple. (I assume that includes Diagnostic reports.)
I also suggested she contact Apple Support, or at least send this info via Apple's product feedback page.

---
= Go to Top of Page =