2009 Mac Pro (4-core) 2.66GHz to 3.2GHz CPU Upgrade (w/Benchmarks)
Posted: July 19th, 2012
---
(from a reader mail)

"2009 Mac Pro 4,1 CPU upgrade
Mike, After much research, I determined that the safest, no EFI bootROM update required, upgrade to my 2009 Mac Pro 4,1 2.66GHz (W3520, 8MB Cache 4.80GT/s QPI) machine was a simple replacement with an Intel Xeon W3565 3.2GHz (8MB cache, 4.80GT/sec QPI).
(FYI: The comment about an EFI/bootrom update refers to an unofficial 2009 to 2010 Mac Pro EFI updater for 6-core CPU support with 2009 Mac Pros, but not required with the 4-core CPU used. Link is to May 2011 archives page post.)

I bought new but at a used price Intel Xeon W3565 3.2GHz chip on Ebay from someone who claimed he bought it thinking he could put the W3565 in a dual core machine, and now he was stuck with them having opened the boxes. Whatever, it looked new and he did have the boxes.

I just got the CPU today, and I followed the directions that are all over the 'net, taking out the processor tray, taking off the heat sink, cleaning the copper surface of the heat sink and the old processor with alcohol and coffee filters. Popped the old processor out of the retaining bracket, inserted the new processor, placed fresh thermal compound on the processor and re-installed the heat sink. I slipped the processor tray back in the box, buttoned up, re-attached cables and powered up.

ASP Info (after CPU swap)



I'm enclosing before and after benchmark screenshots in case your readers are interested in the speed improvements.
Thanks for keeping your site going.
Regards, Songdog"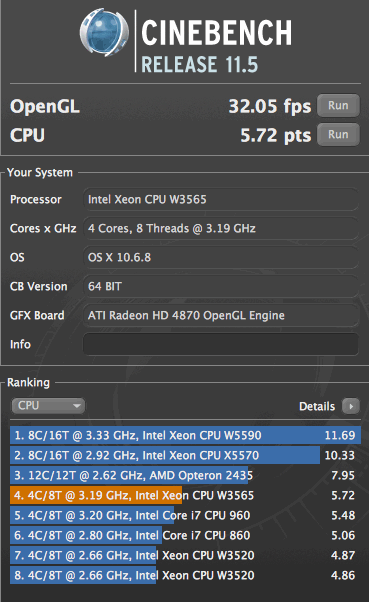 (Before) Geekbench Scores - W3520 2.66GHz CPU: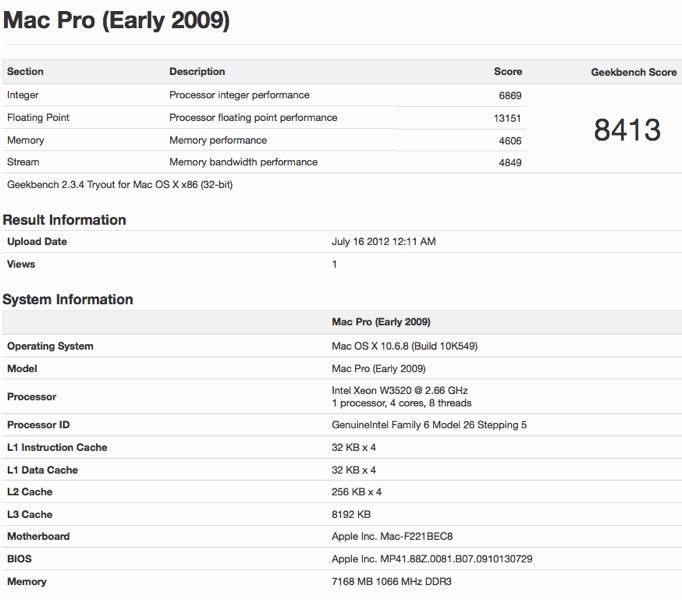 (After) Geekbench Scores - W3565 3.2GHz CPU:



Before/After Xbench Scores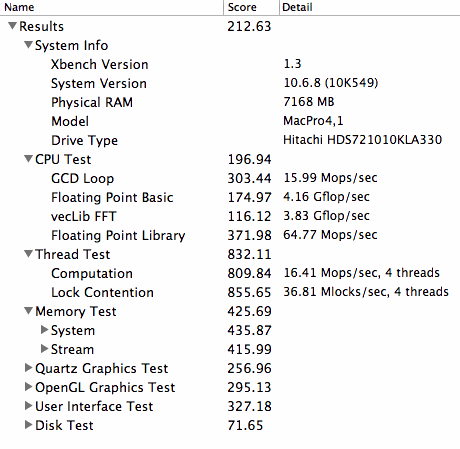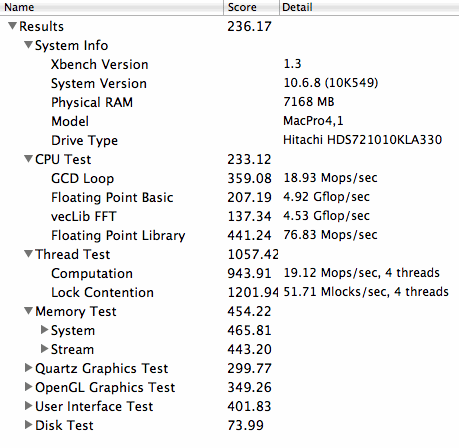 ---
Related Articles:
For other articles on Mac Pros (including CPU Upgrades), see the Mac mods/upgrades page.
---
---
OWC XYM SPECIALS!
(Ad/Sale items)

= UPGRADES by Mac =
Upgrades just for
YOUR Mac!

= Refurb Mac Pros =
(Click for List)

SSDs up to 4TB
Fast SSDs for Most Macs/PCs

= ThunderBolt =
Drives, Docks & More

= HARD DRIVES =
Up to 12TB HDDs
HGST, WD, Seagate, Toshiba

= 2.5in HDs & SSDs =
Notebook Hard Drives and DIY drive/case kit bundles

= MEMORY =
Lifetime warranty RAM Upgrades!

= OPTICAL DRIVES =
Internal and External Superdrives/Blu-Ray drives

= VIDEO / DISPLAY =
Graphics cards, Displays, Adapters, Cables & more

= AUDIO ITEMS =
Interfaces, Cables, Software, Speakers, Headphones & more

= SOFTWARE =
Apps, Utilities, OS, VM, Games and more

= WIRELESS =
WiFi and Bluetooth Devices/Adapters/More