Please be advised that performing this upgrade may void your warranty on your Apple MacBook Pro Core Duo. I take no responsibility if you perform this upgrade. (This procedure is Not Necessary of course if you have a MacBook Pro Core 2 Duo.)
For OS X Tiger Users: Pacifist to install the Airport 802.11n Enabler. (OS X Tiger users also see notes below on Airport Extreme updates - required for the Enabler but Pacifist bypasses its installer check.)

Always ground yourself by using an ESD wrist strap or by touching a metal object while handling sensitive electronics.

Instead of re-inventing the wheel I will point you to a link to perform the basic disassembly of the MacBook Pro Core Duo to get to the AirPort Card: http://www.ifixit.com/Guide/Mac/MacBook-Pro/Logic-Board
Please follow the directions till you reach page six (6) of the online guide. After installation of the Mac Pro AirPort Card simply go backwards to reassemble the MacBook Pro Core Duo.
NOTE: I would like to take this time to reference some information NOT listed in the online guide for MacBook Pro 17in Core Duo's.
Please NOTE that the MEMORY COVER has 4 #00 Phillips Screws NOT 3. Also NOTE that the BATTERY COMPARTMENT has 3 #00 Phillips NOT 2.
These are the major differences between the 17" and the 15.4" MacBook Pro Core Duo's.
Once you removed the upper case you will be presented with the following: (Sorry about the blurry picture.)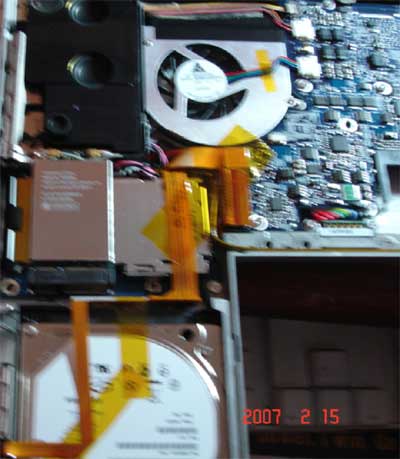 Disconnect the AirPort Antenna Leads from the onboard card. Then, with a Torx T6 remove the black retaining screw. This will allow the card to be removed. Please remember to ground yourself before touching the AirPort Card.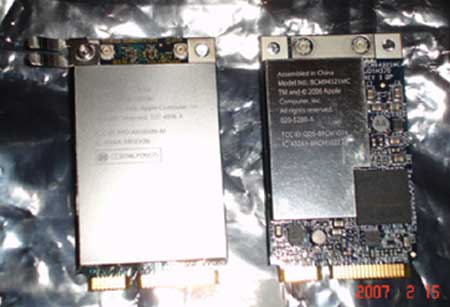 These are the AirPort Cards side by side. On the left is the Original AirPort Extreme Card from the MacBook Pro Core Duo and on the right the AirPort Extreme Card from a Mac Pro. The reason I selected to use the Mac Pro Card is because the card only requires two antenna leads to connect instead of the three on the Airport Extreme card from a MacBook Pro Core 2 Duo. (I think the 3 antenna card model is an Atheros 802-11N card model (vs the more common Broadcom brand used here), which can use 3 antennas for better MIMO. I think you could still use just 2 antennas however. OWC sold some Atheros MiniPCIe cards from Mac system Pulls and also a later Mac Pro Broadcom 802.11N card - Apple P/N 661-4907 or MB988Z/A.)
Note the little sheet metal piece mounted on the upper left of the original card. I don't know what the purpose of this sheet metal is. (It appears to be a grounding/shield clip.) I decided to go a head and remove it and attach to the Mac Pro Card before installation. The piece can be removed from the backside of the card with a #00 Phillips Screw Driver.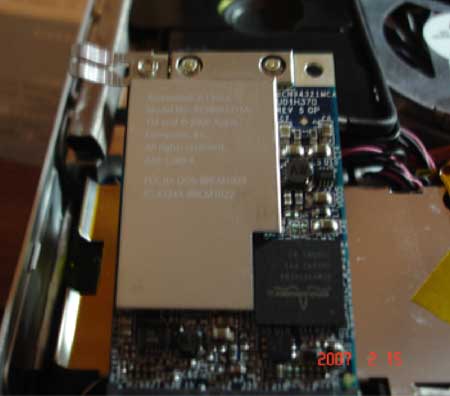 Here is the sheet metal piece attached to the Mac Pro Card (Upper Left) and ready to be mounted onto the MacBook Pro Core Duo Logic Board.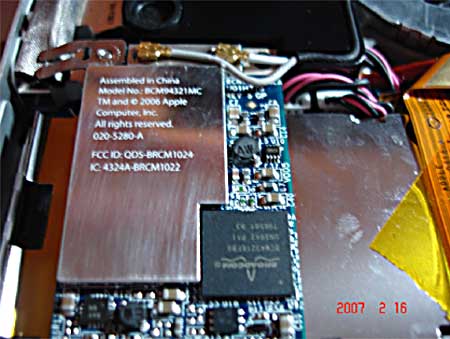 Here is the card mounted, antenna leads in place with the black retaining screw also in place. Please note that over tightening the black retaining screw will result in the card "tipping" up on the left side and not allowing the upper case to seat correctly! Tighten the card in place to seat flush. Make sure to route antenna leads in a fashion to not interfere with the upper case. Everything should look as depicted above!
Now, following the online guide, reassemble the MacBook Pro Core Duo and install the AirPort 802.11 Enabler (no longer reqd) to activate the AirPort Card. Please make sure all appropriate Software Updates have been installed (including any "Airport Extreme 2007-00x" updates) and Repair Permissions as Pacifist will NOT install the Apple AirPort Enabler if permissions are in need of repair!
(OS X Tiger Users Note: When this article was posted in Feb 2007, Airport Extreme 2007-001 update was the latest - but it was replaced by Airport Extreme 2007-002 update (which included -001), and there were later updates also Airport Extreme 2007-003 update, Airport Extreme 2007-004 update - as of late July 2007. In some cases these AE updates had later (driver loaded) firmware updates also. These later updates were covered when released in the main xlr8yourmac.com front page news and the Mac 802.11n info/feedback/tips here, but remember to check software update for any future releases/updates. (There's also been 2008 Airport updates/Leopard OS X updates.))
You should see the following in the Apple System Profiler after Enabler Install:
(Note: Card Firmware version can vary as some Airport Updates included a firmware file, which is loaded from disk, not flashed into the card.)
AirPort Card Information:


  Wireless Card Type: AirPort Extreme  (0x14E4, 0x87)
  Wireless Card Locale: USA
  Wireless Card Firmware Version: 4.80.76.1
  Current Wireless Network:  Wireless Channel: 7

Obviously the Wireless channel and Current Wireless Network will vary as will Wireless Locale if outside of the United States. Type and Firmware should appear as listed.
The following will be listed in the Network Utility with Network Interface (en1) selected: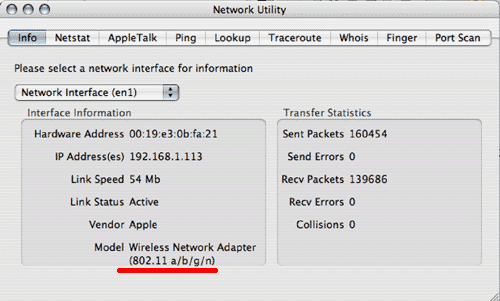 Model Wireless Network Adapter (802.11 a/b/g/n)!!
Observations:
Even without the AirPort Enabler installed you will see a dramatic increase in your wireless signal reception. I would estimate 150% for me.
I have yet to receive my AirPort Extreme 802.11n Base Station so I cannot comment on 802.11n performance. As soon as I receive it I will make my information available here.
I would like to thank Mike (xlr8yourmac) for his help in making this little project successful so far. He gave me information on the recent AirPort Extreme update 2007-001 which makes 2wire DSL Modems not visible with Intel Macs. (He mentioned he was running WEP and the AE 2007-001 was reported to break WEP on 2wire.com products, which are often OEM supplier of modems/routers for cable and DSL. Later AE 2007-00x updates addressed that bug.) I had to reactive my AirPort Express' to make this work.
-William
---
For other Mac 802.11n reports/tests/tips, Apple Docs, Airport Extreme 802.11n and non-Apple 802.11n base user reports, see the Mac 802.11n page here. There's also a later page on Mac 802.11AC adapters.